Upon reaching 2020, we're seeing many new technologies and inventions such as…
…or…
…or even…
…RICE???
As it turns out, the Malaysian Agricultural Research and Development Institute (MARDI) recently made Malaysia's very FIRST genetically-modified rice! And, at the time of writing, MARDI is proposing to test the seeds out on a smol test field in Perlis.
However, groups of farmers, consumers' groups and NGOs including WWF Malaysia has staged a protest at the test field in Perlis. Malaysia Food Security and Sovereignty Forum coordinator, Nurfitri Amir Muhammad claimed that planting genetically-modified rice could harm the environment and the public's health. They're also planning to submit a memorandum of protest to the National Biosafety Board.
Chup, how is genetically-modified rice any different from the normal rice we eat tho? And why did MARDI genetically modify our rice?? Apparently…
MARDI is trying to make Nasi Kebal
If any of you here have green hands (no, not like the Hulk), your biggest enemies would probably be weeds and these guys:
And the only way to control them is by spraying pesticides and herbicides (poison for weed)… which can eventually kill your plants or crops. Actually, this is the exact problem that farmers have been facing when planting rice.So, MARDI has been doing a lot of research on how to increase the production of rice over the years by fixing those problems so that Malaysia doesn't need to rely on imported rice anymore.
Back in 2001, MARDI used a more natural method called direct-seeding, which is by planting seeds on untouched soil, to come up with a rice variety called the MR219 (remember this for later) that can actually resist blast and bacterial leaf diseases!
Direct-seeding is very different from genetically modifying rice because the latter is a process where genes from another plant (or sometimes animal) are artificially inserted into them (not through their natural way which is pollination). Here's a video that may help you understand better on the different types of reproduction of plants:
Although MR219 caused an increase in the production of rice in Malaysia because this rice variety has shorter maturity period, it had its weaknesses too. A researcher from Universiti Putra Malaysia found out that the performance of this rice variety decreased over the years because it couldn't resist weed and disease infestation in storage. This is probably why MARDI has come up with different rice varieties over the years besides genetically modifying MR219. But what happens when rice are genetically modified anyway??
Rice or any other crops are genetically-modified to create monster plants prolong the shelf life of crops and increase their survival rate by resisting pesticides, herbicides, drought, virus infection and delay ripening.
As of 2015, Malaysia does NOT have gene-modified crops at all! And according to Head of Centre for Plant Biotechnology, Institute of Systems Biology, Universiti Kebangsaan Malaysia, Dr Hoe-Han Goh…
"To date, only two applications were approved for confined field trials, namely the GM (gene-modified) papaya with a disease-resistant trait in 2013, and a GM rubber plant this year." – Excerpt from NST, 14 November 2015.
Malaysia had also once genetically modified a group of mosquitoes in an effort to combat dengue. But since the project was a bit cost consuming, it was apparently called off shortly after it began.
So, if Malaysia has done several tests on gene-modified crops and insects, then why is it such a huge deal when MARDI wants to test out its gene-modified rice on test fields??
Actually… farmers are scared that gene-modified rice will 'contaminate' their own crops
As it turns out, the proposed test field is actually near several commercial and wild rice fields. And if MARDI were to test those gene-modified rice on that test field, there's a high chance that the genes from this rice will be carried by birds, animals, machines or workers in the test fields, and eventually pollinate with those commercial and wild rice.
"According to the GM Contamination Register, up til 2014, rice has the highest incident of contamination through test fields although no GM rice have been commercially planted anywhere in the world at the moment." Nurfitri and the President of Consumers Association of Penang, Mohideen Abdul Kader told Utusan. Translated from BM.
When this happens, Nurfitri said it could pose a bigger threat to our health!
"Besides, glyphosate (herbicide) will be used in the tests. Humans exposed to the chemical ingredients might get cancerous diseases like non-hodgkin and lymphoma." – Mohideen told Harakah Daily. Translated from BM.
He might not be wrong about the herbicides tho. Researchers from the World Health Organisation classified herbicides as 'probably carcinogenic to humans', which means it can cause cancer.
The Academy of Environmen Medicine from the US actually found out that gene-modified crops can cause several other health diseases, although the organisation's methodologies are sometimes questionable.
This might be why many countries ban gene-modified crops and products, and why consumer groups have been urging the govt to call off and ban any gene-modified tests or release.
However, there is a counter-argument from the World Health Organisation, which generally views GMO foods as safe, and to some extent, that's true because…
We're all consumers of gene-modified crops although most of us don't even realise it 😮
Wanna know if you're actually aware of this or not, take this poll!
Wait, what's with that last answer??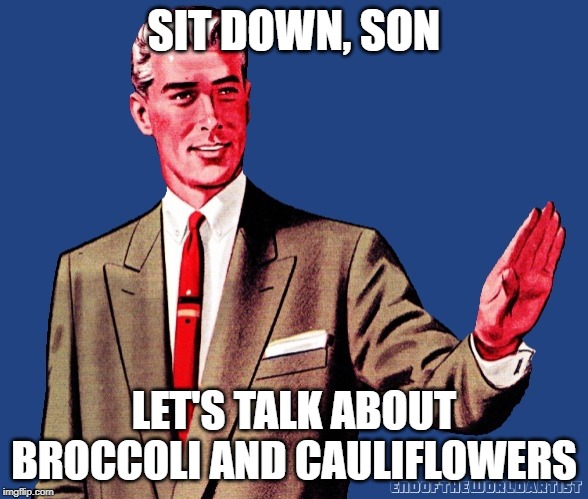 Apparently, broccoli and cauliflowers are gene-modified crops and they didn't even exist 1,000 to 2,000 years back! Broccoli was reportedly created from the genes of kale and wild cabbages in the 1500s. Cauliflower, on the other hand, was developed from one of hundreds of broccoli varieties. #TIL
Don't worry if you've just found this out today because most of us (about 88% of us actually) don't even realise that we've been eating gene-modified products too!
What's even more surprising is how, besides broccoli and cauliflowers, Malaysia also has been importing gene-modified products from the US, which apparently is the largest gene-modified producers! Former president of Consumers Association of Penang, SM Mohamed Idris claimed that Malaysia has approved eight gene-modified corn products and six gene-modified soybean products for food, feed and processing purposes.
Although some of these products are for human consumption, we also found out that almost all of the feed for animals in Malaysia are genetically modified! OMG, does that mean we're exposed to the aforementioned diseases!?
According to the Department of Chemistry Malaysia, we're not. That's probably why Malaysia has guidelines and regulations on the import of gene-modified products under the the National Biosafety Act 2007. In fact, Malaysia is the pioneer among the ASEAN countries to impose such regulations.
So how can you tell if a product is made from gene-modified crops?? Well, Malaysia made it compulsory for manufacturers to label the products like this:
At the time of writing, there's no update on MARDI's application to run the test and what's even worrying, according to Nurfitri and Mohideen, is how there is no assurance that the new gene-modified rice won't give out unnecessary side effects to the environment and health. This is why they're against the idea of gene-modified rice.
"If there is no evidence (side effects) as required in the Cartagena's Biosafety Protocol that was signed by Malaysia in 2003, then the gene-modified rice shouldn't be allowed to be tested in Malaysia." – Nurfitri and Mohideen told Utusan. Translated from BM.