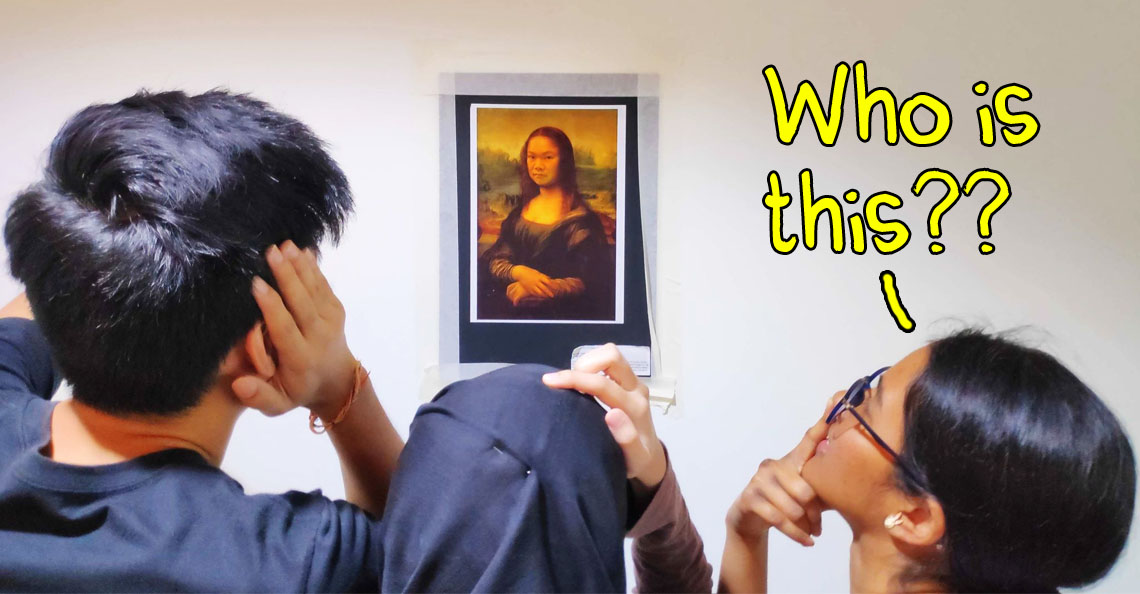 So YES, the big news is that the world's most famous painting – the Mona Lisa is here in KL!
Kinda.
There's an exhibit of Da Vinci's paintings right here in KL, from 15th July to 15th August, at the National Art Gallery. And OMG it's FREE!?
SO… they're not the actual paintings (cos we probably have too many rempit thieves here still). Instead, they're HD digital reproductions, which means that a special printer is used to recreate paintings that are so close to the actual ones. Here's how it works…
It's actually still pretty cool.. soyou're probably gonna wanna check it out. BUT, the typical Malaysian probably knows more about LAT than Van Gogh, so to pass off as a connononeusisusuer, we got yo BACK! Here are 3 quick pointers for some of the paintings so you can pretend you're an expert!
[Note: Most of the info are from leonardodavinci.net]
1. Mona Lisa
Ok let's start with the big momma, the most famous painting in the world, the Mona Lisa!
2. The Last Supper
Also, this is probably one of the most parodied paintings in history. Check out a Google Search we did.
3. The Vitruvian Man
Okay, this is not a painting but we still couldn't miss the chance to talk briefly about it. It was a concept drawing to explain proportions, inspired by work of a famous 1st century BC architect named Vitruvius Pollio.. Oooohhh, no wonder it's named The Vitruvian Man.
So the centre of the Vitruvian is theorised to be the kukuciao.Also, while some call it the perfect embodiment of man, other's have noticed that it might actually have a hernia.
Eco-warrior organisation Greenpeace wanted to prove a point symbolically about climate change, so in 2011, they paid artist John Quigley to recreate The Melting Vitruvian Man on sea ice near the North Pole.
You're most likely looking at a copy of the drawing instead of the original one Da Vinci drew with his own hands, thanks to this strict rule about getting special permission to see the original drawing in a confined place in a Venetian gallery.
4. Madonna paintings
No, the Queen of Pop wasn't a time traveller… Madonna here refers to Virgin Mary. #likeavirgin
Da Vinci has done several Madonna paintings in the early days of his art career, two of which are still in existence: Benois Madonna and Madonna of the Carnation.
Some people couldn't believe that Benois Madonna was painted by Da Vinci himself because the details applied to the Virgin and the Child were 'not typical of Da Vinci's style'.
Da Vinci was not the only famous artist who created Madonna paintings. Apparently, another famous Italian Renaissance artist, Raphael, was well-known for his many Madonna paintings such as Sistine Madonna, Madonna del Prato and Madonna della Seggiola. Gosh, we sound so Italian now…
5. Virgin of the Rocks
Ok and here we have a painting with two versions, also of Da Vinci's favourite Virgin (a.k.a. Madonna of the Rocks), of which two versions were painted. One for the Louvre and another for National Gallery in London.
Actually, he made 2 versions of the same painting because he needed the money. The price of the first one was a little low when he was supposed to make the painting for the Confraternity's chapel, so he sold it to someone else at a slightly higher price. As a replacement, he painted another version (which now hangs in London) for the chapel.
But for the second version, the chapel had to wait for over 20 years for Da Vinci to complete it because of the invasion of French troops in Italy.
You can see more at the National Art Gallery in KL
500 years after his death, there are over 17 remaining paintings by the polymath, scattered all across the world. And that's just too many for us to go over one by one, so if you want the full list of all his other paintings including the lost ones, you can click here. But looking them up on the internet might not grant you the same experience as appreciating them in HD.
And even if you're not a huge fan of Renaissance art painted by European artists who are long gone, there are actually more art exhibits that might tickle your fancy at the National Art Gallery, like KALI INI KITA BERSAMA | Serantau Sebahagian (happening at the same time as the Leonardo Opera Omnia) and Festival Anak Muda (after this exhibit is over).