[UPDATED 10 Feb 2015 to include the explosive New York Times expose. Scroll to the bottom of post to view!]
Heard of Jho Low? No, not the American singer with superior posterior but the Malaysian billionaire. Ring a bell? He's probably better known as the Malaysian playboy billionaire. When he first surfaced as the Malaysian who partied with Paris Hilton, he was dubbed as the Malaysian playboy. But recently he's been creating news by attempting to buy Reebok. Yup, the sports brand. Don't play-play.
Now if some of you are  wondering, "If he's really as big as the stories say, why haven't I heard of him??", Well, he's done very well to keep himself on the… Low. But don't let that innocent, baby face fool you, this guy was dealing with millions at the age of 20.
But that's not all, he had a hand to play in the production of The Wolf of Wall Street, which starred only one of the most popular actors in the world, Leonardo DiCaprio (Read about this in update in point 6!). Also, as mentioned earlier, he's trying to buy Reebok. No big deal really, just a subsidiary of Adidas, one of the biggest sports brands in the world. Also he's donated millions to research cancer. Ladies and gentlemen, this is Malaysia's very own playboy, billionaire and philanthropist. Might even be able to give Tony Stark a run for his money (geddit? cos they're both billionaires huhuhu).
1. He started his own multi-million dollar business at 20
So how did it all start for him? An investment company known as the Wynton Group. With the help of his family and friends, he started the company with an initial capital of 25 million USD, not RM ah, but United States Dollars. And get this, he was only 20 years old at that time and was still in university and he took a semester off to do it (he's 32 years old now). 20 years old only ah. Cannot even register to vote yet.
Btw, the company was worth 1 billion USD as of 2010 but as of today, we at CILISOS were unable to find anything else about the company aside from a link from a blog to their website which no longer exists. No idea why though, hmmmm.
2. He Penang lang but study overseas wan
Usually if you were to hear of a young Malaysian partying with celebrities you would think that he at least grew up in another country and had always lived abroad and all that but that isn't the case here. No  no no, Jho Low started out pretty much like the average Malaysian kid.
Jho Low is a born and bred Penang-lang who lived in Malaysia until he was 16. He studied at Chung Ling High School (a Chinese private school) before moving to the United Kingdom. As for his education over there, he studied at the Harrow School, an institution that has educated 7 British Prime Ministers. He then moved to the USA to study at the Wharton School of Business and the rest is history. That is one heck of a transition.
It was at these two places that he made a lot of close friends who became connections (yes, same link, lots of information in there), many of them being Arab royalty or people who became important people in Middle Eastern countries such as Kuwait, Qatar and the United Arab Emirates (UAE). These people would then go on to help Jho Low establish himself in those countries and make collaborations with them.
So this kid from Penang goes west when he's 16, makes friends with royalty and other high class kids, then goes on to become world class businessman. Can we sell this story idea to Hollywood now?
3. He doesn't just start multi-million Dollar companies, he buys them
Now this is where we get glimpses of his entrepreneurial genius. After the Wynton Group, he ventured into many other areas, usually through another company that he co-founded, Jynwel Capital (of which he is also CEO).
https://www.youtube.com/watch?v=hn7KVGTrspU
Through Jynwel capital, he has worked on the merging and acquisition of many other companies, the most prominent so far being part of the Sony-led acquisition of EMI Music Publishing for 2.2 billion USD (which also featured a certain Mubadala Development Company which we will talk about later).
But we're just getting started here. Other completed acquisitions include the acquisition of luxury lingerie brand, Myla, prominent hotel, Helmsley Park Lane (that has since been rebranded as Park Lane New York) with the Witkoff Group, and oil and gas company, Coastal Energy, with Companie Espanola de Petroleos S.A. or CESPA (a company formed by the Abu Dhabi government) though we find conflicting stories on this, with some saying CESPA partnered with Jynwel Capital and others saying that CESPA's partner was actually Strategic Resources, which is run by his father, Larry Low but still.
If that's not enough, what has been most talked about him recently is this, Jynwel's proposed takeover of Reebok together with funds affiliated with the Abu Dhabi government for 2.2 billion USD. Another 2.2 billion deal.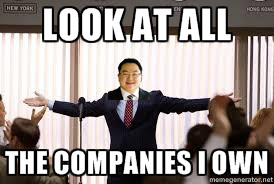 And all this is aside from his other business involvements and attempted takeovers (yes there's a whole lot more) of which you can find here and here. People go Mid Valley buy some clothes, he go America buy some companies. Because really, why start new companies when you can just buy them from other people?!
4. You think that's all? Well he does business with countries too yo
Obviously huge multi-million Dollar companies weren't enough because this guy does business with countries as well! We'll start with Malaysia. We're not talking small governmental projects but big ones, like billions in Ringgit big. We're talking about 1MDB, one of Malaysia's sovereign wealth funds. If you've not heard of it, we've actually talked about it before here. And Jho Low had a hand in developing it.
Do a quick google search on Jho Low and 1MDB and you will find tons of stuff linking him with the issues surrounding 1MDB. But while there have been tons of speculations about this, we couldn't find any concrete evidence to confirm that Jho Low is directly involved with 1MDB as of now. (Read update on point 6!) As far as confirmed reports goes, we know he had a big role to play in setting up the Terengganu Investment Authority (it's predecessor, we'll talk about that in a bit) but did not stay long enough to see it become the 1MDB we know today.
Mr Low has never held any position in 1MDB or in the government of Malaysia. Mr Low was appointed as one of the many advisors invited by the stakeholders of Terengganu Investment Authority (TIA) to provide advice from Jan 2009 to mid-May 2009 given his market-based knowledge.

Mr Low has not been involved in TIA since mid-May 2009. – Jho Low's statement as reported by the Malay Mail Online
The Terengganu Investment Authority (TIA), is a sovereign wealth fund for the state of Terengganu in which he was an advisor. According to the 1MDB official website, the TIA was formed to ensure that Terengganu oil royalties were well spent and it is stated there in the website that it was Jho Low himself who advised the sultan on establishing it in March 2009 (advisor to the sultan! how do you even get to become that?).
It also goes on to state that the TIA was established along the lines of the Sovereign Wealth Fund of Abu Dhabi (the capital of UAE), the Mubadala Development Company (whose CEO and Chairman now sit on the board of 1MDB). So now we see a company that collaborated with Jho Low's Jynwel Capital being used as a model for 1MDB. And we found that it is no coincidence that the Mubadala Development Company would find it's place in Malaysia because it was Jho Low himself that brought them here to Malaysia to invest in their first overseas real estate venture.
So what we then know is this, Jho Low does not just do business with huge companies, he does businesses with countries. 
5. But he also uses his money for the greater good
Before y'all start to hate on him for his money, y'all should know that his money is going to some worthy causes as well. Usually through the Jynwel Foundation (part of Jynwel Capital), Jho Low has contributed to some pretty noble stuff. Check it out.
This guy went and donated 25 million Dollars to a UN news agency (over a period of 15 years). The agency, known as IRIN, is a non-profit news organisation that focuses on crisis hit countries to allow for better organisation of humanitarian aid. And with the cash injection they are now an independent news agency. Why? Because Jynwel Foundation 'recognised the urgency that exists and the critical role it (IRIN) plays for our world.'
Not enough? How about this then, he pledged 20 million USD to Panthera, an organisation to save tigers, lions, jaguars and other kucing besars.
"We are humbled to partner with friends who share a common vision and long-term commitment to securing the future of these big cats and their landscapes for generations to come," – Jho Low, as quoted by The Malay Mail Online.
We're not gonna go into the argument of whether he is a cat or dog person but it's kinda cool how he just went like "These cats need help so I'm gonna donate a couple of million to save them."
And if saving cats or preserving the voice of the voiceless not good enough, he's gone and committed 50 million USD to fight cancer (the project being a collaboration between the MD Anderson Cancer Center and IBM Watson). And there's even a personal reason for this cause. It's because his grandfather passed away because of cancer.
Later in 2012, I learned that my grandfather had cancer. Unfortunately, he didn't have access to the best standard of care – if he had, perhaps his condition would have been discovered earlier. During that moment, I realized the critical need to democratize global access to first-world cancer care. – Jho Low in a press release on Jynwel Foundation's website
And you can hear how he believes that cancer can become 'history' in the video below.
Jho Low is just a very, very successful businessman as far as we know
Honestly, can you comprehend that this one man, Jho Low has accomplished all of this? He's only 32 and has already won at life. All that's left for him to do is to release a self-titled autobiography or a self-help book and retire to Fiji or something for the rest of his life.
And while he may court a lot of talk because of all the huge money deals he's been involved with (governmental or otherwise), we really have nothing to show that any of these were the not-very-legal kind. He may very well be just a very brilliant, very well-connected businessman who has made all the right moves. We're not in any way saying that investigations shouldn't be done if there are suspicions, but until there is proof we really don't think it's worth sweating over.
But for all we know he just could be a Malaysian Austin Powers instead. (Yeah not Tony Stark 'cause Jho's a bit on the chubby side.) And this video submitted to us by CILISOS reader Dex, shows us that he does go all out for the ladies (the video is said to be a marriage proposal by Jho Low to Taiwanese singer Elva Hsiao).
https://www.youtube.com/watch?v=CY7DS6gUF0c
P/S: Check out Malaysia's maybe-possibly-could-be-we-made-it-up James Bond, Paul Phua!
[Update 10 Feb 2015] The New York Times just did an explosive expose about him and you have to read it!
Just a few days back, the New York Times published an extensive story on this man we've all come to know and love. SO extensive it was even translated in Malay. Even if we have written an article about him, this one really is a lot more detailed. Honestly, we wish we could have read it before writing this.
The story has also been going viral on Malaysian Facebooks, so much so it has been picked up by a few Malaysian news websites.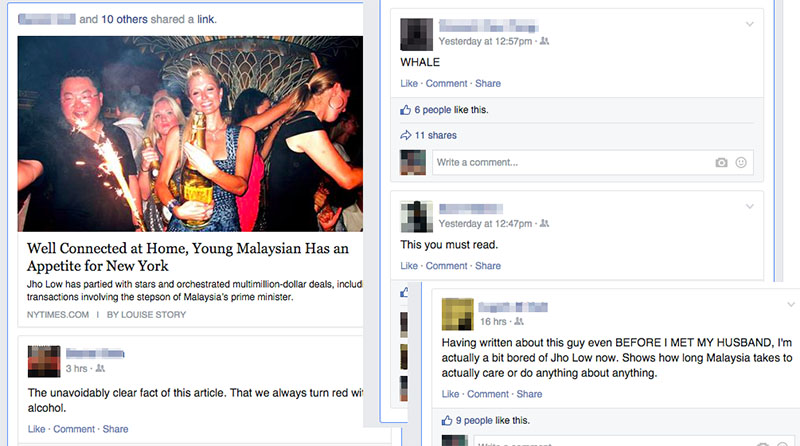 The expose talks a lot about his real estate dealings in New York and about how he is connected to our Prime Minister Datuk Seri Najib Razak. It's a pretty lengthy one so we thought we'd just POINT OUT some of the key highlights of it.
– He is very involved in real estate deals in the United States (ranging in the millions of USD for just one luxury condominium unit)
– He is close friends with a particular Riza Aziz, son of Rosmah Mansor and stepson of Datuk Seri Najib Razak. An executive producer of 'The Wolf of Wall Street', states that Jho Low financed Red Granite. Red Granite is the production company behind the movie, which is owned by Riza Aziz. It is from this that Jho Low was able to build a relationship with Rosmah Mansor.
– The article also states that Jho Low and Riza Aziz have had many real estate dealings either between them or their shell companies (not the petrol company).
– Jho Low has 'from time to time and without receiving compensation' provided his opinions on various matters involving 1MDB. He has also been reported to have been indirectly involved many of its ventures.
It really is an in-depth look into the life of Jho Low and what he does so we really recommend you read it (link again here). But heck, we still hope you guys decide for yourselves who Jho Low actually is.