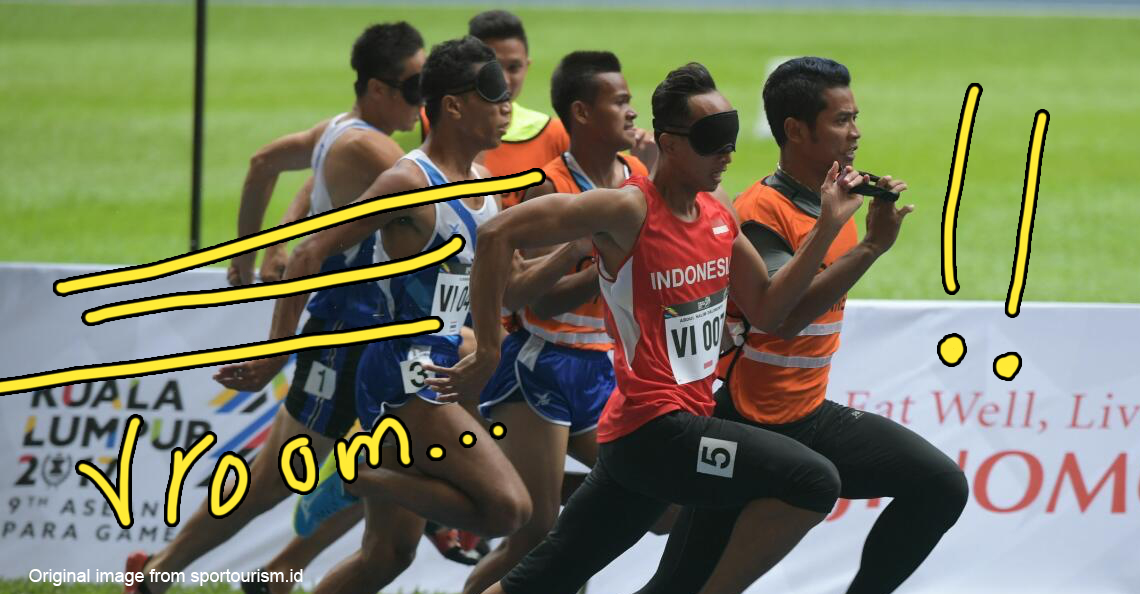 For the last 16 years, the ASEAN Para Games have been held every two years alongside the Southeast Asian Games (SEA Games). Both celebrate the coming together of athletes from eleven different Southeast Asian countries, in a struggle of courage, glory, and medals. Both events encourage unity and friendship between ASEAN countries, but the SEA Games have actually been around longer—for 59 years! 
So who is the top performing country in the ASEAN Para Games? Time to test your knowledge of this biannual sporting event…
1. Malaysia founded the ASEAN Para Games, and has hosted more times than any other country
As we gave away in our title… The ASEAN Para Games was started by Malaysia. In 2000, the founding president of the Malaysian Paralympic Council, Dato' Zainal Abu Zarin, decided to form the ASEAN Para Sports Federation (APSF) which has been governing the Games ever since. We tried to get more info from their website (http://aseanparasports.org) but it has since been turned into a Japanese FX Trading site…
According to APSF president Dato' Zainal Abu Zarin, one of the Games' objective is to prepare athletes from the ASEAN regional level to compete in the international arena—the Paralympics Games. Malaysia has hosted the Games for a total of three times, which makes us the most frequent host country for the ASEAN Para Games. We are currently hosting the 9th edition of the Games.
To make things extra special, earlier this year Malaysia did something which has never been done before by a host country: a run that carries an official SEA Games KL 2017 baton through the capital cities of 10 ASEAN countries in honor of both the SEA Games and ASEAN Para Games. It's designed by Royal Selangor and looks pretty slick—and you can bring one home if you have RM1480 to spare.
2. Thailand has won every edition of the Games except for 2001 and 2014
At nearly two thousand medals, Thailand stands as the highest ranking country of the ASEAN Para Games, with Malaysia in second place followed by Vietnam and Indonesia. In the history of the Games, they have only lost twice: once to Malaysia (Yay!), and another time to our neighbour Indonesia. They have a total of 971 gold medals, which is more than twice of what we've got (458).
After returning from the 2012 London Paralympic Games, Thailand's team received 80 million baht in rewards from their government for their haul of 4 golds, 2 silvers, and 2 bronze medals. That same year, Malaysia got 1 silver and 1 bronze. More recently in Rio's 2016 Paralympic Games, Team Thailand got 6 golds, 6 silvers, and 6 bronze while we got 3 gold and 1 bronze.
3. Laos couldn't host the games in 2009 because they lacked the proper facilities!
That's right. In 2009, Laos had to suddenly pull out of hosting the 5th ASEAN Para Games because they reportedly lacked the funds and facilities to accommodate disabled athletes. The Diplomat reports that Laos is a nation that sees rapid economic growth, but where the rate of poverty still remains high.
At the time, many of the ASEAN nations were still recovering from the 2008 financial crisis, Malaysia was at one point 6 million ringgit short of the funding needed. However, we did manage to allocate 20 disabled-friendly RapidKL Buses as transportation for the event, while Proton sponsored 22 cars to be used as official cars for the Games.
In the end, the funding situation must've been solved since the games did go on, but we we couldn't find any news about how it was solved... It was also the second time Malaysia hosted the games. The events were held in 8 separate venues between Kuala Lumpur, Selangor, and Negeri Sembilan.
4. Malaysia has never left the top 3 spots in ASEAN Para Games rankings
With our overall ranking in the region second only to Thailand, it just goes to show that Malaysia's Para-athletes are actually pretty good, bagging 1148 medals in total from the ASEAN Para Games, with 458 golds.  So far this year, we've already bagged 18 gold medals and are just slightly behind Indonesia, who is in the lead!
Our very own Paralympian shot-putter Muhammad Ziyad Zolkefli has broken the world record twice, while competing in Rio 2016 and in London this year. Another Malaysian Paralympian, Abdul Atif Romly broke the world record three times on the same day for the long jump category at the Rio 2016 Paralympics. He was also selected as the flag-bearer for the Malaysian team at the Rio closing ceremony.
Mohamad Ridzuan Mohamad Puzi, a Paralympic runner and Rio 2016 gold medalist, once held the top placement in world rankings for the T36 100m sprint category. He has since fallen to the second spot after being surpassed by Chinese paralympian Yan Yi Fei. He and Abdul Atif Romly were awarded a double-storey terrace house each by the Perlis Government for their achievements.
5. Malaysia was one of the first countries to offer Paralympians equal incentives as able-bodied athletes
After Malaysian para-athletes got 3 gold medals in the Rio Paralympics last year. Their achievements inspired Youth and Sports Minister Khairy Jamaluddin to call for equal cash rewards between Paralympians and Olympians which was then approved. Previously, Para-athletes were compensated 30% less than able-bodied athletes.
As KJ puts it:
"Our para athletes' achievements and sacrifices must be honoured the same as other athletes. Not 30% of 'normal' athletes. I would not know how to feel 30% proud of them. I only feel 100% proud of our para heroes." – Khairy Jamaluddin on Facebook
Currently, that reward can be as much as RM1 million for a gold medal and a lifetime monthly pension of RM5000. Meanwhile, Singapore still has different cash rewards for Paralympians and Olympians. In Thailand, able-bodied athletes used to be rewarded up to three times as much as para-athletes, but this has since been corrected. Philippines signed a new law in 2016 granting Paralympians equal cash rewards as Olympians.
For all their hard work and preparation as athletes, they deserve our support
Just last Sunday, the opening ceremony kicked off at Bukit Jalil National Stadium with the help of both abled-bodied and different-abled performers, including well-known local artist Yuna, the Down Syndrome Association of Malaysia and the Beautiful Gate Foundation for The Disabled.
While that was happening I was at a mamak stall with a huge projector-TV, and the screen was tuned to a football match of Manchester Utd vs Everton. Bukit Jalil Stadium was less than a 10 minute drive away, and yet—like many young Malaysians—we'd rather watch English footballers playing in another country rather than our own para-athletes playing in our backyard.
After finding out that Malaysia started the ASEAN Para Games, I hope more Malaysians will support our para-athletes. Because the fact is that we are definitely not far behind (currently ranked second in ASEAN) when it comes to Para sports, and it can be a great source of pride when we see our own para-athletes do well in events.
They deserve more than just our support and interest in what they do, especially when we take into account all the physical barriers and challenges faced by para-athletes. We should support them not only because we are Malaysians, but also because whatever they achieve on the field also serves as a reminder that we can surpass our own limitations. Good luck to our athletes! Bangkit Bersama!
[EDIT 21/9/17 11.39am]—Caption for picture of Khairy with Grace Fu, the Singaporean Minister of Culture, Community, and Youth, has been corrected after she was mistakenly identified as an athlete. We are truly sorry for the mistake.