[Artikel ni asalnya ditulis kawan-kawan kami kat Soscili. Kalau nak baca artikel ni dalam BM, klik sini!]
Malaysian politics seem to be thriving with political alliance rumors nowadays. Everyone seems to be in the mood to form a political alliance with someone, or Prime Minister Dr. Mahathir Mohamad, to be more specific.
At first, UMNO and PAS had signed a unity charter signaling a political cooperation in September 2019. Following that, there was allegedly a leaked audio of UMNO chairman Ahmad Zahid Hamidi calling for a political cooperation with current Prime Minister Dr. Mahathir Mohamad, or more specifically, Parti Pribumi Bersatu Malaysia. And most recently, PAS president Abdul Hadi Awang apparently called for a vote of confidence for Mahathir to remain as PM in the next Parliament session.
If you had listened to the audio, the reasoning behind Zahid's calling for a cooperation was that Mahathir seemed to hold a lot of power and PAS was already looking for an alliance with Mahathir, so he didn't want UMNO to fall behind. Meanwhile, Hadi apparently wanted to work with Mahathir because it would ensure the government is in the hands of Muslims.
"The political power of Islam must dominate the administration because Pakatan Harapan is bumbling." – Hadi, as quoted by FMT
Now, in the increasing discussions about possible alliance between UMNO-PAS and Mahathir, our friends over at SOSCILI took a couple of guesses of what could happen…
1. AMANAH and DAP may end up as the opposition again
Hey, look, before PPBM was formed, PKR, DAP, and AMANAH came together to form the Pakatan Harapan (PH) coalition in 2015. It was only in late 2016 that Mahathir reemerged in the political scene with PPBM, subsequently joining PH. However, like a new couple in your college first year #itscomplicated, it does seem like the coalition's going thru some stuff now with a lot of infighting going on.
For example, DAP sec-gen Nga Kor Ming has reportedly threatened to pull out of PH. And there was also a suggestion by PPBM exco Mohd Rafiq Naizamohideen to reconsider the party's partnership with DAP.
Plus, it's been said that AMANAH is quite loyal to DAP. Apparently, they are considered so loyal that it's been criticized by some for being unfaithful to the Malays. So, it may be safe to kinda put DAP and AMANAH as one camp in PH.
So what about the others?
Well, the biggest feud so far has been between PKR president Anwar Ibrahim and vice-president Azmin Ali. And this feud seems mainly fueled by Azmin's backing of Mahathir to remain as PM, while Anwar's been looking forward to the power to be transitioned to him soon, which Mahathir promised when the coalition won GE14.
And there are some powerful influencers seemingly in Azmin's camp too, like Zuraida Kamaruddin, Saifuddin Abdullah, Tian Chua, and Mansor Othman.
Because the Dewan Rakyat seats on the Parliament website is still being updated, we can't give you actual numbers. But just in estimation though, if you take into consideration the seats owned by team Anwar of PKR, DAP, and AMANAH, it roughly adds up to around 83 out of 222 seats, which may be sufficient enough for some sort of political partnership.
However, when you take into consideration the seats owned by PPBM and Mahathir supporters, including team Azmin, BN, PAS, Gabungan Parti Sarawak (GPS), and Gabungan Bersatu Sabah (GBS), it'll theoretically add up to 127 out of 222 seats.
If the UMNO-PAS-PPBM alliance does happen, then yeah, it could mean that the other parties such as DAP and AMANAH could return to being the opposition, while UMNO could return to being a part of the government. But still, keep in mind that this remains just a possibility for now.
2. Ministerial portfolios might change hands
So with the assumption that DAP, AMANAH and the Team Anwar part of PKR may return to the opposition if the UMNO-PAS-PPBM alliance does happen, it'd also be safe to assume that something in the ministerial makeup would have to change, considering positions such as Defence Minister and Finance Minister are from AMANAH and DAP respectively, to name a few.
It's may even happen without an UMNO-PAS-PPBM alliance, seeing as Mahathir has hinted at reshuffling the cabinet before.
"My party did not give me a deadline by when the reshuffle would happen. We will discuss this soon with Pakatan Harapan component parties real soon, in a few days time." – Mahathir, as quoted by The Star
3. Certain court cases may be dismissed or settled out of court
Okay, so a few months after PH took over the government and Lim Guan Eng was appointed Finance Minister, his graft case was dismissed by the Attorney General Chambers (AGC). While the AGC claimed that it was due to insufficient evidence, the dismissal still took the Malaysian Anti-Corruption Commission aback.
"The MACC would like to stress that the decision was made by the Attorney General's office and not the MACC." – MACC, as quoted by The Star
Other court cases against other PH leaders have also been dropped before, such as when the Attorney General Chambers dismissed the sexual assault charge against Anwar, saying that it was due to insufficient evidence. But again, correlation doesn't imply causation, so these could all be purely coincidental.
In any case, if you'd like to know, currently UMNO MP Bung Moktar and his wife are currently facing three counts of corruption charges in the Sessions Court. while Zahid Hamidi himself is also being prosecuted for bribery, money laundering, and criminal breaches of trust in High Court. And let's not even start with former Prime Minister Najib Razak, who's been standing trial for more than a year over the 1MDB scandal.
But then again, Mahathir seems to be standing pretty firm on prosecuting Najib and anyone else involved with the 1MDB scandal, so we don't really know how that'll work out.
4. Syed Saddiq might have to work with his alleged attacker
Wait, what? Attacker?
Okay, in case you didn't know, during the campaigning period for the Semenyih by-elections last year, PPBM Youth Chief Syed Saddiq alleged that he was chased after and attacked by BN supporters near the nomination center. He further lodged a police report, claiming UMNO Youth member Papagomo, whose real name is Wan Muhammad Azri, had grabbed him by the neck that day, causing soft tissue injury.
"Although the police were on the left, one of them (from the opposition group), known as Papagomo, came running towards us via a drain to the right. He came right up to my side and grabbed my left shoulder and neck." – Syed Saddiq, as quoted by The Star
But this wasn't the first time Syed had been mobbed by BN supporters. Just recently, he was once again confronted by a group of about 200 people at an event in Johor. Apparently, he had to get away by climbing over a fence. And then he claimed that the group was believed to be from UMNO.
In retaliation, UMNO Youth Chief Asyraf Wajdi Dusuki filed a police report against Syed, apparently even threatening lawsuit, for slander, demanding an apology.
Given that Syed, Papagomo, and Asyraf are all prominent Youth people from both parties, it's hard to imagine them working together after all the commotion. However, if the rumors about an UMNO-PAS-PPBM alliance are true, then they might have to follow Elsa's advice and let it go to work together.
5. PPBM and UMNO's Women's wings may have to work together again
This is Rina Harun, the Minister of Rural Development, Titiwangsa MP, PPBM Women's Chief, and former UMNO member.
She entered politics as a part of Puteri UMNO in 2000, serving in positions like Sepang Puteri UMNO's Division Chief, Selangor Puteri UMNO Secretary, and Puteri UMNO executive councilor. She later on left UMNO in 2017 and joined PPBM as Women's Chief.
But she's not the only PPBM woman who was previously in UMNO. There was also Mas Ermieyati Shamsudin, who served as Puteri UMNO Youth Chief, became become an independent politician after GE14, and joined PPBM in 2019.
But the most prominent former Puteri UMNO member who hopped over to PPBM was probably Rafidah Aziz, who stirred up quite some controversy when she voiced her desire to join PPBM. After that, she was also appointed as one of the members of the Economic Action Council (EAC).
"I am Rafidah Aziz. I decide what I want to do. I don't follow others. I don't care what they do, whether they leap like a frog or whatever. I am not joining PPBM because some fool is joining it." – Rafidah, as quoted by FMT
While there's not as much bad blood between the women's wings of UMNO and PPBM as there are between the youth wings, their histories as prominent Puteri UMNO members might help in the rumored UMNO-PAS-PPBM alliance. But then again, their subsequent jumping ship to PPBM might not.
These rumors have not exactly been welcomed… by PH itself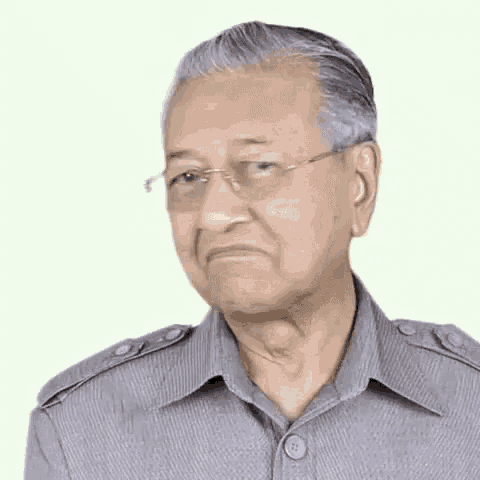 Since the rumors went flying about an alliance between Mahathir and UMNO-PAS, which has been eloquently called Pakatan Nasional, some people have been voicing their thoughts about it, mostly negative.
To start with, Mahathir's special media adviser Kadir Jasin scoffed at the rumors, claiming it to be ridiculous because Zahid's not in any position to talk about an alliance when he's currently facing more than 30 charges of bribery. Kadir had also apparently mentioned the rumors to Mahathir.
"But when I mentioned this to the prime minister sometime later, he quipped: 'Dia (Zahid) ada sokongan ka? (Does Zahid have the support?)" – Kadir, as quoted by FMT
Lim Guan Eng himself has even written an opinion piece on Malaysiakini opposing the idea of Pakatan Nasional – you can read the full piece here. Essentially, he was calling the rumored alliance dangerous to the idea of racial unity in Malaysia.
"Harapan is the only coalition that represents all Malaysians and firmly rejects racists and religious extremists trying to regain the power they had earlier lost through corruption and economic mismanagement, by targeting non-Malays and non-Muslims. Harapan wants shared prosperity that is inclusive, not exclusive, to only one group." – Lim, in Malaysiakini
Meanwhile, Mahathir himself has been welcoming the support by UMNO and PAS for him to remain as PM, but he had also dismissed the rumors of an alliance with them. Apparently, while he is open to meeting people, including the opposition, he maintains that he has not approached anyone about an alliance.
"I am open to hearing their opinions because I won't be able to solve problems if I don't know what they think.

That is what happened but there are those that interpret my meetings with leaders from the opposition as an effort to create a new coalition. That is not true." – Mahathir, as quoted by Malaysiakini
So right now, even if UMNO and PAS want to work together with their ol pal Mahathir, no one really knows if it'll happen. It's perhaps also important to remind you that the scenarios we listed out above are only that – possible scenarios.
Still, whether the alliance happens or not, or whether Mahathir will remain as PM or step down for Anwar, all we can do is hope that the leaders in our country will always do their jobs to the best of their abilities with the rakyat in mind.