Ever hear someone say something and you immediately think, "That… smells like bullshit"? That's pretty much our reaction when we heard the gomen official cars were gonna be switched from Proton Perdanas to Toyota Vellfires. The switch isn't the bullshit-smelling part; it's the reasoning that was given – apparently, Vellfires are cheaper to pay for and maintain versus Perdanas…?
Now, before we all drown in our own preconceptions about these costs, maybe it's better to take a little time to check out whether the Ministry of Finance's (MOF) claims are true. Luckily for y'all, we looked up the numbers so you don't have to, and it turns out that…
Vellfires are more expensive to buy, but cheaper to lease?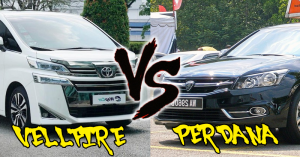 Anyone who's got passing knowledge about cars will know that there's no way that a fully imported luxury MPV from Japan is gonna be cheaper to buy than a local premium grade sedan. The rest of you who walk or take rickshaws everywhere, that might not seem as obvious to you, so we'll break the prices down for you (as best we can).
The MOF said that some of the government-issue Perdanas are approaching six years old, so to make it somewhat fair, we'll take the price of the 2016 Proton Perdana 2.4L Premium as a reference point. Since Proton has taken down the old brochures on their website, this article from paultan.org will have to do.
According to them, a new Perdana 2.4L Premium went for RM138,888 in 2016.
It's much easier to pin down the price of a 2021 Toyota Vellfire 2.5L – RM367,881.
Says so right there on their website (why the extra RM1, Toyota?). The math competency level at Cilisos is horrendous, but even we can see that the Vellfire costs almost 3 times to buy compared to the Perdana.
"Hey Cilisos, the gomen isn't buying the vehicles, they've been renting them," We hear you say. Sure, but that makes it even weirder because apparently, it's more expensive to rent old Perdanas than new Vellfires. Yeah. The MOF said that the monthly rental cost of the Vellfire is RM4,851.61, while the Perdana was RM4,854.41. Spanco, the fleet management company supplying our gomen with vehicles since 1994, certainly has some… interesting pricing policies for their rentals.
That's just the purchase price and rental for the vehicles. What about maintenance?
The Vellfire is more expensive to maintain, but only because of labour cost
Driving a car means you'll have to take it for regular maintenance checks. That's just a fact of life, like your girlfriend leaving you after you forgot her birthday for the third year in a row. How does the Perdana stack up against the Vellfire in this department? Just in case you didn't know, you'd usually send your car for maintenance after it's traveled about 20,000km or after 12 months.
First up, the Perdana.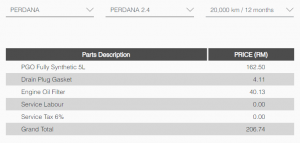 So, a trip to an official Proton service center would run a Perdana owner RM206.74.
In the other corner, the Vellfire.

Toyota actually offers three different maintenance packages for their post-10,000km maintenance services: Basic, Advance and Advance Plus. The Advance package is the most similar to what Proton has, and that comes up to RM316. At first glance, the Vellfire costs more to maintain than the Perdana, but if you take a closer look at the price list, both vehicles don't cost that different to maintain cuz Proton doesn't charge for their labour. In fact, Proton's fully synthetic motor oil lagi mahal.
While everything above aren't taking into account other factors like the occasional traffic mishap or the quality of the vehicles themselves, it's still surprising (at least to the writer) how close the maintenance costs are for both vehicles.
Our gomen and politicians seem to really like buying luxury cars
This isn't the first time our gomen has come under fire for "splurging" on cars; we've previously made a comparison between the Perdana and Mercedes-Benz S450 L AMG Line when the Kelantanese government got its Mentri Besar, Exco members and state leaders 14 of the German-made petrol guzzlers. Earlier this year in January, Malaysia's first multi-ethnic reform movement, Aliran, blasted the Penang government for dropping a Mercedes-Benz S560e limousine into their Chief Minister's lap.
Things like these beg some questions that we're sure are on everyone's minds: do our politicians really need that level of comfort when they're being driven around? Why not use those funds for other, arguably better purposes like improving our healthcare institutes or paying our civil servants more?
In the end, the decision really is up to the gomen, but if we don't speak up about our concerns especially when public funds are being utilized in ways that we don't think fit the bill, who will?