Culture
Lifestyle
Msia vs Spore: 6 interesting differences in our toilet behaviour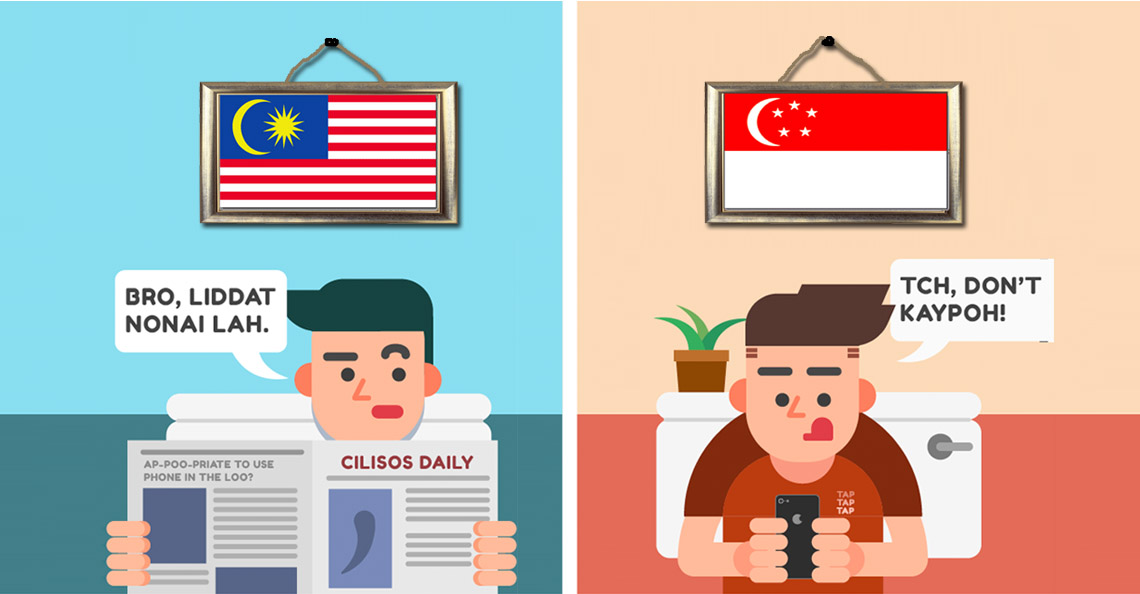 Earlier last year, SurveyMonkey ran a survey on what Singaporeans were doing in their toilets. When they asked us to publish the results of the survey, we decided, hurmmmm why not do one for Malaysia since we're so passionate (-ly complaining) over our toilets? And so we did! 
We conducted the same toilet survey among Malaysians and blasted it out to Facebook users within the country. But in typical Malaysian fashion, by the time CILISOS wrapped everything up it was…
And now the time has come for us to publish this. With a great deal of designing help from another new friend, Piktochart, we've come up with a full infographic on '8 differences between Malaysian and Singaporean toilet behaviour' which you can download below.
Before we go on, we should let you know that the Malaysian survey had 848 respondents and the Singaporean survey had 614 responses. For MY, we tried our best to reach out to respondents outside the Klang Valley but most of our participants were urbanites (Kuala Lumpur 37.1%; Selangor 52.5%). And to keep this article short and sweet, we'll only be highlighting 6 of these findings. #notlazyok
1. More Malaysians have dropped their phones in the jamban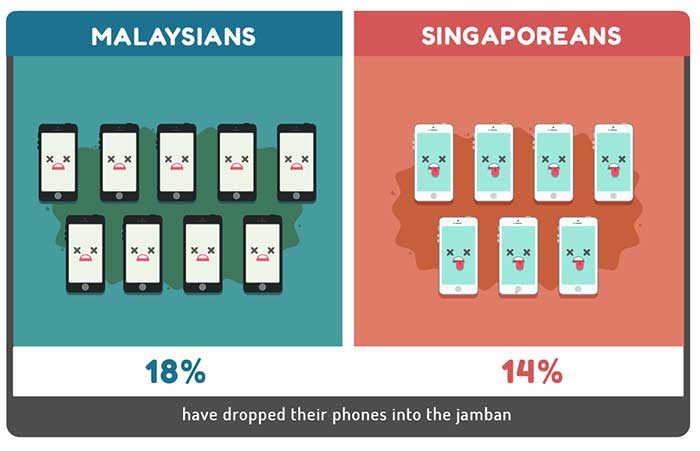 In a survey done by Informate Mobile Intelligence, Malaysians spend an average of 3.3 hours on their smartphones every day. And guess what – we're the THIRD highest users in the WORLD, just behind US and Thailand!
With so much time on our phones, suuuurely we're using it in the toilet la. Don't try to coverline. Plus, we do all sorts of kungfu moves to ease ourselves without touching the seat:
But if you ever drop your phone while you do the doo-doo, just wipe it dry. Air it dry. Use a blow dryer with hot air, or use a normal fan if you have to. But whatever you do, don't put it in rice! It's not about Asians coming to fix it at night or rice absorbing moisture… it's the fact that it just doesn't do jack.
(And it's a waste of good rice, yo! Your phone masuk jamban and touch rice edy, still dare to eat meh?)
2. More Malaysians find their toilets gross (but you already knew that la)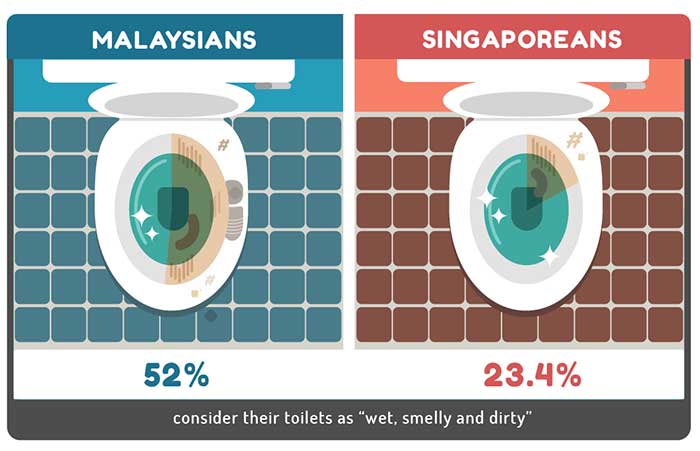 This comes as no surprise, since Singapore is internationally known for their cleanliness! Even if you Googled images you'll see that there's a wooorld of difference. Check out Singapore's:
Then there's Malaysia:
How did Singapore even get so clean? Well for starters, they've got the 'Keep Singapore Clean' movement which the late Lee Kuan Yew started in 1968. It aimed to make the city the cleanest and greenest in the region, but addressing the problem of inconsiderate littering. They've also very proactive in managing toilets (both public and private), to the point where 'toilet colleges' exist. There's even a 'Happy Toilet Programme' which gives recognition to toilet owners/operators for keeping public toilets awesome.
But while we've experienced some real life horror stories in our local toilets, we'd be lying if we said there weren't any improvements, especially the ones along the highways! Have you noticed that many of them now have a resort-like feel, and that there are more cleaners stationed to keep them clean? 🙂
3. Singaporeans are more paiseh… they'd rather let their phones ring!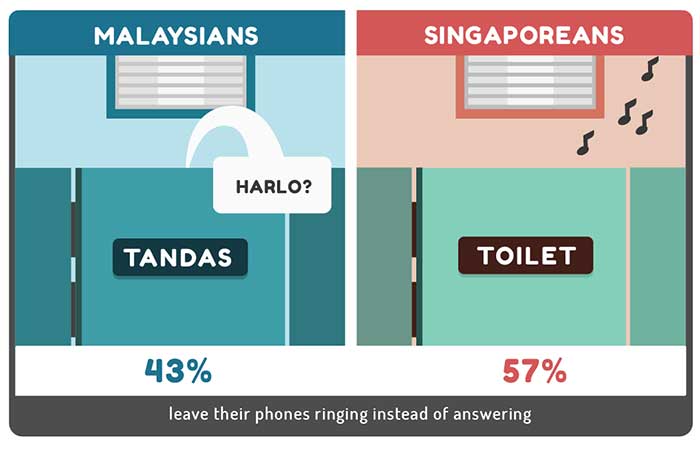 We didn't even know that this is still an issue today. Apparently, the debate about whether or not it's appropriate to use the phone in the toilet has been going on since 2004! Well… it probably began once handphones were mainstream la actually.
But when you're on the phone with someone while you sit on the throne, when is it ok to flush? Can the listener hear you drop a turd? How do you manage holding the phone, wiping your Hershey stains, washing your bum, pressing the flush button AND keeping your dignity intact? Haiyo… no wonder people drop their phones!
Even if you're not one to pick up calls in the toilet, there's a high chance you fall into the next category…
4. More Malaysians are also busy Facebooking while pooping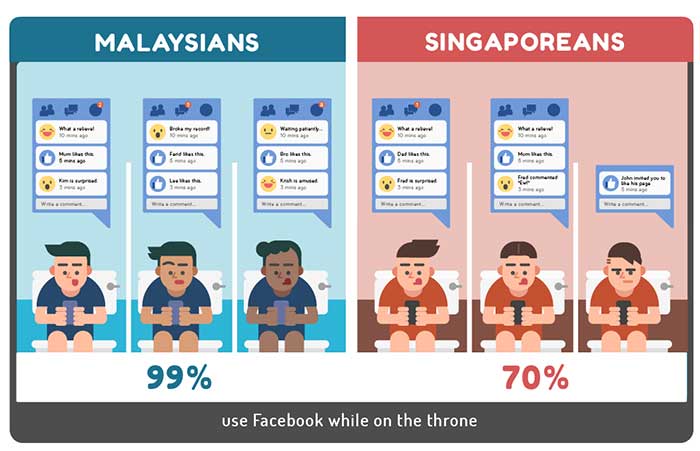 GlobalWebIndex found that Malaysians spend 3.5 hours/day on Facebook, while Singaporeans spend 2.5 hours/day. But on the other hand, there is a higher percentage of active Singaporeans accounts on Facebook! Singapore has 66% active Facebook users, whereas Malaysia has 55% active Facebook users.
So if we put two and two together, it seems like Malaysians are just more addicted to Facebook than Singaporeans. Well now with more videos being hosted on Facebook, and articles loading instantly without opening in a new browser, there almost no way to get more addicted la. (Well actually, if we could starting making business transactions through Facebook then really GG edy la.)
So with our attention glued to Facebook, there's no wondering why…
5. … more Malaysians want Wi-Fi in the toilet too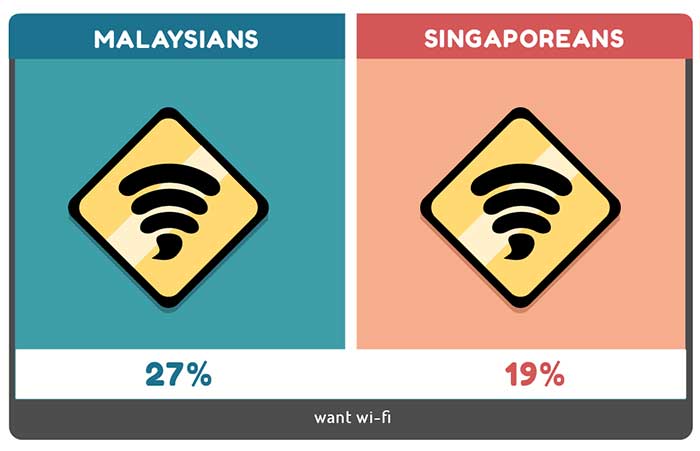 Checking Facebook, watching YouTube, sending WhatsApp messages and using Snapchat filters… all these use data y'know. A LOT of data, in fact! Some of our staple apps are freakin' data monsters!
Didja know that if you spend an hour a day on FB using phone data, you could use 2.7GB data a month? And if you think making WhatsApp or Skype calls would save you money, erkkk think again! Android Authority did a calling test and found that WhatsApp (740.6kB/min) and Skype (875kB/min) were the top two data-eaters in the pool. (And the two most data-efficient ones were Kakao Talk and FB Messenger, surprisingly!)
So with telcos giving limited data, there's no surprise why we all want Wi-Fi in toilets. Singapore currently has packages up to 25GB while Malaysia has packages up to 20GB, but most of these are premium plans that not everyone can afford. Anyway, telcos are constantly changing their plans and coming up with new packages that it's almost impossible to keep up.
6. Malaysians take more…. selfies?! O___O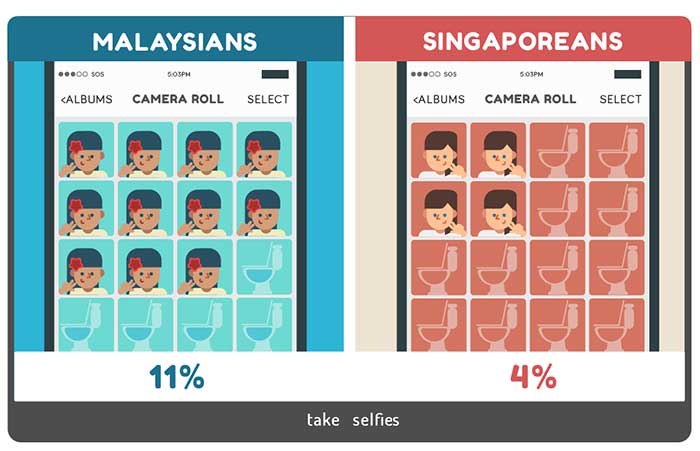 Woiiii… People pangsai pangliu pangpui* and all, but still wanna selfie? Seriously?! Sigh… when you gotta selfie, you gotta selfie…
And if you didn't know, in March 2014, TIME came up with a list which ranked the 'selfiest' cities in the world. Check out the top 10:
Makati City and Pasig, Philippines: 258 selfie-takers per 100,000 people
Manhattan, N.Y.: 202 selfie-takers per 100,000 people
Miami, Fla.: 155 selfie-takers per 100,000 people
Anaheim and Santa Ana, Calif.: 147 selfie-takers per 100,000 people
Petaling Jaya, Malaysia: 141 selfie-takers per 100,000 people
Tel Aviv, Israel: 139 selfie-takers per 100,000 people
Manchester, England: 114 selfie-takers per 100,000 people
Milan, Italy: 108 selfie-takers per 100,000 people
Cebu City, Philippines: 99 selfie-takers per 100,000 people
George Town, Malaysia: 95 selfie-takers per 100,000 people
OMAKKAUKENTUTBESAR we made it to Top 10?? TWICE?!!!! And as it turns out, KL is at #21, JB at #50 and and Singapore is at #53! O__o
But it's important to note how these cities were ranked. TIME built a database of more than 400,000 Instagram photos with the hashtag #selfie which included geographic coordinates. So chances are, PJ-flers were just very generous with telling people where they are. Like in the R&R toilet. 🙂
*berak kencing kentut 
Ok lor… Singapore win liao lor
We kid, we kid. It's not a competition. We learn from each other, ok? That's the only way we can grow 🙂
Anyway, we hope this survey was insightful in some way! Now, CILISOS always believes in working with our readers. We wanna know more about Malaysians cos we're kepoh like that. Check out our other surveys:
What do YOU want to know about Malaysians? Tell us what else you're curious about and we'll see if we can run a survey on that. At the end of the day, we live and spend here, just like you. (No prizes ah, this article is not sponsored by anyone  😥 )
P/S: CILISOS.MY is eternally grateful to our friends from SurveyMonkey and Piktochart for helping us make this happen. For free! So if you guys ever wanna do something like this in the future, check out SurveyMonkey for surveys with headache-free data analysis, and Piktochart to create infographics/charts/presentations that will make others think you hired professionals.
No laaa they didn't pay us to write this.