[Ed's note: this article was originally published in December 2015] 
Christmas is just round the corner, and you maaay be heading out to buy gifts for your office gift exchange thingamajig. But… are you gonna buy something that lady from Accounts would secretly hate? 🙁
Earlier in December, CILISOS.MY ran a quick survey on Malaysians' buying and gifting behaviour during Christmas. It's our second self-made survey so… err… we're a bit n00b la. Sorry our survey was kinda long but most of us are Chinese and we try to make up for length.
Some really important points before we go on:
We had a total of 305 respondents
The survey period was from 8th – 14th Dec 2015
Although we tried to reach out to respondents outside the Klang Valley, most of our participants were urbanites (Kuala Lumpur 37.1%; Selangor 52.5%)
And also cos we bugged a lot of people for this, here's a quick shoutout to our friends at SurveyMonkey who helped us with this. (Srsly ugaiz, this is like THE EASIEST way to analyse survey data… but we were on the paid account la. 😛 ) We're also thankful to eCommerce MILO and Equities Tracker for letting us hijack their Facebook audience, and also to our friends who got tagged endlessly. <3
Ok, back to business. Here's what we found out from our survey….
1. Malaysians rather receive RM20 instead of an unused iPhone 3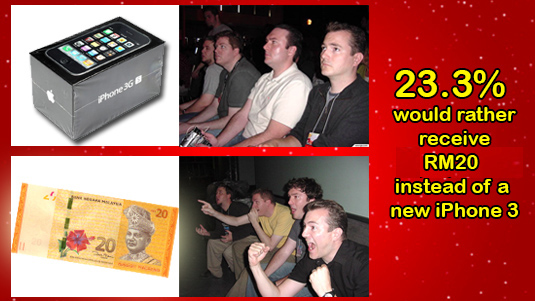 In our survey, we presented a list of very-meh items and asked our respondents to choose which they'd prefer to receive. Although the iPhone 6 is pretty much a luxury item today, it's interesting to see just how worthless (sorry) an unused iPhone 3 is today.
23.3% would prefer an RM20 note over an iPhone 3, so maybe this guy can forget about selling his iPhone 3s for RM350.
Among other things people preferred over the phone were:
A flight ticket to somewhere they didn't particularly fancy (24.7%)
A set of hand creams (23.3%)
A RM50 voucher for a dental checkup (11.8%)
But at least they know it's still better than a Made-in-China, non-Star Wars lightsaber toy, which came in at 3.3%…
2. This year, please don't buy these 3 things for your colleagues: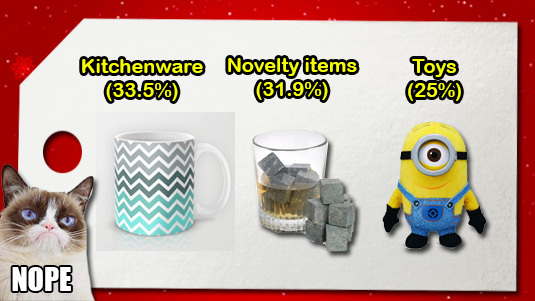 When we asked our respondents to select what they'd hate to receive from an office gift exchange, the overall top 3 choices were kitchenware, novelty items and toys. However, when we looked at the specific responses from KL-ites, they seem to hate receiving books more than toys.
So… uh… if you did all your shopping at the Big Bad Wolf sale, pandai-pandai lah 🙂
3. Instead, buy these: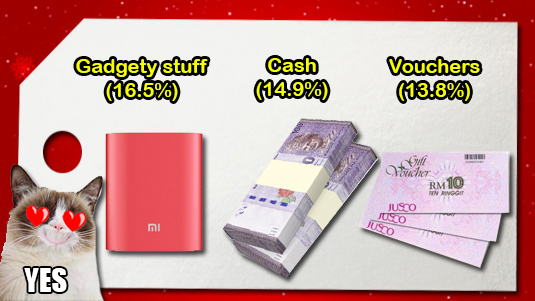 So what do people wanna receive during office gift exchanges then? Gadgety stuff (16.5%) were top of the list (you can buy a Pineng powerbank for RM38.90 on Lazada, or a Xiaomi Mi Band for RM69 on 11street), followed by dolla dolla bills (14.9%) and vouchers (13.8%).
Well since respondents are overspending on gifts (39.1%), it's always nice to receive some cash back la. Plus freaking hikes in toll rates, train tickets and all….. who dowan? It's just that nobody says it cos like, Asian manners and all.
With this in mind, you probably won't be surprised that……
4. Malaysians can be cheapskates
That's right. That gift you're about to get from your new co-worker maaay have been around since 2004.
When we asked what our respondents would do if they received a gift they didn't like, most of them (39.7%) said that they would 'keep it for another gift exchange/birthday'. But even as cheapo as it may seem, only 1.1% said they'd sell the gift away.
"Well…. if the plastic wrapper isn't open, still considered new what." – CILISOS writer Hans, whom we now all silently judge
So… what SHOULD you buy for people like these?
5. Security guards also get presents 🙂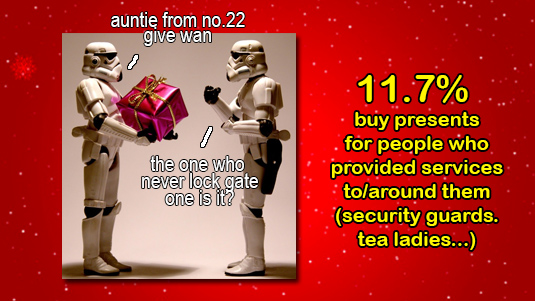 For something to warm anyone's cold heart, 11.7% said that they'd buy gifts for the people who service them. These are probably people you know by three names: aunty, bos or anneh. We were expecting majority of them to be people aged 45 and above, but turns out…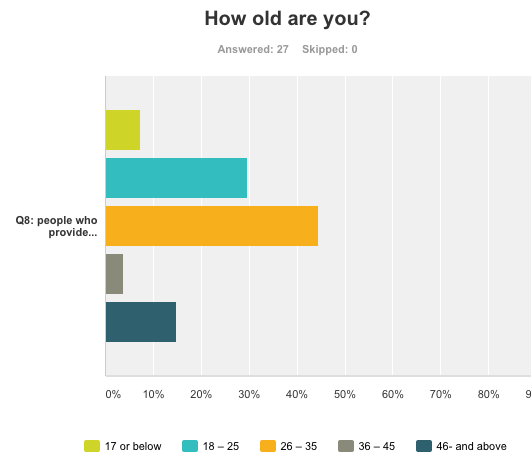 … 7.41% of these flers are actually aged 17 and below! If you're one of them, go give your mom/dad a hug for us k? :')
6. People have borrowed money to buy gifts
In other news, our respondents said that they had borrowed money to buy Christmas gifts. Ok, at 4.8% the figure is not a big one la, but it's still something worth noting. But how old are these people anyway?
15.4% are aged 17 and below
38.5% aged 18-25
38.5% aged 26-35
0% aged 36-45
7.7% aged 46 and above
On a side note…. how much do people generally spend on gifts anyway?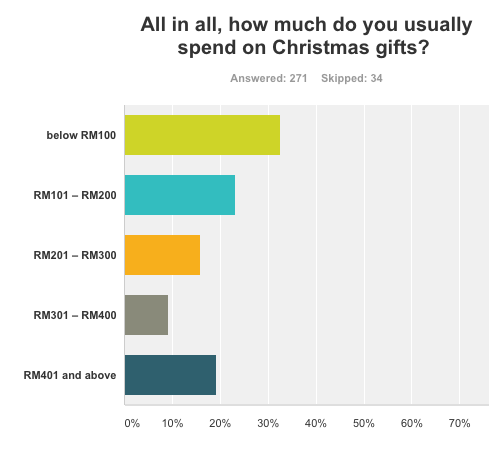 A majority (32.5%) of them end up spending less than RM100 in total, but coming in very closely is the RM101-RM200 bracket (23.3%) followed by… *gulp*… RM401 and above (19.2%).
7. Don't be afraid to DIY your gifts….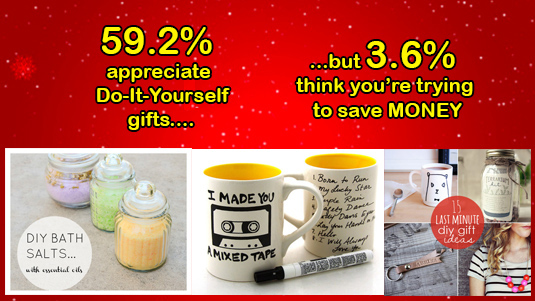 While 15.9% respondents said that they DIY their gifts, they'll be happy to know that their gifts are appreciated by the receivers. Well, 59.2% of them. To add to that, 3.6% think that they're just cheapo and 12.6% said they just generally don't like DIY gifts. 
Also, if you looked through Pinterest and blogs, most of these DIY projects are generally kinda girly. Y'know like bath salts and lip balm and necklaces and whatnot. So, what's a good option for guys?
"I'd want something I can keep or use. Even a greeting card is nice enough." – Chak, CILISOS.MY Editor-in-Chief

"Anything that serves a purpose. I was given a re-fashioned pizza box that served as a holder for my Ricolas and I really liked that." – Uihua, CILISOS.MY Writer
8. People are buying gifts online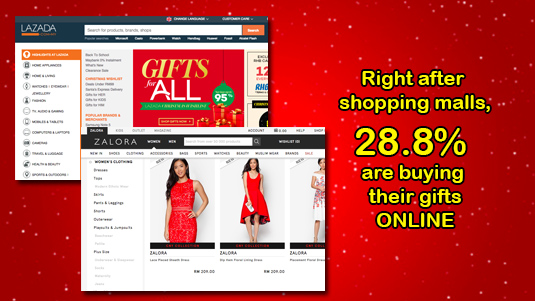 …. especially CILISOS. There's always at least THREE parcels a week. We have a problem.
Shopping malls take the lead as usual (86.7%), followed by online sites (28.8%) and warehouse sales (24.7%). Now this is particularly interesting to us cos it just shows how much the online shopping industry has grown. With so many sites like Lazada and 11street (plus preloved apps like Carousell!) on the rise, shopping is suuper senang now yo. Go toilet pangsai also can come out with chocolate cake. (The real one.)
Well, with discount vouchers and all (like during the madness that was 11/11 and 12/12), maybe consumers are getting smarter nowadays?
Just one tip – check the delivery date of the stuff you're buying online since some stuff actually get in flown in from China just for you. Don't be that guy at the gift exchange who says,
"Heyyy thanks for the gift! Yeah I bought you one but it's coming next month".
Nobody believes you.
9. Our Muslim respondents liked Christmas gift exchanges
We didn't get a high percentage of Muslim respondents (7.9%), but here's what we got anyway.
Do Muslims give gifts during Christmas? Well, it was 50% yes and 50% no. Those who said 'no' said that it was because they 'weren't Christians' (41.7%), they 'didn't have money for it' (33.3%) and that they 'didn't have anyone to give it to' (25%).
However, 100% of them thought that Christmas gift exchanges were fun, and 41% of them would reciprocate by buying a gift if they were given one. 
10. Majority actually do not identify themselves as Christians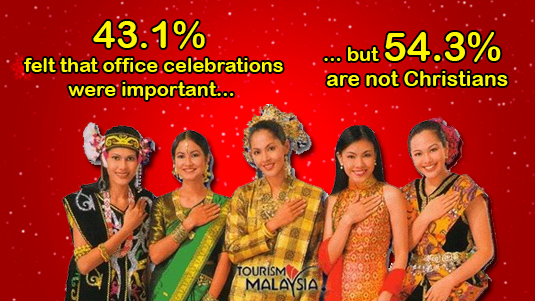 We asked our respondents to tell us how important/unimportant office Christmas celebrations were to them. 43.1% felt that they were important, but on the flip side, 7.5% felt that they weren't.
Let's talk about the former for a bit. Interestingly enough, a majority of them (54.3%) actually did not identify themselves with Christianity. And out of these bunch, 64.2% were from Selangor and 28.4% were from KL.
With a year of racial uproar and full-on drama in politics, it's nice to see some form of muhibbah positivity in this, especially since Christmas seems to have evolved into a cultural celebration worldwide.
Tell us what else you wanna know about Malaysians!
We hope this survey was helpful in some way! So here's the thing. CILISOS always believes in working with its readers. We wanna know more about Malaysians cos we're kepoh like that.
If you wanna know more about our behaviour, check out some of these surveys we did in the past:
Msia vs Spore: 6 interesting differences in our toilet behaviour
So tell us WHAT ELSE you're curious about and we'll see if we can run a survey on that. At the end of the day, we live and spend here, just like you  🙂
Comment below!