Sponsored
Inside the 2-day festival in Putrajaya that wants to teach Malaysians how to spend wisely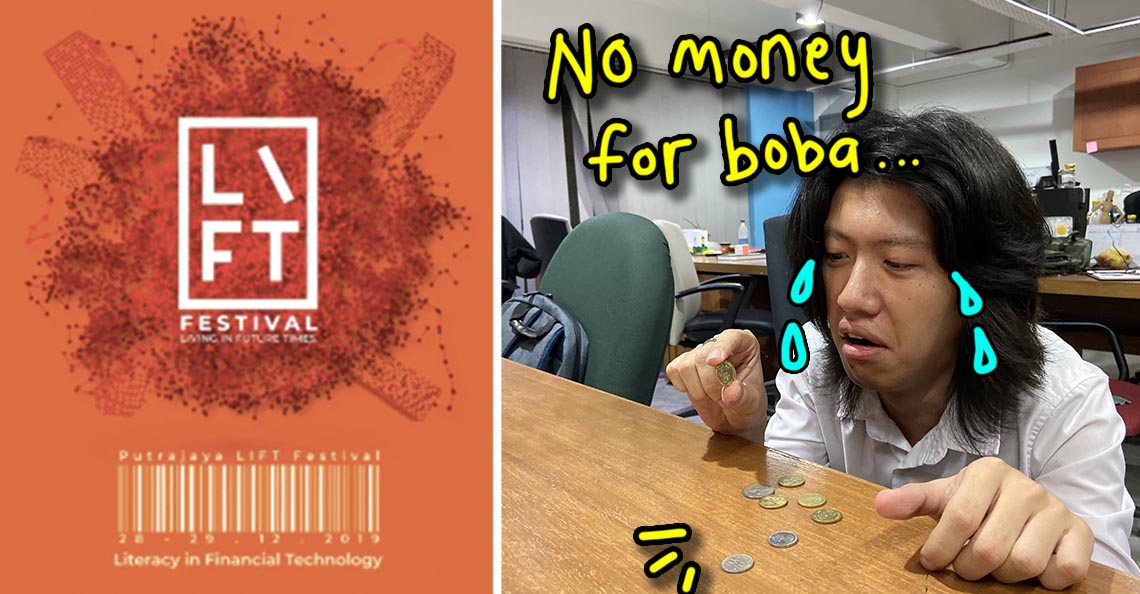 20 years ago, we wouldn't have imagined that we could buy meals, groceries, clothes – or even send money – all through our phones. There are also all sorts of credit and debit cards at our fingertips, and all these have completely changed the way we spend our moolah!
With so many ways AND places to spend, no wonder why it's so easy for us to lose track of our budgeting. In fact, Malaysians are known to be pretty bad with our money, according to a study by an agency under Bank Negara! No wonder why the Ministry of Finance (MOF) is alarmed enough to throw a mega 2-day festival, completely FOC for the public. (More on this later!)
Malaysians are significantly less financially literate than… Myanmar?!
In that study, the Financial Education Network (FEN) (an agency led by Bank Negara and the Securities Commission of Malaysia) said that our current financial literacy is less than satisfactory. In fact, it's at 36%… lower than Singapore (59%) and Myanmar (52%)!
And check out more shocking stats from the study:
1 out of 3 rate themselves to be of low financial knowledge 
84% who save regularly do so only to withdraw their savings at the end of the month
Almost half are not confident that they'll have a proper stream of income upon retirement
52% find it hard to even raise RM1,000 as emergency funds!
On top of that, the Credit Counselling and Debt Management Agency (AKPK) says that 64,632 Malaysians declared bankruptcy in the span of 5 years. In fact, September 2018 itself raked in 13,338 individuals, and the youngest person in that statistic is only 18 years old!
What's interesting is that the #1 reason for bankruptcy among Malaysians is car loans, followed by… housing loans?! So much for the belief that houses are great investments. Anyway, looking at the way we're managing our money, no wonder why the MOF has recently launched the National Strategy for Financial Literacy to improve our country's financial sen-se.
That's why they're running a FREE event in the next few weeks…
Together with Bank Negara, the MOF is gonna rally everyone in for a financial festival for one weekend only! On the 28th and 29th December 2019, they'll be hosting the Putrajaya LIFT Festival 2019 (short for Literacy in Financial Technology), where there will be financial seminars, workshops, talks, and all sorts of helpful exhibits.
Plus, if you're in a bit of a sticky financial situation, you may be able to get your solution here. There's all sorts of advice available – dispute management, SME financing, mortgage financing, CCRIS checking… the list goes on and on.
But if you think that it would be boring, well… think again. It wouldn't be a festival without music and the arts, so they're coming up with their own mini Fringe festival (kinda like Melbourne Fringe, but for Malaysians). Apart from indie music concerts, they're also getting 10 street acts from 10 countries to perform in various locations within the festival site.
There'll also be some pretty high tech art showcases, workshops and VR cinemas. Our personal fave? The award-winning 8K Per Eye Stereoscopic VR films from Taiwan. We don't even know what 8K Per Eye Stereoscopic means, but whatever it is, it's def gonna be super cool.
If you like shopping and food, the Market will be open for 12 hours each day, where you can find great bargains on lifestyle, crafts, traditional health, and agriculture products… and LOOOOTSA food, of course. A special highlight is its Pasar Glam (indoors, got air-cond, don't worry), where over 100 vendors offering top trending fashion, beauty, lifestyle, and jewellery products. There's even a barbershop, so you can get a trim while your partner shops.
Just be warned that it's a cashless market, so come with your e-wallets prepared! And.. err.. spend wisely la, it's a financial literacy festival after all.
With our gomen's initiative, we're hoping that Malaysians – including usgaiz at Cilisos – will be smarter in their financial choices. Haiyo cannot tumpang stay in our in-law's house for another 10 years ler…. T_T