It's probably every Malaysian's dream to buy their own house one day. The dream would be at the top of most people's wishlist, right after getting married and having a successful career. The bad news is, the dream seems a little unattainable at the moment because Malaysians don't seem to be buying anything.
But with so much unsold property, the gomen recently shocked Malaysians when they announced that now, property developers can have the opportunity to give out loans too!
"In order to relief burden to the buyers, sometimes it's hard for them to get bank loans, that's why the ministry agreed to give money lending licenses to any developer that is interested, especially developers that are more established." – Urban Wellbeing, Housing and Local Government Minister, Tan Sri Noh Omar, as quoted by The Malay Mail Online
But some of us may not be entirely familiar with the property market, and so perhaps we should first explain WHY is buying a property such a huge burden to people right now.
The property market has been declining for the past 2 years.
Recent reports by the National Property Information Centre (Napic) have shown that in the past 2 years, property sales have been dropping like crazy. 
The Malay Mail Online has also reported how real estate people have been telling them that it's been difficult for them to survive, and have had to take up other jobs.
"In 2012, I was doing very well and I could make five figures almost each month as my property listings in Bangsar, Damansara and some parts of Johor and Ipoh were doing great. I used to sell about two to three high-end properties a month but now I hardly sell one and even if I do, the property would be a mid-range one.

So when the property market started to slow down from 2014 onwards, it became difficult for me to pay instalments for my car and house so I chose to become a Grab driver to cover my expenses." – Michael, a real estate agent, as quoted by The Malay Mail Online
But what's caused the property market to get to where it is today? Well, experts cite a number of factors.
"The cost of living has gone up, purchasing power is no longer strong, so whether it is to buy a property or any goods at the mall or to go for a holiday, it has become difficult because the overall velocity of Malaysians' spending is affected." – Real Estate and Housing Developers Association (Rehda) Institute chairman, Datuk Jeffrey Ng, as quoted by The Malay Mail Online
The article also mentions things like GST, banks cutting down on housing loans, and Bank Negara itself making it harder for people to get housing loans.
In other words, we're not only broke, we can't borrow!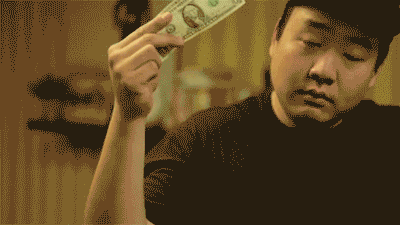 And to top off just how far we've come, one investment guru even said that 2016 would be "the worst year for Malaysian property". 
Which leaves us with one huge question though. If people aren't buying property….then why da heck did developers still go and build so much until every time we go to a mall, there would be people running up to us, begging (and bugging) us constantly to buy a new condo or bungalow??
The properties being sold now were the ones in development 2-3 years ago
Our friends at PropSocial (they're a community-driven property website who literally share the office with us) tell us that 2-3 years ago, demand for the properties being sold today, like condos and bungalows, were a lot higher. And so, developers ended up doing many of those sort of luxury projects.
The thing is, the property market has changed significantly since then, and because of the things mentioned above, people are shifting their demand towards a different type of property: the cheaper kind.
"Property prices are becoming too expensive so they (developers) make smaller units available. But in the social housing market, we're still not approaching that way of doing things, so I think that is one thing maybe the JPN and PR1MA should start looking at because that's the starting point for most people."- Malaysian Institute of Architects (PAM) President Ar Chan Seong Aun, as quoted by The Malay Mail Online
And this coupled with the fact that bank loans weren't gonna be so easy to get anymore, it seemed that these property would have gone unsold, and the developers themselves probably losing a lot of money….until the gomen recently mentioned that the developers themselves would now be allowed to give out loans.
So if it's been difficult for Malaysians to buy property, it's good that developers can give out loans now right?
You'd think with the announcement that there would be more loans available, people would be more happy. But the thing, it was quite the opposite.



And as we took a closer look into how the developers would be giving out these loans, it looks as though there are actually a few concerns which the gomen may need to address:
a) The interest rate is crazy high
Our friends at PropSocial tell us that the current interest rate for house loans are between 4.5%-5%. The interest rate for the new developer loans? Between 12%-18%! Let's use an example to elaborate the difference, and use a home loan calculator to calculate how much a person would be paying a month:
Kok Seng is just a regular chap who wants to buy a condominium which costs RM500,000:
If he takes a loan from a bank, we assume the following very standard loan repayment terms:
Length: 35 years
Downpayment: 10%
Interest rate 4.5%
Amount Kok Seng will be paying a month: RM2,129.66
Total amount Kok Seng will be paying: RM894,457.2
If he takes a loan from the developers, we assume the best possible terms he could get:
Length: 20 years
Downpayment: Not exactly said but we'll assume 10% anyway
Interest rate: 12%
Amount Kok Seng will be paying a month: RM 4,954.89
Total amount Kok Seng will be paying: RM1,189,173.6
So not only will he be paying more every month, he will pay an additional RM294,716.4!  
b) The developers may not have as stringent credit tests as banks do
It's not like the developers are gonna lend money without any laws. Urban Well-being, Housing and Local Government Minister, Tan Sri Noh Omar, has said that the developers would lend money under the Moneylenders Act of 1951.
But multiple sources (like here, here, and here) have mentioned that the credit checks (checks performed by the lender to determine if the person borrowing is capable of repaying the loan) by licensed moneylenders are less stringent that the checks performed by banks. 
"Licensed moneylenders normally provide loans to customers with low incomes or bad credit histories. Commercial banks tend to avoid lending to these groups due to their high expected default risk. As such, these groups turn to licensed moneylenders for their less stringent credit requirements, flexibility in financing terms and immediate fund disbursements." – Report by Seanet (a research center for Southeast Asia)
Which actually leads us to the last concern.
c) Bank Negara made it difficult for people to get loans for a reason
We mentioned earlier that Bank Negara has made it harder for people to get housing loans. That actually happened back in 2013, when Bank Negara introduced new rules because our household debt-to-GDP (when you compare what a country owes, to what it produces) was among the highest in Asia.
This year, our household dept is growing…and still among the highest in Asia. But Bank Negara also added that the measures they have in place to control that debt is sufficient, and that they didn't intend to make it easier for people to obtain house loans.
And if that's the case, doesn't it seem a little contradictory for Bank Negara to say no to easier loans, while the Urban Wellbeing, Housing and Local Government Ministry does the opposite. In fact, one of our finance ministers Dato' Johari Abdul Ghani has also brought up how allowing developers to provide loans seems a little illogical for people to be denied loans with an interest rate of 4-6% from banks, only to be provided the option of loaning from developers with a much higher interest rate.
So there are doubts about this even within the gomen itself.
If I can't get a bank loan, and it seems risky to loan from developers, how to buy a house la?
We'll just put it forward that our friends at PropSocial say that there is never a "right time" to buy a house. They mention that the best time to buy is when one believes one is financially ready, and has surveyed the market enough to make an informed decision. How would you know if you're financially ready? Well….
"As a general rule, the loan should not take up more than one-third of your monthly salary. Most young adults are usually already paying for their car loans, which is compounded by other obligations such as income tax deductions and Employees Provident Fund and Socso contributions. Hence, they can't qualify for a loan." – Licensed financial adviser and syariah financial advisory for Excellentte Consultancy, Jeremy Tan, as quoted by The Star
Another columnist said this.
"A top real estate agent says that buying a house that you can't afford is like eating more food than you can digest. So you must look closely at your lifestyle and financial capabilities." – Columnist V. Barathi, on Free Malaysia Today
But then the next question is, what if you're not financially ready? Well, then maybe buying a property isn't the right thing to do.
In certain countries like Germany and France, where property prices have shot through the roof, renting is actually more popular than buying a place. Places like the UK seem to be moving in that direction, and people have talked about how to prepare for a lifetime of renting.
We don't know if property prices will always be as high as they are today (because both the gomen and developers are starting to switch to more affordable housing projects), but in the event that it doesn't, it does always seem safer to not buy a property than to buy a property you cannot afford.