If you scroll through FB, you'll often see comments like these that might make you worry about your safety in Malaysia.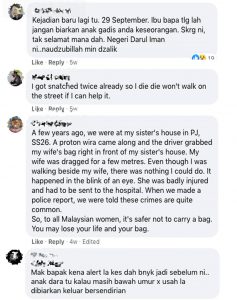 Snatch thefts and scams seem like rather common occurrences. But if you were to seek out various safety surveys online, you'll find that Malaysians generally feel pretty safe. So a while back, Cilisos and our friends over at Allianz Malaysia ran the Jaga-jaga Survey, and on the surface, our numbers didn't run too far. But of course, there are many facets to safety, and when we do a deep dive by genders, states and age groups, that's where our findings get interesting.
Before we get into the nitty gritty, here are some preliminary stats:
No. of respondents:

795

Survey period:

20th August – 4th October 2020

Age group:

Mostly 20-29 (42.3%), but with respondents across all age groups (below 17 – above 60)

Top 5 locations:

KL, Selangor, Perak, Penang & Johor, but with respondents from each state too

Gender identification:

56.6% female, 41.5% male, 1.9% others (Wah, first time we got mostly female respondents!)
Okay, now let's get to those findings, shall we?
1. Pahang and Perak peeps feel the safest, while Melaka and Terengganu folks feel the the least safe
Generally, 65.3% of Malaysians said they feel pretty safe, so that's not too far off from most of the other safety surveys we looked at.
But when we break it down by states, the top 3 states where Malaysians feel the safest are:
Pahang (77.8%)

Perak (76%)

Johor (70.6%)
On the flipside, the states where people feel the least safe are
KL (61.2%)

Terengganu (50%)

Melaka (50%)
When it comes to gender, 41.8% of females reported feeling unsafe compared to only 25.9% of males. Surprisingly though, for the lain-lain gender, only 16.7% reported feeling generally unsafe.
2. Snatch thefts worry Malaysians the most
According to OSAC's Malaysia 2020 Crime & Safety Report, the most common crimes in Malaysia are petty crimes, such as snatch thefts, pickpocketing, and residential burglaries. And according to our survey, snatch theft is the number 1 thing Malaysians often worry might happen to them.
But is this fear warranted? Let's see…
While 40.25% of Malaysians reported feeling worried about the possibilities of snatch thefts, 35.8% actually claimed that they or their close family members have experienced this. Just based on this, we can't exactly conclude that 1 in 3 Malaysians kena ragut before, because this number may have been elevated since those who have experienced it themselves are more likely to take this survey.
People from KL, Melaka and Selangor reported experiencing snatch thefts and muggings the most. But since we couldn't exactly ask the respondents where they were when the incidents happened, we decided to compare our findings with KDN's crime stats from 2004-2016 to see if our results match up. After crunching their data, we found that the states with the highest number of snatch theft cases are KL, Selangor, and Penang, so that's pretty close.
And if you think women are the only ones susceptible to this, think again…
Typically, the best protection against these crimes is to simply be more alert and try to avoid being an easy target. But if you're looking for added insurance, Allianz Lifestyle Protect actually insures you in case you kena ragut or pickpocketed. Even if this happens while you're travelling overseas, as long as you make a police report within 24 hours, you can still claim the benefits.
Speaking of protection…
3. Guys actually opt to use anti-snatch theft bags more than girls
Seeing as how Malaysians seem to feel extra vulnerable when they're walking, let's take a look at the kind of precautions we take there. Generally, most Malaysians seem pretty careful, because:
66% walk on the side facing traffic,
61% checks to see if anyone is following them, and
58% tend to grab their bags more tightly.
Having keys in the hands for self defense purposes also made it to our top 5 popular safety precautions. This isn't surprising since it's quite a commonly given advice. However, while we'd think carrying pepper sprays would also be common, it's actually the least common precaution that Malaysians take, according to our survey results. In fact, more people were learning martial arts for self defense compared to carrying pepper sprays.
Overall, women take more safety precautions compared to men in all of the options provided, except for one: using anti-theft bags. We found that while 9.8% of Malaysians carry an anti-theft bag, men are about 2 times more likely than women to do this. When we look at this outlier by states, the northerners from Kedah & Perlis seem to practice this most, about 4 times higher than the national average.
We also tried finding those anti-theft handbags specifically made for women (y'know, the ones where the straps easily snap off), but boy they're hard to find, and not very cute either.
Alright, so despite the precautionary measures, what would Malaysians do in case their smartphone gets stolen anyway?
4. Sabah folks will die die find their phone back, but Kelantanese are more cincai
We know that losing our phones can feel like losing our right hand, cause they're already so ingrained into everything we do daily. Unfortunately, according to these statistics, only about 7% of lost phones are successfully recovered. And with the prices of smartphones these days, this can be a huge pain to deal with.
So for this one, many of our survey respondents seem to have pretty strong reactions…
If Malaysians had their phones stolen, they most likely will try to track back their phones (68.9%). When we look at the breakdown by states, Sabah, KL, Johor and Selangor people are the most determined to find their phones back, while Kelantan peeps are the most pasrah compared to other states. In fact, Kelantan folks would most likely choose to buy a new phone right away compared to Malaysians from other states.
After that, the next options that Malaysians picked are
Using an app to lock and wipe the phone memories (57.9%), and
Making a police report (35.8%).
If you're looking to lessen the pain of losing your phone, Allianz Lifestyle Protect also covers you with their smart device protection. Even if your phone gets damaged in an attempted theft, you can still claim the benefits. And this protection isn't just limited to phones, but also covers your other smart devices like laptops and tablets.
5. When shopping online, Malaysians are most afraid of getting scammed
According to our survey, 17% of our respondents said that they have kena online scams before. In fact, we also found out that scams is the number 1 concern for Malaysians when they're shopping online.
This is definitely warranted, considering how Telenor reported that Malaysia is the most vulnerable country to internet scams in this region.
After online shopping scams (48.4%), Malaysians also worry about receiving low quality goods (45.8%) and losing their personal data (40.2%).
Since online shopping is becoming a part of our lifestyle these days, it makes sense that Allianz Lifestyle Protect's all-in-one protection plan would also cover you when you're on the net. With it's online purchase protection, Allianz Malaysia will compensate your loss if you purchase from fake websites, or for non-deliveries where the seller or delivery company refuses to refund, replace or give you compensation.
6. On first dates, Negeri Sembilan and Kelantan people worry about their safety the most
Other than shopping online, us young people even turn to the World Wide Web to find love. But no matter how well you hit it off online, eventually you'll have to meet face-to-face for that first date.
If you find first dates to be scary, you're not alone. 16% of our female respondents reported feeling unsafe on first dates. But guys are not excluded too, cause 6.1% of our male respondents shared the same sentiment, along with 8.3% of those from other genders.
Meanwhile, the two states that stood out were Negeri Sembilan and Kelantan, in which 20% and 18.8% of N.9 and Kelantanese people reported feeling unsafe on first dates. 
If you're concerned about your safety when meeting a stranger, then you should really let someone know of your whereabouts, something which most Malaysians are already doing. Only 36.9% respondents said that they don't do this, but if we were to look at it by states, the most guilty ones are those from Terengganu (66%) and Sarawak (50%). Tsk tsk.
7. Penang people love their gold, but not as much as….
While we know that having personal savings and getting an insurance policy are common ways of keeping ourselves, well, insured in case of emergencies, there are some who prefer the old school Fort Knox methods like keeping cold hard gold.
So, we put that as an option, and found that 17.3% of our respondents chose gold as their means of protection, and this is especially true for those who mainly speak Indian dialects (29.4%) and Malay (23.5%).
We also gatal tangan and checked by states to see if Penangites are more likely to own gold than other Malaysians, and the answer is… YES!, kinda. Penangites are the second most likely to own gold, right after Sarawakians.
While gold rarely loses it's value, you can however lose the gold itself. Although Allianz Malaysia doesn't have a specific policy to protect your bling, they do have a policy that protects your everyday lifestyle. Aside from the snatch theft coverage, online shopping protection and smart device protection we talked about earlier, Allianz Lifestyle Protect also covers you in the events of accidents, study interruptions and loss of sports equipment. Heck, they'll even reimburse you if you miss an event coz you were hospitalized.
Now back to the survey results, 79.8% of our respondents said that they have some personal savings, and 64.9% do have some sort of insurance coverage, which is higher than the national average. So, gujob ugaiz!
When it comes to our safety, Malaysians are pretty vigilant
Sure, once in a while, we might be careless or forgetful. Heck, 28% of you guys even admitted to leaving valuables unattended in public places. But for the most part, we do take the necessary precautions to keep ourselves and our belongings safe.
And although we do our best to stay vigilant, sometimes we are the victims of unfortunate circumstances. That's why Allianz Lifestyle Protect is offering an all-in-one plan to protect your lifestyle in case you fall victim to any unforeseen accidents. You can pick and choose how much coverage you need from just RM0.23 a day.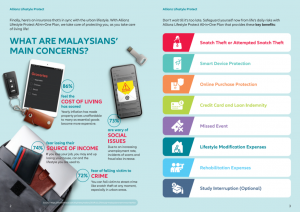 So with Allianz Lifestyle Protect, no need to worry so much about living your best life, cause you'll be protected when you're going out jalan-jalan, when you're shopping online and when an accident ruins your plans. And for students, there's also an optional benefit where Allianz Malaysia will cover your fees for a semester if you or your parents are hospitalized for 10 consecutive days.
And as always, for all you data freaks out there, we're gonna leave you with some BONUS stats before we end:
We're not shy to ask for help… When Malaysians are lost without an internet connection, 61% prefer to ask people for help, rather than trying to figure their way around (20%) or finding wi-fi (12%).
We got fast fingers… 74% of Malaysians cepat-cepat lock their car doors after entering their vehicles, unless they're from Terengganu, in which case only 16% do this.
Most common parental advice that Malaysians disobey is… "Don't walk alone". Other than that, we listen to our parents pretty well.
Half of Malaysians don't protect their health through regular exercise… Yep, 48% of Malaysians said they're too tired. But wah, 2% got personal trainer! Banyak duit nampak…
When invited for events… Malaysians below 30 are more concerned about getting drugged and being pickpocketed, while Malaysians above 30 are worried about getting sick from the activity.
When they park their vehicles… 12% of Malaysians leave their bags in their cars, but they keep the bags open to show that there's nothing valuable inside.
When leaving the house for an extended period of time… 55% of Malaysians would leave the lights on so the house looks occupied. But generally, the older they are, the more likely they are to do this.