It's been a tumultuous couple of months for Tabung Haji.
The govt-linked company had gone thru quite a lot of media attention since December of last year, when the Minister in the Prime Minister's Department for Religious Affairs Mujahid Yusof Rawa revealed that Tabung Haji's accounts had a massive RM4.1 billion deficit. And it just gets worse for them, as it's recent announcement of a 1.25% hibah dividend for depositors was widely criticised by many, such as former PM Najib and MCA president Wee Ka Siong. There were even allegations that Tabung Haji has been taken over by non-Muslims.
With so much trouble surrounding Tabung Haji, it's perhaps fair to ask how we even got to this mess. But before that, let's first give a quick reminder as to how Tabung Haji works in the first place.
It uses depositors money to do business, and gives back dividends to the depositors
Now historically speaking (meaning ignore 2018's 1.25% for awhile), Tabung Haji's dividends have been pretty good, with rates even going as high as 8.25% back in 2014:
Now how does it find so much money to give out? Well, let's take a look at Tabung Haji's business model. We've covered it before more extensively in a previous article of ours, but for the sake of those of you who haven't read it, here's a quick guide.
So for our Muslim friends, they're supposed to perform the Hajj pilgrimage to Mecca at least once in their life. And while it can be quite expensive, the money used to pay for the Hajj also needs to be 'free from riba (usury)' – meaning that money from usual banks can't be used. As such, in 1963, the govt formed the Tabung Haji, a 'pure' savings account for people to save up for the Hajj.
Malaysian Muslims can deposit money into Tabung Haji, and once it hits a certain amount, Tabung Haji will tambah a bit more money to let you perform the Hajj – only for your first time tho, as after that you're on your own. With so many pilgrims to help out, Tabung Haji also has other businesses on the side laa.
For a start, Tabung Haji has launched a line of hotels, aptly called TH hotels. You can find them in Kedah, Terengganu, Sabah, Penang and Selangor. Meanwhile, it also has subsidiaries in other industries such as finance, IT, property and even plantations too – everything a growing govt-linked investment company needs to stay healthy.
Seeing as Tabung Haji is using the money of depositors for business reasons, any profits made from these deals would be shared back with said depositors thru the form of hibah, or dividends. But then why has the dividend rate suddenly dropped to 1.25%, after years of really good dividend rates?
Tabung Haji may have been illegally giving out hibah for years
Remember that RM4.1 billion gap in Tabung Haji's accounts we mentioned earlier? Well as it turns out, by 31st December 2018, Tabung Haji's losses had swelled to a whopping RM10.2 billion.
According to Mujahid, the main cause of it had been that it's investments into various properties and companies of RM19.2 billion had dipped in value, meaning that by the end of the year it was only worth RM9.7 billion. One such example of their wheeling and dealing going wrong was its investment into FGV Holdings Bhd with ended up losing Tabung Haji RM1.1 billion. Other bad deals include a RM670 million bailout of Ramunia Holdings and RM144 million to buy 30% of Putra Perdana Bhd.
Furthermore, Mujahid added that RM22 million in funds from Tabung Haji's charity foundation Yayasan Tabung Haji had been moved around for political activities. And perhaps the most shocking claim from Mujahid is that Tabung Haji's accounts had been tampered with to cover up billions of lost ringgit.
"Tabung Haji during the Barisan Nasional era had openly and clearly falsified TH's accounts to hide losses," – Mujahid, in Parliament, as quoted by The Star
This is important to note because this means that Tabung Haji may have been doing so to continue giving out its high dividend rates over the years.
See, there's a special law called the Tabung Haji Act that determines what it can and cannot do with the funds that it gets. One part of the TH Act is that it cannot declare dividends if it does not have more assets than liabilities. But it seems as tho that Tabung Haji had been giving out these extremely high dividends even tho they didn't fulfill that criteria – SINCE 2014! This also kinda aligns with what some Harapan leaders have been claiming for years; that Tabung Haji was allegedly a pyramid scheme, with sketchy deals carried out to pay out dividends.
Buuuut, we can't just show one side of the argument laa kan. Former PM Najib has responded to the debacle, arguing that it was in fact Harapan who had mismanaged and destroyed Tabung Haji's accounts.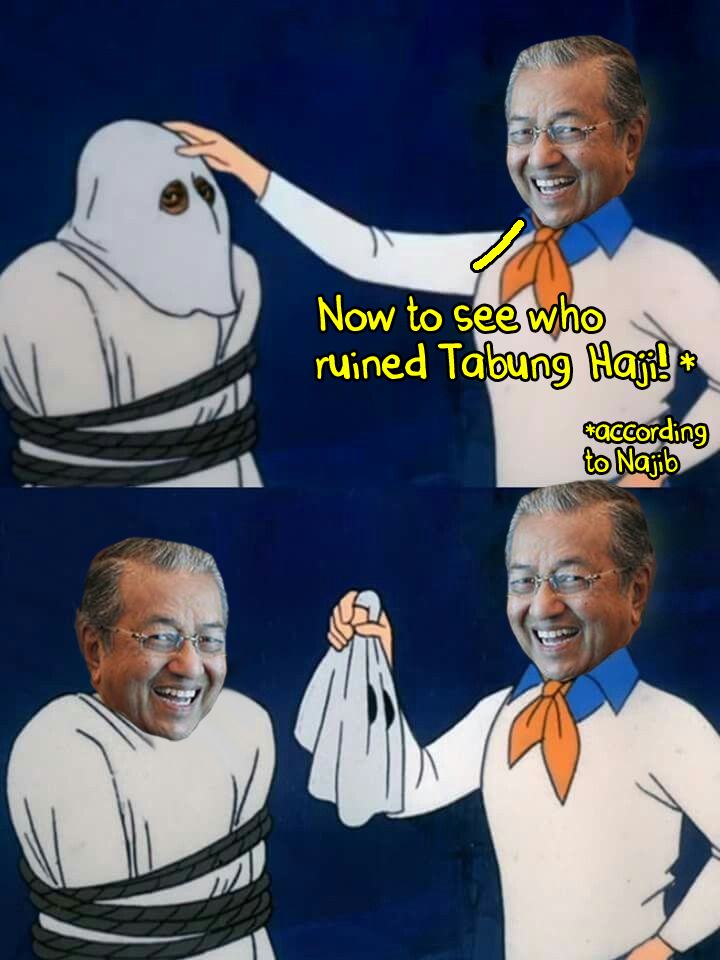 According to Najib, it's a lil fishy how Barisan Nasional had managed to pay out high dividends to depositors for years and years with no issue, but the moment Harapan got into the picture, it all turned bad.
"TH's financial report in 2017, which was approved by the Auditor-General, showed that it has more assets than liabilities. Suddenly, when PH took over,… TH suffered a RM4.1bil deficit at the end of 2017… At the end of 2018, the audit firm reported that TH's deficit had reach RM10.9bil… The government is getting praised for supposedly saving TH after destroying it in the first place," – Najib, as quoted by The Star
But enough about those at the top. What about the depositors themselves?
Tabung Haji's depositors need not worry about hibah or withdrawal – but at a cost for everyone
Here's the part where Tabung Haji depositors can breathe a sigh of relief. Section 24 of the Tabung Haji Act actually states that in the event that Tabung Haji gets into financial trouble to the point where they can't pay for withdrawals, the govt will step in and lend them money to pay y'all first. In the mean time, Putrajaya will also be bailing out Tabung Haji with a RM17.8 billion injection from 2020 onwards, while a special purpose vehicle, Urusharta Jamaah Sdn Bhd, will be formed by the govt to purchase up Tabung Haji's assets.
But it is perhaps important to note that this means that Tabung Haji's woes no longer only affect the Malay-Muslim population. With the govt now getting involved financially, this means that all Malaysians, regardless of their religion, would technically be helping bail out Tabung Haji. This is because the govt's funds are kinda coming from the taxpayers pockets, so yeah.
In any case tho, it's at the very least some closure to what has been a rough time for both Tabung Haji and the depositors who trusted it with their life savings.