Culture
Drinks
Food
Lifestyle
How much do Malaysians actually spend on weekends? This survey debunks some common myths.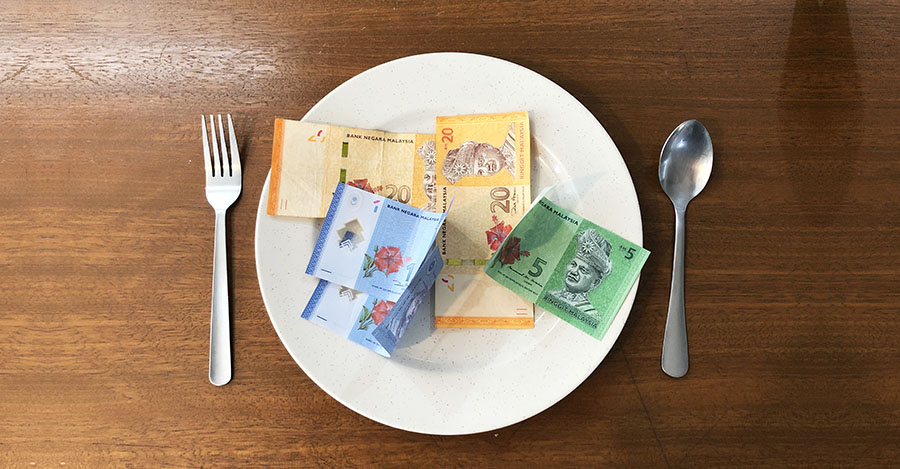 Ever realised that on weekends, shopping malls get RIDICULOUSLY packed? Why so packed? Could it be that it's the only way Malaysians know how to spend their time away from the office? :'(
In typical Cilisos kepoh style, we've wanted to find out more about some of the uniquely Malaysian behaviour that make us who we are. Thankfully, we found someone who was just as kepoh, so we partnered with them to run the Great Malaysian Weekend Survey 2018!
We'd really really like to thank our friends at the ENTERTAINER for sponsoring this survey. If you haven't heard of them, they're actually an app with thousands of Buy-1-Get-1-Free offers and discounts on all sorts of stuff, from atas dinner to Thai massages, laser tag tickets to car window tinting. Almost anything, really.
But obviously, all those amazing offers come at a price. The app is originally priced at RM180 and usable throughout the whole of 2019, but for a limited time only, you can get it at an early-bird discounted rate of RM95. Best part is, they're also offering a 14-day free trial so you can try it out for yourselves, at no cost at all! (Click here to download the app!)
Before we get to the survey, here are some prelim info for the data freaks out there:
Survey period: 3rd Sept – 18 Sept 2018
Total respondents: 2,660 (So many! Cilisos readers are AWESOME! Hope the 1,011 of you enjoyed the FREE ENTERTAINER 2018 app!)
Top 5 locations: Selangor (40.4%), KL (23.4%), Penang (7%), Sarawak (6.5%) and Perak (4.3%)… but we had respondents from each state
Top 3 relationship status: Single (63.2%), in a relationship (23.4%), and married with kids (6.4%)
Top 3 age groups: 21-29 year olds (51.8%),18-20 year olds (17.1%), 30 -39 year olds (16.9%), … but we had respondents from all age groups even 60 and above.
Gender breakdown: Female (65.1%), male (33.8%), others (1.3%)
Ok? Let's go!
1. To Malaysians, the perfect weekend is… having quiet time at home (69.1%)
And if you thought that this is only popular across the older generation, you're wrong! Maybe our respondents had an old soul or something la, but this was the same across every age group, from teens, those in prime of life, and retirees.
Next on the list are 'going for road trips with partner/friends/family' (38.4%), followed by 'shopping, eating… basically mall activities' (36.9%)! Hmm that's pretty surprising seeing just how you can never find a parking spot in Mid Valley on Saturday afternoons -___-"
Actually, our respondents seem quite homely and wholesome. We initially thought that only Cilisos staff are boring pandas, but 'happening nightlife' (10.4%) and 'cybercafes + mamak with their gaming kaki' (6.2%) were the least popular options among our 2,660 respondents!
2. Surprisingly, most Malaysians spend less than RM100 on weekends…?!
So how much do YOU typically spend on the weekends? Between the movie tickets and the fancy brunches and karaoke sessions, it can be easy to lose track of your spending, but according to our survey the most common amount is somewhere between RM51 to RM100 (35%). But when we narrow down the demographics, the lowest weekend spenders would be Pahang people, as more of them claimed that they spend less than RM50 in a weekend (43.2%) than the other states.
Gender-wise, we found that most Malaysian men said that they would spend up to 20% more on weekends compared to a weekdays. Women either more kiamsiap or just thriftier in general, with most saying that they WOULDN'T spend more on weekends compared to weekdays. 
Anyway, there's always the option of using the ENTERTAINER to help us get quality stuff for much, much less.
Let's say you wanna go to a nice restaurant like Tanzini in KL… you're gonna expect to spend at least RM150 for a dinner date. You'd wanna have a nice steak, some truffle fries and a couple of drinks. With the app, you get a free main course for each main course ordered… so you can just imagine how much you get to knock off from your original bill.
The best thing is, you can even use up to 4 offers at once, so it's perfect for group outings!
3. On weekends, most of Malaysia is awake by 9am
Since there's no worm to get on weekends for most people, we'd expect more people to wake up obscenely late. Our results suggested that 'obscenely' is not really the case, but still late la. The top three times for our respondents to wake up are:
 9am and 10am (15.4%)
10am to 11am (14.9%)
8am to 9am (12.8%).
But what if you have kids? As expected, most parents actually wake up earlier, between 7am to 8am. Those who are married but don't have kids wake up later, at 9am to 10am. It seems that the less commitments you have, the later you wake up. Single people, and people in a relationship, told us that they wake up whenever they want to wake up.
As we divided the respondents by state, interestingly, the honour of the heaviest snoozers goes to our Kelantan respondents, where most of them (45.5%) admitted that they'd 'sleep more on weekends, but only because they're lazy'! Heehee.
4. Wanna have an awesome date? Have brunch, and don't plan anything else.
With so many people starting their weekends after 9am, perhaps it's no wonder why 'having brunch' is such a popular weekend option!
When asked to rank their ideal date, most Malaysians chose having 'brunch and doing random things all day' (51%). And that's pretty clever too, cos you get to sleep in for a wee bit longer, spend 23497191 hours to look your best, then take your time and enjoy the day with bae.
Second most popular option was a 'nice dinner and movie' (31.4%), followed by… err… 'going straight home and getting down to business' (5.9%). Wah jangan main.
Now back to brunches… it isn't really brunch without a good cup of coffee. Coincidentally we found a number of Cilisos' own personal favourite coffee joints on the ENTERTAINER, like The Red Beanbag in Publika KL which is home to three-time Malaysian Barista Champion, Jason Loo. Actually there are a number of quality places listed on the app, which kinda makes us a bit sad cos we could've saved a lot more money in the past. 🙁
And when it comes to doing RANDOM things, it wouldn't be a bad idea to browse through app too. Think of it as if it's a one-stop digital catalogue for stuff you guys can choose to do, but with discounts.
"The ENTERTAINER app is considered by many of our members to be a guide to the best merchants in Malaysia. Although this is primarily a foodie culture, we have expanded our offerings to other categories and grown nationally.

Picture this… you two can book a hotel stay in JB and visit Sanrio Hello Kitty/Thomas Town, grab lunch at Morganfield's, then head over to MCM Studio's Cartoon Planet. Rejuvenate with coffee at Faculty of Caffeine or enjoy a synergy treatment at Sothy's before heading out for dinner at a wide array of F&B outlets found on the app.

You can essentially plan your whole day around the type of merchants available!" – Paul Hue, Country Manager of the ENTERTAINER Malaysia
5. On weekends, more is not necessarily the merrier
Hanging out with a big, massive group can be overwhelming, even if it makes you look super happening on your Instagram stories. When asked to rank who our respondents would prefer to hang out with on weekends…
majority said 'a small, intimate group of less than 5 people' (45.5%),
followed by 'with one other person' (e.g. bestie, bae) at 34%
and 'ALONE. People suck.' at 12.2%
In fact, big groups of more than 10 people scored the LOWEST! And there's good reason too. Just multiply the Malaysian "on the way bro" excuse by 10 and you can imagine just how frustrating a group dinner can sometimes be. -___-"
6. English speakers generally don't visit local tourist attractions 🙁
Despite a variety of local attractions strewn all across the country, more English-speaking Malaysians (38%) than Malaysians of other main languages say that they DON'T even remember the last time they went to a local tourist attraction.
They're also less likely to prefer hanging out with their families (59.3%) compared to Malaysians with other primary languages (BM 72.4%, Chinese dialects 65.72%, Tamil 72.1%).
If you fall under this category, now wouldn't be a bad idea to visit a local attraction with your family. the ENTERTAINER also covers attractions and hotel stays in Malaysia and around the world… and some pretty classy ones too! We found 5-star hotels like The Danna in Langkawi, Shangri-La in Kota Kinabalu, and Ascott KL. (P/S: Ascott nice place for group stayovers!)
Anyway, digging into more language stats in our survey, we also found out that…
BM speakers generally prefer homely activities like fix-it projects and cleaning the house (22.6%), 
Chinese dialect speakers (38.1%) like to hang out in shopping malls, and…
Tamil speakers go for a more happening nightlife (16.3%).
As far as nightlife goes, the ENTERTAINER also has a related product called 'Cheers'. Like its name suggests, you'll get Buy-1-Get-1-Free deals on alcoholic drinks in pubs, bars and restaurants all over the country. And it's not just drinks… in some places, you can even redeem a whole bottle of wine. 🙂
7. On weekends, friends and family are more popular than boy/girlfriends 🙂
This might make your significant other cry/sulk, but when we asked our respondents WHO they'd prefer to spend their weekends with, here's what we got:
friends (65.6%),
family members (64.9%),
and then only their partners (40.3%).
Things don't look so hot for partners when it comes to deciding what to do, too. When we asked respondents to rank how they decide on weekend plans, most choose to go about it in a 'completely random' way (59.6%). We also found that family (20.8%) and friends (20.75%) have more influence on their activities than boyfriend/husband (7.6%) or girlfriend/wife (5.5%).
Regardless, weekends are ultimately days for Malaysians to be social, and what better way than to share the good stuff with your circle? The ENTERTAINER allows you to link your membership with your friends and family, so the whole gang won't need to purchase the app individually.
*BONUS POINT!*  
8. Woah… most Malaysians actually not shy to get discounts
Okay, this technically isn't a weekend statistic, but we're adding it in anyway cos it's kinda funny.
We asked our respondents to tell us what kinda stuff they've done to get the most value for their money. While the most common ones are not a surprise (e.g. skipping breakfast and going straight to lunch (44.8%), using apps for discounts or offers (42.6%)), some of them were… err… shocking to say the least:
3.5% admitted to asking for birthday discounts… even when it wasn't their birthday
2.4% admitted to saying that they know the owner and asking for a discount
1.5% admitted to stealing food from the office fridge so they have more money on the weekends!
But we also had some funny responses, which some of us have been guilty of doing in the past:
"Encourage colleagues who are small eaters to order large portion food so that I get to help them finish it."

"Ask people belanja me"

"Just stare at them when their food arrives."
Actually, weekends should be less stress, more fun
From what we can see, Malaysians are pretty thrifty when it comes to spending on weekends. Seeing as RM50 today can barely fill up a supermarket trolley, there's no wonder why we try to save where we can.
Speaking of saving and money, thanks once again to our friends at the ENTERTAINER for sponsoring our survey and putting food on the table for our starving Cilisos writers!

So if you wanna get more bang for your buck and enjoy your weekends to the fullest, NOW really wouldn't be a bad time to check them out. For a limited time only, you can enjoy the discounted early-bird price of RM95 (usually it's RM180). Or if you want to try it out at zero cost, take advantage of their 14-day free trial now! (Click here to get the app!)
Anyway, here are some other random stats that we couldn't find a place to put in the article:
Most popular place for a weekend meal was at home-cooked food at home (401%), followed by typical Malaysian restaurants (e.g. nasi campur, tai chow, banana leaf rice), hipster cafes (31.4%), local coffee shop/mamak (28.1%) and family western restaurants (23.8%)
Whether or not our respondents earn a household income of less than RM3,000 or more than RM21,000, typical Malaysian restaurants (e.g. nasi campur stalls) are more popular than hipster cafes
Most Malaysians are only willing to pay less than RM3 for a cup of coffee on a weekend (31.5%)!
When friends gather on weekends, the LEAST popular conversation topic is complaining about their partners (5.7%). The most popular being current events (58%), gossiping about other people (50.6%) and complaining about life (48%) loool.