Business
Crime
Law
This crypto-company has been blacklisted by Bank Negara. So why are people still investing?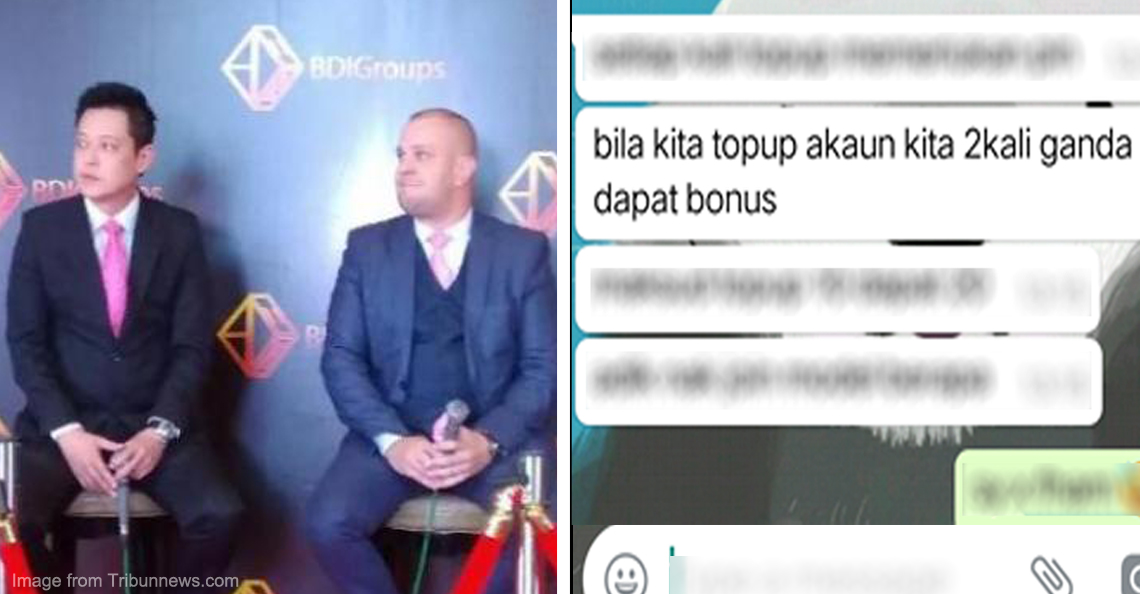 We recently received a message from one of our readers, Chris (not real name), about how the villagers in Kampung Buis, Sabah allegedly fall prey to a ponzi scheme.
"Most of the 'investors' are villagers who do farming. I pity them. I worry they fall for the so-called earning, pouring in more life saving." – Chris to CILISOS.
Since he's currently in Peninsula Malaysia, he is only able to lodge a police report in KL. However, the police suggested that he lodge a police report in Sabah instead as it would be easier for the local police to take action. Chris also lodged a report to Bank Negara Malaysia (BNM) and the Securities Commission Malaysia (SC).
SC and BNM allegedly informed Chris that the matter would be reviewed and the company has been blacklisted so nothing could be done at the moment. But…
This company is still operating and has recently opened its SECOND HQ in… Cambodia?!
Chris shared that everyone knows each other in Kampung Buis and are in a kampung Whatsapp group. This made it easier for Bella, an investment agent in Kampung Buis, to invite the villagers to join this scheme. Chris gave us her contact number for us to talk to her.
When we talked to Bella, we found out that she may not know much about what she has gotten herself and other people into. She didn't give full explanation on how the scheme works (compared to other online investors) but rather on the plus points of the scheme itself (more on this later).
The company which is known as Big Data International Group (BDSMBDIG) uses cryptocurrency (bitcoin) as a mean of transaction. However, it was reported that bitcoins aren't recognised in Malaysia as legal money which means you can't use it for any transaction.
And although BDIG has allegedly been blacklisted by BNM and isn't licensed to do business here by SC, it is still operating with the help of manyyyy investors (you can check out those Facebook pages and posts on BDIG). Too many that 152 Malaysians actually went to Cambodia for the launching of BDIG to prove that the company was legit. And, yes, it has also recently opened its SECOND HQ in Cambodia.
We found an address of BDIG's HQ in Cambodia and decided to check it out. As it turns out, the location of the supposed HQ is… a law firm. We contacted the law firm and the operator who picked up the phone confirmed that the company is a law firm. But when we asked if she knows anything about BDIG, the operator passed us to her friend who later hung up on us. 🙁
Aside from Cambodia, BDIG also operates in Hong Kong (allegedly not real address), Malaysia and Indonesia, where it even had a big launch in Jakarta JW Marriot all. Wah quite legit wor.
So why did Bank Negara blacklist them?
So, we talked to Bella about the scheme and found out that one of the big SELL POINTS on BDIG is how you can invest with ringgit and get US Dollars in return!
And, according to online investors, there are two accounts in BDIG. One belongs to you, known as the Financial Coin (FC) while the other one is under BDIG, known as the Financial Coin Savings (FCS). Here's how the scheme works:
The minimum amount needed to open an account is RM90.
You can also top-up at any time, a minimum of USD10 (RM45). There are bonuses here at various times (like a Lazada sale!), where you can earn double the amount you invested (this is called split) so if you top-up USD10, you'll receive USD20 in return.
Now here's where Bank Negara probably raised an eyebrow.
Dodgy Point #1: You can only withdraw from your FC account, not your FCS (which is where the money 'grows'. The minimum withdrawal is USD10.)
Dodgy Point #2:  You may only transfer 1% of what you have in FCS to FC. So, if you have USD20, you may only transfer 20 cents to your own account.  😮
This effectively means the minimum amount you need to 'invest' or 'grow' to is USD1,000, before you can withdraw a single sen. Oh and that's not even counting one other big one.
Dodgy Point #3: The scheme has different rates when it comes to investing and withdrawing money from your own account. Something like exchange rate at those money changers but not to the extent that the rate differs by 70 sens! Bella shared that the rate of investing in BDIG is 4.5 while the rate to withdraw your money is 3.8.
Dodgy Point #4: The company takes 10% of money withdrawn!?
But heyyyy you can actually get bonuses in a lot of ways like….. registering a new member! Also, we were sent this chart of returns, and damn do those zeroes look good.
This may be what hooked the villagers to join this investment la.
"My neighbour invested RM450, I warned her but it seems like she doesn't believe what I said.. as it looks like (the scheme is) making money." – Chris told CILISOS.
Here's a video of someone explaining the whole concept.
To be honest, we didn't manage to get a comment from Bank Negara directly, but the question is… if you had a legitimate business and you got blacklisted by Bank Negara (5 months ago), wouldn't you issue a press release, or even a lawsuit?
Sadly, these are concepts that might be lost on villagers
If you're curious, this is how a ponzi scheme works.
Basically, it makes people think they're getting money off the interest on their investments, when in truth, their 'investment' has already been used by the company to pay off other individuals, and line the pockets of the owners. We've covered about ponzi schemes many times and you can read them here, here and here.
But within villages in Sabah, where the nearest bank or financial institution is miles away, these schemes can really do serious damage. To the Securities Commission's credit, they have tried to make things easier for rural folk to understand, like this cute TIPU video.
However, enforcement is another matter. Our hero Facebook messenger, Chris actually was told to lodge a police report in Sabah instead to ease the investigation on the case. We got in touch with Nazril, a police officer, who told us quite the contrary.
"You can actually lodge a police report from anywhere." – Nazril informed CILISOS.
He also mentioned that when a police report is lodged on a ponzi scheme, the case will be referred to the Commercial Crime Investigation Department. This is because these schemes are illegal under the Malaysian law.
Ponzi schemes can only function continuously due to lack of police report and the willingness of investors to invest in them. That's not all, these schemes are so systematic that when a scheme kantoi, the mastermind can just start a new one.
So, if you feel like an investment is shady, you can lodge a police report. Besides that, you can also lodge a report to Bank Negara and Securities Commission to alert them about ponzi schemes like what Chris did la.
And, in this case, aside from Chris' reports, another Facebook user has been alerting other users on BDIG through a Facebook group called Ponzi Scheme Alert in Malaysia. Chris mentioned that there may not be any report on how people have been victims of BDIG just yet and that may be caused by how well the company is currently doing. He shared that people will only realise they're victims of these schemes when the schemes collapse.
As for now, let's just hope rural folk are seeing the right pages on Facebook.