You may have recently seen this viral Malaysian made video of a guy riding around in what looks like a Tron bicycle. If you haven't, you won't regret clicking on the video below:
If you did, you would probably have the same thoughts we had:
This video sure got crew one
Must have canggih equipment to do everything
Confirm inspired by the movie Tron
But when we interviewed the maker, Quek Shio Chuan about the video, we were surprised because everything we assumed was wrong. As it turns out, not only did he make the video alone during the recent lockdown, there weren't any canggih equipment used for the effects at all – they were all made using tapau plastic from his meals as well as a few household items. And the inspiration for the video wasn't the movie Tron, but a cycling video game.
You're probably curious about how he did the video but before we get into that, let's meet the man behind the video to find out how it all started.
He's a director but his house got no proper camera
If you're a longtime Cilisos fan #ihatecilisos you might have seen our previous interviews with him here, here and here. But in case you tak nak click the links, here's a short profile on him.
Quek Shio Chuan is a commercial director best known for directing some heartwarming Hari Raya ads you probably have seen for major clients such as TNB and Lazada. Besides ads, the director from Batu Pahat's resume is quite power, as he has also written and directed the award-winning film Guang, as well as co-directing the Netflix series The Ghost Bride.
The Tron bike video was actually one of many cycling themed videos he created during the MCO and the following lockdown. As filmmaking wasn't allowed during the first MCO, he started to get gatal to create something after duduk rumah for so long, and recorded it all using just his phone.
"…in MCO 1, I realised I had a full range of cycling equipment, but I actually don't have any recording equipment at home, so I was using my phone (Samsung Galaxy Note 8)" – Quek
That very first video in April 2020, Astroniamadone, where he created a song using only sounds from his bicycle, went viral and was viewed more than a million times. But as the MCO dragged on and on, he still couldn't work as regulations on filmmaking still weren't lifted, so he decided to create more videos as a practice to keep himself sharp.
2nd video – Quarantine Stopmotion Cycling: Just like the title, a stopmotion video.
3rd video – Irony Tahap Ironman: Inspired by the movie Tenet, he shot all of the action sequences in reverse.
4th video – Lonely Backside Wheel: It was inspired by zoetrope, one of the first animation techniques. A moving wheel with multiple frames was shot, and the camera shutter speed was adjusted to create animation.
Most of these videos took up to 6 days to shoot and edit, with him doing all of the work alone and recording it using only his phone (he changed to an iPhone after he broke his Note 8).
"So what do you do at home, with all this time that you have?  It's kind of like a practice run also in a way. Each of these videos, I try to learn something new or practice a different set of skills." – Quek
This brings us to his next video, which is also his most ambitious…
The video was inspired by an MMO cycling game
In case it's not obvious enough, Quek is an avid cyclist. But since he couldn't cycle outdoors during the lockdown, he got his fix from playing Zwift – a massively-multiplayer online (MMO) cycling game where you can use your stationary bicycle to ride virtually in places such as New York or Bologna.
Just like other MMOs, you can unlock bicycles in the game by hitting certain milestones, and the ultimate badge of honour is getting the 'Tron bike', simply because of how hard it is to unlock.
"The official name is the Zwift Concept Z1 bike – but in layman's term it's called the Tron bike. It glows! You have to climb 50,000 elevation for it. I'm about 55% – I'm still far from it!

It's very in your face. When you're riding down the road and a Tron bike passes by, you go, "Oooooh". Having a Tron bike shows that you climb a lot! (laughs)" – Quek
Inspired by his daily virtual rides, he decided to make this video to have the same feel as the Zwift game world – the camera angles and how it moves, the routes, and of course, the Tron bike. So if you're a Zwiftie (sorry Swifties) you'll definitely recognise it.
For this video, he experimented with light painting – where you use long exposure on the camera to capture a moving light source such as a torchlight to create a painting – hence the term "light painting". But it was a painstaking exercise, as he had to draw each element separately – the lines on the face, the legs, the bicycle, and then combine it together during editing.
And this video took him much longer to complete – two months compared to 6 days for his previous videos. But the time wasn't spread evenly – the first minute of the video took 6 days. The last 45 seconds took one and a half months.
"After a week of editing I got the rider then I realised: everything else is black! So now I have to paint the whole world. That's when I thought, why not use household stuff to create the scenery?" – Quek
After seeing the many tapau plastic he got with every Grab delivery, he decided to use that along with other household items such as the eggtray from his fridge, as well as a used facemask.
"Rubbish bag is green, you can make it into mountains, blue ones you can tie it on your torchlight to make a blue light, orange and red ones you can use to make the fire…Plastic containers come in different shapes and sizes, some can turn into tunnel. The moon you see is actually the lid!" – Quek
If you've watched any of his previous videos, you might have noticed there was a lighthearted tone to it. But his recent video felt a little darker, and it was intentional.
"It doesn't feel right…the funny didn't come"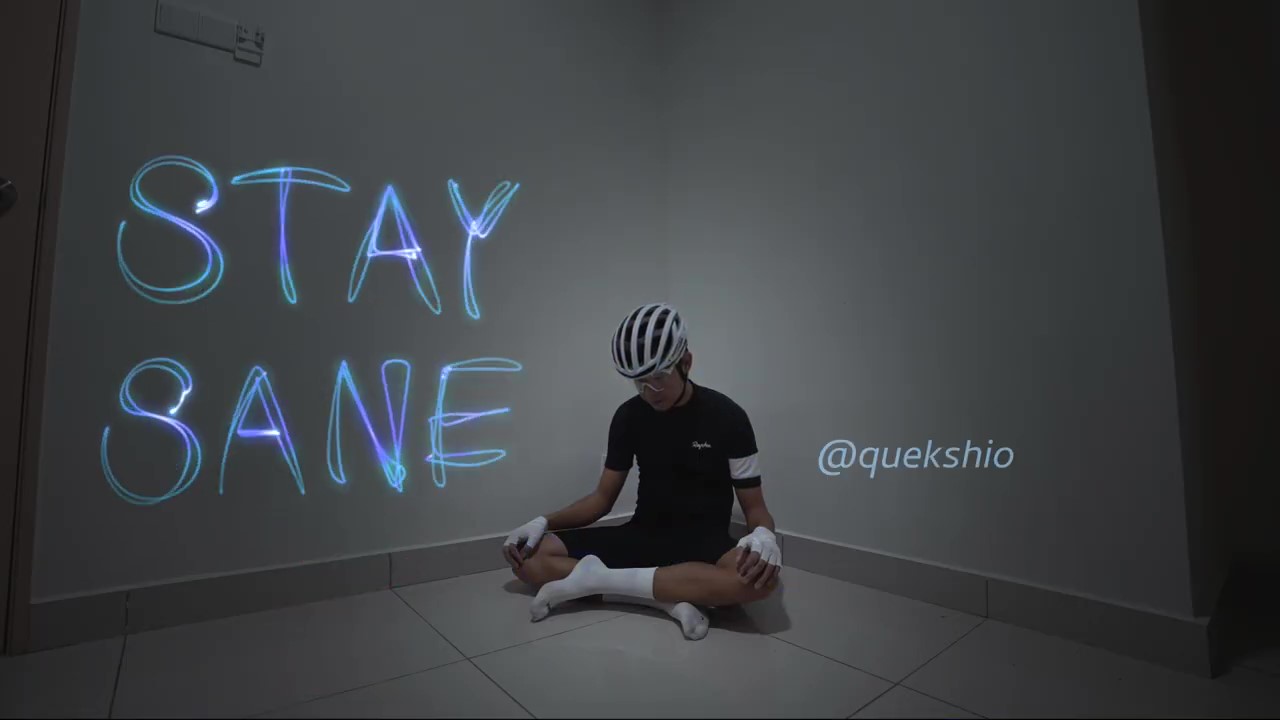 In the beginning, when covid cases were much lower, he still felt that we could joke about it. But now that things have gotten worse, the tone will need to match.
"Now, the cases have more than doubled. Start of the lockdown, June 1 was 7,000, now it's 20,0000. It's scary, it's a nightmare. I tried to make this light painting video funny like the previous ones, but it doesn't feel (right)…the funny didn't come." – Quek
Just like his previous videos, this one was also done alone, but with an actual camera – a DSLR this time. But even the most introverted of you might think…how did he complete a video alone for two months? Quek thinks it's due to autism running in his family as his brother, who was also the subject of his first film, has autism spectrum disorder (ASD).
"It runs in my family la. I am fortunate, so to speak, still socially functionable. But at the same time, I enjoy being alone at times. Some people really like, 1 week they live alone, they feel like, "Wah the world is ending, want to die already, need to socialise, to see someone."…I can enjoy being in a dark room, blind myself with lights and then try to composite everything together (laughs) and spend a month doing that alone.

I'm okay, it's not easy, but I can cope." – Quek
To cope with the mental toll of the lockdown and keep himself mentally healthy, he keeps a pretty monk-like routine: reading, meditating, and riding on Zwift. Since he mostly watches documentaries or cycling events, Zwift is his only fantasy escape. And of course, creating videos to remind the audience the same thing – to stay sane.
But when things get better and the lockdown is finally lifted, he already has his next project in mind.
"I want to cycle around peninsular, visit the less visited states, little towns, get away from the city because I've been here so long looking at these walls…So while I'm doing that, why not make a video as well?…But when the cases drop la! (laughs) It's a very far dream." – Quek
So until cases drop and we're allowed to be outdoors again, we hope that he'll continue finding a way to stay sane.