If you've been following the news, you've no doubt heard that our country's budget for the following year was announced by our PM Najib just last week. And not long after that came the crashing wave of articles talking about it (including this one we're writing now hehe). And not to mention the opposition walking out when our PM was presenting it.
But DAP's Tony Pua talked about the budget in a different sense from other people. Instead of focusing of what the budget had in it, he focused instead on what it didn't have.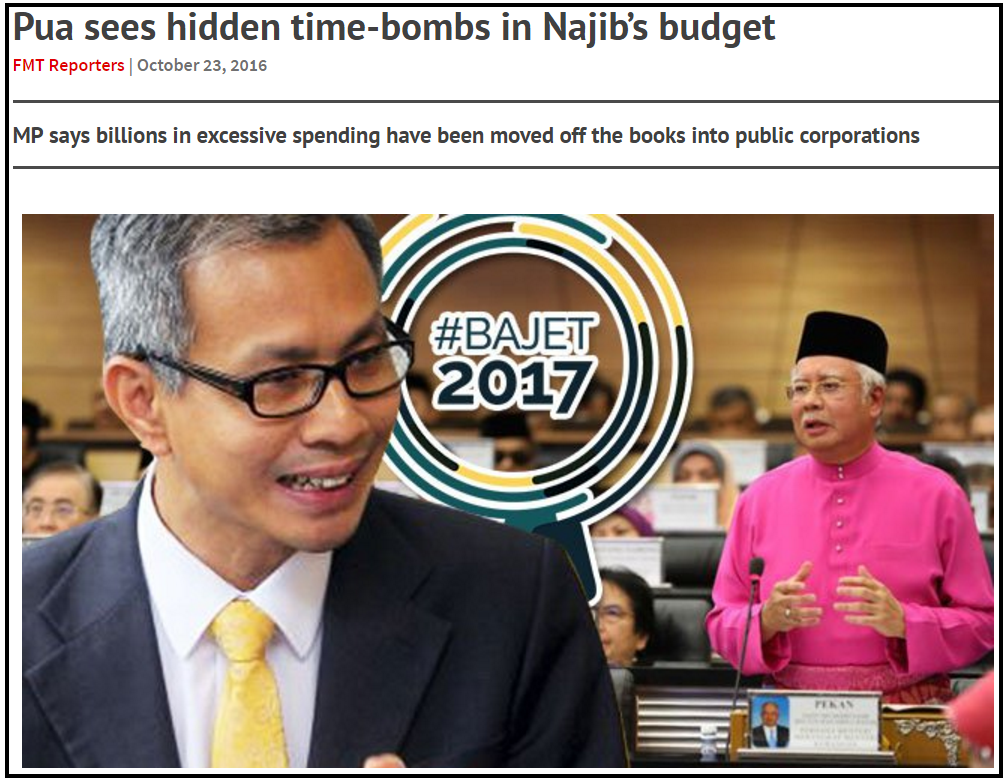 So YB Tony says that certain things were glaringly missing from the recent budget, and as you can see above, has referred to them as "time bombs". But if they are missing, where to find them? Well he said they can be found in the Non-Financial Public Corporations (NFPC) Financial Position, which in turn can be found in the Treasury Economic Report.
Wait. non financial or financial?
OMG what in the world is Tony Pua trying to say????
To understand this topic, we spoke to 2 people to further clarify, YB Ong Kian Ming from DAP, and Wan Saiful Wan Jan, Chief Executive of the Institute for Democracy and Economic Affairs (IDEAS, a think tank which we've consulted on other articles before).
The whole non-financial financial report thing was one of many things that we couldn't quite wrap our head around, but we know that he was referring to our budget deficit. A budget deficit happens when the money we spend is expected to be more than the money we earn. For the coming year, our budget deficit is estimated to be RM40.3 billion! Sounds like a heck of a lot of debt right? But on paper, it's actually not that big an amount.
"In 2013, the budget deficit was 3.8 percent. The figure declined to 3.4 percent and 3.2 percent in 2014 and 2015. For this year, the government estimates it to be 3.1 percent and is forecasting 3.0 percent for 2017." – YB Tony Pua, from his article in MalaysiaKini
That's good right? But this is where the non-financial..financial thing comes in. Non-Financial Public Corporations (NFPC), also referred to as the better known term of GLCs (Government-Linked Corporations). According to the gomen themselves, GLCs are companies that are commercially (profit) driven, but also partially owned by the gomen. There's also this other thing called Government Linked Investment Companies (GLIC) which basically invest in GLCs on behalf of the gomen.
In fact, Ong Kian Ming listed all 29 of these GLCs for us (30 until 1MDB was removed), which you can see here.
But what do GLCs have to do with our federal budget?
Before that, just a refresher as to what they 2 are:
Federal budget: The GOVERNMENT's estimate for spending and earnings for the following year.
GLC: A PRIVATE company. May be partially owned by the gomen but still a for-profit company.
So technically they are separate entities, but it seems that the lines have started to blur in the past few years.
Anyone from the Klang Valley or at the very least has been to the Klang Valley in the recent weeks would have seen some of the massive public transport construction going on. From the huge MRT project to the expansions of the current LRT lines. These things, among other huge projects like the East Coast Railway Link, and the KL-Singapore High Speed Rail, were all absent from the budget because these infrastructure projects are currently being handled by GLCs.
"This has not been the case for Malaysia in the past. Most of the infrastructure projects in the past have been funded directly out of the development expenditure." – Ong Kian Ming, in an interview with CILISOS
In other words, it seems that the gomen is making GLCs pay for stuff that they used to pay for. Still, one question that some of you may be asking is, if we cannot afford to build things to the point we have to ask the GLCs to do it, why are we still doing it at all? And Ong Kian Ming brought this up.
"I think infrastructure spending is necessary whether it is by the government (public transportation, roads, schools) or by the GLCs (telco towers)." – YB Ong Kian Ming
And to be fair, projects like the MRT one has been going on for years. To stop them all of a sudden may be even worse. And on the other hand, if they're not in the budget, does that mean our country isn't paying for them? Technically yes, but that actually leads to our next problem.
Guess who's gonna pay the debt if these companies bankrap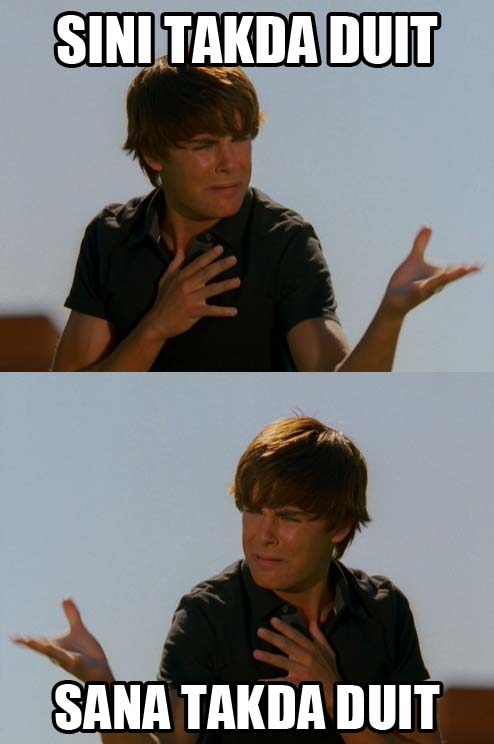 So even if there is no money assigned to these companies in the federal budget, it's not like the money is going to come from nowhere. The GLCs have to fund it. But here's the thing, the GLCs themselves are currently facing a HUGE budget deficit.
"In 2013, the NFPC deficit was a modest RM10.6 billion. However, since then, the NFPC deficit leaped astronomically to RM52.3 billion in 2014 and further increased to RM56.9 billion in 2015. The estimated deficit for 2016 is currently RM50.5 billion." – YB Tony Pua, from his article in MalaysiaKini
Wan Saiful Wan Jan from IDEAS tells us that this isn't a very normal thing.
"Malaysia is able to do this because we have a truckload of GLCs and GLICs that the government can use to deliver government activities.  This is why you have a situation where a spending is announced in the government's Budget Speech, but the item itself is not really paid for directly from government coffers but from the GLIC or GLC instead.

This is only possible when we have an economy that is dominated by the government via GLICs and GLCs." – Wan Saiful Wan Jan from IDEAS, in an interview with CILISOS
And normally if it were just a regular private company, the debts would be the responsibility of the owners or shareholders of the company. But since the gomen has a stake in GLCs, that means…..
Uh oh…this is starting to look like Malaysia has a lot more than a budget problem
And that's probably because it is. Just to be clear, having GLCs in itself isn't a problem. GLCs (or state-owned enterprises) in Norway for example, are doing "surprisingly well". But why is it surprising? Well because in many other countries, they're doing pretty badly. And it seems to be the case in Malaysia as well.
And as Wan Saiful pointed out earlier about how GLCs dominate our economy, this article also points out the problem with Malaysian GLCs dominating the private sector, which makes it difficult for private investment to come in, something that was even actually brought up in the last budget. Another economist brought up that while GLCs are supposed to make profit, they are also caught up with another obligation: jobs.
"CEOs cannot simply hire and sack people. That is the first limitation a CEO in a Malaysian GLC faces. They are torn between maximising profits and fulfilling obligations to retain people. This was clearly seen in Malaysia Airlines where they employed more people than needed, but the CEO could not sack staff." – Economist Dr Yeah Kim Leng, as quoted by Free Malaysia Today
And like we mentioned, GLCs on their own are not a problem UNLESS they lose sight of their purpose.
"Yet at the heart of all these efforts, a tension remains: who are SOEs (GLCs) run for? The public good, as interpreted by politicians? Or shareholders? Only some countries have resolved this, either by the state selling out completely, or by establishing robust mechanisms to keep firms at arms' length from the government, such as at Temasek, Singapore's state holding company." – The Economist
But that aside, this article is about the budget isn't it?
Our budget may have a huge problem by not talking about its problems
Actually, the gomen did respond to Tony Pua saying that they didn't hide the budget deficits of the GLCs, and that they believe the debts will be settled once these infrastructure projects are up and running.
"I don't know why he is saying it's a timebomb. And in the first place, we won't publish if we are hiding. We are publishing the figures." – Tan Sri Dr Mohd Irwan Serigar Abdullah, Treasury secretary-general, as quoted by The Malay Mail Online
So basically these debts that the country may be liable for were published, just not in a document that everyone would be able to see and understand.
And if you consider that a federal budget's purpose is to let Malaysians know the financial situation of our country for the following year, it would be helpful if the gomen had made these potential debts clear from the start, rather than have it brought up by an opposition politician.
"What we are asking for is greater transparency so that we can have a better idea of how much debt the government is exposed to, directly and indirectly." – YB Ong Kian Ming