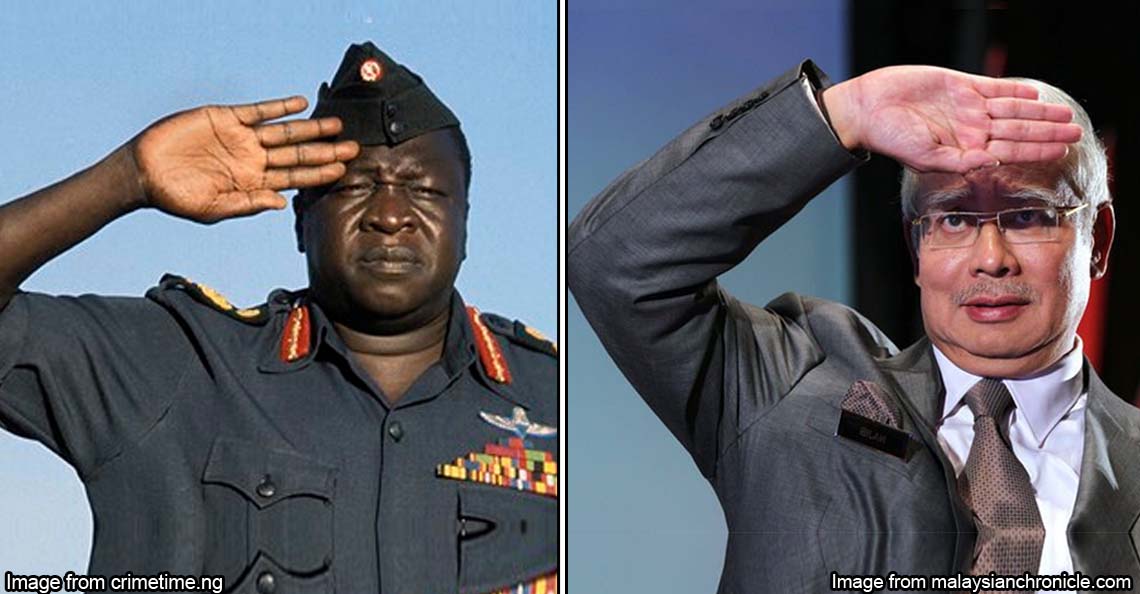 *Untuk baca artikel ni dalam Bahasa Melayu, sila tekan sini!
Just over the weekend, Malaysia had 2 by-elections in Sungai Besar, Selangor, and Kuala Kangsar, Perak. By-election? Well basically the guys who won the seat during GE13 died in a helicopter crash… so this by-election was to vote in their replacements. (But now that it's over, you might call it… a bye-election hurhurhur.)
Aside from the food giveaways that made it look like a Ramadan bazaar, Tun Mahathir was also there campaigning for the first time in years. (Albeit with the opposition this time).
But Tun M also made headlines when he compared Najib to a former dictator named Idi Amin, the former dictator of Uganda.
"Dianya (Idi Amin) melaku(kan) apa saja, melanggar undang-undang, dan dia kekal sebagai Presiden sehinggalah dianya dijatuhkan oleh rakyat Uganda. Datuk Seri Najib dan Idi Amin ini adalah orang yang sama." – Tun Mahathir, on Mynewshub Channel's video

"Like Idi Amin of Uganda, he (Najib) uses his power to suppress the people." – Tun Mahathir, as quoted by NST
In other words, Tun M compared Najib to Idi Amin based on how Najib has allegedly kept himself in power. But who exactly was this Idi Amin guy?
What did Idi Amin do to be known as a dictator?
Idi Amin Dada, or as he called himself – "His Excellency, President for Life, Field Marshal Al Hadji Doctor Idi Amin Dada, VC, DSO, MC, Lord of All the Beasts of the Earth and Fishes of the Seas and Conqueror of the British Empire in Africa in General and Uganda in Particular" (LOL), was the 3rd President of the African country of Uganda. He joined the King's African Rifles army (KAR, back when Uganda was still under British control) at the tender age of 21.
From there he rose through the ranks before being appointed Commander of Ugandan army a few years after they had received their independence from the British in 1962. And in 1971, he overthrew the previous dictator Milton Obote in 1971.
He started off alright. After overthrowing the previous dictator, he released many political prisoners, and promised to hold a free and fair elections as soon as possible.
"My mission is to lead the country out of a bad situation of corruption, depression and slavery. After I rid the country of these vices, I will then organize and supervise a general election of a genuinely democratic civilian government." –Idi Amin, as quoted in "Uganda, the Human Rights Situation" by the United States Senate
But that didn't last very long because just a year later, he started to kill massive amounts of people, including people from particular ethnic groups who were associated with supporting the previous president.
"Those murdered were mostly anonymous people: farmers, students, clerks and shopkeepers who were shot or forced to bludgeon one another to death by members of death squads, including the chillingly named Public Safety Unit and the State Research Bureau." – Columnist Michael T. Kaufman, on The New York Times
Among these people were also cabinet ministers, judges, churchmen, educators, and a whole lot of other prominent people. So he didn't just silenced anyone who would possibly go against him, he silenced everyone.
His reign of terror continued for 8 years before neighbouring Tanzania, and some Ugandan freedom fighters teamed up to bring him down in 1979. But not before Idi Amin's regime had killed about 300,000 people, earning himself the nickname the "Butcher of Uganda".
He was actually so infamous that a number of movies have been made about him, with the more popular one being "The Last King of Scotland" (based on the premise that he also allegedly declared himself King of Scotland), starring Forest Whitaker and Professor X, Mr Tumnus, the guy from Wanted James McAvoy
(FYI, after he was overthrown, his former adversary President Milton Obote eventually came back into power and killing another 300,000 people!). 
Najib isn't anywhere close to Idi Amin……yet?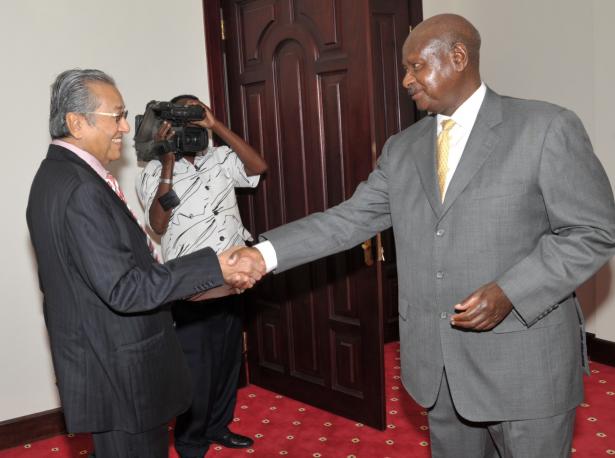 Actually Uganda is in a better place today under current president, Yoweri Museveni, who while still slightly controversial, has improved Uganda substantially. And guess who went to visit him ;)?
In the comparison to Idi Amin tho, Tun M actually didn't mention any murder, or genocide, but only that Najib is suppressing people, just like Idi Amin did. But if that's the case, maybe all Tun M was trying to do was draw a comparison from one aspect only, the same way Najib once praised ISIS based on one aspect only. Because while Najib may not be liked by many people, based on what we mentioned earlier, Najib isn't exactly anywhere close to the terrible dictator that was Idi Amin.
(It also has to be said that Tun Mahathir called himself a dictator as well, so who's to say which dictatorship is better? Especially when the person saying it is Tun M himself.)
BUT at the same time, that doesn't mean there aren't any possible parallels at all.
In the past year we've seen Najib do some pretty questionable things which point to him wanting to silence anyone who speaks up against him (like introducing his now infamous "Dictator" law, and sacking Tan Sri Muhyiddin Yassin).
And what's even more scary that despite being compared to someone as terrible as Idi Amin, Najib's response wasn't to distance himself from the comparison, but rather, revel in them in some way.
"He (Tun M) called me the Idi Amin of Malaysia. (Well) the Idi Amin of Malaysia is more popular." – PM Najib, as quoted by MalaysiaKini
Because while his response was probably to return the jibe to Tun M, it's kinda unsettling when the leader of your country doesn't mind being compared to a real-life dictator. *gulp*