Finally! After all the talk about how Malaysian cops are so corrupt, we're taking action to eradicate it at last. It has gotten so bad that in the Malaysian Corruption Barometer 2014 survey, the police were seen as more corrupt than even politicians.
So the new 'member' joining PDRM, as a police to police the police, will not be in dark navy blue uniform. It is a computerised system that can keep track of all cops' assets. Corrupt cops will have no way to hide their wealth from now on, according to the exclusive in The Star.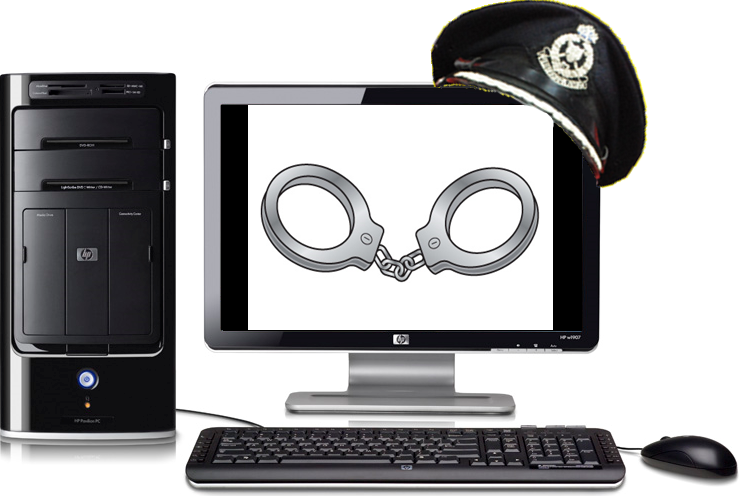 How does it work?
The system gauges how much assets each cop is supposed to have based on rank and years of service, according to Bukit Aman's Integrity and Standards Compliance Department (JIPS) in The Star's report. "For example, an officer with the rank of Senior Deputy Commissioner Police (SDCP) is only expected to have a certain amount of money or property," said JIPS Director Datuk Zubaidah Ismail, who is herself of SDCP rank. Then it can be matched against what cops really have in their possession.
And that's how JIPS can catch corrupt cops. JIPS was set up as a watchdog division within the police force for this very purpose. According to the Anti-Corruption Act 1997, corruption can carry a sentence of up to 20 years imprisonment and or fine.
What's the difference between the old and new systems?
It doesn't mean that Malaysian cops never declared their assets before this. The current system in use is the same one that all other government servants are using under the Public Officers (Conduct and Discipline) Regulations 1993. It only requires them to declare WHAT their assets are. The difference between the old and new systems, is that cops have to answer WHY or HOW they came to possess those assets.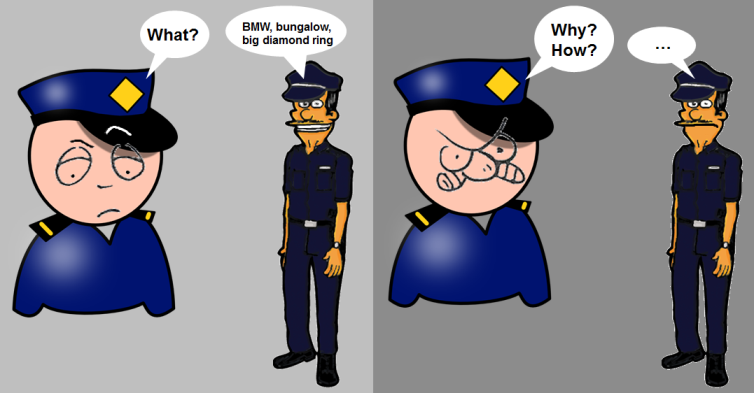 Additionally, SDCP Zubaidah explained that this will protect good cops: "We know some people, including cops, who resort to blackmailing to bring down their rivals or peers. So if an officer declares everything honestly, it will be hard to 'wrongly' convict him or her."
So what about other government servants?
Why not apply it to the whole government?
Under the Public Officers (Conduct and Discipline) Regulations 1993, government servants are only required to declare WHAT assets they have without the WHY or HOW.
At least once every 5 years assets must be declared in writing to the Head of Department, those owned by the officials, their spouses and children. Stuff like land, houses, buildings, cash, shares, stocks, bonds, licenses, vehicles (it gets weirder), bling bling, club memberships, furniture and sports equipment! The last 5 items must be declared if the cost for each is more than 6 months salary or RM10,000. Sports equipment costing more than RM10,000?! Training for Olympics or what?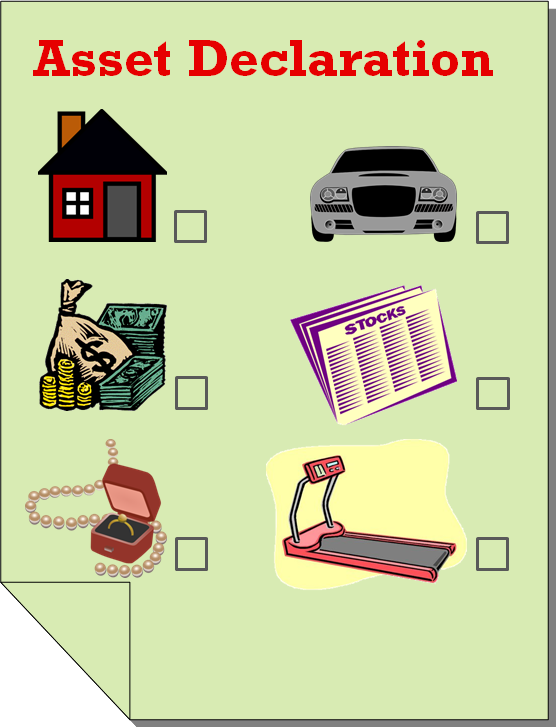 The Malaysian Anti-Corruption Commission's (MACC) 'Anti-Corruption Initiatives in Malaysia 2012' guide states that MPs and Cabinet members declare assets to the Prime Minister's office, but NOT to the public. Here's the interesting bit…Penang has public transparency! You can find this info on their website.
Wanna know what assets Chief Minister Lim Guan Eng has? In their last declaration in 2013, Guan Eng had 2 shophouses in Malacca worth RM435,000 and RM530,000 each, RM308,368 in fixed deposit and shares and unit trust in 8 companies. But if you'll remember, he has added a Mercedes-Benz S300L as his official car since then. The car, which he paid RM298,263.75 for, got him a lot of criticism.
In MACC's guide, there is also a circular on 'gift-giving' which you can read about here. All government servants must officially declare gifts received while on duty and if the value is more than RM500 (or ¼ of their salary, whichever is lower) the Head of Department has to give it the OK first.
If EVERY top official were to declare their assets to the public, we wonder what we'd find. Who do you guys think should declare their assets?
Malaysian police voted MORE corrupt than politicians
Gosh! No wonder PDRM needs a new asset profiling system! Whether their assets are declared publicly or not, Malaysians show that their confidence in the ethics of government officials, particularly in the police, is DEAD. In Transparency International's Global Corruption Barometer 2013 survey, 76% of respondents see the police as the most corrupt. This is followed by politicians at 69%, civil servants and public officials at 46% and Parliament at 44%, reported The Malay Mail Online.
Judging by this poor image of PDRM, they best start exercising their new system ASAP.
Strangely, despite focusing on anti-corruption as a National Key Result Area in the Government Transformation Programme – and constant nagging by the Opposition – PM Najib himself has not declared his assets.
"It is time for Najib to do the same, in order for him to explain the unexplained wealth of his family, even after taking into account any possible inheritance from his father, the former Prime Minister, Tun Abdul Razak Hussein, who was well known for his frugality." – Tony Pua, Petaling Jaya Utara MP, The Malaysian Insider
Tony's statement came after The New York Times' exposé revealed the wealth of Najib's immediate family members (like Rosmah's Birkin bags) and raised questions as to HOW it was accumulated. Given that the PM earns an annual income of RM360,000 (according to TNYT's report), it's a wonder that his wife Rosmah Mansor was spotted carrying at least 9 different Birkin bags (typically costing RM32,00 – RM530,000).
In fact in December 2012, ahead of Malaysia's GE13, Barisan Nasional MPs were actually afraid that a public declaration of assets would jeopardise their safety, according to The Malaysian Insider.
Kota Belud MP Datuk Abdul Rahman Dahlan defended that personal assets shouldn't have to be publicised and declaring them to the PM was good enough. "We can't be announcing all our assets to all the citizens. We need to think about the wakil rakyat's safety," he said. Exactly what he thought us citizens might DO to our wakil-wakil rakyat…. your guess is as good as ours. So instead, Najib let the MACC pick out any financial records that seemed fishy.
So what happens if MPs and government officials DON'T declare their assets publicly? Then the rakyat will continue to be kept in the dark. And if the rakyat are in the dark, logically speaking, corruption will worsen. Don't you think?
Even Obama declares his assets
Unlike our PM, his selfie partner US President Barack Obama does not have the luxury of keeping his assets under wraps. "The President of the richest and most powerful country in the world, the United States, declares his assets and expenditure of his family annually under the Ethics in the Government Act 1978," said Tony Pua in a statement.
Obama and his wife Michelle have a total of nearly US$7 million for the year 2012, not including their Chicago family home, in his financial disclosure report. Their assets include checking accounts, bank deposits, index funds and Treasury notes and bills – and the family dog, Bo, filed under 'gifts, reimbursements, and travel expenses'. The Portuguese water dog valued at US$1,600 was a present from the late Senator Edward Kennedy.
What about Singapore? Leh? Nope. Ministers of our southern neighbour are not required to reveal their assets to the people. Only privately to the President. Who is (currently) Tony Tan. Who comes from the same political party as their current ministers. And who used to be the Deputy PM.
In The Real Singapore's article, Singaporean ministers were compared scathingly against Thailand's ministers who by law, declare their assets. But what's their reason for such secrecy? According to ex-PM Lee Kuan Yew, revealing wealth would 'prevent interested people from becoming ministers'.
However, if we looked at examples from other countries, NOT declaring government officials' assets to the public could have nasty consequences…
If Malaysian officials won't declare assets to public…
We may or may not see the same thing that happened to Slovenian Prime Minister Janez Jansa. When the nation's independent anti-corruption commission called out on its PM and Opposition leader for hiding assets and conflicts of interests (deals with companies that have government contracts), the public demanded Jansa's resignation.
A similar situation of public unrest and political instability happened in Nigeria as well. Citizens had been calling on President Goodluck Jonathan to publicly declare his assets. Though he declared them in 2012, he absolutely refused to make them public. And now his political rival Muhammadu Buhari has promised to give the citizens what they want – a public asset declaration, if he's voted into power. Hmm. Wonder how long the President's good luck will last…
Think maybe Malaysian ministers could learn from these examples? While there's no imagining them going, "But how, CILISOS? Teach us how to be……..transparent!!", they could use a hand at this totally unprecedented practice in Malaysia's political landscape.
According to Transparency International, there are many variations in what different countries require when it comes to asset declaration. Though there are no international standards for asset declaration, the organisation its own best practice.
Otherwise, the US approach is often considered a model coz it is comprehensive and transparent. It's an 8-page form which US office holders have to check in boxes featuring wealth on various items. Here's a sample of Obama's form. Upon the civil society's request, declarations can even be audited.
Or better yet, why not take a lesson right from home where Penang Excos and state assemblymen had each of their asset statements verified by the accountant firm, Grant Thornton. Guan Eng even offered the service to the other 10 BN state assemblymen. "If they would like to declare their assets, we are willing to offer our independent accountant firm at our expense."
Take it!