Culture
Law
Lifestyle
More than 800,000 Malaysians barred from leaving the country!? But WHY!?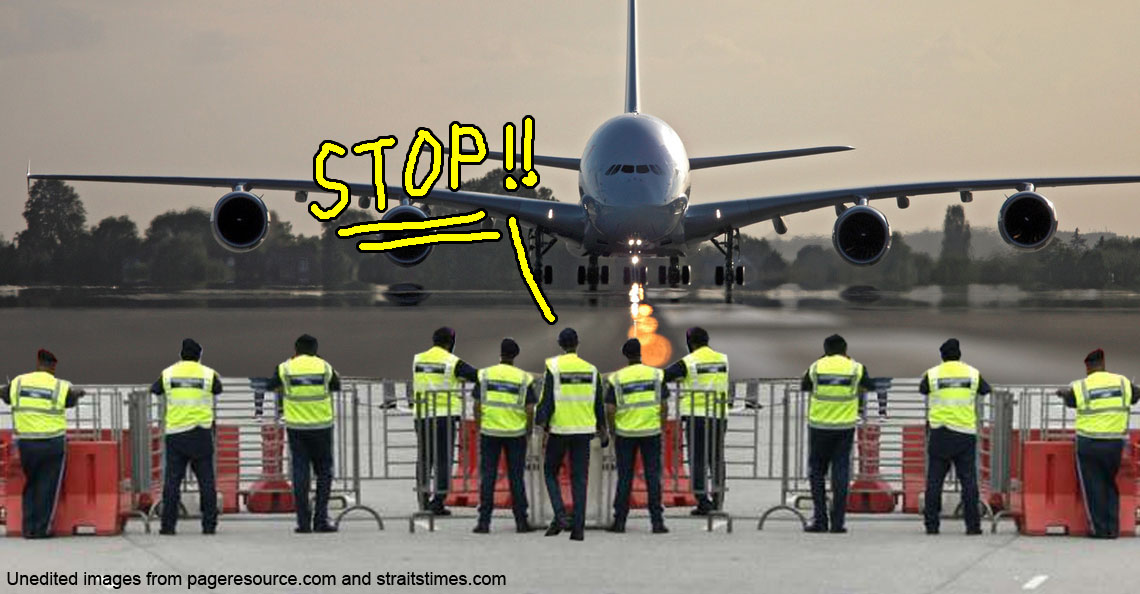 Almost 1 million Malaysians have been barred from leaving the country this year since 2011. Okla, the exact number is 827,921 people, but the shocking thing is that it almost DOUBLED since October last year, when it was just 488,787 people! This figure came from the Home Minister and DPM Zahid Hamidi in reply to Bakri MP Er Teck Hwa.
As a few news sites reported, you can check whether you terkena barred or not on the Immigration Department's page:
Seriously ugaiz, we recommend you check your status before planning a holiday to save you from embarrassment at the airport. Eeek!
"It doesn't matter if you are planning to leave by flight, road, rail or sea. As long as you are on the blacklist, you will not be allowed to pass the Immigration checkpoint, even if you have a valid flight ticket." – Ibrahim Abdullah, Immigration Security and Passport Division Director, The Star
But why so many people got blacklisted by Immigration wei!?
Well most of them are bankrupt Malaysians
Say whaaat? What does pokai-ness have to do with the travel ban?
Bankrupts make up the MAJORITY of those on the ban list with 200,727 people, according to the Home Minister. That's 24.24% of the total number. Yep, so apparently having no money could get you stopped from going overseas.
Chup, it's more than that – it's not just a matter of having NO money, but OWE money and kenot pay back (yes like Kanye West, but he hasn't declared bankruptcy yet). Bankruptcy doesn't mean your wallet kosong like Milo tin, in Malaysia the rules of bankruptcy is that you have to be owing a party at least RM30,000 and unable to pay it off, according to the Department of Insolvency. Then the debtor is declared bankrupt after the High Court serves an order against him/her. In Singapore, a person has to owe S$10,000 (around RM30,000 also based on today's exchange rate) to become bankrupt.
Unfortunately there is a rising trend of bankruptcy among young, under-35 Malaysians, because everybody wants to live the high life…
Malaysians are trapped in a world of status and materialism. They borrow for homes, cars and other stuff, then they fail to repay loans and credit card debts due to poor financial planning or spending habits.
Most of them are from lower to middle income families who are under pressure living in an urban area, stated Associate Professor Dr. Zahari Ishak from University of Malaya (UM). In fact, we have the HIGHEST personal debt among 14 Asian economies.
"Households are accumulating debt faster than their incomes are growing, which will likely lead to repayment difficulties when the credit cycle turns." – Standard & Poor's August report, reported by Reuters
But you know what, it's not just the ordinary, young Malaysians facing this. Even Tan Sris, Datuk Seris, Datuks and famous celebrities were found to be blacklisted by Immigration because of bankruptcy and tax-related problems.
And then there are the young ones who didn't pay their study loans
118,892 people (or 14.36%) were barred from going overseas because they didn't pay back their student loans, Zahid said.
PTPTN CEO Agos Cholan explained that they send a reminder to students to begin repaying their loans six months after graduation. If there's no payment after two months, the first notice would be sent, followed by a second and third notice. After this, PTPTN will send a legal notice and then blacklist the borrowers.
But the good thing is, you can lift the travel ban if you make SOME payment immediately, depending on income. That means they don't expect you to pay the FULL amount up front la. They're not so jahat.
"They would also need to sign papers committing to pay monthly instalments and arrange for a bank's standing instruction or salary deductions. Restructuring is allowed if they wish to vary instalment amount." – Argos on The Star
One epic CILISOS reader ALMOST MISSED her John Mayer concert because Immigration wouldn't let her past the checkpoint. Alia and her friend Faiz was about to fly to Manila, the Philippines, but 20 minutes before boarding, an Immigration Officer told them:
"See here, it says you can't leave the country. You haven't paid your PTPTN loan yet. 'Tahanan imigresen' (immigration detainee)," – the officer at KLIA
So, they went back to KL Sentral, Alia took out all her money from her trust fund, top up some money from her mother, and paid the PTPTN officer Encik Raflizan RM11,600 IN CASH, and made it to the concert. Epic right?
Oh, and posing naked on a mountain could also get you blacklisted
So, 507,782 people were barred for various undisclosed reasons, according to Zahid, but actually there are TONSSS of reasons a person can get barred from leaving Malaysia, like two Canadians who posed nude on top of Mount Kinabalu during the earthquake incident last year!
Don't be a terrorist because if you are a threat to national security, you will get blacklisted. The remaining 520 people were barred due to security reasons. And don't disgrace the country or commit crimes, warned Immigration Department Director-General Datuk Seri Mustafa Ibrahim.
In fact, the authorities can bar people for political reasons if they want to because it's happened to Rafizi Ramli and Tony Pua. It happened to political activist Hishamuddin Rais too, when he was at KLIA, leaving for South Korea to attend North Korean elections as an observer.
So who has the power to bar someone from exiting Malaysia? The federal and state governments for one. The Immigration Department too of course, for example, if a Malaysian had violated foreign immigration laws (like overstaying or abusing their travel visas), that country will complain to the guys on our side, then our side will put the offender on a watchlist.
Did you know, you could also get named by other agencies like the Inland Revenue Board, Employees Provident Fund (EPF), National Registration Depart­ment, police and customs based on the wrongs done under their jurisdictions. So yeah, other agencies can call up the Immigration Department to blacklist people.
Wait…doesn't the Constitution protect my freedom of movement tho?
YES! Article 9 of the Constitution gives you the freedom to move, howeverrr the State can still restrict this and the Constitution allows it. According to an article written by Syahredzan Johan, a member of the Bar Council, it can be done for the purpose of national security, public order, public health or for the punishment of offenders.
Meaning if you are sentenced to prison, you cannot claim Article 9, even if prison restricts your movement. Or let's say you are quarantined because of a contagious disease, you can be restricted under public health concerns.
But still, wanna restrict oso must be reasonable la, writes Syahredzan. He was referring to how Ambiga, Adam Adli and Nurul Izzah were blocked from entering Sabah and Sarawak. True, Sabah and Sarawak have certain special rights, such as control over entry into their borders (this was agreed upon before to Malaysia's formation)
"It would be unreasonable and irrational to arbitrarily deny Malaysians from entering into these states without just cause, especially if the reasons are political." – wrote Syahredzan, The Star
Oh shoot, if kena aldy then how to un-blacklist myself??
Call 

03-8880 1000

Find out which government agency issued the order and why
Get advice on how to get your name removed
You can do it. If Alia can do it so last minute to attend a John Mayer concert, you can do it if you make the proper checks on their site before making travel plans.
Oh and for all you youngsters out there… PLEASE DON'T GET MORE DEBT! If you need tips on how to live more responsibly, check out this great series on Financial Responsibility from our friends at Loanstreet.my 🙂
"You are hiding in your mind,
Working all the time,
Trying to make it better than you got it,
And you've been spending all your time searching for a sign,
That's never gonna look the way you want it" – John Mayer, "If I Ever Get Around to Living".