[UPDATE: 17/08/2020] We're updating this article to include how the Health Ministry's Director-General, Dr Noor Hisham Abdullah was recently awarded with the title Tan Sri in the federal birthday honours list. He is reportedly one out of 829 recipients of the awards in conjunction with the birthday of the Yang di-Pertuan Agong, Sultan Abdullah Sultan Ahmad Shah.
If you're keen to know more about Noor Hisham, you can continue to read the rest of the article below. [END OF UPDATE]
[Artikel ni asalnya ditulis kawan-kawan kami kat Soscili. Kalau nak baca artikel ni dalam BM, klik sini!]
The Covid-19 crisis has so far continued to be the biggest issue affecting Malaysians everywhere. It began back in January, and kinda blew up from there. During that time, Dr. Dzulkefly Ahmad was still helming our Health Ministry, but the ministry changed hands to Dr. Adham Baba when the whole Sheraton Move thing happened.
However, despite all the political fallout and Covid-19 related troubles, there remains one person who's been steadfast in dealing with the crisis throughout: Health director-general (DG) Dr. Noor Hisham Abdullah.
Within the Health Ministry, the DG's a ministry executive serving under the Deputy Health Minister, so they're not easily switched out every time there's an election, like it is with ministers. And they're apparently in charge of health departments in all states.
As such, Dr. Noor Hisham's served as the Health DG for almost a decade, while our Health Ministry's switched hands three times throughout. But what exactly makes him so qualified to serve as our Health DG for so long? Well, to start with…
He has six medical certificates across the world and is a part of WHO
To be the Health DG, you can't exactly waltz into a room and just say that you wanna be the Health DG – you gotta be good at what you do.
And Dr. Noor Hisham's actually rather skilled, if you only look at his academic achievements:
Doctor of Medicine (MD), UKM – 1988
Master of Surgery (MS), UKM – 1994
Royal Australasian College of Surgeons Fellowship Training in Breast Endocrine Surgery – 1997
Academy of Medicine Malaysia (AM) – 1998
Fellow Academy of Medicine Malaysia (FAMM) – 2004
Advanced Management Program, Oxford Business School in the UK – 2008
He began his medical career and joined the civil service as a houseman at the Kuala Lumpur University Hospital way back in 1988, specializing in the Accident and Emergency Department in 1989. However, after he'd gotten his Master of Surgery, he moved on to become a general surgeon at Hospital Terengganu in 1994.
However, he's always been interested in endocrinology, which is a fancy word for glands and stuff. So after having been a general surgeon for three years, he received endocrinology fellowship training at various institutes in Australia, including the Royal Adelaide Hospital, Queen Elizabeth Hospital, and Royal North Shore Hospital.
His stint in Australia lasted around two years, as he came back to Malaysia and became the Head of Breast and Endocrine Surgery Unit at Kuala Lumpur Hospital in 1998. He then took on the role of head and senior consultant of breast and endocrine surgery at Hospital Putrajaya in 2002, which is a position he's held until today.
"In thyroid surgery, we must first do no harm, more so in difficult cases and even if we have to take the calculated risk. I reiterate that surgery is an important component of primary care and that there is no universal health coverage without access to safe and affordable surgical and anesthesia care." – Dr. Noor Hisham, as quoted by Code Blue
And apparently, he's so good at his job that he was then he appointed Deputy Health DG in 2008, and then Health DG in 2013. But apart from all that, he also holds a number of positions in certain organizations, such as:
Policymaker in the World Health Organization (WHO)
Councillor-at-Large in the Executive Board of International Society of Surgery (ISS)
Chair in the Global Surgery Committee of ISS
Board member of Drugs for Neglected Diseases Initiative (DNDi)
So, as you can see, he's pretty qualified for the job. However, despite his qualifications and achievements, what he does as the Health DG is more important, and we found that he's never failed to appear and try to alleviate the situation every time there's a health crisis in Malaysia, whether it be under the Barisan Nasional (BN), Pakatan Harapan (PH), or Perikatan Nasional (PN) administration.
During BN's time, he was there for a bad flood in Kelantan in 2014
You've probably already forgotten about it, but near the end of 2014, there was a really bad flooding situation in Malaysia, specifically around Terengganu, Pahang, Perak, Sabah, Perlis, and Kelantan. It was brought about by the typical end-of-the-year monsoon called the northeast monsoon, where rivers in affected areas were filled up and started to spill over.
"One is the changing climatic patterns and the adverse weather effects. Second could be the result of uncontrolled land management and the swelling number of trees and exploitation of land resources." – National Security Council (NSC) secretary Mohamed Thajudeen Abdul Wahab, as quoted by Malaymail
The flood was said to be the worst flood in a decade, where around 58,000 people had to be evacuated, the most of which came from Kelantan. And it was said that the damage to infrastructure and public assets themselves accumulated up to RM200million.
And while NSC was involved in the situation, one other department involved was the Health Ministry, when it was still led by former MIC president Subramaniam Sathasivam. The flooding had also brought some health issues, so Dr. Noor Hisham dispatched 101 medical staff to Kelantan hospitals for additional help, including doctors, nurses, and assistants for medical officers. Not just that, he's also sent more staff from district medical offices to various evacuation centers to provide check-ups and on-scene treatement.
In addition to those, in order to control the spread of diseases from the flood, Dr. Noor Hisham had issued a warning that restaurants were not allowed to operate during that time, or they'd be ordered to close down and fined. This was because flood water's prone to be dirty and teeming with bacteria, which can easily contaminate the food.
As you can tell, Dr. Noor Hisham played a pretty big role in the flood in 2014, and that was only during BN's era. And then…
During PH's time, he was there for Sungai Kim Kim toxic pollution
Okay, before we elaborate on anything, yes, Sungai Kim Kim is an actual river name, and it's located around the Pasir Gudang area in Johor.
So in 2019, Malaysia already had a new administration in PH with Dr. Dzulkefly Ahmad helming the Health Ministry, and the one person that remained was Dr. Noor Hisham.
In March last year, we were hit with another controversy when some students and canteen workers from two nearby schools were hospitalized for vomiting breathing difficulties due to toxic fumes in the air. The numbers eventually went up to thousands of people, and 110 schools around the area were shut down as a result.
It was found that the cause of the toxic pollution was illegal and excessive chemical waste dumping into Sungai Kim Kim, which was said to have contained traces of heavy metals.
While other agencies were conducting the investigation – the army had even dispatched a team to assist in the cleaning efforts – the Health Ministry was busy with the treatment of the victims – in the midst of it all was Dr. Noor Hisham. He instructed the State Health Department in Johor to monitor the situation and provide efficient and effective treatment to curb the spread. Emergency relief teams were also dispatched to deal with distress calls.
"All patients have been reported to be stable and with none admitted to the intensive care unit and no deaths recorded." – Dr. Noor Hisham, as quoted by Malaysiakini
In addition, Dr. Noor Hisham had also advised the public to immediately seek treatment if they'd experienced any symptoms that could be linked to the toxic pollution, such as breathing difficulty, nausea, and dizziness. Meanwhile, those who were responsible were soon arrested. The cleaning operation had also succeeded and the river's now clean.
"A total of 900 tonnes of soil and 1,500 tonnes of polluted water has been cleaned." – Former Energy, Technology, Science, Climate Change and Environment Minister Yeo Bee Yin, as quoted by The Star
While this was one health crisis averted during Dr. Noor Hisham's tenure as Health DG, it was far from the last, because now…
He's in the middle of dealing with the Covid-19 crisis
We suppose it's safe to say that Covid-19's a burden shared between PH and the newly minted PN administrations, where Dr. Dzulkefly used to be the one to share Covid-19 related information with the public, until our government abruptly changed hands and now Dr. Adham's at the helm. However, even with the government changing, one thing that didn't change was Dr. Noor Hisham.
To date, Dr. Noor Hisham's remained professional and informative throughout the whole thing, where he's not released any inaccurate information or been involved in any sort of controversy just yet. He's also taken over the role of informing the public of the Covid-19 status in Malaysia on a daily basis, updating us on the death toll, the number of victims, and the number of recovered patients.
Plus, when the second wave of Covid-19 broke out, Dr. Noor Hisham was quick to urge the public to not blame the tabligh convention in Sri Petaling, which has apparently become one of Malaysia's largest Covid-19 hotspot.
"We should not blame the tabligh congregation. Do not discriminate them. Do not stigmatise the tablighs. It is more important for us to help trace, cure Covid-19 infection among the tablighs, family and their friends." – Dr. Noor Hisham, as quoted by Malaysia Gazette
Instead of panicking in the face of a crisis that's been said to be "worse than the 1997 financial crisis", Dr. Noor Hisham's been quite proactive in combating it. One of the measures he'd taken is recruiting retired medical staff to help at designated hospitals.
He's been lauded as a national hero for his efforts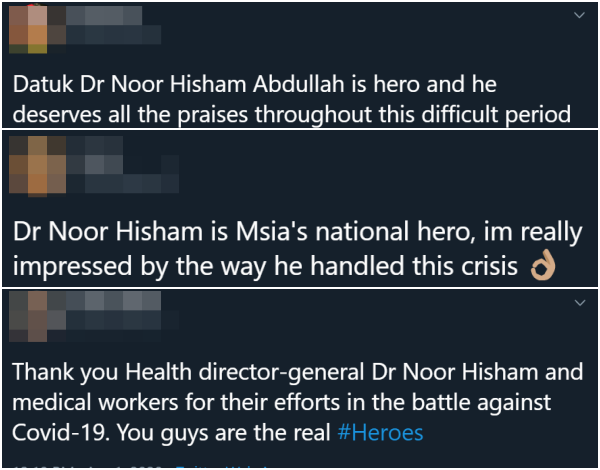 Dr. Noor Hisham's steadfastness in dealing with Covid-19 outbreak has gotten him praises from all over the internet and even Mahathir himself. However, when asked about the praises, he's also steadfastly waved them away, shying away from the label.
"To me, that is not important (the title of 'national hero') but what is important is our service (to the health ministry)." – Dr. Noor Hisham, as quoted by FMT
Since the MCO, he has not only been dutiful in reporting Covid-19 statistics at 5pm everyday, but he's also repeatedly pleaded with the public to obey the MCO guidelines and stay at home. And really, now that the MCO's been extended, it should serve as warning enough regarding Covid-19 in Malaysia currently, where we see a three-digit increase in victims everyday.
While Dr. Noor Hisham's doing his very best with the Health Ministry and medical staff nationwide to curb the virus spread and treat the patients, we should listen to the hero himself and uh…stay at home. Try to avoid making things harder for Dr. Noor Hisham and our fellow Malaysians who are "staying at work for us".
And hopefully, the Covid-19 crisis will end soon, and we can all go out and enjoy roadside Ramly burgers with no worries.
"To the public, you are the key to stopping the spread of this pandemic. Our hope at this time, is you will continue to stay home and keep observing the MCO. You are crucial in flattening the curve, thereby enabling us more time and capacity to cater to your healthcare needs. Every Malaysian must play their part in battling this pandemic." – Dr. Noor Hisham, on his Facebook page