Culture
Lifestyle
Why are people in Sabah making homemade guns? What is the law on this?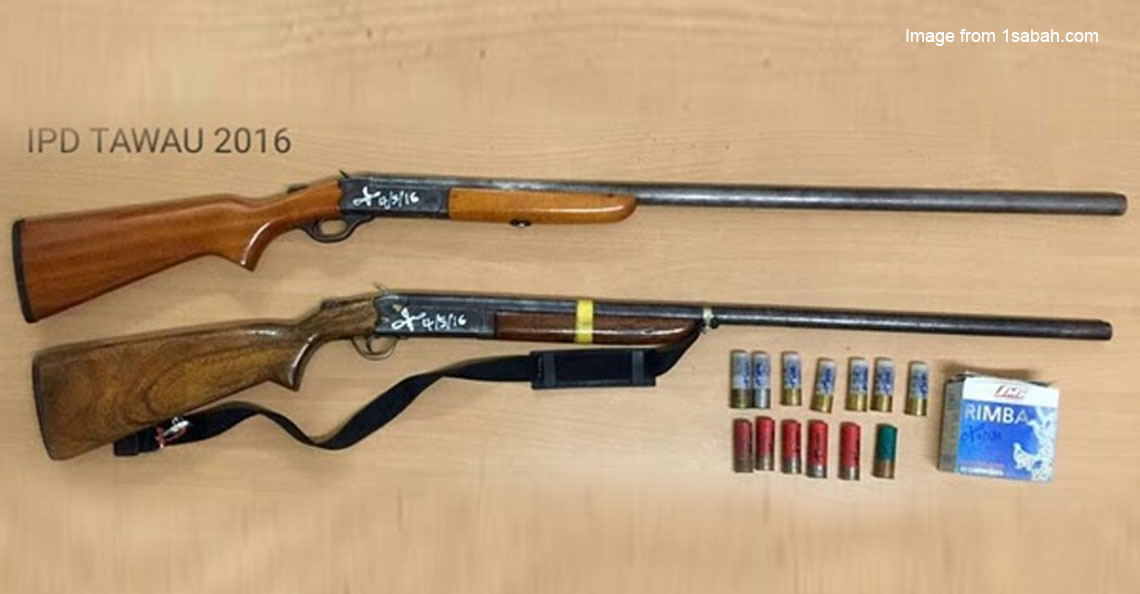 When police raided a drug dealer's house in Kinabatangan, Sabah recently they found, well, his stash of drugs, obviously, but what we found more interesting than the drugs were his collection of homemade shotguns, called Bakakuk.
Three of them were seized by the cops, including 34 bullets. They were hidden in various places in the house, including the ceiling.
As we did more research into the Bakakuk, we discovered something really fascinating about East Malaysians that probably many of us in Peninsular Malaysia may not know… apparently, it's very common for people own their own homemade gun in the villages of Sabah! 😯
Some villagers in Sabah are expert at making these handmade guns
Two types of handmade guns, the Bakakuk and Ginsuk, can be found in many homes in Sabah villages. They have widely available since the 1980s.
The Bakakuk is a type of shotgun made from improvised materials like nails, steel pipes, wooden pieces, bits of string, and tap heads. It is made by attaching the iron pipe, which forms the gun barrel, to the steel part that is moulded to form the breech and trigger mechanism, and the wood forms the grip and stock. It's actually really easy to assemble!
Give the job to an expert and he would be able complete it within a day. Some village people are quite expert at making them! They are almost as good as factory-manufactured weapons, however, a novice might take longer and the finished product might not look so cantik la. It costs about RM700 these days to buy one, depending on the quality. Bakakuks use REAL bullets or pellets, which can be bought in the market.
"From the arrests made, we discovered that they have the skills to make these firearms. If we look at it, this industry (making firearms) is prevalent in the Philippines, in the villages, and in Sabah." – Datuk Ramli Din, Sabah Police Commissioner, translated from Berita Harian
Another type of handmade gun popular in Sabah is the ginsuk, which works like a musket (which is more old-fashioned compared to a shotgun). It uses "tin pellets as bullets, compressed with gunpowder to set it off, and it can cause injuries," the Commissioner explained.
You can Google Image 'Bakakuk' or 'Ginsuk' to see what they look like. Some of them look more cincai-ly put together, while some do look like legit guns, at least in pictures.
These guns are generally used by the villagers for hunting animals, as well as by farmers to protect their land. Others bought them as a collector's item. In fact, some Bakakuks have been in the family collection for generations. Many opt for these homemade weapons because too bothersome to get a firearm licence. We've written an article about Malaysian gun laws before and they're VERY STRICT. Getting approval for a licence to own a gun is harder than climbing Mount Everest.
Meanwhile, the smaller, subtler, ballpoint pen gun had surfaced in Bintulu, Sarawak, after a van driver died when his accidentally went off. Witnesses saw him waiting to pick up passengers, when he suddenly keeled over and died.
"Just before that, witnesses heard a small exploding sound, like a firecracker going off. The people around there assumed that he was smoking it [small slim item that resembled an electronic cigarette] before it exploded and killed him." – Bintulu OCPD Supt Abdul Razak Mohamad, The Star
According to former IGP Khalid Abu Bakar, pen guns have also been around for 20 years, possibly inspired by the 1983 James Bond movie, Never Say Never Again.
But here's the thing though, bakakuks, ginsuks and pen guns are not reliable and can go off by accident. Which begs the question… is owning one even legal??
So, Bakakuks and Ginsuks are actually illegal according to the Firearms Act
Homemade guns have been the cause of fatal accidents, many of which are hunting accidents. Over the past five years, 26 deaths have been recorded. There have been instances of people mistaking their hunting buddies for wild animals, critically or mortally wounding them. In January, an 89-year-old man named Amit Bies was shot dead after being mistaken for a wild boar in the forest in Tenom.
"The suspect claimed he had fired a shot at what he thought was a wild boar. Instead he heard someone screamed after firing the shot from a distance of about 15m. The hunter had thereafter lodged a police report, accompanied by his brother-in-law." – Mohd Firdaus Francis Abdullah, District Police Chief Deputy Superintendent, NST
In 2008, a village head Datirin Julani, 50, was shot in the chest and neck while riding his motorcycle home from a rubber plantation. Two years later, a 15-year-old girl was killed with a single shot in a house at a village known as Kampung Nabutan. One guy who accidentally shot his father-in-law while hunting squirrel, buried him with the gun as a sign of respect and also to plead for forgiveness (?!)
Reports of drunk people shooting their drinking buddies with Bakakuks have been published in the local media in Sabah. So redneck -_-
"Owning a Bakakuk or illegal firearm is an offence under the Firearms Act." – Ramli Din, Sabah Police Comm, The Star
Even air guns are not permitted in Malaysia (and those don't cause fatal injuries), what more Bakakuks and Ginsuks which can kill.
Local district police chiefs explained that they sometimes turn a blind eye, as long as the guns are not used to cause harm or trouble. Arrests are only made when accidents happen. That report was back in 2013, though… now, Sabah police are clamping down on them. Since 2013, Police Commissioner Ramli Din revealed that they'd seized 193 Bakakuks and arrested 238 people. "Shop owners selling bullets for these homemade guns will also be subjected to stern measures," he added.
"Tawau recorded the highest number of people in possession of this illegal weapon followed by Keningau, Kunak and Kinabatangan." – he said, quoted from The Borneo Post
Here are some of the punishments contained in the Arms Act and Firearms (Increased Penalties) Act:
Owning a gun without permit – 14 years in prison with 6 lashes
Manufacturing guns or ammo without license – Death penalty/life imprisonment with at least 6 lashes
Firing a gun at someone – Death penalty, accomplices might kena as well 
The worrying thing is poachers are also using Bakakuks for their illegal activities. The Wildlife Department found an elephant carcass in Lahad Datu with a bullet believed to have been fired from the homemade gun. Such guns have occasionally been seized by the authorities when they catch poachers.
Owners have been told to surrender their guns to the police
Datuk Ramli said that the issue of locals possessing Bakakuks is a statewide problem that needed to be addressed urgently. In their efforts to control the misuse of firearms, homemade weapons are their focus coz it's a concern specific to Sabah. Plus, they're going after licensed ammunition sellers who sell to bakakuk owners.
"It is illegal to have these types of weapons, especially if one does not have a firearms licence. So we suggest those who have these weapons at home to surrender them to the police station." – Ramli on said The Star
Unfortunately we don't know what the villagers are gonna use to hunt. As for protecting their farm lands, we'd sure many parties, especially animal rights groups, would be happier if farmers used fences rather than firearms. Farmers in India found a pretty innovative method, which is to leave smelly egg shells around that repels some animals. Other go for noise-producing methods, or plant a buffer zone with fruit trees between their field and the forest to keep animals from wandering directly into crop areas.
Gun laws are clear and strict enough already in Malaysia. It's only a matter of enforcement now.