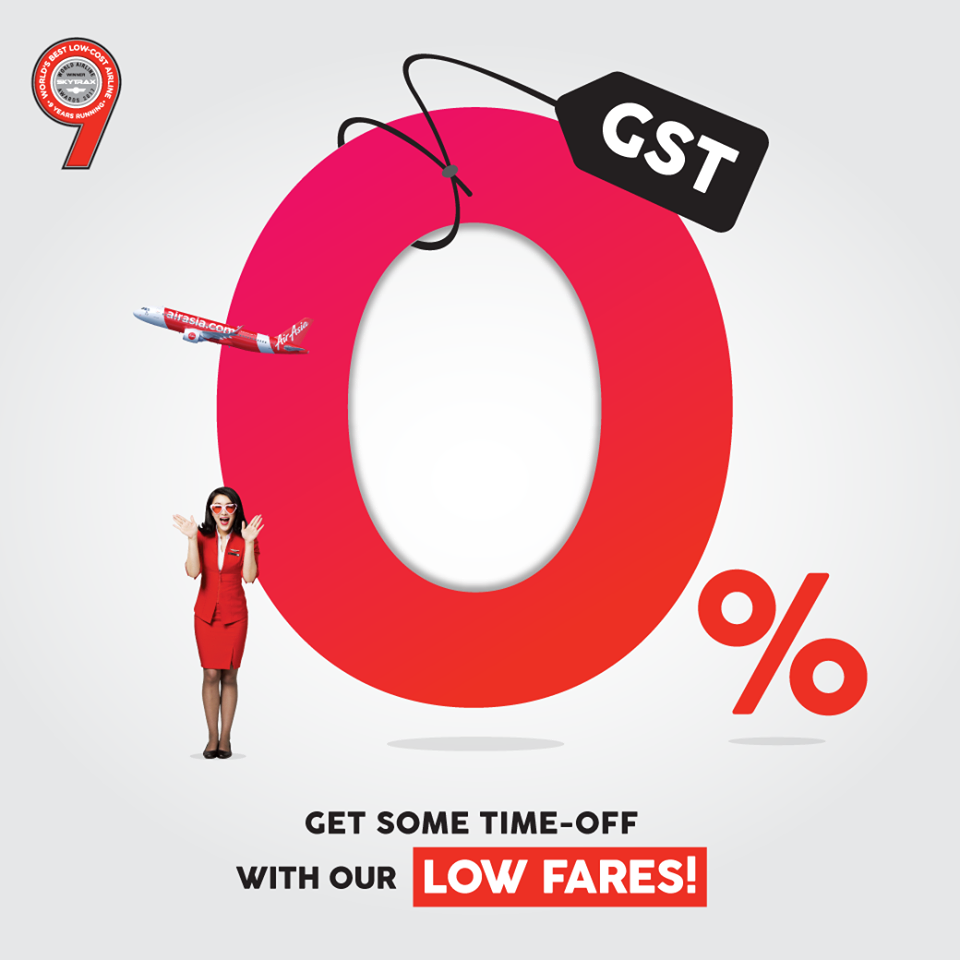 If you're thinking of getting some time off, now wouldn't be a bad idea to plan your break. Why? Cos GST has been kicked in the butt (it's gone down to 0%, if you have been living under a rock since May) and many brands have reduced their prices, much to the delight of Malaysians.
This includes our friends at AirAsia 😀
They've just lowered their fares post-GST, so it wouldn't be a bad idea to check out some of the locations they're currently offering:
1. Langkawi – our very own duty-free UNESCO paradise
Price: RM38 (all-in, one way) 
Aaaah. We're so proud to call Langkawi our own. We don't need to elaborate much about this popular spot, other than it's UNESCO geopark status, the 90+ islands surrounding it, jungly hills and… the most important bit… duty-free shopping! Hur hur.
In fact CILISOS actually went to Langkawi for our company trip earlier this year, and totally enjoyed going island hopping in the day, hiking up a jungle in the afternoon, and chilling by Cenang beach by night. Perfect for a weekend away from work 🙂
2. Hua Hin – a mini Greece only 2 hours away from KL
Price: RM78 (all-in, one-way) 
This lovely beachside town is a nice mix of city and sea, possibly because it's only a two-hour drive away from busy, bustlin' Bangkok. (But AirAsia flies directly into Hua Hin!) Despite its close proximity, Hua Hin makes the perfect getaway spot if you're into that Hampton's lifestyle… but on a budget la cos our Ringgit not that strong.
But apart from golf courses, international cuisine and royal Thai details (it's widely known to have links with Thai royalty), Hua Hin is also known for being home to two popular other tourist destinations – Santorini Park (themed shopping village made to look like Santorini in Greece), and Venezia (also another themed shopping village, but replicates Venice).
Fly into one ASEAN city, get lost in two European destinations… ok per 🙂
3. Kaohsiung – a diverse city with EPIC pasar malams
Price: RM238 (all-in, one way) 
Although the largest port city in Taiwan, don't expect Kaohsiung to be a super sien place with shipping containers and big, dirty ships. It's actually a pretty interesting cities of contrasting elements.
On one hand, you've got unusual temples (like one where you enter through a dragon's mouth)… and on the other, you have cool, artsy-fartsy spots with coffee joints and exhibits. There are also nearby islands – like Cilin – which boast some of the prettiest nature spots with clear beaches and misty jungles. And have you even seen its skyline?!
BUT knowing us Malaysians, food trumps anything… and Kaohsiung has not one, but TWO gigantic night markets (almost 30,000sqm each) that are constantly outdoing each other. Possibly the biggest night markets in Southeast Asia, they each have hundreds of stalls and are said to take at least an hour of weaving through them all. (There are other night markets around la, but not as big.)
4. Jaipur – a ridiculously Instagrammable ancient city in India
Price: From RM278 (all-in, one way)
We've stumbled upon a real… Instagem (kekekekeke). It's never been used in a major Hollywood picture before, and most of you probably have never even seen pictures of it. But we really aren't stretching it to say that that it's one of the most beautiful cities we've EVER seen.
But Jaipur is among the earliest planned cities in India, and the ancient buildings and monuments that can be found here make for great photos. Its buildings are the background of future Wes Anderson movies, it sets a few world records, AND it's got so many unique, rich heritage spots that will give you more culture than a Vitagen factory.
P/S: We wrote a full-length article about Jaipur in the past. Click here to read.
Been there? Don't worry, got more locations…
There are a whole lotta destinations you may wanna check out, including Jakarta, Kunming, Nha Trang, Colombo, Bali and even Sydney 🙂 To start planning your time off, click here.
Just note that you can enjoy these prices by booking them anytime from now till 17th June 2018, and travel anytime from now till 30th November 2018. 
Brb, we gon plan another lazy weekend in Langkawi…