*Artikel ni ada dalam Bahasa Mekayu, tekan untuk baca!
[UPDATED AUGUST 2016]: So how well has "Sammo Hung" been doing so far?
Datuk Muhammad Ibrahim has recently announced that there will be no further action taken against  1MDB because they've already habis-ed the investigation and punished them. This was in response to the whole DoJ investigation, and as expected it hasn't gone down very well with some people.
"This single announcement has in one swift blow, destroyed all the credibility BNM painstakingly accumulated over the past two decades." – Tony Pua, as quoted by MalaysiaKini
However, it should also be mentioned that this was based on the BNM's own protocols, and that the DoJ's case is a civil case (to freeze and confiscate the assets) and not a criminal case (to put someone in jail). Datuk Muhammad Ibrahim has stated that BNM is willing to cooperate with the DoJ if they make a request, but we'll have to see what happens when the time comes la.
[End of update]
————————————
If you were on social media a few days ago you may have seen the picture of this guy plastered all over the place.
Well as the title of this article suggests, this is actually the new governor of Bank Negara Malaysia, Datuk Muhammad Ibrahim. He was recently appointed to replace the woman who transformed Malaysian banking, Tan Sri Zeti Aziz, who has been governor since May 2000.
And honestly when we first saw Datuk Muhammad Ibrahim, the first thing to cross our mind was…..
Why da heck is Sammo Hung our new governor???
But leading up to his appointment, there were speculations that the new governor would be someone from within the gomen *cough 1MDB cough*. So many people, both locally and not so locally, were actually anxiously waiting to see who would be appointed in Zeti's place. (We reckon even more so because he's actually kept a very low profile prior to his appointment.) In fact, many people weren't completely convinced by his appointment, as some of these comments seem to reflect.



But that's why we tried to find out who exactly Datuk Muhammad Ibrahim is. And from what we could gather, he may actually be the right person for the job. Here are 4 reasons why.
1. He's been working for Bank Negara for the past 32 years! And counting!
Yes, Datuk Muhammad Ibrahim has been with Bank Negara since 1984. To put that into perspective, that was the year the first version of Tetris was launched (amongst other things).
The Star reports that he has worked his way through many departments within Bank Negara before finally naik-ing pangkat to deputy governor in 2010. We actually wanted to add that he hasn't looked back since, but considering that he was appointed deputy after working with Bank Negara for 26 years, we think he never actually looked back at all la.
But it's not just his loyalty to Bank Negara that is outstanding, but the way Bank Negara has groomed a successor.
"There is succession planning and that is why the organisation (Bank Negara Malaysia) is so solid. We invested in all of them (her 3 deputy governors) massively and I don't want to lose a single one of them." – Tan Sri Zeti Aziz, as quoted by The Malay Mail Online
And even when he wasn't the top ranking official, that didn't stop him from building a reputation as someone who took moving forward very seriously.
2. He made e-banking in Malaysia e-sier
For those of you who've been doing online shopping for awhile, you might remember how sellers used to list specific banks you can pay to. If you didn't have an account with that bank, you had to use PayPal or a credit card. It's a pretty subtle change, but the reason why you can send money from Maybank to RHB is because Bank Negara introduced the framework for an inter-bank transfer system to make e-payments easier.
Needless to say, the person at the head of Bank Negara's e-payment push was Datuk Muhammad Ibrahim, who saw the how high-speed internet and smartphones would soon change the banking industry:
"If you do not adopt technology, you will be left behind. You must not put constraints on it. The necessary framework must be in place" – Muhammad Ibrahim, as quoted by The Star
Aside from the framework, he also made some policy changes that encouraged online banking; such as reducing the inter-bank transfer fee from RM2 to 10 sen while increasing the cost of using cheques from free to 50 sen. This was done because most Malaysian companies still used cheques to issue salaries and payments, costing the government RM768 million in processing fees alone.
He's also looking towards the long term, using these platforms and policies as a base for companies and banks to innovate, such as an upcoming real-time retail payment platform that will make it easier and cheaper to conduct business transactions with other countries. Electronically, of course:
"The industry should adopt a long term horizon and be prepared to sacrifice immediate term profits in order to sustain its profits and build affordable and sustainable e-payment solutions that cater to the needs of the masses. … Collective efforts to build and share infrastructure would be a step in the right direction." – Muhammad Ibrahim, during a keynote speech in 2014.
So yea, he looks like a guy with a plan. But administration aside, can we trust him to stay clear from politics? Well…
3. He's got no (obvious) political connections
One of the biggest reasons why Datuk Muhammad Ibrahim can be considered a neutral is because Tan Sri Zeti Aziz herself has worked very hard to ensure that Bank Negara stays free from political influence.
"Every country needs an organisation like the central bank that is not grown to any political developments or political agendas and will remain focused on ensuring economic stability… so that financial policies would be of the best interest of the country." – Tan Sri Zeti Aziz, as quoted by The Malay Mail Online
And she really has done a lot to ensure that Malaysia's banking system steers clear from politics. So imagine the uproar back in March when the WSJ reported that the the gomen had appointed a 1MDB advisor as the next governor. In fact, when MalaysiaKini talked about the potential candidates for the role of governor, quite a number of them did actually have links to our gomen. 
But Zeti and Bank Negara have done well to ensure that the person they've picked does not have any direct links to any political organisation (he is linked to organisations like KWAP and Petronas though).
"He has no obvious political affiliation. In that sense I think investors will be reassured that he maintain the independence that his predecessor, Zeti, was able to uphold." – Control Risks Southeast Asia senior analyst Giulia Zino, in an interview on Bloomberg TV Malaysia
But if you feel that these things aren't enough to convince you that he is the right man for the job, how about the words of bankers instead?
4. Bankers seem to really like the guy
Aside from Tan Sri Zeti Aziz, it was reported that many other people within the banking industry have been singing Datuk Muhammad Ibrahim's praises since he was appointed. 
"Muhammad brings to his governor role a myriad of skills and years of valuable experience honed in various roles including bank regulation and supervision and strategic planning." – Group chief executive of CIMB Group, Tengku Datuk Seri Zafrul Aziz Tengku Abdul Aziz, as quoted by Bernama
Aside from that, we also went and asked some bankers that we knew ourselves, and many of them agreed that Ibrahim was a good choice.
A senior official within Bank Negara told us anonymously that the appointment is generally positive for the market, and that he's seen as politically neutral since most of his career has been with Bank Negara Malaysia (which is exactly what we've been talking about earlier!). FreeLunch (who's helped us with articles like this and this) also said something along these lines while also adding…
"It (Datuk Muhammad Ibrahim's appointment) is (a) relief compared to other potential candidates." – FreeLunch
In other words…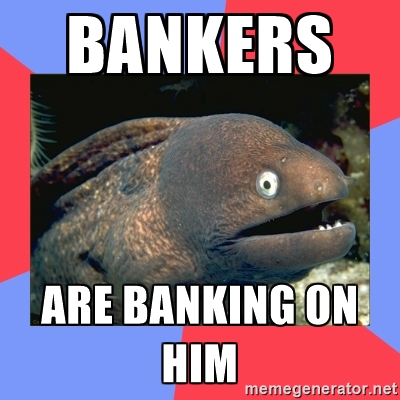 In Malaysia's current climate, Datuk Muhammad Ibrahim's appointment is a pleasant surprise
Some of you may remember that there was a period last year where our Attorney-General, Deputy Prime Minister, and some other flers were all replaced overnight. In many of these replacements, it was allegeded that a common factor leading to these people being replaced was that these people spoke out against 1MDB. And judging by how Bank Negara has not been going easy on 1MDB, it really was a valid concern that her successor would have been someone who put the needs of a select few over maintaining the integrity of our financial system.
However, that has not been the case. Tan Sri Zeti Aziz has not only been allowed to retire as planned (a luxury not afforded to former AG, Tan Sri Abdul Gani Patail), she has also been able to select a successor whom she feels would be the best to replace her.
It's true that only time will tell if he will be a good governor or not (and honestly, those are pretty big shoes he's stepping into), but the signs seem to point that Bank Negara has appointed someone capable enough to lead our banking system forward.
At least for the next 5 years la.
——————-
Contributing writer: UiHua Cheah