On Wednesday, we read an article from The Malaysian Insider reporting that jailed PKR leader Anwar Ibrahim announced plans for a new Opposition coalition which will involve progressive groups such as Bersih and new political party Gerakan Harapan Baru.
Our first thought when we read the news was:
"How the heck did Anwar manage to form a new political alliance from prison??"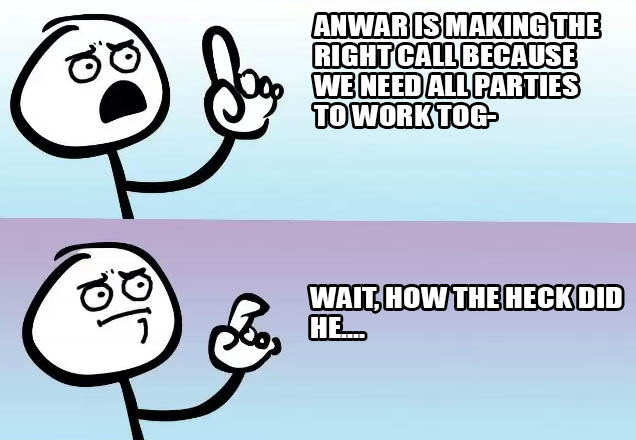 If you've ever tried planning for a wedding before, you'd know that getting a bunch of people to work together is a pretty tough task; even if it's for a common goal. You gotta negotiate with everyone to make sure they like (or at least can accept) the theme of the wedding, consider all the different types of cakes they prefer, the budget, and juggle family politics. Now try to imagine doing all that from prison. We kinda speculated that he might be in some VIP prison cell that has internet and mayhaps a laptop or phone:
But the Home Ministry has repeatedly stated that Anwar will NOT be getting any special treatment and that he will be treated as fairly as any other prisoner following prison rules and regulations.
So we figured that the best way to get to the bottom of this is to ask one of his lawyers. We got in touch with Latheefa Koya of law firm Daim & Gamany – who manage a large portion of Anwar's court cases – to get an idea of what his prison life is like, and how he managed to coordinate a new political coalition.
Here's what she told us…
Anwar didn't actually announce a new Opposition coalition
Uhm… yeah. No new coalition, not even plans for one. Latheefa tells us that his actual statement was taken slightly off-context:
"Firstly, he never actually said "new coalition". His statement is that he wants everyone to work together in opposition to the ruling government. He just wants them to focus. " – Latheefa Koya, in phone interview with CILISOS.
So basically Anwar is just asking for all parties involved to refocus and work together towards the common goal. 
So…. yeah, that's it. Sorry for the clickbait title ugaiz. But since we were on the phone with her, we decided to ask Latheefa about Anwar's life in prison – like how his living conditions are like, how he finds out what's going on outside, and things such as…
His lawyers get to see him more often than his family
According to Latheefa, a lawyer (or lawyers) can visit their client any time depending on cases and court preparations – and Anwar is currently fighting A LOT of legal cases – with "defamation suits, shariah cases, and appeals". However, she mentions that for whatever reason, the prison authorities have limited lawyer visits to Anwar to twice a week in general.
But this is still better than his immediate family members who only get to visit him once a month. And while the lawyers and Anwar are given a room, visits involving family are through that glass window pane thing that you see in movies.
Latheefa says that this is a particularly distressing experience for the grandchildren, since they can't even reach out to touch their grandfather.
She also recounts a particularly sad story from this past Hari Raya where, due to the occasion, inmates are allowed to have direct contact with family. Anwar's family members were told to visit on the fifth day "due to the large number of people visiting" and when they arrived, they were told that they could not have contact with Anwar because those were only for the third and fourth days of Raya. They were also told that there was a 8-visitor limit, so Anwar's siblings and stepmother were asked to leave. They also weren't allowed to give him any Raya food  🙁
In the interest of reporting fairness though, the Prisons Department has denied that this happened, saying
"We stress that no Muslim inmates, including Anwar, have been denied their rights this Aidilfitri in accordance with rules and regulations" – Supri Hashim, Prisons Department deputy director, as quoted in The Sun Daily.
So despite our early speculations that Anwar was getting VIP treatment, it's beginning to seem pretty clear that…
Anwar's prison life isn't exactly luxurious
Before you ask, there aren't many pictures of Anwar's cell or any related pictures for that matter since cameras aren't allowed. In fact, even the lawyers are required to surrender everything except for their legal paperwork – with pens and pencils are provided by the prison guards. We managed to find a picture from Malaysian Review that's supposedly of his cell recorded by RTM (Took us forever to find it though):
Latheefa confirms that Anwar does not have access to the internet nor a phone. He's also in solitary confinement for security reasons, where
"They have to go through three levels of metal doors before reaching him. His movement is watched very carefully, with a spotcheck every 15 minutes. It's almost like a maximum security prison!" – Latheefa Koya
We kinda imagine it to look something like the opening sequence from Get Smart, so maybe the spotchecks are to ensure he doesn't have a phone hidden in his shoe or something. If you don't know Get Smart, skip this reference and go back to playing Pokémon, young'un. 

While she hasn't personally seen his cell, it's been described as a regular prison cell with a toilet, plastic chair + table, and thin foam mattress. However, he's since received a hospital bed due to his medical conditions. Anwar also mentioned that the cell can get pretty hot and humid.
So what does Anwar do with all this time?
According to Latheefa, there's a strange rule that limits prisoners to only 3 books at a time.
"After many requests, we managed to convince the prison authorities to allow Anwar to more than three books so he's going back to his reading habits… Shakespeare, biographies… He's doing some writing as well." – Latheefa Koya
We also asked Latheefa if he gets to exercise in the prison yard, you know, lifting weights and looking badass and stuff.
She says that earlier on, he was able to walk or jog around the area every evening but now he's limited to a very small walk around the block in an enclosed area because someone decided that he cannot be seen when he exercises, nor walk under open spaces.
"It's only when we visit him that he'll be able to take a long walk along the corridor to reach our meeting room. It's the only time he gets fresh air" – Latheefa Koya
There's no explanation why this rule was put in place, so we can only speculate that they're afraid he might escape by flying up, up into the sky.
Or maybe it's the (more realistic) fear that Anwar might escape by helicopter – which has totally happened many, many times before. As in other people have done it la, not Anwar.
But if there's a silver lining to all of this, it's for the other inmates at Sungai Buloh prison cause…
Anwar may have made life better for other prisoners
This has actually been reported on before, that within a couple of months in prison, Anwar has "reformed" the prison to make life better for other inmates. Y'see one thing about prisons is that they have to be fair due to existing laws and to prevent rebellion – so if ONE inmate gets a steak for lunch, ALL prisoners must also get a steak.
In Anwar's case though, it's milk.
Latheefa clarified that milk isn't a special privilege – it's in the prison regulations that servings of milk are part of the food rations… except that it's not given to them. But due to Anwar's medical condition which requires a diet that includes milk, other inmates are now being given milk as well since he's getting it.
Anwar's presence has also reduced the number of mosquitoes in the prison area when he complained about mosquitoes disturbing his sleep, leading prison authorities to conduct fogging operations.
We should note that the Prisons Department has contradicted some of these claims, saying that "milk, supplements, or special diets have long been given to prisoners with health problems" and not only after Anwar was placed there. 
Should we feel bad for Anwar?
[interaction id="55b20f7d1e52ba820559c2b3″]
It's highly likely that the answer really depends on which side of the political divide you're standing on. If you're pro-Opposition, then this is a man who should be admired for continuing his struggle despite the hardships and sacrifices of prison life.  If you're for the ruling government, then his sentence was fair and every complaint is a ploy for sympathy and making the gomen look bad.
For Latheefa, especially when she thinks about his age and condition, it's quite sad:
"Sometimes I think we're sadder than him; especially when he's about to go back to his cell, he turns around and jokingly asks us "Can I come along with you?". " – Latheefa Koya
But to us, we can't help but wonder how life is like for prisoners who aren't as well-known; whether their complaints get heard, or if they need a more comfortable bed too. While (according to the Home Ministry) our prisons are among the best in the world, it still follows the old system that focuses on punishing the prisoner rather than helping them. The "helping" approach adopted by Norway has shown that prisoners actually become more responsible, and many actually commit to staying clean once they're out.
It might not be very related, but we thought it'd be nice to end this article with a quote that US President Barack Obama wrote in the guestbook of Robben Island, which housed Nelson Mandela for 18 out of the 27 years he spent in prison:
 "No shackles or cells can match the strength of the human spirit." – US President Barack Obama, as reprinted in Business Insider.