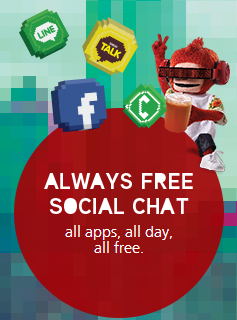 Two weeks ago, we put out a call on Malaysians to submit their worst Autocorrect moments for us to enjoy, and boy did you guys not disappoint. Each winner here gets a pair of GSC movie tickets, courtesy of Hotlink (in fact we're running ANOTHER contest right now!).
Why Hotlink? Cos they're the only prepaid with unlimited social chat. No RM1 a day or any of that stuff! Check out more info at www.hotlink.com.my.
Some of these might even be picked for Hotlink's next brand campaign, and the one that gets them the most clicks will actually win a phone! So yes, pretty exciting contest this one… but for now, just sit back, don't be driving and get ready to laugh your nuts off (yes, a few of these are a bit PG-13).
1. Something in the water
A happy customer tells a swimming coach how much one of his students has progressed.
2. Classroom lisan test
Two naughty girls checking out the lecturer in a classroom.
3. Sinner's supper
Everyone's favourite chinese dude, Fu Ken Ho rejects supper.
4. Blowing on it might work
"Someone was giving advice to a fellow friend on an ointment to help relive her muscle ache but the helpful phone decided on a more 'fragrant' solution."
Maybe she meant Fung Yau?
5. Verapamil's habits
"So I was asking my friend what time will her assignment be done in Malay, but my autocorrect decided to change it on its own to some words I do not understand." 
6. Light apple vinagarette
Cos y'know what Apple users are like…
7. Where got smoke, sure got…
"I was running while texting my boyfriend…"
8. ALS fatal to all good intentions from dad
"I was actually talking on a serious disease in regards to the ALS ice bucket movement but unfortunately my phone had other ideas. Or maybe it just has something against a parent ;)"
9. Daddy's digits
"Typing on a touchscreen can be difficult for those who are digit-tally challenged."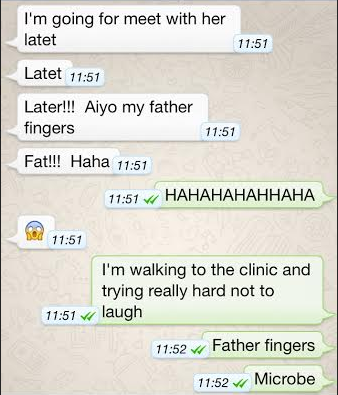 10. Are you druvk!?
This was from the girl who consented to being used as our example in the original contest announcement (in exchange for movie tickets, of course). Here's another example from the same girl, having a conversation with another perfectly sober Malaysian.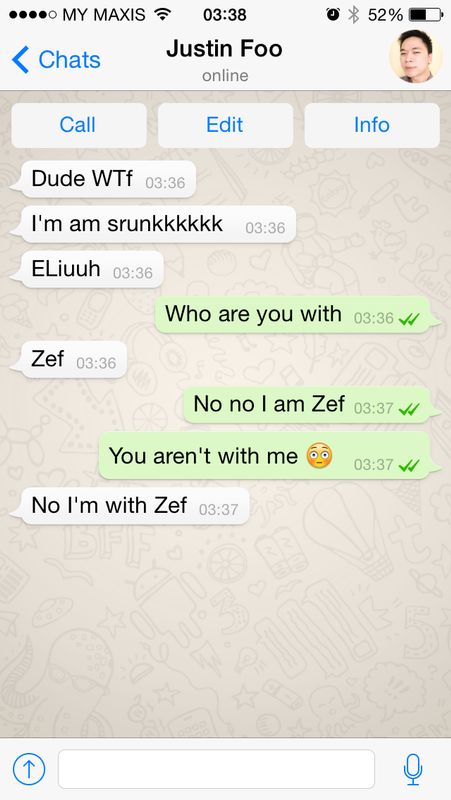 11. Reds! Unite and get angreh!
It seems that booze and touchscreens don't mix well peepur.
"A case of pot calling kettle black – talking about someone who was under the influence of alcohol when the sender was also."
Thanks for all your father fingers!
As usual, us and the lovely peeps at Hotlink had a ball of a time going over your entries! To the winners, you'll be notified via email very soon about how to collect your movie tickets. Look out for some of these entries in a banner ad near you soon.
Oh and did we mention we're gonna do it again?
And win even more movie tickets and another phone!
Oh and don't forget. If you're looking for the most OHHSOME prepaid talk plan in town with unlimited data, look no further than…