Sports
4 M'sian $ports $candals (and how Khairy responded to dem)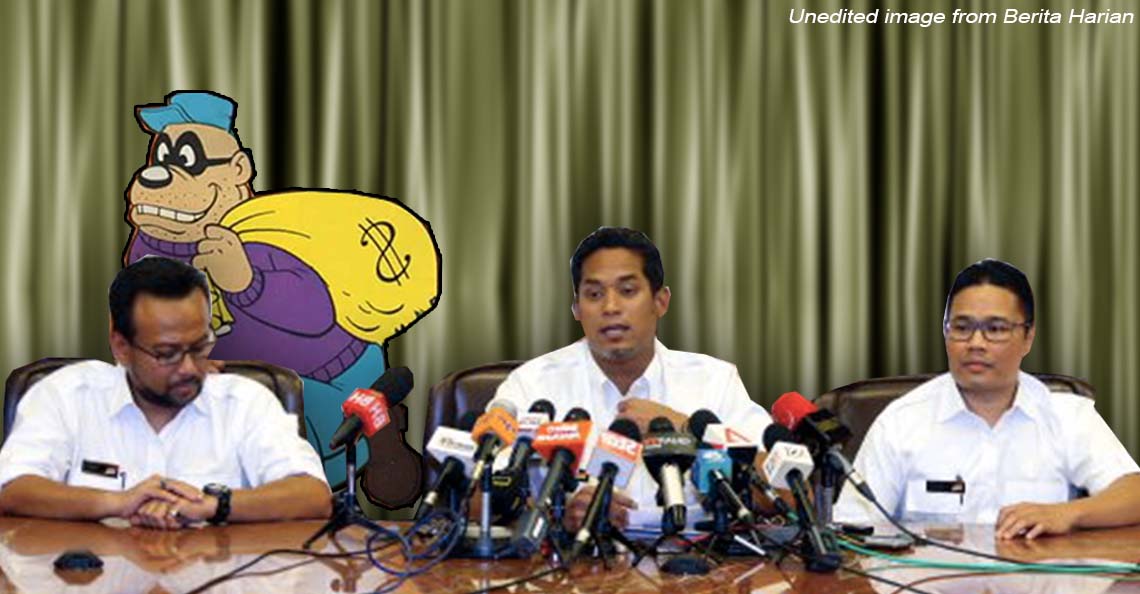 Ever since you were old enough to run without falling over, you've probably been told something along the lines of "You should play sports. It's healthy!". If you happen to show talent in a particular sport, that's it la… you're on your way to be the next Cheah Soon Kit or Super Mokh. In your parents' mind anyways.
However, what nobody tells you about the sporting world is that it's full of cheating and corruption. Everywhere. From pretending to be disabled to win at the paralympics to bribery in sumo wrestling, these "dark sides of sports" has spread from players all the way to sports associations if the 2015 FIFA corruption scandal is any indicator.
When it comes to our home turf, Malaysia's continually worsening performance in competitive sports has been blamed mostly on poor policies and corruption, so for this article we're gonna focus on some of the more recent scandals involving the misuse of funds.
Also, because of the recent RM100 million incident involving an official from the Ministry of Youth and Sports, we're gonna get the current minister in charge – Khairy Jamaluddin, himself a huge football fan – to respond to these incidents.
Err… as in we're looking up previous comments he's made la. We too ikan bilis to get an interview with KJ (but would love to so please let us know if you have jalan). Anyways, if you didn't know what that RM100 million thing mentioned earlier was about, you're in luck because…
1. A ministry official used
RM100 million

meant for sports to buy watches and handbags

Okayla, it wasn't just watches and handbags… some of the other stuff confiscated were 12 luxury cars, houses, paintings, jewelry, and oddly enough, RM300,000 worth of bedding materials. Maybe to help him sleep at night. Hur hur hur.

The unnamed person, a senior official at the Youth and Sports Ministry, was arrested by the MACC for masterminding a syndicate that stole RM107 million from the ministry over the past six years by using his position to approve and make payments for events – some of which "neither existed or were organized". In return, he got about RM20 million plus loads of "free" stuff.

Understandably, people from the local sports scene were very unhappy at the news, especially when sporting associations were already having trouble getting financial support due to a lack of funds:
"It is always difficult for us to ask funds and there is always red-tape involved. We went to an Olympic qualifying event in Turkey last year and only received our allocation from the ministry 10 days before the event. Now, we are being told RM100 million had been siphoned. It is frustrating." – Yazid Yahya, National Archery Association of Malaysia president, as quoted by The Malay Mail Online. 
How Khairy responded:
Khairy said he was unaware of the money leak, but acknowledged that it happened due to weaknesses within the ministry's internal processes. He also said he had "nothing to hide" and would provide updates on the investigation on his Twitter account. At the time of writing, Khairy is looking into a full-scale crackdown using an independent investigation team to weed out loopholes and improve the ministry's financial procedures.
Oh and he also took responsibility for the whole thing:
"It is very important that I take responsibility. As the minister in charge, I have the responsibility to ensure that all process are fixed and corrected. … This is a big sum of money and the case has caused a lot of anger, and rightfully so. What happened is very regrettable and it is my responsibility to ensure we will furnish the investigators with all the information they need." – Khairy Jamaluddin, as quoted by The Malay Mail Online.
2. The "Tour of Sarawak" that put Sarawak on the map for
200,000

wrong reasons

At about the same time news of the RM100 million case broke, another disaster was happening in East Malaysia, when a cycling tour was cancelled at the last minute. What makes this significant is that the event was heavily publicized, not just for its €400,000 (that's Euroes, not Ringgit!) prize, but also because it's the first ever cycling event in Sarawak to be recognized by the International Cycling Union. But here's where things started going downhill real fast.

For one, some of the teams, crew, and performers suddenly found out that their flight tickets were cancelled and were told to arrange their own transportation, which will be paid back by the organizer. The people that actually arrived in Sarawak were surprised to find no one waiting for them, and when they managed to make their way to the hotel, were told that their room bookings were cancelled. These poor fellas were also unable to reach the organizer for help.
"The guy at the hotel said all the rooms were cancelled three days ago. So somebody cancelled the race and just didn't tell anybody." – Brett Dutton, St. George Merida team manager, as quoted by Cycling tips.
Most of the blame lay on the organizer, Fadz Industries – which we understand is a new company that has since shut down its website but you can still check out the angry comments on their event page.
What makes things worse is that in his apology, Fadz Industries' director Mohd Fadzil blamed it on a lack of funds, mentioning that sponsors pulled out due to internal problems, and that a RM200,000 allocation from the Ministry of Youth and Sports to the Sarawak Cycling Association weren't given to them. In response, the Sarawak Cycling Association said the statement was slanderous because they didn't receive any money.
So…… round and round it goes, where the money went, nobody knows.
How Khairy responded:
For one thing, Khairy confirmed that RM200,000 was allocated for the event and that the incident was an embarrassing failure that damaged both the sport and Malaysia's image.
He also called it a worrying trend of private event organizers turning to the government for bailout after they fail to get private funding, and that his ministry would take a more serious look into approving future international events.
"What has happened is damaging to the sport and the country's image. This should be a warning to all organisers to not take the licences given to organise events lightly. This organiser of the Tour of Sarawak and those involved with it should be blacklisted." – Khairy, as quoted byNew Straits Times Online.
3. We
can't even put a number

to FAM's scandals

Oh man, we don't even know where to begin on this, so we're just gonna focus on our national team's recent record-breaking performance in the 2018 World Cup Qualifiers. It was record-breaking because we lost 10-0 against the UAE, making it our worst defeat in 50 years.

A lot of the blame was placed on the Football Association Malaysia (FAM) for not doing enough to develop the sport and getting rid of match-fixing, to the point that Tengku Mahkota Johor (TMJ) called for FIFA to investigate FAM. He also pointed out that FAM was hoarding money that came from game broadcasts – money which should actually be given to state teams to improve players and facilities:
"But the problem is FAM only give 22 percent to the teams, so each team will only get 1 million ringgit, while FAM enjoy the chunk of 47 million. By right, it should be given to the club. What FAM are doing is basically stealing the money from the club and the world have to know that. It is wrong." – Tengku Mahkota Johor, as quoted by Reuters.
And TMJ has the clout to say it too. At around the same time of our 10-0 loss, his own team – Johor Darul Ta'zim – made history by making it to the Semi-Finals of the Asian Football Confederation (AFC) Cup. If we're going to evaluate it solely on performance, the score would be TMJ – 1, FAM – 0. You can also check out more fan criticism here and here.
 How Khairy responded: 
Apparently the condition of our football teams are so worrying that it's been brought up in Parliament. After being asked why our national football team was performing so badly, Khairy replied that match-fixing was one of the major reasons, but the FAM, MACC, and the police have been pretty good at reducing it:
"We have taken serious action to overcome match-fixing and despite not being able to eradicate it, there is positive development" – Khairy, as quoted by Free Malaysia Today.
At the same time though, he gave a stern warning to the FAM to either buck up and make some changes or face suspension as a "last resort"
4.
RM4 million

meant for disabled athletes went "missing"

Back in 2008, RM3.8 million of the Malaysian Paralympic Council (MPC)'s funds were used for unapproved high risk investments by it's president, Datuk Zainal Abidin Abu Zarin. This was done through a company called Paralimpik Ventures which Datuk Zainal and his two sons are majority shareholders. It's a pretty long story, but the money was channeled to a company in the US; where the money became "irrecoverable" and the MPC were unable to contact the US company after.

The amount was initially written off the MPC's accounts to cover the loss, but some committee members decided to run their own investigations and concluded that it was a bad debt, meaning that it will remain in their accounts till the money's returned. The Sun eventually picked up the story in 2012, leading to an MACC investigation, the suspension of Datuk Zainal, and many unhappy people:
"How can you write-off RM3.8 million? As it is, the funds given to disabled sports are already reduced. MPC relies on public money and government funds. … In the end it is the disabled athletes who suffer." – Prof Datuk Dr Chandra Sekaran, National Blind Sports Association (NBSA) vice-president, as quoted by Malaysian Digest.
The case was still under investigation in 2015, and the money has yet to be recovered.
How Khairy responded:
Well… he didn't say anything about this since he only became Youth and Sports Minister in 2013, but we just wanted to point out this rather sad story  😥
Also, we should add that our paralympic team is actually pretty impressive, since they exceeded Khairy's expectations of 50 gold medals in the 2014 Para Asean Games with 52, and he's challenged them again to win Malaysia's first gold medal in the 2016 Paralympics.
How will Khairy take responsibility? Should he resign?
If anything, the RM100 million embarrassment embezzlement case was the highlight of how badly our sports budget is being managed, and just how much the system needs a revamp. Even PM Najib was shocked that such a large sum could disappear unnoticed! *cough*
While we think it's great that Khairy has taken responsibility for that particular case, we can't help but wonder how far that responsibility will extend if these problems go unsolved. In other countries, people have resigned for less serious stuff, such as Japan's economy minister who resigned over accusations that he had received bribes (meaning he wasn't found guilty yet),
"I decided to resign my cabinet position today in consideration of my responsibility to oversee my secretary as a national lawmaker, my duty as a minister, and my pride as a politician." – Akira Amari, Japanese Economy Minister, as quoted by Bloomberg.
Or Bangladesh's Central Bank Governor resigning for failing to inform the Finance Ministry for losing $81 million to hackers.
"[I'm] ready to resign from my post for the sake of the country" – Atiur Rahman, Bangladesh Central Bank Governor, as quoted by Al-Jazeera.
But let us know what you think. How far should Khairy's responsibility go?