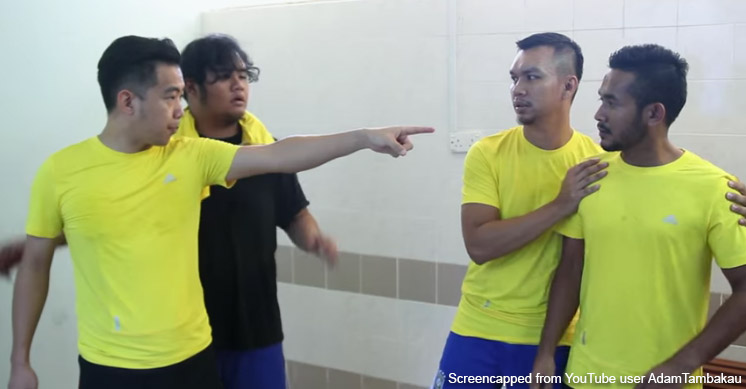 By now, almost everyone should have heard about that great Malaysian football movie that has been choking our airwaves us with tears and a sense of patriotism. If you somehow haven't seen the trailer, nah…
Already making a whopping RM16 million in the box office, it's probably safe to say that more than a few Malaysians who went to see Ola Bola (including myself) came out feeling a little more Malaysian afterwards.
"I felt so proud to see people of different races sitting on my left and right in the cinema, the diverse audience shows we are still one," – Poo Lup Meng, 25, quoted in Bernama
"It was an awesome movie. Every single Malaysian should watch it. One very important recipe for success that we might have forgotten is how great we can be when all the races are united, with no prejudice, purely out of passion to win together," – Shaikh Shahnaz Karim, quoted in MalaysianDigest
Even PM Najib's brother, Datuk Seri Nazir Razak, gave it his thumbs up and was even inspired to say a few more things about the state of our national football. But… we wouldn't be writing this article if Ola Bola was all perfect and dandy. After all, what is a good movie without a little controversy?
So what's so controversial about Ola Bola?
While Ola Bola was riding the wave of raves in West Malaysia, there was a different reaction from the people in East Malaysia, particularly from Sabahans. Take for example these Facebook postings….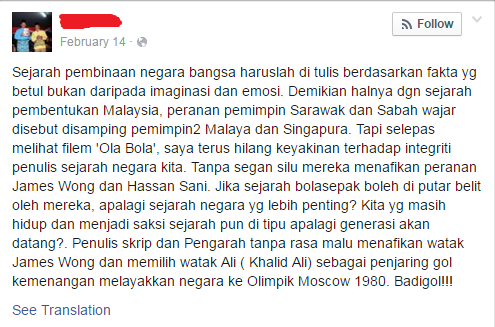 …or you can read an entire post about why Ola Bola's makers should be ashamed of lying to Malaysians
Ui, Lek Bah! Why so angry?
Before we can talk about what had upset Sabahans, we highly recommend that ugaiz go and watch Ola Bola (if you haven't already), because we would be going into SPOILER TERRITORY from here on.
Go for it, because even after what we have to say, it's still worth it.
Back? Got cry or not? Don't shy la. I cover you.
What you may have noticed in the beginning AND at the end of Ola Bola, there was a disclaimer that it was inspired by (rather than based on) real events, and the characters are fictional. So… what was the inspiration behind Ola Bola?
While director Chiu never fully revealed who is supposed to be who, but there are strong similarities between the characters in Ola Bola with the lineup of the national football team during the 1970s.
Even the matches and scoreline played by the national team up until the final match with South Korea were also similar! (Yes, one of our best national lineups got thrashed 9-0 in a friendly, but still not as bad as 10-0 lah…)
Which brings us to that final match in the movie, when Malaysia went against South Korea in order to qualify for the Olympics in 1980, specifically when that winning goal was scored.
To refresh your memory, and to insert our last SPOILER WARNING, here's a quick commentary of that goal:
After coming back from a strong defense by Muthu the goalkeeper from the penalty, the ball goes to Ali
Ali takes it up to the opposite side and crosses it to Eric 'Balak' (from Sabah) who is in front of the Korean goal post.
Eric is blocked by two Korean defenders, he makes eye contact with Ali, and puts the ball in the air to Ali
Ali volleys and…..
The final whistle is blown. Malaysia beats South Korea 3-2!
Now compare what happened in the movie with this actual footage of the winning goal scored in that match in 1980 by James Wong, assisted by Hassan Sani.
If Chiu was strictly following history (which he wasn't), it would have been Eric who scored the winning goal, instead of Ali. While that opened a racial can of worms, Sabahans saw it differently, because fun fact: the original scorer(s), James Wong and Hassan Sani, are Sabahans.
So you can probably see why the movie version of Ali who scored the goal didn't sit so well with Sabahans, including James Wong and Hassan Sani themselves. Not only that, Ola Bola's liberties with historical facts also upset some national players who wanted to take legal action against Ola Bola.
The disappointment felt by some Sabahans after watching the movie even inspired a Sabah version of Ola Bola. Check out the video below by local YouTuber AdamTambakau, and don't miss the special cameo at the end!
Waa… isn't that a bit overreacting? What happened to 'Kita menang sama-sama, kita kalah sama-sama'?
That's a fair point when seeing it from a national perspective. Whether a Sabahan or not scored the goal isn't as important when playing for national pride (said so by James Wong himself), and in his defense, Chiu did exercise his creative rights so that he could tell a bigger story.
"This movie was reworked to give it more creative freedom. We played around with emotional elements. There are advantages and disadvantages.

If we stayed true to history, the creativity would have been limited. We cannot over exaggerate because it has to be based on the original story." – Chiu Keng Guan, quoted in Malay Mail Online
While whether it was right for Ola Bola to change history is another debate, but Chiu or whoever decided to make the change may not have realised something. By depriving what was a Sabahan moment in the national narrative, it seems to demonstrate how little West Malaysia cares about the feelings of Sabahans when it comes to history. And this, as we all know, is a growing sentiment.
Extensive studies have been conducted that concludes our national media has not properly represented Sabahans (and Sarawakians, for that matter) since the formation of Malaysia.
Not only are there so few television shows and movies that stars genuine Sabahan or Sarawakian characters played by Sabahans or Sarawakians (including Ola Bola), but the studies have also shown that Sabah and Sarawak has traditionally been fed by a media that carries a mainly West Malaysian perspective on what it means to be Malaysian, which does not necessarily reflect what is happening in the East. This is probably because West Malaysians know so little about East Malaysians that some would find it baffling.
So the change of the historical facts in Ola Bola, whether intentional or not, just reminds Sabahans that West Malaysians are not interested in acknowledging Sabah's contribution to Malaysia's history, whether in forming the country or in national football.
This has been the persistent struggle for Sabahans, even for local filmmakers; to reclaim their place in Malaysia's history, and there are fears that Sabah's place may be forgotten soon if history is not corrected to reflect this in time.
While things have started to get better in recent years (like marking 16 September as national holiday, or the recent renaming of the national football team to Harimau Malaysia),  it is when movies like Ola Bola make a misstep like this that it feels like we are taking a few steps back from uniting the entire Malaysia.
While this whole mess that Ola Bola is a bad movie for being historically inaccurate when it never aimed to do so (for reasons we may never know) is probably a little OTT, but it does present an opportunity that we need to seriously address about changing the mindset of the media when portraying a wider Malaysia (that is more than just a fancy shot of the Sabah railways).
If anything, Ola Bola has shown that whether we are Sabahans, Sarawakians, or West Malaysians, we still really care about this nation that we have created together, through affection or anger, and we still have ways to go before we can truly believe again as one nation.