(Artikel asal ditulis dalam BM. Klik sini kalau nak baca!)
Note: This article was originally written in March 2020 and updated in August 2021 with additional details of ex-PM Muhyiddin's resignation
The past year-plus has been a pretty rough time for Malaysians, being caught between unstable politics and a (unfortunately) stable rise in positive cases. But when we think of a starting point to all of this, the Sheraton Move would be pretty high on many peoples' list of options. After all, that led to the collapse of the Pakatan Harapan government and the resignation of Tun Mahathir, which left us PM-less.
But Tan Sri Muhyiddin Yassin slid into our PMs when he was appointed as the 8th Prime Minister by the Yang di-Pertuan Agong (YDPA), after His Majesty found that Muhyiddin has the majority support to be the PM.
And in a period of 17 months, he not only went from Muhyiddin to Mahiaddin (or was that the other way around?); but also from PM to ex-PM when he resigned on August 16 2021.
But all the political drama aside, let's ask a very real question – 18 months ago, did you even think that Muhyiddin would be the next Prime Minister? If you answered no, then that's probably because nobody had ever mentioned his name when they weretalking about who's becoming the next Prime Minister during the political crisis.
In fact, he's pretty low profile compared to other ministers. Well, except for that one time when he was sacked for voicing out against his party president (we'll get to that in a bit). But that's not the only thing he's known for so let's look at other lesser known things Muhyiddin has done throughout his political career, before becoming PM.
1. Muhyiddin turned Johor from the backwaters of Malaysia into an industrial state
Muhyiddin's political career began in Johor as the Johor Assistant State Secretary in the Training and Scholarship department in 1970, and formally joined UMNO a year later. It was said that Muhyiddin rose up the ranks pretty quickly and within 15 years, he went from being a state executive council member to Johor's 13th Chief Minister in 1986. And he retained that position in 1990 during GE8.
But politics aside, Muhyiddin is also believed to be the man behind Johor's rapid economy. According to Dr Mohammed Fauzi Othman, Senior Lecturer at Universiti Teknologi Malaysia, Muhyiddin turned Johor into an industrial state when he was the state's Chief Minister.
"When Tan Sri Muhyiddin Yassin took office, Johor has changed from a normal Malay state to an industrial Malay state." – Mohammed Fauzi to Astro Awani.
Muhyiddin started joining the corporate world in Johor when he worked with several state-owned investment subsidiaries of the Johor's Economic Development Corporation (PKENJ). He also held several important roles in SGS Ates Sdn Bhd, Sri Saujana Berhad, Sergam Bhd and Equity Mal (Johor) Sdn Bhd. All of this happened between 1974 and 1978.
And, according to Mohammed Fauzi, Muhyiddin would turn PKENJ into Johor Corporation (JCorp), which is one of the most well-known economic corporation in Malaysia. He also added that Johor became the third largest contributor to the country's GDP at that time – a far cry compared to when the state was known to be the sleepy backwater of Malaysia.
Besides that…
2. He got rid of PMR and PPSMI, and introduced PT3 instead
As you may already know, Muhyiddin held several important ministerial posts in the country, regardless of when he was with BN or Pakatan Harapan.
One of the most important ministerial posts he held was as Education Minister in 2009, the same time he was the Deputy Prime Minister. While he was the Education Minister, he introduced several new policies, such as the PT3 (formerly known as SRP but if you're too young to remember what that is then it's also known as PMR).
Unlike in PMR or SRP, the PT3 examination is not a centralised national examination. Instead, students are assessed based on their written and oral tests besides several practical tests, projects, field study and case studies. That pretty much sounds like something you'd do in university, and if you wanna know more about PT3, you can check it out here.
And although the result of PT3 would be used to determine the entry of students into Form 4, students may also need to sit for another test before entering the school they chose.
"Besides the PT3, entry into these schools will also use the Psychometric Test to ensure that the selection and emplacement of students suited their capability and interest." – Muhyiddin to The Star.
Besides PT3, Muhyiddin also implemented the Upholding the Malay Language and Strengthening Command of English Language (MBMMBI) policy to replace Mahathir's PPSMI, which was introduced in schools in 2003.
Mahathir believes that the English language is important when learning Science and Mathematics because that the language is used in management and industries. Besides that, new scientific findings are oftentimes published in English instead of BM anyways. But when Muhyiddin was the Education Minister, he had a different opinion:
"We have scientific data to prove that a student's improvement in understanding scientific and mathematical concepts is closely linked to the language of communication that he or she can easily understand." – Muhyiddin to The Star.
He also added that because the command of English among rural students is very poor, it makes it harder for teachers to teach them in two languages.
Speaking of differing views…
3. Badawi, Najib and Mahathir all sorta thought Muhyiddin betrayed them
You've probably heard of Mahathir saying how he felt betrayed by Muhyiddin when he was appointed to become the next Prime Minister. But guess what? He wasn't the only one that Muhyiddin allegedly crossed.
Back in 2008 when BN won by a simple majority for the first time ever, then-Prime Minister Abdullah Ahmad Badawi was urged to step down as Prime Minister due to the poor performance of the coalition. We've written about this move here but what we didn't cover was how Muhyiddin was among those people who urged Abdullah to step down. Ironically tho, according to UMNO's Musa Hitam, Abdullah was the one who had appointed Muhyiddin to become the Najib's Deputy Prime Minister in 2009.
So at this point in time, Muhyiddin supported Najib to become the next Prime Minister in 2009…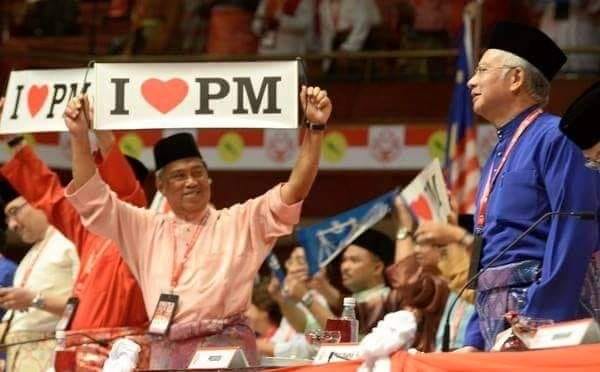 …but he kinda regretted that in 2015.
That year, the hottest topic in town was that multicolored dress the 1MDB scandal and Najib's alleged involvement in it. While many people including a certain Dr Mahathir had already voiced out against Najib, no one expected Muhyiddin to bring up a LOT of questions regarding the 1MDB fund during an UMNO retreat, which pretty much led to the termination from his Cabinet post as the then Deputy Prime Minister. What's interesting tho was how Muhyiddin was apparently not afraid to be terminated because his of his principles.
"I would not have been in peace if I continued to serve beside him (Najib). I can continue arguing on why I should not have been sacked but I just want to move forward." – Muhyiddin to Today Online.
Specifically, the incident that kicked it all off was a video of Muhyiddin's 1MDB speech where he questioned Najib's actions during the scandal. We've written about the interesting stuff we found from this video and you can read them here.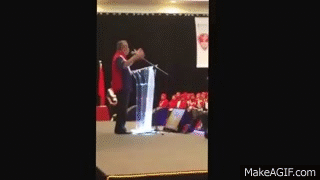 And because his actions displeased then-PM Najib, Muhyiddin was sacked from the Cabinet and replaced by Zahid Hamidi not long after that. Besides Muhyiddin, four other ministers and then Attorney General, Tan Sri Abdul Gani Patail, were also removed from the govt.
But what shocked us the most while researching for this story was how…
4. Muhyiddin apparently vowed not to become the Prime Minister but…
In an interview with Malaysiakini in 2016, Muhyiddin was asked about his vow to never become Prime Minister. Before we proceed with the rest of this point, we'd like to clarify that we have tried searching for Muhyiddin's specific quote prior to the 2016 interview, but couldn't find it. However, he reiterated that he didn't have intentions of becoming PM in both in the Malaysiakini interview, as well as in his speech the day after he was made PM:
"I only stepped forward to save the situation when both candidates for prime minister did not get majority support from the Dewan Rakyat," – Tan Sri Muhyiddin Yassin, as quoted by Malaysiakini
So despite being sacked in 2015, Muhyiddin can pretty much say…
Just as a throwback, Muhyiddin in his first speech as the Prime Minister, vowed to have a clean cabinet.
"I promise to appoint a Cabinet from individuals who are clean, with integrity and calibre. My government will also prioritise efforts to increase integrity and good governance." – Muhyiddin, excerpt from Straits Times.
While hindsight is Mahathir's 2020, it would seem that Muhyiddin might have perhaps had good intentions – it's highly unlikely he would have known he was going to be come PM before 2016 – and, like the leadership role in a class project, took it on to save the country from further instability.
But whatever the case, it took 17 months to come back again to where we started in February 2020…. except with the addition of a pandemic.
Introduction, conclusion, and post-2021 updates by UiHua