[This article was originally published in Jan 2019, and had been updated on 17 Aug 2021 based on current events.]
Even if you're not into politics, you've probably heard of Khairy Jamaluddin. KJ, Daddy KJ. That vaccine minister. This guy.
With the current drama regarding the government, quite a few people had wondered what will happen to KJ. Some are hoping that he will continue heading Malaysia's vaccine committee (JKJAV)…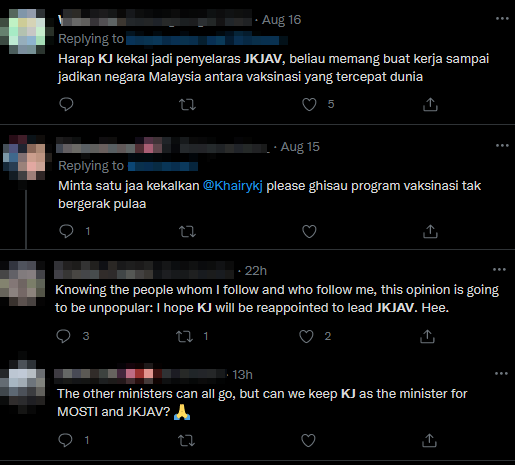 While others are seeing him as a possible choice for a younger prime minister, along with Syed Saddiq.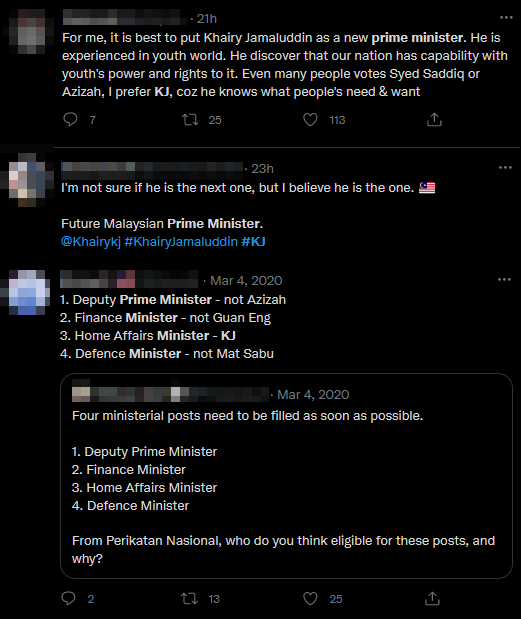 Of course, there are people who are not quite pleased with him as well. We know he's quite a divisive figure, judging from how he has both people against him in his own party while also having good friends from those across the political ocean, but he's still quite the persona in Malaysian politics, and news articles about him are made all the time, even when it's literally just him tweeting stuff or putting stories on his Instagram.
But apart from that, what do we really know about daddy KJ? Today, we will look at some of the more interesting trivia regarding this tall glass of hot chocolate, starting with the fact that…
1. He wasn't born in Malaysia, and actually spent a lot of his early days out of the country
Alright, so perhaps the first fun fact about Khairy, both in terms of this article and, um, his life, is that he wasn't actually born in Malaysia! Yep, as it turns out, he was born in Kuwait City, Kuwait on the 10th of January, 1976.
This was because his dad, Jamaluddin Abu Bakar, was actually a diplomat – at first a high ranking senior member in the Ministry of Foreign Affairs before later becoming the Malaysian High Commissioner to the United Kingdom. KJ's dad wasn't the first one to enter the field of politics tho, as even Khairy's granddad Abu Bakar was himself a community leader in his homestate of Negeri Sembilan.
As for Khairy himself, his time around the world didn't stop in Kuwait. He would later go on to study at a secondary school level in Singapore's United World College, and then did his bachelor's degree in Philosophy, Politics and Economics at Oxford. Khairy even went on to do a master's degree in Legal and Political Theory in University College London (meanwhile, this writer continues to disappoint his parents *sighs*)
Also, while researching for this article, we randomly stumbled upon images that are allegedly of Khairy in drag during what appears to be his uni days, so uh, here you go? We'd like to point out that we couldn't 100% confirm this, so KJ if you're reading this, er… Let us know if it's really you laa k?
2. Before entering politics, Khairy was a pretty hard hitting TV journalist
So now that you know what he did in his early years, what about the time between coming out of uni and becoming a politician? Well as it happens to be, Khairy used to be a journalist and a writer around the turn of the century.
In 1998, NTV7 launched a new show aimed at being a hard-hitting current affairs program called Dateline Malaysia, which wanted to 'heal divisions through open debate'. It's presenter was none other than Khairy Jamaluddin, who political scientist John Hilley describes as bright and precocious. One instance of KJ's aggressive journalism as noted by Hilley, Khairy had brought on some local newspaper editors together with a few foreign media correspondents to talk about the alleged bias against Malaysia by the foreign media.
For context, it was the time of huge political turmoil here, with Anwar's sodomy case in full swing. Khairy would grill the foreign correspondents over how they reported the incident and Malaysia in general, questioning how the BBC apparently reported Malaysians as 'uncivilised pygmies'. KJ also brought up how the foreign media were not being sensitive enough when it comes to stories about race and religion, and asked if they had a 'cultural agenda' behind the way they reported the news on Malaysia.
Now it's perhaps safe to say that the show was a lil bit too hard-hitting and controversial laa, especially when you consider the fact that NTV7 would stop producing Dateline Malaysia as the Anwar sodomy trial went on. Sadly, we couldn't get any vids of KJ's controversial interview – YouTube apparently wasn't a thing back in the 90s smh. But that wouldn't be the only job Khairy had prior to his political career, as he also spent some time working for The Economist as a correspondent, as well as writing for the Wall Street Journal.
3. His lovelife used to dominate the political rumour mill
Alright, we admit, this one's a lil tabloidy, but being the tall, dark and handsome man that he is (to some anyway), Khairy was always bound to attract attention. Like, have you seen what some of his fans have been calling him on Twitter?
Why do people who are not my offspring refer to me as 'Daddy' on social media? What does this mean in millennial speak? Is it like uncle?

— Khairy Jamaluddin 🇲🇾🌺 (@Khairykj) June 23, 2017
But back in the day, his lovelife actually used to be talked about more than his politics. For instance, despite him already married by then, in 2006, a rumour began spreading that Khairy had decided to marry a second wife – the popular actress Maya Karin. Needless to say, the rumour was quickly squashed by both KJ and Maya, with the actress even saying:
"Now that we have both come out with our statements, I definitely feel a little bit better. I think Khairy has made it quite clear and indisputable about the rumour. If anyone still insists it is true, please bring us the proof… I have had to deny it for almost a year now and was very surprised that something like that could survive on purely nothing," – Maya Karin in 2006, as quoted by The Star
Maya Karin isn't the only popular Malaysian to have been linked with KJ tho. Over the years, a common myth is that Khairy had originally been with Nurul Izzah, but they broke up after Wan Azizah said no to making KJ a pol-sec. However, just like the Maya Karin allegation, Khairy has come out to deny that these rumours are real, and instead just an urban legend.
"Hahaha. Never. I don't even know her apart from seeing her in Parliament… People believe in any crap they hear," – Khairy in 2011, as quoted by Yahoo News
What is real tho is that he's happily married to Nori Abdullah, the daughter of former-PM Abdullah Badawi. They also have three kids together, Jibreil 'Cougar' Ali, Timor 'Puma' Abdullah and Raif 'Leo' Averroes.
4. Khairy also seems to love acting in his spare time
One of KJ's well-known acting gigs is perhaps the 2009 short called 'Meter'. It has Khairy playing a taxi driver-slash-former politician, who talks about various things such as local football and state of language here. We won't spoil it too much as you can watch the full short by clicking here, altho it did give us this great scene of KJ and a customer having a cat fight in a cab:
And then there's also the time he played the role of… an ayam percik seller? Yep, that happened back in 2013, when he was involved in the short film called 'Inspektor Mastura', part of the 'Ikal Mayang' project that showcased short films made by female directors. He was apparently pretty good at it too, getting it right after just two takes.
"I met Khairy during a function in October 2012 and kept asking him whether he wanted act in my short film as I wanted someone who has no ties to the entertainment industry. I had no clue that he would say yes," – Elaine Daly, Inspektor Mastura director in 2013, as quoted by Asia One
Maybe because he's got the experience, KJ has also acted in some political videos in the run up to GE14. One of them had him pulling out that food-handler apron of his again, as he ended up being a waiter at a mamak in one of his videos promoting BN's manifesto for the youth. And then there was also one earlier in 2018 where he channeled his inner Will Smith and brought his son for the shoot, in a video celebrating CNY:
Perhaps with the more free time he might have following GE14, KJ could also consider a future in music, seeing as he managed some rhythm and some rhyme as a drummer:
5. Khairy was alleged to be part of a secret group running the country (⊙_ʖ⊙)
So some of the older folk might remember this, but for those of you avocado-eating millennials, Khairy found himself in the center of a major allegation – that he, and not the then-PM Abdullah Badawi, was running the country.
In the mid-2000s, while Avril Lavigne and Fall Out Boy were on the radio, KJ found himself the main protagonist of 'The Khairy Chronicles', written by the infamous blogger Raja Petra Kamaruddin. It's over 20 chapters long, and some also argue that RPK wasn't the true author of the Chronicles, but it caught a lot of attention regardless. It was even made into both an English and a Malay book, but the most interesting allegation made in The Khairy Chronicles is perhaps that Khairy was apparently the one calling the shots in Putrajaya.
'I write about him because he is a fresh face, full of potential and people want to know what makes him tick. But unlike Anwar whose rise was stopped by Dr Mahathir, Khairy is already the de facto prime minister … he is the real power behind the throne," – Raja Petra Kamaruddin, as quoted by South China Morning Post in 2006
We're going to be simplifying year's of political development here, but basically, Khairy was apparently the head of a team of advisors to then-PM Abdullah Badawi, and it was alleged that these advisors could pretty much influence the PM's opinion to the point where they were basically running the country. In fact, the rumours gained so much traction that some even say that it's the reason behind BN's poor performance in the 2008 general election, and also caused friction between Mahathir and Pak Lah.
Despite the allegations, over the years, Khairy has maintained that it's nothing more than hot air, saying back in 2006:
"It is an attempt to smear my reputation. At the same time I feel flattered that someone is willing to spend so much time and money fantasising and speculating about what I do. This shows that someone is obsessed with me. I feel sorry for the writer because his life is so meaningless. The person must be so full of hatred and disillusionment to resort to this," – Khairy, as quoted by The Star
In fact, you probably won't be able to find the original Khairy Chronicles anymore. RPK seems to have taken down or removed the allegations from his site, and all that remains are blog postings and old news articles about it. Then again, seeing how he can get so lalang over things (he even wanted to bet with us for RM100,000 that PH won't win at GE14 btw), we can hardly say we're surprised la.
6. Unlike some, KJ actually trained a lot for his military chops
Khairy has shown his support for the country multiple times thru sport, always backing the Malaysian teams regardless of the game being played. However, he took things to a whole new level in 2010, when he showed up to training to be a reservist soldier for the Rejimen Askar Wataniah. He completed the one month of training in Negeri Sembilan and Johor, which marked just the start of his military career.
In the following year, Khairy would join and complete a five-week basic static parachuting course by army's Special Warfare Center. This ain't no jump-from-4th-floor parachute tho, this was a legit 1,000 feet fall and he aced it together with 78 other participants. His family, including dad-in-law Tun Abdullah Badawi was there to watch him too.
"I had always wanted to join the army, especially for parachuting, ever since I was young. I wanted to experience what it would feel like to jump out of the plane. At the same time, joining it was a way for me to convey my patriotism. It was quite a nerve-racking experience, but after several hours of practice, I learned to control and calm myself before performing the jump," – Khairy in 2011, as quoted by NST
He then went on to get the title of Commander of the Territorial Army Regiment 508 of Rasah, Negeri Sembilan in 2014, and would be upgraded even higher to be the Brigadier-General of the Regiment 508 just two years later. This meant that Khairy's the first to get a military rank while also being a Cabinet minister.
Sadly, his time with the troops appears to have come to an end, as KJ has submitted his resignation in August 2018 as the commander of the Regiment 508. He also made it clear that he would like to be decommissioned from his rank of brigadier-general. According to him, this was because he no longer felt welcomed in the army.
BONUS POINT: He was also once invited by Rafizi to join Pakatan
Okay so technically speaking, this might not have been a formal invitation of sorts, but Rafizi did make him the offer.
Back in 2012, Rafizi and KJ were having a debate during the a student-run event. Rafizi would then make a cheeky dig at Khairy, pointing out that, at the time, he wasn't a Cabinet Minister and he also had a rough relationship with Dr M, and so perhaps a Khairy might find it better to work with Pakatan Rakyat instead. Amidst a loud roar from the crowd of students, you could see in the faces of Rafizi and Khairy that the offer was most likely made for the sake of good banter laa.
See it for yourself too:
With the government potentially changing again, what will happen to KJ now?

Since GE14, Khairy has managed to transform himself as one of the more vocal Opposition MPs out there, with PKR stalwart Rafizi Ramli even penning him an open letter calling for KJ to stay in UMNO so that Malaysia can have an honest and sincere Opposition (yes, even tho just a while ago he "invited" KJ to join him). Even in day one of the new parliament following the election, Khairy made headlines by being one of two UMNO MPs to stay in the Dewan despite a party-wide exodus.
After becoming part of the government again amidst the pandemic, KJ was tasked with figuring out how to vaccinate Malaysians. And while the execution wasn't without complaints, some would say that he did pretty well considering the circumstances.

"Even with all the uncertainties in the next few days, JKJAV and Khairy's efforts must continue. No qualm to say that You've DONE WELL, mitigating the many odds and despite the early setbacks and the need to keep 'innovating in problem-solving'," – Datuk Seri Dzulkefly, former Health Minister, as quoted by the Malay Mail.
So will he continue heading the JKJAV? Will he become the next prime minister? Or will he do a third thing we haven't thought of yet? We don't know what will KJ do in the near future, but we have a hunch that the next few days would be quite interesting.