In case you missed it, the Perikatan Nasional (PN) administration announced the Budget 2021, and we've officially been launched into budget season.

Budget 2021 is apparently the largest budget the Malaysian government's ever tabled. According to Finance Minister Tengku Zafrul Abdul Aziz, the large amount is to cushion the economic impact that the Covid-19 pandemic has wreaked over our country. And in the budget, there are things like a Covid-19 Fund and extra spending on cash handouts.
"The total expenditure for 2020 is estimated at RM314.7 billion, an increase of RM17.7 billion compared to the initial projection. The increase in expenditure is aimed at financing the stimulus package and economic recovery." – Zafrul, as quoted from NST
However, over the weekend, many eyebrows were raised over a few things in the budget – some really weird things. And we couldn't help but notice them and do some research ourselves. So here are four weird things that we found about Budget 2021…
1. The projected earnings in 2021 may be too optimistic
Before Zafrul's speech had even finished on Friday, Subang MP Wong Chen was the first to hit out at him, starting with the Facebook post above. One of Wong's biggest issues with Budget 2021 is the projected revenue of the budget, which the government expected to increase 4.2% to RM236.9 billion in 2021.
And for those of you who didn't get an A in SPM Econs, projected revenue is essentially the amount that the government forecasts that it will earn in the following year.
According to him, it was incredibly optimistic on the Finance Ministry's part to project that increase. See, a significant portion of the government's revenue come from income tax, be it corporate or personal. And next year, the PN administration's expecting to see RM64.64 billion of corporate and RM42.44 billion of personal income taxes to come in. But to Wong, that may be a bit… much.
"To me, that's nonsensical. In 2019, before Covid-19, we received RM63.75 billion in corporate and RM28.68 billion in personal income taxes – both of these are lower than the projected income taxes that the Finance Minister's projected. So how exactly is he projecting that increase in the middle of Covid-19 with people losing jobs and all?" – Wong, in an interview with Cilisos
However, the real problem that the opposition has with Budget 2021 is the "meagre" allocation to the Covid-19 Fund, while there's RM71 billion to spend on development alone. In a time of Covid-19, Wong mentioned that the government should decrease the money for development and siphon the cash to the Covid-19 Fund.
"We are all dying of Covid-19, and this guy's solution is to spend more on mega projects to benefit… who exactly? The most important thing right now is to contain the pandemic, the very thing that's causing all these issues in the first place." – Wong
But shouldn't it be good that the government is spending more? Well, Wong told us that the alleged over-projection can have serious implications on 2021's spending, which is now at RM322.5 billion. According to Wong, if the revenue fails to meet the projection next year, the government would have to work on the budget again reduce spending in certain areas, meaning it will have to rework the budget.
"By May 2021, when they realize that the revenue is not as much as expected, then they gotta work backwards and apply cuts to ministries. They're just creating headaches for themselves." – Wong
Alright, imagine your dad has RM100 in his pocket, but he tells you that he can give you RM140 for your birthday. So you start thinking of what you wanna spend on and it all totals up to RM140. Except when it comes to your birthday, your dad tells you that he only has RM100, so that means you have to cut out something from your wish list to make it to RM100 as well. And that's kinda what Wong says will happen when the government overprojects the revenue.
Now, we're not gonna confuse you with all the math, but Wong's calculations estimated that the realistic projected revenue should only be at RM193 billion, and the government should work around that. Still, whether or not the government will heed the opposition's advice is still up in the air, considering that the budget will be debated in Dewan Rakyat in the following weeks.
2. A dissolved BN department has been given RM85 million (!)
Zafrul spent over two hours on his budget speech, but not once did he mention that the government's injecting a total of RM85 million into an organization called… JASA, which is basically the Special Affairs Department.
And soon after the speech was done, many netizens and politicians took to social media to question and criticize the allocation, including Segambut MP Hannah Yeoh.
Every single item in the budget will now be measured against JASA.

— Hannah Yeoh (@hannahyeoh) November 6, 2020
To start with, JASA was a department founded in 1958 under the purview of Ministry of Communications and Multimedia (KKMM). Originally, JASA's main purpose was to explain the government's initiatives and programmes, but it apparently evolved into a propaganda machine of Barisan Nasional (BN). In 2018, the department even allegedly employed cybertroopers to target Pakatan Harapan (PH) politicians.
JASA was eventually dissolved in 2018 after PH took control of the government. As such, the revival of JASA next year has been met with massive disapproval, be it from the opposition or even UMNO themselves, claiming that there's better use for the RM85 million than to fund a formerly defunct department, especially in volatile times like this.
In response, KKMM came forward and explained that JASA will be turned into an agency that focuses on uniting the country and encouraging efforts to fight the pandemic, adding that JASA will no longer be politically motivated and the RM85 million is justified to restructure the department and hire qualified officers.
"All expenses will be audited under the government's financial mechanisms. The allocation to Jasa will be spent in the best way possible to carry out the functions and role of the agency effectively." – KKMM, as quoted from The Star
3. Funds for public health have been slashed… or were they?
Now, if you've been trawling Twitter, you'll find that there's a crap ton of criticisms on the allocation for healthcare, like below…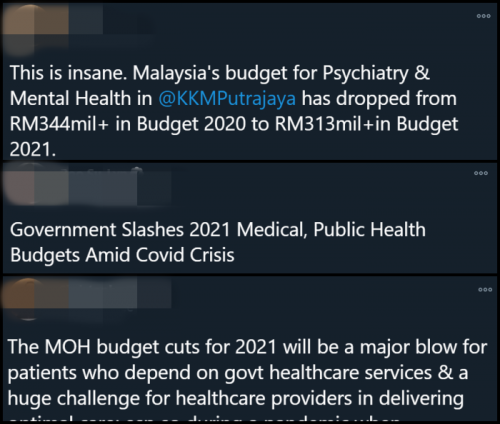 See, while the Finance Ministry has allocated quite a large sum to the Covid-19 Fund in Budget 2021, some have also noticed that there are significant cuts to almost all health services. These cuts allegedly include things like funds for public healthcare staff, chronic illnesses treatment, and hospital support services.
Just to be clear, the government actually increased allocation to the Health Ministry by 4%. However, despite the increase, healthcare portal CodeBlue found that a number of health services suffered cuts of up to 78%. In fact, the public healthcare allocation in Budget 2021 has even been called "short-sighted".
"During MCO (Movement Control Order), a lot of patients have missed appointments. So the government should have planned on how to deal with the shortcomings. But they cut allocation for radiotherapy and oncology. This is ridiculous." – Bandar Kuching MP Dr. Kelvin Yii, as quoted from CodeBlue
In response, though, Zafrul asserted that there's been no cuts to the health budget at all. He further explained that there's still funding to the healthcare services, because they were shown to have been cut because these provisions were sectioned under a different category.
"I would like to reiterate that the Government will not compromise in its efforts to safeguard the lives and health of Malaysians." – Zafrul, as quoted from his Facebook post
So, if we're to completely believe in Zafrul's statement, there's actually no cuts to any area of healthcare. But of course, things would probably be better if he can release a full chart as to what money goes where, if only to appease the critics.
4. PH got left on "read" by the government
So we've actually talked about Unity Budget before, which you can read here. But just to make it clear, a lot of people have been calling Budget 2021 the Unity Budget since before Zafrul's speech on Friday, and that's because this budget apparently included proposals from both the government and opposition, a first in Malaysian history.
"But as this Budget is likely to garner bipartisan support and is therefore viewed as a non-partisan unity Budget, it remains to be seen to what extent it would politically benefit the government side exclusively." – Singapore Institute of International Affairs senior fellow Oh Ei Sun, as quoted from Malaymail
It was first put forward by the PH coalition with six major recommendations for the Unity Budget. But even though they're the ones to propose it, DAP secretary-general Lim Guan Eng issued an ultimatum, suggesting that PH would not support the budget if the government didn't include the six recommendations.
And in a recent Dewan Rakyat session, opposition leader Anwar Ibrahim stated that the recommendations were not fully met in Budget 2021.
"We put forward six recommendations to the Finance Minister. But in the speech, we found that he didn't fulfil these recommendations fully, even though there were admittedly some compromises." – Anwar, as translated from Sinar Harian
In addition, echoing Wong's previous criticisms, Anwar also accused the supposed Unity Budget of being ambitious and doesn't really cater to helping the rakyat in a Covid-19 situation. As such…
It's possible that Budget 2021 will not pass at all
Undoubtedly, Budget 2021 has been receiving brickbats from all sides, regardless of whether they're NGOs, the opposition, or even the government parties themselves. Many are calling for it to be amended to fix the issues that we mentioned above. And to be honest, these don't even include other things like Top Glove contributing to the budget or the increase in JAKIM's allocation.
Now that they've started to debate and maybe amend the budget, Anwar has insisted that the opposition will not support the budget, unless certain amendments have been made to take care of the people.
"We have been told, urged, asked and advised to support a COVID-19 budget. And we will only support a COVID-19 budget." – Anwar, as quoted from Reuters
Heck, Anwar isn't the only one to issue conditions for support on the budget. After Anwar, former Prime Minister Najib Razak has also issued BN's conditions to amend the budget, or there will be no support from BN MPs either. And their conditions are a blanket moratorium on loans and a one-off EPF withdrawal of RM10,000.
"The support of my friends and I are subject to the approval of these two matters. Our support on this budget is conditional." – Najib, as quoted from The Star
Like it or not, these MPs support can prove to be crucial to PN's survival, because if the budget doesn't obtain a majority vote in Dewan Rakyat, that can very easily lead to the downfall of the PN government.
But of course, now's too early to tell yet, but we do hope that our politicians, regardless of whether they're the government and opposition, will follow the advice of Yang di-Pertuan Agong Al-Sultan Abdullah Ri'ayatuddin Al-Mustafa Billah Shah ibni Almarhum Sultan Haji Ahmad Shah Al-Musta'in Billah, and put aside their political differences to allow this budget to pass in the coming weeks.