This October 1st at around 6pm, Formula One cars will be carted out of Sepang International Circuit for possibly the last time in the foreseeable future.

For many years, the Malaysian GP was the first F1 race in Asia, and it put our dear little country on the map as one of the most challenging race circuits in the world. Our editor has been for 8 races there over the years. Sadly however, that time is coming to an end. Next year, we'll have to take a flight (or at least a bus) away to see our favourite drivers, and cheer them on.
And the Formula 1 Petronas Malaysian GP wants to go out in style!
For this last race, Sepang Circuit wants its truest fans there in the stands. So they sponsored F1 tickets to our readers, in exchange for their fondest memories of this great circuit. Coming up next are some truly amazing stories that have come from us hosting one of the world's most prestigious events.
However, if you haven't already submitted your story, don't worry! Because SIC is giving out even more tickets at LoopMe! Just click on this link, answer a few simple questions, and you could still win yourself some GrandStand tickets to the F1nale party!
In the meantime, if you want to take a walk down memory lane, have a read at some of these amazing, hilarious and sometimes poignant memories of our (almost) 20 years of motorsport madness.
1. Some say he's wearing a baju Melayu inside. All we know is he's called… The Stig – Mohamed Hanif

If you're even the slightest kind of motorhead, you'll know of The STIG – he's the secretive, robotic test driver for the world's most-watched car show, Top Gear. So it's pretty amazing that it took until 2014 for one fan to decide to don the costume to watch the race.
"One of the best decisions I've ever made. Fans from all over the world and different ages flocked! There were Japanese groups that literally bow down to me, Finnish girls kissing my helmet and carried me around, Malaysians putting on English accents to ask for a selfie and got shocked when I speak Malay :D. English people standing up for after some other Englishman told me off, some Europeans asked me whether I was Lewis Hamilton(trying my best to imitate by saying "Maybe…") they gasped in delight.

There were also children crying asking their parents to stop and meet their hero. At least 5 of them cried. One kid cried alone, so I went there and gave him a hug. The happiness showed by the kid was priceless.
In fact, the adoration got so much that he had to get his friends to become his 'bouncers', otherwise he would not have been able to leave the track. He couldn't resist a last good-bye though, so at the post-race Calvin Harris concert, he stood on top of his car, waved and gave a final bow. As to why no one had done it before, well, Hanif reveals what it's like wearing a full race suit and helmet, walking around Sepang all-day and all-night.
"It didn't rain that day so sunny skies all around. My balaclava(face mask) was soaked so the sweat keep coming in to my mouth, I'm sticky due to the humidity, I can hear my legs begging for shower every time I walk. Not to mention the smell! The fans didn't seem to mind hugging and kissing me though. That's the closest I could ever get to feel like an F1 super star!"
2. When this poor guy didn't have the heart to tell her friend that she was cheering for the wrong driver – Davin Fernandez
During the 2006 Malaysian GP, Davin was fortunate enough to be granted a media pass, which gave him access to the Press Room. This is where all the motoring journalists from around the world watch the race, with loads of screens and different views of the race, plus live updates on weather, and other cool stuff. His friend, Diana, a hardcore fan of Kimi Raikonnen, was in the grandstands, texting updates via SMS (2006 no WhatsApp yet ma).
2006 also got no Internet live updates, so people depended on the Sepang PA system, and a few small screens around the circuit to see what was going on. Unfortunately, Kimi had crashed in the first lap, after being bumped by the RedBull of Christian Klein. Even more unfortunately, Diana, with her earplugs in her ears, wasn't aware that her idol had crashed.
"I got a text from her around Lap 45, saying "OMG KIMI is doing really well today!". I was a bit confused for a while, and checked the leaderboard in the press room, to make sure that YES, Kimi crashed on Lap 1. She was watching the identical McLaren of (Juan Pablo) Montoya instead, who eventually finished 4th. I didn't have the heart to tell her for a few laps" – Davin
When Davin did text her the truth a few laps later, her response was "Are you sure!?", and Davin sadly told her that yes, he was very very sure. "She said she felt very confused after the race, for supporting the wrong driver for an hour, cheering "GO KIMI!!!!!" every time Montoya passed the main straight."
3. When Lois Lane and Josh Hartnett ruined one young fan's chances with his high school crush – Shaun Yeoh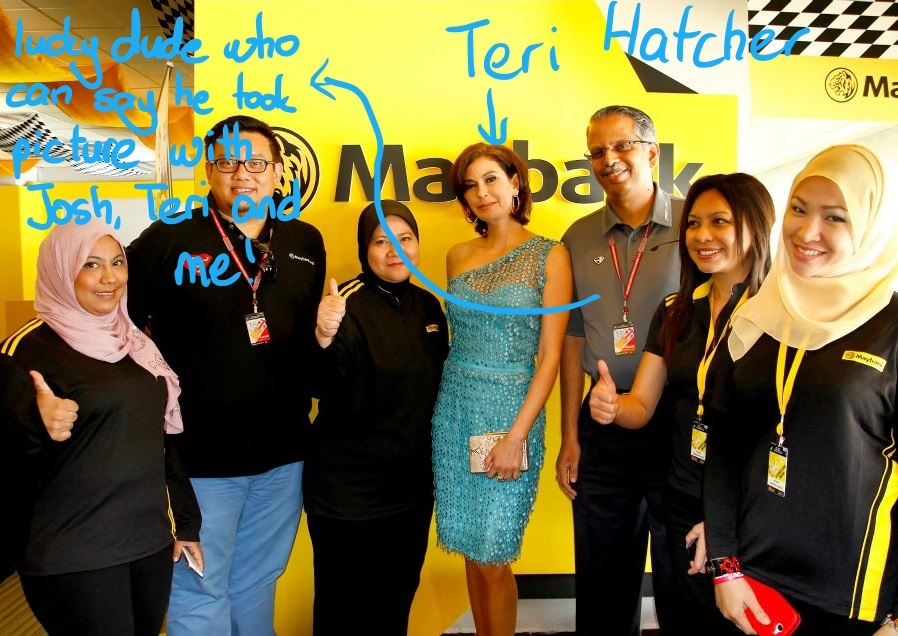 Shaun here was an early starter, becoming a fan of F1 at 11. However, based in Penang, he was pretty far from attending a race. Luckily at 13, his aunt had won two VIP Box Grandstand tickets for the 2013 F1 race.
"Actually, she was about to sell the pass because she couldn't find anyone passionate about F1 in her friend circle. I had heard her telling my mom about it on the dinner table so I ran out because I am huge Formula One fan! She was like, you got like F1 meh? I thought you want to be doctor (Me aunt is biology teacher hehe, and no I want to be musician). Anyway, I felt that my aunt never care for me anymore because she didn't even think about me, but it's okay, she said she still had the pass and would bring me along!" – Shaun
So Shaun and his aunty flew down from Penang to attend.
"We got to eat and watch the race in the VIP box of the grandstand. Damn luxury weh, I felt. So horrr, being the little 13 year old boy who only knows about F1 and nothing else, I was too busy looking at the engineers work on the cars to even bother about the other people in the room."
Suddenly, someone opened the door and people started screaming, asking for photos and autographs of some "ang moh lady". Shaun's aunt also went to talk and take a photo with her.
"I just sat by the glass pane still looking at bloody Red Bull pit. "Haiz… open the door so long all the air con also gone already loh," I thought to myself. I was wondering why she go talk to stranger; mommy always tell me not to do that. So when she came back, I ask her lah, who is that lady? She tell me that she act as Lois Lane in the old Superman series before I was born. I'm thinking, "Ee Ee, you say it yourself that this was before I was born, why should I even care about it."
Instead, he went to get a plate of Spaghetti Carbonara and as he was was eating, he saw his childhood crush online, and took a picture of Teri Hatcher to impress her. At that point, another person walked in and people started screaming again.
"Now I see an ang moh guy. This time my aunt didn't know who he was so she didn't ask for a photo. My aunt had gone ask around, and the organizer told her that the other guy was Josh Hartnett. At this point in time, my crush was very interested in the Sepang thing. until I told her that 'some Teri Hatcher and Josh Hartnett came into the room.'
At this point, his crush got angry. She asked if Shaun had taken pictures. Shaun replied that he didn't even know who they were. "I was here for F1, not for a random actor or actress". At that point, Shaun's crush replied…
"Look Shaun, I have felt you had feeling for me for a while now. In fact, I have always been impressed and looked up to you. But now you tell me that your ignorant a** didn't give two sh**s about a world famous actor and actress in your vicinity, and I cringed so hard… ughhh, don't talk to me anymore"
Sadly, Shaun told us that was the first of many rejections. But then he told us another story that we felt needed to be included as well
4. When we helped Mark Webber beat the F1 pit stop record! – Shaun Yeoh
After his brutal rejection, Shaun quickly recovered to watch the Red Bull pits again.
"I finished my spaghetti in loneliness, but it wasn't long before the race was scheduled to start. I saw the mechanics pushing out the car, wondering what they were doing. So, I walked out into the grandstand to see.
Before every Grand Prix, many of the teams practice pit-stops, to change the tyres of the car, which in recent times have gotten down to less than 5 seconds (to change 4 tyres!).
"The Red Bull team had been practicing their pit stops by having some mechanics push the car towards the guy with the jack, followed by the rest of the pit crew doing the tyre change. It was fast, very fast as the crowd cheered on. Suddenly, a random guy in the crowd shouted "We want more! One more time!"
One of the mechanics looked their way and gave them a thumbs up, and the crowd went wild. They pushed the car back and did the drill again, more cheers, and again, more cheers, and AGAIN. And then Christian Horner, the team principal came out, and gave the crowd a wave. However, it had started drizzling, and the race was about to start, so he signaled to the pit crew that party's over, the race was about to begin!
"The sound was incredible when the F1 cars all shot off the line! The whole grandstand was vibrating. Honestly there are no words to describe, one just has to go there and experience it him or herself. A fraction through the race, I went back to the VIP box with my aunt. At that point, Mark Webber was coming in to the pit stop. When they changed the tires, there was a huge roar from the crowd. They had just broken the Formula 1 record for a pitstop at 2.05 seconds! And I was there! And we all cheered as we felt we played a role in cheering on the pit crew to practice so hard before the race!
From then on, Shaun had bragging rights to say he helped Mark Webber shatter the world record… well, at least until the US GP, when Mark did even better at 1.93 seconds, without him.
5. The guy who hasn't missed a Sepang F1 race since 1999 – Justin Yip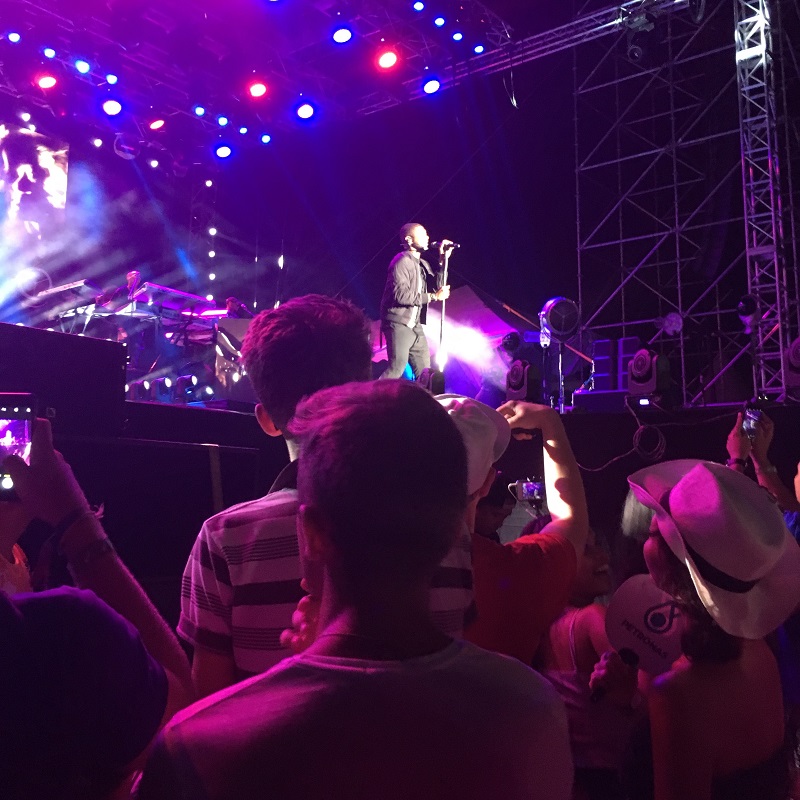 The first time Justin actually went for the Sepang F1 Race was actually way back in 1999, when he attended a Friday practice session with his uncle, and since then, he's been hooked. "The sound I tell you was super awesome and from that day onwards, I have never missed a Sepang Race till today." Every year, Justin finds a way to attend, sometimes buying tickets, and other times just winging it.
"Another year, I remember waking up early heading to my cousins house for to head to Sepang without a ticket, went all the way there, trying to find a vantage point, and if you have ever walked the outskirts of Sepang you will know how steep the the hills are. " – Justin
But the best one was just last year, when he FINALLY convinced his wife to go. He made it up to her though, and brought her all the way to the front row (the picture above is taken by him), and made a very curious brag. "Just to top it of, I got Ushers sweat on meee…. dont be jealous of my picture cos yes, I was that close!"
6. The year he decided to not just be a spectator – Gan Han Liang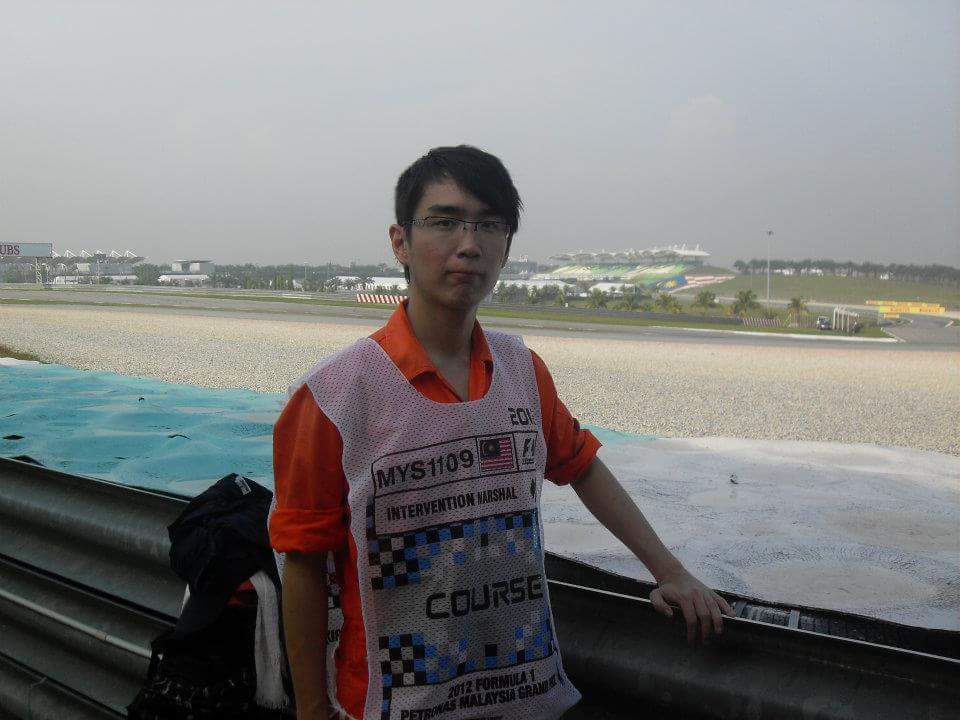 Gan is been a long-time supporter of McLaren, even up till today when it isn't doing so well. For only his second time at Sepang in 2012, he decided that he didn't just want to be sitted in the grand stands.
"I was super enthusiastic after attending my first Grand Prix a year before so I decided to try something different. I wasn't going to be just a spectator, I decided to get the best experience by being apart the track marshal team." – Gan
Applying to be a Marshall isn't as difficult as people think. Even today, you can apply online on the Sepang site here (and no, even we didn't know this until now). Gan went thru a few days training of what to do in specific scenarios, and was selected as a marshall for the 2012 Malaysian GP.
"While spectators enjoy the race from their seats, I was literally just inches beside the track, the best possible seat in the house, seeing the cars passing by and seeing how each driver maneuvered the corner." – Gan
Of course, for his troubles, he collected plenty of tyre bits, helped cars that got stranded in the gravel trap, and even got to know the personal friend of Malaysian GP2 driver Nabil Jeffri and was eventually introduced to meeting Nabil Jeffri in person.
"Even though subsequent years I repeatedly return to attend the grand prix, non of the experience can compare to that unique experience in 2012. But now that its the final year Malaysia is hosting the Grand Prix, I hope I won't miss this final race as a proper send off."
It's gonna be a hard goodbye to Sepang F1
Ever since Michael Schumacher came back from a broken leg to score 2nd behind Eddie Irvine in the inaugural 1999 race, Sepang has been a place where Malaysian motorsports fans have had countless unforgettable memories. And it's only right that we pay our final respects at the show. Our editor has already bought his ticket for this year (not sponsored, or media pass ya?), as a way of saying thanks – for 19 years of great memories.
If you want to join him there, click here to buy a ticket.
PS: Oh, and if you wanna kiamsiap save money, click here to join the LoopMe! contest instead 🙂