With the Olympics ending just recently, some of us may been starting to feel withdrawal symptoms. No more late nights, no more watching random sports you don't understand, no more cheering for Malaysia's first gold medal (but they still made us proud, every single one of them).
But just because the Olympics has ended, doesn't mean we have to wait another 4 years to be interested in sports again!
But where did all these athletes start their careers?
Chances are, most of them started in a sports club. Malaysia is full of sports clubs, and some of them are very old. But in today's world of smartphones, crossfit, yoga and Quidditch (!?), they're not as crowded as they used to be.
Our sponsor, AIA released a video that talks about the Malaysian Dream. It tells the story of one man and #TheBestOfTimes he had at his beloved Swatow Lane Club.
The Swatow Lane Club story is a representation of the memories many of us have had in such sports clubs. But one thing we noticed is that many of these sports clubs are just like the amazing athletes they produced. They. just. don't. give. up!
AIA understands that. In fact, they're looking to give one sports club an overhaul! Which one? Well they actually want you to tell them! All you have to do is head over to their Facebook post, and tell them which sports club would you want to see them refresh.
But in the meantime, we've assembled 5 sports clubs in Malaysia who have been through many hard times and have been refreshed over and over, but still stand proud today.
1. The swim club whose members rebuilt it after World War 2
The club: Penang Swimming Club
Sports: Swimming, but they also have stuff like a library and a theatre!
Popular music at the time: John Philip Sousa (you may not know this name, but you would probably know his song).
So yea this is definitely the one of the oldest club on our list. Why? Because this club was formed in freaking 1903. To put into perspective how long ago that was, it was the same year that mankind flew an aeroplane for the first time.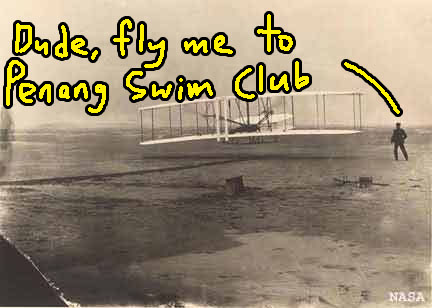 The Penang Swimming Club started when a group of Europeans decided that they wanted to find a place to swim. But here's the thing, the clubhouse actually came before the swimming pool! Yeap, these guys were actually content to just swim in the sea, and it wasn't until 1930 that the club finally constructed a swimming pool. Even from the start, the club faced a pretty big problem
"Over the years, the proximity of the pool to the sea and the pounding of the waves resulted in several episodes where serious damage to the pool floor and the pumps and pipes tested the financial resources of the Club and the engineering ingenuity of its members." – Penang Swimming Club site
And after that, the club entered a period which it desribes as "The Tranquil Years".
But this tranquility would only last for a decade before World War 2 came. During this time, the club was still utilised, but the pool was left to rot. Luckily the club's members returned after the war to restore the swimming pool. And it wasn't an easy task because when the pool was drained, they found 6 inches of mud at the bottom.
But after that the club flourished, developing into a place which didn't just do water-based sports but land-based activities like tennis. And today remains a club that focuses on its sense of family.
2. The swim club that used to be a gambling den, and almost ended up as a high-rise buildings
The club: PJ Palms Sports Centre
Sports: Swimming, Squash, Cricket, Scuba-diving school (no joke!), and many other facilities.
Popular music at the time: Beatles
Some of you who know this club may be like "Eh wait, isn't PJ Palms quite new?" Well depends on how you look at it la. Because while the name PJ Palms Sports Centre may be new, the swimming pool has actually been around for decades.
According to the General Manager of PJ Palms, Mr EJ Yeap, the center actually has a very colourful history. The centre actually started out in 1963 as a public pool called PJ Pool . However in 1990, the pool was bought over by a private company and renamed Kelab Syabas, with its main business actually being a (legal) casino!
"The pool was there but it wasn't run as a sports center. Eventually the pool wasn't not as well maintained as it was today. Eventually the pumps failed, it didn't got fixed, the pool got too dirty & closed for 7 years." – E.J. Yeap, General Manager of PJ Palms Sports Centre, in an interview with CILISOS
That was until one of the managers of the restaurants at Kelab Syabas spoke to then Mayor of Petaling Jaya, Datuk Roslan Sakiman about restoring the place to a proper sports centre. Eventually the Mayor put the land up for development, but out of the 11 parties who bid to develop it, only 1 wanted to keep the pool. 
It was a tough decision, but after discussions between the PJ City Council and the people, the fateful decision was made to take the risk of keeping the swimming pool BUT with the condition that the swimming pool be ready within 6 months from September 2010. And the developers stuck to their side of the bargain because the pool was opened once again to the public in March 2011.
And the risk seems to have paid off because today, Mr E.J. Yeap tells us that PJ Palms is a rare concept of a swimming pool that is privately-run yet affordable to the public.
3. The club that won't stop promoting a sport that no one plays in Malaysia
The club: Cobra Rugby Club
Sports: Well, rugby. Duh.
Popular music at the time: Beatles.
When you talk about popular sports in Malaysia, rugby probably won't be one of the first things that come to mind. So when you think of rugby club, you won't expect it to be so gungho la. But at this club, the sport is all they live for.
The Cobra (Combined Old Boys Rugby Association, yes they didn't just name it cobra for fun) Rugby Club was actually formed in June 1967. And according to their communications and PR guy, Rashid Salleh, this only happened because some players from this other very old club (which we'll talk about later) had a disagreement, and a few of them branched out to form Cobra.
"Then, it was a club consisting mainly of local rugby players from different schools, universities and states throughout Malaysia who wanted a home that they can call it their own." – Cobra Rugby Club
Today, their communications and PR guy, Rashid Salleh, tells us that they have about 200 members between the ages of 4 to 80+. And according to Rashid, Cobra has gone on to achieve some amazing things. For example, they proudly declare themselves to be the creators of 10-a-side rugby. 
But that's not all, aside from having a crazy trophy cabinet, he also tells us that one of their very own, Dineshwaran Krishnan (or Dugro as they call him), is currently a pro in Japan!
"He was nurtured at Cobra and we are proud that he is plying his trade as a professional rugby player, a dream come true for him." – Rashid Salleh, Communications & PR at Cobra Rugby Club, in an interview with CILISOS
Rashid also tells us that Cobra is constantly doing their best to promote the sport in Malaysia, by doing things like working with rugby associations in Malaysia, and nurturing younger rugby players.
4. The football club that took a Prime Minister to revive (no, not Najib)
The club: Football Association of Selangor
Sports: Bola sepak
Popular music when it started: Louie Armstrong, Paul Whiteman
For this we honestly tried to get in touch with the Football Association of Selangor, but we were unable to get a reply at time of writing. But the club is quite old. According to the club's crest, it was officially formed in 1936.
We say officially because this blog says that FAS actually had roots going back as far as 1905 when it was known as Selangor Association Football League (SAFL). A disagreement led to a split, but they made up and came back together and thus the FAS was born.
But their efforts to develop the sport in Selangor were wrecked by World War 2, and the club remained in the depths of despair until our first PM, Tunku Abdul Rahman, became the club's president and started to aggresively fight for the club's survival. The blog says that right after Stadium Merdeka was used for Merdeka on 31st August 1957, Tunku declared that the stadium would be the FAS' official stadium, and it remained that way until the Stadium Shah Alam was built in 1994.
And throughout the years, the FAS has remained one of the most successful football clubs in Malaysian football. Heck, even the best footballer Malaysia has ever known, Mokhtar Dahari, played his whole football career at the FAS.
5. The club that survived war, floods and *almost finally*… fire.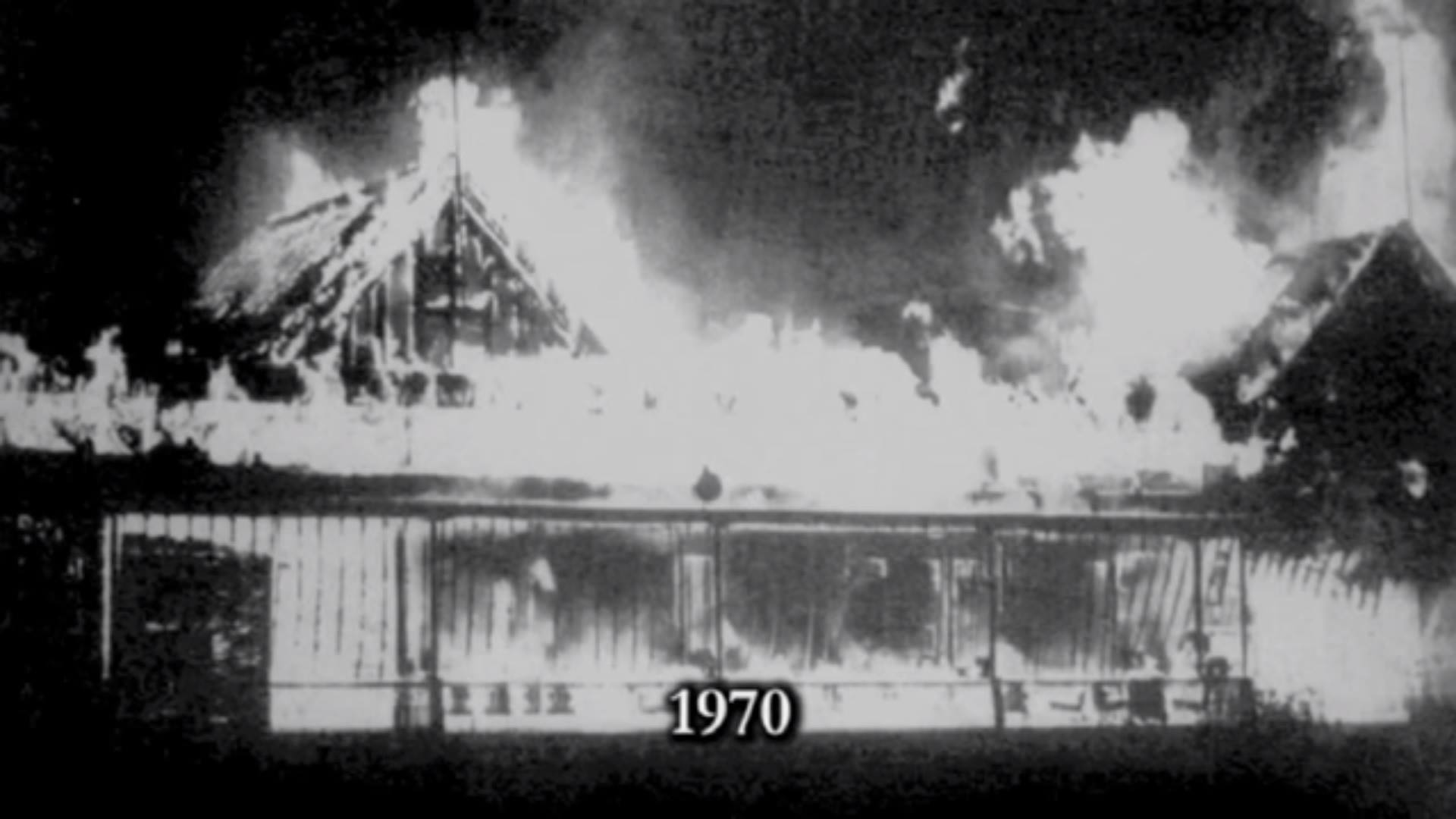 The club: The Royal Selangor Club
Sports: Cricket, and some rugby
Popular music at the time: The club is older than the song "Oh my darling, Clementine" which came out a year later.
Back in the day, some used to say that all roads lead to the Royal Selangor Club. And that's not entirely untrue, since alot of KL's road names came to hang out there. Yap Ah Loy, Yap Kwan Seng, Sultan Abdul Samad, Loke Chow Kit were all the earliest members of the club.
Malaysia's first cricket club started there way back in 1884 when the club was first established, and continues to this day, with the ICC U-19 World Cup Qualifiers held there in 2015. But aside from that, it was a sports club the true sense of drawing some of Malaysia's top athletes there over the years. The Balasingam brothers, who led Malaysia to the semi-finals of the World Cup of hockey in 1975, and Santokh Singh (XX in Ola Bola kononya) were both regulars at the club.
However, the club had a SERIOUSLY bad last century. In the 1900s, KL being in a valley was especially prone to constant flooding, which is probably why it's called Kuala LUMPUR? Omg. The poor club was hit by floods in 1911, 1917, December 1925 and December 1926. Then 20 years later the Japanese came, and wiped out all their records.
But the big one that *ALMOST* destroyed this epic club was a massive fire in 1970. Believed to have started in the kitchen, the fire quickly spread and engulfed the entire main complex. Children who had been celebrating a Christmas party inside had to be quickly evacuated. It took 50 fire-fighters (20 which were actually off-duty) more than an hour to finally contain the fire. Thankfully, there were no casualties, except the club itself, which was left in ruins. Repairs cost more than RM1.5 Million (about RM20million today).
And then less than a year later, the floods hit AGAIN. Thankfully after this last disaster, the government took active steps – beginning KL's Flood Mitigation programme, which continues to this day (i.e. the SMART tunnel).
Today, the club still stands, although its famed Padang is now known as Dataran Merdeka. As a concession to taking the RSC's land, KL City Hall offered them another plot of land near Kiara, which is now known as the Royal Selangor Club Kiara Sports Annexe.
There's a certain pride in sports that will endure through age and kitchen fires
If Malaysia has learnt something over the last two weeks, it's that we are proud of our champions even when they don't win the ultimate prizes. And that's because we know they try. Even leading up to an Olympic medal, you can be sure that losing a match isn't the end of your career, it's just a lesson to be learnt on the way to greater things. And those things don't end even after your Olympic chances do.
"Sportsmanship for me is when a guy walks off the court and you really can't tell whether he won or lost, when he carries himself with pride either way." — Jim Courier, former world number 1 tennis player
The same can be said about these sports clubs which have not only carried themselves with pride, but inspired a sense of community, and showed us that the clubs are representative of people – with the proper care, they can become great.
Speaking of becoming great… would you want to see any of these clubs get refreshed? Or maybe a club that you grew up at? If you do, remember to leave AIA a comment on their Facebook post! And maybe they'll be able to make a different Ah Kong very happy.  🙂