So we've just finished our Merdeka celebrations, and while it was fun to see the flags and hear the Merdeka songs again, it's time to return to that which truly unites us….politics!
Back in June, our PM Najib said that the next General Election would be after Hari Raya. And it was really scary for that one split second because Hari Raya this year was at the start of July! But then he said something else.
"I can only say the general election will be held after Hari Raya. But as to which year's Hari Raya, I don't know." – Prime Minister Najib Razak, as quoted by Straits Times
But mind games aside, in the past 2 months news of our next General Election happening very soon have been circulating. Yeap, it may be time again for the pinnacle of Malaysian politics, the one event that every single politician spends years preparing for. Kinda like how the Olympics is for athletes.
How soon? Well….
And articles like this, this, and this all discuss it.
But doesn't it seem just a little too early for an election? Because after a party wins an elections, they actually are supposed to govern for the next 5 years. Why would anyone wanna shorten the time which they stay in power? In fact, can the Malaysian gomen even make it so they rule less than their 5 year term?
And to help us out with this, we spoke to 2 people who're much better acquainted with the political scene, Ooi Heng from Kajian Politik untuk Perubahan (a political research institute), and Wong Chin-Huat (a research institute with the Penang state gomen).
Yes, our gomen can choose to call for an earlier election….if the Agong allows for it
The way an election works in Malaysia is that when the 5 years of an elected gomen expires, the Yang di-Pertuan Agong will dissolve the parliament. Meaning they cease to exist. BUT if the current PM decides that he wants to have an election earlier, he can advise the Agong to do so. (Important deet: The PM cannot dissolve the parliament, only the Agong can.)
Here's the thing though, we couldn't find any law which specified that there is a time-frame in which the PM can ask the Agong to dissolve parliament. Wong Chin-Huat from the Penang Institute (a research institute with the Penang state gomen) tells us this.
"It's the prime minister's (at the state level, Chief Minister's) prerogative to request for dissolution and it's also the Yang diPertuan Agong 's (at state, Sultan/Raja/Yamtuan's) prerogative to decide on his own discretion. There is no time limit." – Wong Chin-Huat, in an interview with CILISOS
Meaning that if the PM wanted to, he could ask the Agong to dissolve parliament a year, 6 months, or even 2 months after the previous election. BUT it would be up to the Agong to decide on whether to grant his request.
This is where the term "snap election" comes into play. In general, a snap election is an election that is held before being required by the law to do so. By that definition, the 2008 General Election was also mentioned to be a snap election because it was held only 4 years after the previous election instead of the usual 5.
Thus, if the next general election were to be held next year, it too will be considered a snap election because the law only requires the next election to be held before August 2018.
Which brings us to the next question, why da heck would the gomen want to risk shortening their term by calling for an election BEFORE it's time to do so?
If they think they can win an early election, might as well call it la, right?
Back in 2008, it was reported that Pak Lah called for a snap election that took place in March 2008 to try and win BEFORE things got more difficult for Barisan Nasional.
"Although Mr Abdullah's popularity has suffered in recent months amid rising inflation and social discontent, the ruling Barisan Nasional (BN) coalition hopes to win a new electoral mandate before economic conditions deteriorate and opposition parties manage to forge an effective alliance." – The Economist
So back then, the world was facing the Global Financial Crisis of 2007-2008, AND Pakatan Rakyat was just starting to find their footing. In fact, when Anwar was first sent to jail, he was banned from contesting in any election for 10 years. The 10-year period that expired in April 2008, one month after the elections.
In other words, they risked it because if they waited, it could have been worse because the economy may have been worse, and the opposition would have a very strong figure in Anwar Ibrahim. And sometimes it's worth to risk an early election for the sake of longer-term gains. (Although it seems it didn't turn out very well for Pak Lah who stepped down as PM the following year.)
Also it's not like we're the only democratic country to do so, Singapore's gomen last year also called for a snap election. Some say that they did so in conjunction with their 50th year of independence, while their founding father, Lee Kuan Yew, had just passed away last year, and these two things both benefited the image of the ruling PAP party.
The same can be said about the news of the elections happening next year. Ooi Heng says that if Najib does call for an election next year, it will be a calculated decision la. Ooi Heng from Kajian Politik untuk Perubahan (a political research institute) says this.
"If Najib is to advice the Agong to dissolve parliament in the first half of next year, maybe after Raya, that shows his confidence of winning the 14th GE and, more importantly, to secure better outcomes." – Ooi Heng, in an interview with CILISOS
And while PM Najib has faced a lot of pressure because of the 1MDB scandal, in recent months, it seems that the conditions are in favour of BN like:
"Strike while the iron is hot. If they keep waiting, the opposition will regain their unity." – Former Deputy Prime Minister (under Tun M), Tun Musa Hitam, as quoted by Sin Chew Daily
If the elections does happen next year, now's probably the best time to prepare for it
One of us at CILISOS recently received a Whatsapp message saying that the elections would be held in March 2017. It also raised alarms on who could vote:
"If elections are held in March 2017, those who are registered as a voter by 30/09/2016 only will be able to vote." – Anonymous Whatsapp message whose source is unknown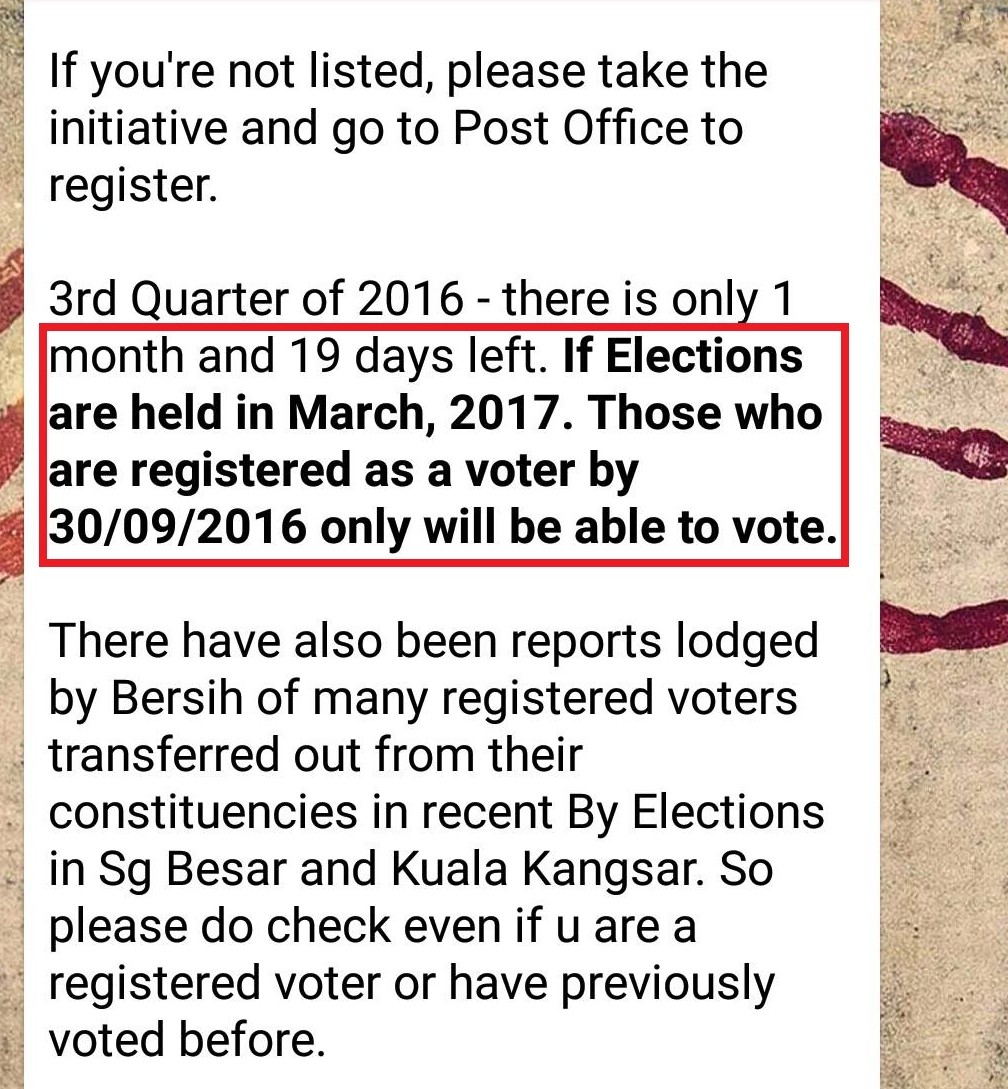 While we cannot confirm this, we can confirm that if you want to vote in the next elections, it's probably a better idea to register sooner rather than later BECAUSE after you register, it will take at least 3 months of processing (and also if it's too near to the elections, they might not even count you in).
So why not play it safe and register to do something which allows you  to determine the fate of this country? Just head on down to a registration booth and get yourself prepped for the next election!
"The vote is the most powerful instrument ever devised by man for breaking down injustice and destroying the terrible walls which imprison men because they are different from other men." – Lyndon B. Johnson, former United States President