Last week, we were invited by the Singapore gomen to find out how the country works. We visited the various ministries, had great food, and had intimate closed-door sessions with Singapore's Foreign Affairs Minister, HDB minister, and Commmunications Ministers, visited their National Service training facility, shot rifles and a whole slew of other cool activities.
We'll admit that one of the activities that was scheduled drew a collective groan from our contingent of Malaysian journalists – an after-hours visit to a Singaporean MP, meeting his constituents on a Monday night. The program is called a Meet-the-People Session or MPS for short, and the MP's name was Dr Maliki Osman.
Dr. Maliki is the MP for Siglap, a multi-ethnic division of the East Coast GRC that comprises of approximately 50,000 Singaporeans. Hes also a Senior Minister in the Ministry of Defense AND the Ministry of  Foreign Affairs, and also the Mayor of the South East district.
In our heads, was a guy in a suit, walking around with a plastic smile, shaking hands and exchanging short pleasantries with the people in his community, while he casually asked about the problems in the community, and would address the crowd through a loudspeaker about how he would solve them.
But we actually got everything in that last paragraph wrong, except maybe the shaking of hands.
Anyone in Dr. Maliki's constituency can get 15-20 minutes of alone time with him
Our group of 8 Malaysian journalists were led to a a low-key, office-like community centre, at the bottom of a HDB (Singapore Housing and Development Board) complex. After a short briefing from one of the volunteers, our media contingent was asked to wait as Dr. Maliki was in a 'session'. About 10 minutes later, we were invited into a small room, and introduced to Dr. Maliki. No, he was not wearing either a suit, nor a plastic smile.
Wearing a simple rolled up shirt, Dr. Maliki invited us to take seats on 8 tightly arranged plastic chairs to the left of his desk. He told us that some of the people that live in his constituency would be coming in, and he would take questions after the last 4 people had been dealt with. He also asked us not to share photos or specific information about any of his constituents, because their affairs were meant to be private.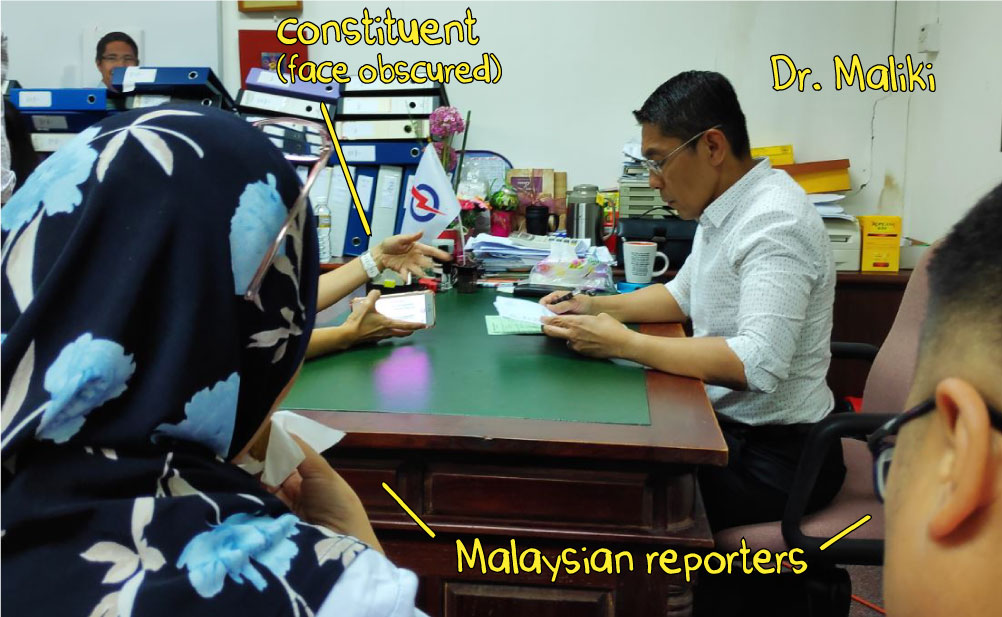 WAIT. THEY GET TO SEE THEIR MP INDIVIDUALLY!?
The first case was a resident complaining about hawkers without permits in her area, showing photos and evidence. Dr. Maliki observed and asked questions, taking notes. He also makes her aware of her rights and the laws governing the incidence. He jotted down little details on a green form, and told her he would ensure that the situation would be looked into.
Another couple was asking about purchasing a HDB flat (they were currently renting). Dr Maliki asked about their jobs. One of them said he had been bankrupt before, which Maliki indicated would make their applications harder to execute. It's also amazing how little fear the residents had, despite a bunch of journalists sitting right there.
"It's okay, these are my friends… they are just here to observe the process. None of your personal details will be revealed okay?" – Dr. Maliki
Each case took an average of 10-15 minutes, with no noticeable hurry in Dr. Maliki's demeanour. He listens intently, asks probing questions, writing notes as he goes along. He then recommends which agency or government department he'll try to appeal to, but we also noticed him chiding some of the constituents – like making sure a guy who ran a red light knew that this was a very serious offence, and should thus have serious consequences.
""Next time this one don't play play okay. Driving like this is dangerous ya" – Dr. Maliki
What also amazes us is the depth of knowledge he has in a variety of subjects, from HDB to commercial to traffic laws.For this particular case of the red light, he took into account that the guy is a delivery driver, and thus his license is his ricebowl. He recommended to the driver to instead focus on appealing the demerit points rather than the monetary fine. Later we asked what the chances are of these appeals actually succeeding.
"If the agency waives every summon then the summon won't be effective anymore. For these cases, we recommend a waiver of demerit points instead so you won't lose your license."  – Dr. Maliki
There are some cases that require financial assistance as well, which the party's policy is always to give a maximum of 3 months worth of either vouchers or cash, and review the case intently after. Dr. Maliki was also confident that at the other end (e.g. the Housing Development Board, or Traffic police) that every one of these cases would be viewed and addressed at least.
"The most common cases are neighbourly disputes. In Singapore land is scarce, and 70% of my constituency is staying on private land, so there's a lot of competition for parking spaces. For cases like this we use our network of community leaders (volunteers who live in the same neighbourhood) to help resolve these issues."  – Dr. Maliki
He shared with us one case of an old lady who complained that her upstairs neighbour was making a lot of noise. They actually installed a soundmeter overnight at her place, and found out that the sound levels were very low, and thus they suspected dementia or some other mental health condition could be the cause, but it's remarkable nonetheless how much importance is placed on a meaningful resolution.
"Some people raise their voice at me, but I'll ask "why are you raising your voice at me? I'm trying to help you". I also make sure they take some responsibility for their situation."  – Dr. Maliki
It also helps that Dr. Maliki can speak fluent Hokkien and Mandarin, although his Cantonese is admittedly weak.
Every case results in a green form like this, which notes the details of their case from the volunteer, as well as Maliki. It's useful to also track their case, and see the number of appeals that have been lodged. Some areas use computers to resolve cases, but Dr Maliki finds that handwriting done by his volunteers gives his constituents a more personal feel, and thus a higher chance that they will consider the outcome satisfactory.
"A lot of people say going thru an MP increases your chances. But the value we add is the way we write the letter might make their appeal clearer. I'll ask about family background, their  jobs, and so on., and then appeal perhaps based on him losing his job if he loses his license.

Successful or not, we at least try to explain the scenario and allows them to look at the case in a new light. I'll say I've done this, done this and done this, and usually they accept the resolution. In every case, we try to give them hope. To empathise and to help them find a resolution."  – Dr. Maliki
Now, you might think this is just a ad-hoc kinda thing, because elections are coming, but….
Dr. Maliki does this once a week, and apparently so do all Singaporean MPs… Including the Prime Minister
Dr. Maliki is there at his MPS office every Monday, seeing anywhere between 20-40 constituents at any session. His volunteers pre-screen these cases, but Dr. Maliki claims to write the appeal letters personally to ministries and government agencies.
To be honest, we didn't believe Dr. Maliki when he said he does it once a week. So we asked all the other Ministers we met on the trip, and you know what? They ALL do it. And it's not even part of the law. According to two ministers we spoke to, it was a PAP party policy enacted by Lee Kuan Yew himself, in 1963 – to ensure that MPs never lose touch with the people. Here's Lee Kuan Yew himself at a MPS session in 1963.
And yes, his son, the current Singapore PM, still does it.
However, some quick Googling turned up that the origin of the MPS was even BEFORE Lee Kuan Yew… it came from an ANG MOH (Iraqi-JEW!?) – Singapore's first Chief Minister from colonial days, David Marshall!
"I said to you that if elected, I would dedicate a day in every week to receive the people of Singapore, whether voters or not, whether from Cairnhill or not. Rich or poor, in order to enable me to understand your problems, to receive your advice, and to assist where I can asist. I did not then realise; I did not anticipate, that I would shortly receive the privilege of the responsibility of dedicating 7 days a week to your welfare and probably many nights of that week. But I will still keep faith with you in spire of the onerous nature of the duties of the Chief Minister." – David Marshall, Marshall of Singapore, A Biography.
And of course, the Opposition need to do it to stay competitive too… so now it's a uniquely Singaporean thing. There are similar things called "surgeries" in the UK, but it seems that while MPs might be available, Ministers are a bit harder to get hold of. As far as we can tell, these are the only two countries that have something like this.
On top of the MPS, each MP will also try to knock on the door of every household in their constituency between elections. We don't have the numbers on how many MPs reliably do this (Dr. Maliki estimates more than half still do), so just to verify that this wasn't propaganda, we spoke to some of our Singaporean friends about this close relationship with their MPs.
"Aiya. BS one la! Last time I appealed for my mom to waive her parking fine, also didn't get waived. Useless one la MPS. Waste time." – Singaporean friend (you know who you are)
From the Singaporeans we spoke to, many seemed surprised that we thought it was a big deal, probably because Singaporeans are an alien species. Some of them had indeed been visited by their MPs at home. Most say it's an awkward affair, and some people don't even invite the poor MPs in.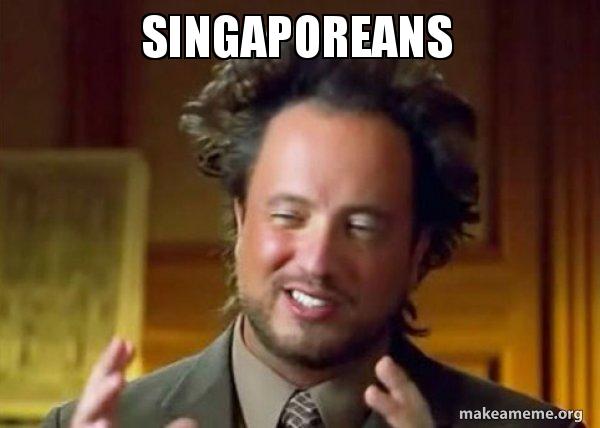 Oh and every other Minister we met on this trip has at least two portfolios, a policy that our government doesn't allow, is actually mandated by the party. They call it bridging, which allows each minister to not be limited in the scope of one department.
With regards to the MPS sessions, they do occasionally miss a session, especially those working at the Foreign Affairs Ministries travel quite often. Most of the MPs and ministers we met claim to miss less than 10 MPS sessions each year.
"When I travel, our offices continue with the meetings, but I still attend to the letters myself." – Dr. Maliki
Should we try this in Malaysia then?
Ok, so this might start sounding a bit like a propaganda piece, and perhaps it is, but only because Singapore put such a convincing argument forward. In Malaysia, one minister hold two positions also got problem, and instead of our MPs reporting shortages to our agencies, we have our agencies reporting about our PMs.
So as far as we can tell, there are no MPs in Malaysia that organise such open sessions with their constituents
OK, so when this article first came out, we started getting messages that some Malaysian MPs do it as well.
And one particular MP did get in touch, Edry Faizal, DUN of Dusun Tua in Hulu Langat. He runs 'surgeries' every Wednesday for his constituents, and says that most of his colleagues at DAP do the same 🙂
"I wear only t-shirt sometimes. Whoever comes for surgery needs to fill up a form stating their problem. After meeting them usually for 15 to 20 min, I will inform the party who's suppose to handle it (mostly councilors) and through the form we keep track on everything. We are still new and improving on our system." – Edry Faizal, DUN for Dusun Tua
Edry said he picked up the practice from his fellow DUN, Tuan Rajiv, from Bukit Gasing, and that many DAP DUNs had this practice.
"Usually before they meet me I already know whether their problem falls under the purview of councilors, penghulu/Ketua Kampung, MP etc.  Many cases involved the local council or gov agencies sometime settled through whatsapp or phone calls. I only issue letters when the case really need serious attention." – Edry Faizal
To be honest, this was a pleasant surprise for us, that this is happening in Malaysia! Because government agencies and political leaders have… let's just say a reputation of being inefficient… as pointed out by studies such as this and this, which lead many Malaysians to not even bother trying.
But if there's one thing we've learnt from this article, it's that politicians aren't all bad. Some of them are really hard working people, some not as famous as others, trying to make their communities, and the country… a better place.
"It's tiring but fun. There's always something new to learn on daily basis and it's satisfying to be able to assist people in  solving their problems." – Edry Faizal
Of course, being a responsible MP is one thing, what about being a double Minister and a Mayor… How to find the time to do anything!?
Well, Dr. Maliki is also a family man. Kinda.
"Monday mornings I'm at MINDEF (Ministry of Defense) office, afternoon i'm at the Mayor's office, Tuesday morning i'm at MFA office, Tuesday afternoons I go back to MINDEF's office, Wednesdays I go back to the Mayor's office. I may be involved in meetings outside of these portfolios, then they will have to be readjusted." – Dr. Maliki
To help him manage his various portfolios he has 3 aides, one for each ministry, and one as mayor/MP, but only one of the aides can actually manage his appointments (otherwise it would be chaos). On weekends, he estimates 6 to 7 events that he has to attend. In fact, immediately after our session (which ended around 11ish), he had to go for a wake of a recently deceased volunteer. He tells us once he gets home, he will clear all his emails (a policy) before sleeping  hopefully around 2am, and wake up at 6am to do it all over again the next day.
"Yes, I am married, and I have two kids.

My wife acknowledges that I'm married to my job and married to my constituents. My family knows what I'm doing is important, but I do try to bring them along. And now my daughter comes some Mondays to help do the interviews."
Despite Singaporeans complaining about the minister salaries, Dr Maliki only gets one salary from his 3 government posts. While they remain the highest paid government servants in the world (and some Singaporeans are not happy), none of the 8 Malaysian journalists at the session felt it was excessive after what they had witnessed. In fact, Rahman, the editor of FreeMalaysiaToday asks him if he has time to spend it. Dr. Maliki smiles and replies, "It's okay la… the family can spend it.".
Because even his time on weekends is taken up, he keeps in constant touch with his family via WhatsApp. Towards the end of the interview, he also noted some special policies with his wife.
"Each time I go into my car, I will call my wife. Also, every Thursday lunchtime, my calendar is blocked out for two hours with my wife. So we'll occasionally go to walk about Arab street, near my office.

And without fail sure got someone recognise me there, sees me with my wife, and asks "WAH Doctor… so free ar?"