Politics
Weirdness
Kelana Jaya MP might lose his seat over a feud with Selangor gomen. Why are they feuding?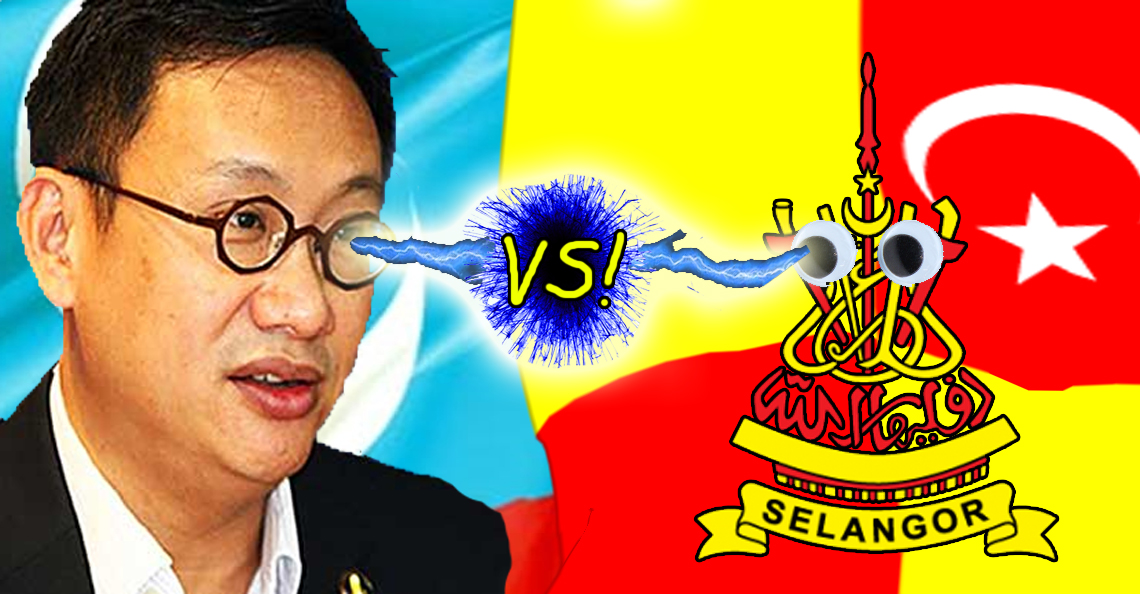 It's a situation that might be a recurring nightmare for some: You were lining up to pay for something. When it's finally your turn, you hand over your credit card to the checkout guy behind the counter. He swipes it once, twice, but nothing happens. Behind you, you hear several impatient sighs. The checkout guy gave your card one more try, then handed it back to you.
"I'm sorry, but your card has been declined," said the checkout guy.
"But this can't be!" you desperately wailed. "This never happened before! How can my card be declined?"
Because in this scenario your dad was the one paying for your credit card, you whipped out your phone and called him. "Oh yeah, I kinda cancelled your card after looking at the bills. Kthnxbai," was the reply.
So you fell to your knees right there in the checkout aisle, looked to the heavens, and let out a dramatic "NOOOOOO!"
Now imagine that you're a member of the Parliament (MP), the card is funds for you to spend on your constituents, and your daddy is the state government. While the last line in that short story may or may not be true, that's more or less what happened to the Kelana Jaya MP, PKR's Wong Chen.
Wong Chen realized that something was amiss sometime in June after one of their contractors working on the renovation of a community hall notified him that they could not start the project as the funding for their office had been frozen. After he sent a letter to Petaling's District and Land Office (PDT Petaling) asking about whether or not his accounts had been frozen, he received a confirmation and the reason for the freezing.
"It is informed that the Selangor State Treasury (PNS) is in the process of auditing and adjusting the accounts for the Parliamentary District of Kelana Jaya, Petaling. Therefore, all usage of funds for Mesra Rakyat is immediately frozen effective on the 12th of July 2016 until a time that is to be informed later," – (translated) excerpt from a letter from PDT Petaling, which is actually an excerpt from a letter by the State Economic Planning Unit, Secretary's Office of the Selangor State Government.
But wait for a moment there, said a reader who actually reads the quotes. If the freezing is effective on the 12th of July last year, how come Wong Chen only discovered it last month? Well, dear reader, this might get a bit confusing, so let's first look at what's being frozen in the first place.
What are these community funds?
Each year, the Selangor government grants its six MPs funds totalling RM250,000. These funds are meant to aid the MPs in their duties, and they can be used to repair public facilities, start small construction projects, or even as funding for their speeches and feasts. Basically, if you've ever wondered where the money for all the stuff that MPs do come from, it's probably from this funding.
Starting 2014, this fund was increased to RM300,000 per month. Along with the funding, the state treasury had laid out a set of guidelines on how this money should be spent. Simply put, it can (or should) be spent in five ways:
The management and running of the MP's office, should not exceed RM50,000 per year.
Small development projects, but each project may not exceed RM50,000 per year. However, the total money spent on development projects can exceed half of the total funding.
Cash community contributions, not exceeding RM2,500 per contribution.
Mesra Rakyat programs, where MPs get close to their constituents. Not exceeding RM10,000 per program.
An allocation for emergency contributions, like to help a family who lost their house in a fire or something. Not exceeding RM2,000 at any given time.
Seems pretty straightforward, right? There shouldn't be any probl-
Wong Chen gave alot of money to poor people
Wong Chen had protested the sudden freezing of the funds, saying that there's no clear reason for it. According to an audit report on their accounts, here's how the Kelana Jaya MP had spent the funds for the years 2014-2015, based on the audit report that he received on the 2nd of February 2017:
One glance at the graph could tell you that one thing gets wayyy more money than others, and that's cash contributions towards the less fortunate. While some may argue that there's nothing wrong with spending the community funds on the people, it did not exactly fit the guidelines set forth by the treasury, and that was reflected in the audit findings.
There are six findings in all:
Too little attention given towards small developments, where there are none in 2014, and only 4% of the total funding in 2015.
Community cash contributions were the highest in both years, with most of the contributions going towards the disabled, poor, old, single mothers and orphans living at a place called Desa Mentari in Sunway.
68 people are repeat receivers of the cash contributions for the two years, receiving RM74,000 between them.
7 payment vouchers for community contributions did not follow the set guidelines.
Only RM24,743 were spent within the two years for Mesra Rakyat programs.
Kelana Jaya never did set aside any funds for emergency contributions for the two years.
In his defense, Wong Chen had sent a letter explaining himself to PDT Petaling. The summary of his response was as follows:
There never was a guideline on how much MPs should spend on development projects, and the circular telling MPs to spend 30% on development was only circulated in early 2015.
Desa Mentari, Desa Ria and Kampung Lindungan are the hardcore poverty areas of Kelana Jaya. So there's no pressing reason to help other areas such as Subang Jaya, which are populated with people in the middle-class income level.
They were not aware that helping the same people two years in a row was a breach of the guidelines. If it was, there's no mention of it in the guidelines.
There were unavoidable reasons for them to not follow the guidelines.
No set percentage of the funds was explicitly allocated to throw events and feasts to promote his name.
There were neither clear guidelines for the emergency contributions nor the people who came forth to claim it for 2014 and 2015.
What followed next was a series of letters where the Petaling Jaya MP Office tried to clarify the problems stated in the audit report, as well as asking for a reply from the Selangor State Government. This lasted up until early June, when suddenly a contractor notified him of the community funds being frozen, as told earlier in the article. The freezing, effective July 2016, had been said to be due to the audit process (which was done in March 2016).
If you read the quote carefully, it said that what's being frozen is 'the funds for Mesra Rakyat', which sounded like one of the five uses of the community fund. However, on the 2nd of June, the PTD Petaling received a phone call from the Selangor State Treasury, saying that the freezing actually included ALL of the funds, not just for the Mesra Rakyat programs.
Therefore, even if they weren't frozen before, the rest of the community funds were frozen starting the 2nd of June.
The whole auditing and freezing process is not exactly… transparent
As should be expected, Wong Chen isn't entirely pleased with the audit process and the freezing, particularly because he felt that the auditors haven't been using a proper process for the audit.
"If the findings were fair, we would not have minded as much. However, these findings were trivial, irrelevant, misdirected, and/or baseless. These findings could have been easily answered had the Selangor government auditors done a proper audit with due process." – Wong Chen, Kelana Jaya MP in a Facebook post.
Some of the audit procedures seemed a little off. So an audit was done on Wong Chen's office in early March last year. While the audit was stated in the report to take two days (1 & 2/03/16), Wong Chen noted that the report was only received some 11 months later, on the 2nd of February 2017.
The Selangor's Mentri Besar Datuk Seri Mohamed Azmin Ali had reportedly flayed Wong Chen for making the whole issue public…
"If there is any issue, he should come forward and talk to the state government rather than make it public, but I leave it to him… Even I myself have been audited before but I did not make it an a issue. This is because any parties including parliamentarians and state assemblymen have accepted well that this process ensures transparency." – Datuk Seri Mohamed Azmin Ali, Selangor's Mentri Besar for the Malay Mail Online.
However, Wong Chen did not see the statement as fair as YAB Azmin Ali was reported to have known about his own audit, whereas Wong Chen was not aware of his own audit process, which was claimed to have been done without any transparency or notice.
It should be known that after he received the audit reports, Wong Chen had written letters to the state government to address his concerns on the audit, but some of them went unanswered for three months. So technically he did try to talk, but the other party's not picking up.
Another thing that Wong Chen noted was that in the audit report, it was said that the audit was done through two methods. One of them is checking the related documents and financial records against the spending account of the Kelana Jaya MP at Petaling's District & Land Office. The other one is for the auditors to interview related officers on the matter. Wong Chen, however, had stated that the state did not seek his cooperation and did not clarify matters with his office before making their findings.
The matter of the fund freezing is also questionable. Since the report was received in February 2017 and the freezing was effective on July 2016, that would mean that the state government froze part of the funds before they even made any findings. And since the audit report in February did not recommend any freezing of funds,
"…to freeze our community spending four months later in June 2017 is absolutely perplexing, bordering on vindictive." – Wong Chen, Kelana Jaya MP in a Facebook post.
Wong Chen had also stated that the freezing of the funds back in July is an unusual way of punishing his constituents before the report was even concluded. Furthermore, the freezing was done without so much as a notification letter. Wow.
And while he had been criticized by some for supposedly 'washing dirty linen in public' by disclosing the issue to the general public instead of resolving it internally, Wong Chen had asserted that the fund freezing is not a political quarrel. Therefore, according to him, asking the party to intervene and resolving this quietly would not only be morally wrong, but also an abuse of power.
And Wong Chen is all too aware of the consequences of a public feud
When your career puts you in the public eye, there are certain standards to keep. This is even more so when you're representing a particular group or party. Wong Chen had expressed his concerns on how his issue with the Selangor State Government may hurt PKR's chances in the next General Election.
"My predecessor won this seat with 5,000 majority votes. When I stood (in 2013), I took it to 26,000 majority. But if there is an innuendo of a scandal in my office, that will hurt me and it will hurt PKR's chances in the 14th general election," – Wong Chen, as reported by Free Malaysia Today.
In a press conference, he had stated that the Kelana Jaya seat, which is one of the safest PKR seats, may be threatened if the issue is left as it is.
Even if political seats weren't at stake, to have something like this happen is not an experience anybody should have had to go through while doing their job, anyway.
"No MP or assemblyman should be made to feel they can be subjected to arbitrary executive decisions. No MP or assemblyman in Selangor should suffer the same hardship that my office had to go through in the last five months." – Wong Chen, as reported by FMT.
Speaking of going through, apparently the funds aren't the only thing that's not going through. As it turns out, Wong Chen actually got himself a case of kidney stones on Saturday. On his Facebook wall, Wong Chen had been reported by his interns to be confined to a three-day bed rest and an extra diet of water.
"This is my third kidney stone episode in 4 years. I never ever had kidney stones until I became an MP; being in politics is definitely not good for [your] health!" –Wong Chen, in a Facebook post.
So here's to wishing him a speedy recovery from all manner of blockages 😉