Disclaimer: We can't say for sure which of the 5 terrorists have been linked to a Malaysian university and thus have included all their pictures in our image above. 2 or 3 have been linked and we talk about them in the story below.
A few days ago, 8-9 terrorists stormed stormed into the Holey Artisan Bakery in Bangladesh and held about 35 people hostage for nearly half a day before the Bangladeshi police stormed the restaurant. However, out of the many people held hostage, only about a dozen made it out alive. 
And while on that same day there was also reports of a terrible bomb blast in Iraq, this particular case was the one that hit closer to home because right after the attack, it was reported that some of the terrorists were actually from Monash University Malaysia! 
Which actually triggered questions from netizens on whether they were recruited in Malaysia.



In light of the IGP also confirming that the recent grenade incident was by ISIS, it's understandable people have come to this conclusion. But were students from Monash University really involved in this? Well, ISIS has claimed responsibility for the attack, BUT Bangladeshi officials have stated that this was an act of domestic terror rather than ISIS.
So it may not have been ISIS at all, but because there have been many ISIS related attacks in the past month, it may be wise to consider that this attack could really have been ISIS related, and so we explore if these terrorists could have been recruited by ISIS while in Malaysia.
Two or three have been *kinda* identified as Monash University students
Now we say kinda very, very loosely because none of the authorities have actually confirmed that any of the terrorists studied in Monash. Our IGP said that 2 Bangladeshi nationals who died had been former students of Monash BUT he was unable to confirm if they were victims or terrorists. But the thing is, other people have been saying a lot. 
Not long after the hostage situation had been resolved, police released the pictures and the first names of 5 of the attackers. But with the pictures released, people who recognised them were quick to point out that these may not have been their names after all. Friends started to identify some of the terrorists, and it wasn't long before one name popped up all over the place as being a former student from Monash: Nibras Islam.
We found links on Facebook that allegedly compare one of the terrorist's bodies to pictures of Nibras Islam. [WARNING the picture is graphic so if you really want to see it, click here.]
The Star reports that Nibras Islam was young, smart, good-looking, came from a wealthy family, and loved Bollywood. It also said that he was a commerce student at Monash in 2012, and went on to become Treasurer of International Students' Services during his time there.
Someone who knew him also added that he never expected Nibras to turn out this way because he wasn't really political, religious, or violent. But as we were writing this, it was reported that Nibras' parents himself confirmed that he was one of the terrorists, and that he did, in fact, study at Monash University Malaysia.
But despite being the most prominent, his name isn't the only one linked to Monash. Two other terrorists were also linked to Monash, Andaleeb Ahmed and Raiyan Minhaj. Andaleeb Ahmed has also been mentioned across news sites as being linked to Monash, and that he was in Malaysia between 2012-2015. As for Raiyan Minhaj however, we could only find one Facebook post which linked him to Monash, but has since edited their post.
Still, regardless of whether or not it's 1,2, or 3 people, it doesn't help that any of them have been linked to a university in Malaysia, which only leads to the question….
Is ISIS really recruiting from Malaysia??
In short, yes. ISIS is recruiting in Malaysia. In a previous article of ours, we explored ISIS' influence in Malaysia and it's fair to say that they do have some sort of support here. In Malaysia alone, our gomen has said that there are about 50,000 people who agree with ISIS, about 160 people who have been arrested for allegedly being linked to ISIS, and 47 Malaysian ISIS supporters in Syria itself!
But the thing is, they aren't just recruiting from Malaysia but the whole of friggin Southeast Asia! The Daily Mail spoke to a counter-terrorism expert who said that after the Middle East and North Africa, Southeast Asia was the next logical place for ISIS to go to.
"In countries like Indonesia and the Philippines, there are scores of aggrieved Muslims who previously – or currently – sympathised with groups like Jemma Islamiyah and Abu Sayyaf group." – Counter-terrorist expert Dr Colin Clarke, as quoted by Daily Mail
Other articles like this and this have also brought up how ISIS has been increasing their influence in our region.
That's not all, as far as recruitment goes, DPM Zahid Hamidi said last year that 75% of ISIS supporters in Malaysia are recruited online. But in the case of these Bangladeshi terrorists linked to Monash, they may have a different approach. We've established that there are ISIS supporters in Malaysia, and these supporters may actually be recruiting foreign students.
This particular article mentions that when it comes to recruiting university students in Europe, ISIS prefers to recruit foreigners so that ISIS can use them when they return to their countries.
"Foreign students are the recruits they want most. The tactic the two (ISIS) recruits explained consists in exploiting their poor knowledge of the city and the fact that they're living alone." – Felipe de Oliveira, who went undercover as a university student interested in joining ISIS, on Worldcrunch
And while we still cannot be sure if they were actually recruited into ISIS while studying in Malaysia, if they're doing it in Europe, what's to stop them from doing it in a region where their influence is growing?
Wahlau… how to feel safe in Malaysia anymore?
Admittedly people are gonna be wary when our IGP ends up issuing challenges to ISIS.
"Come back if you dare." – IGP Khalid Abu Bakar to ISIS members in Malaysia, as quoted by The Star
Which isn't very comforting because…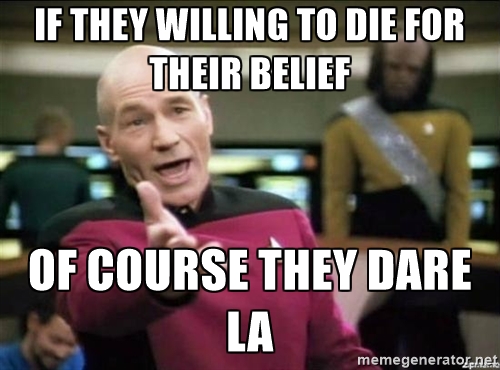 This remark by our IGP was also aside from his suggestion that all entertainment outlets in KL be put in one location (which only made people more worried because it would make it easier for terrorists to attack).
But with the ISIS threat becoming more and more real, maybe it's time that we start doing something about it instead of just living in fear. And perhaps one thing we should understand first of all is who are the people that are attracted to ISIS.
Some of us may believe that the people who are attracted to ISIS are either poor or ignorant, but this video says that most of the people who are driven to religious extremism are actually middle-class people who have university degrees! They are driven to these lengths because of a few things:
A desire for meaning
A desire for order
A desire for change
The thing is, ISIS has taken advantage of these desires and moulded them into terrorists. And that actually makes sense considering that from the testimony of people, the terrorists involved in the recent Bangladesh attack were actually western-educated youths from affluent families! (Hey, you thought all Bangladeshis poor wan meh?)
Marina Mahathir also added that fighting ISIS goes BEYOND just not joining in with their violence, that it also includes NOT thinking like them.
"The thing is, a lot of people do think like IS but may never take up violence. But it just takes one person to create the havoc.

And when that one person does, regardless of whether they are IS or not, then others can't quite condemn him. Because actually they agree with him." – Marina Mahathir, as quoted by MalaysiaKini
And keeping those in mind, maybe we should consider that the answer to breaking the influence of ISIS isn't to go to war with them, but stem their influence by taking care of our well-meaning youth – regardless of whether they are Malaysian or not, and not let fear make us do some really nasty things (like a certain Presidential candidate in the USA which has been thriving on fear).