Just as tensions are boiling over between between licensed taxi drivers and Uber, another business is starting to make its round in the news…HOME-SHARING. Four home-sharing hosts in Penang kena saman on 27 June for operating 'hotel' businesses without licences. 
They're believed to be the first in the country to be punished for running this, although it's not specified whether they're used Airbnb itself or a different website. The point is they were treating their houses as if they were hotels and renting it out to guests. Anyway, they flat out refused to pay the RM250 fine. Two of them, Ch'ng Kim Teck, 50, and Ahmad Hamzah, 55, spoke to the media:
"There are hundreds of home-sharing hosts in Penang. Yet, only the four of us were singled out and penalised." – Ahmad Hamzah told The Star
Uh-ohhh, is it going to be like the Uber vs taxi problem all over again?
Yeahhh… home-sharing is similar to Uber (both oso takda lesen)
Home-sharing is a service where hosts offer to share/rent out their property on websites for guests to stay. You might've heard of Airbnb and some of you might have tried it before. This service is available in 191 countries, including Malaysia, and the trend is catching on fast because travellers wanna enjoy living like a local instead of feeling so touristy staying in hotels. Meanwhile, hosts can make money out of it by offering houses they don't use, so win-win la.
Uber and GrabCar are ride-sharing services – but the similarity here is both don't have proper licence to run their respective business.
The name for this new type of business model is called "sharing economy", or peer-to-peer rental. Sharing sites (like Uber and Airbnb) let people act as ad hoc taxi service, car-hire companies or hotels as and when it suits them. Taxi and home services are more common ones, but really ANYTHING can be rented out:
One analogy is to think of Ahmad and Kim Teck (and Uber) as Batman, while the taxis and hotels are actual cops. Batman has no authority to catch bad guys coz he's not a real cop, just as home-sharers are not LICENSED  hotels, so they're technically not allowed to rent out their houses. HAHH, here's where the law problem comes in:
"There is no law to specify that we cannot rent our homes out for a few days or months. It is like a cyclist on the road fined for not having a road tax and licence." – Kim Teck told The Star
See the discrepancy? No licence means illegal, at the same time, got no law stating you can be punished for letting strangers use your house for a fee. So, this is a problem that the Government and home-sharing industry needs to sit down and talk over. Otherwise, the legality of their activities will constantly be in limbo.
Earlier we mentioned the home-sharing trend is catching on fast in Malaysia… enough to make hotels feel THREATENED because they've gone to the Government to make them crack down on these flers.
Hotels in Malaysia face the same problem as taxi drivers! They're LOSING business!
The hotel industry claims that 5%-15% of their business is being diverted to their home-sharing rivals. It's not surprising coz sometimes we can get cheaper rates from them, obviously because their operating costs are smaller, compared to hotels.
"It isn't a level playing ground because the hosts who are offering their properties for rent are not subjected to the same requirements, including safety standards." – Sam Cheah, President of Malaysian Association of Hotels, The Star
But the hotel industry does have a point…
You are literally NOT covered in case anything bad happens…
They don't kena spot check by the Fire and Rescue Department Malaysia (aka Bomba) like hotels do.
"They are not required to adhere to safety requirements such as installing proper fire protection. We are obligated to protect our customers. But there is no such policy for home-sharing hosts." – Sam, The Star
They don't have to provide public liability insurance, OR install fire extinguishers, sprinklers, automatic doors, and so on like hotels do. Hotels also need to regularly check their equipment to make sure they're working, according to the laws of Malaysia. These are some risks you need to consider when you become a home-sharing customer.
Plus, think about it, if your neighbour rents out his place to tourists, how would you feel? Every time you'll see strangers coming and going, doing who knows what. Not to mention, these strangers can use the swimming pool, gym and other facilities that you and other residents have to pay for. In Barcelona, residents even protested against the tsunami of short-term stayers in their a popular neighbourhood.
Home-sharing has also met with protests in New York, where it might be made illegal soon, and Berlin, where homeowners are banned from leasing their houses to tourists without a city permit, and Japan, to name a few.
However, other places have been receptive, like London, which changed housing laws to make it legal for locals to rent out their houses through websites like Airbnb. Meanwhile in Singapore, the situation seems to be quite neutral coz home-sharing hosts are discussing new guidelines with the government. So yeah, the dilemma is not just here in Malaysia.
These are just some of the things to ponder la, but importantly, we need to realise that…
Home-sharing may be BAD for the economy in the long run
Yes, we LOVE Uber and Airbnb, and business writers like to rave about how these awesome new-age services "disrupt the system". (Ed's note: good grief we HATE that word. Is 'disrupt' the new 'artisanal'?!) While it makes sure empty houses get used instead of collecting dust (tons of people have property sitting empty), we have to wonder… are we overlooking the fact that this billion-dollar "sharing economy" is largely based on evading regulations and breaking the law?
Home-sharing services don't pay taxes or collect GST, while hotels are an important source of tax income to the country. When home-sharing doesn't pay taxes, others in the economy will have to bear the additional tax burden, overall, it's quite unfair la and not beneficial to the economy in the long run.
On top of that, home-sharing could really affect the market rate of property. Property prices could roller coaster if there's a glut of home-sharing houses in a particular neighbourhood. Would you buy a house in an area full of tourists?
What we could do is revamp existing regulations coz they were designed to serve narrower interests and are not so relevant any more. New regulations need to allow for future innovations as well. The Guardian wrote that it doesn't make sense to exempt entire classes of of business from regulations and taxes just because they provide their services over the internet.
So yeah, we could tax home-sharing and if they're still viable when operating on a level playing field with the hotel industry, then they will provide real value to the economy.
TO BE FAIR, the Malaysian Association of Hotels didn't ask to shut them down – they want the government to regulate them…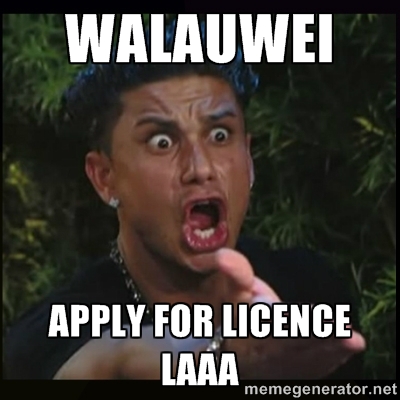 And at the same time, Malaysian home-sharers WANT to be taxed!
Errr, okla they didn't particularly say they want to be taxed…BUTTT Ahmad and Kim Teck said Penang's home-sharing hosts want to be registered as a proper trade association in Malaysia.
"We call on home-sharing hosts from around the country to contact us. We must unite because local authorities are judging us the wrong way." – Kim Teck, The Star
Those who are interested can reach them at [email protected].
And they hope the Government will set NEW laws to regulate them so that they can run their business legally. According to Ahmad, they've got a bunch of rules for guests before hosts agree to rent out to them, for example, kenot have parties, workshops or conferences. They will be sharing these guidelines with the Majilis Perbandaran as a draft for their new laws.
Wheeww, well that's GREAT news, right? Different sides of may have their opposing views, but we ought to recognise that innovations like home-sharing and Uber are creating new opportunities, improving efficiency, reducing travel costs and waste.
It's just like Uber and GrabCar, Sam told The Star… we cannot stop progress, but we certainly can regulate them. True onot? So this could be the first step to balancing the business eco-system again – between home-sharing and hotels, between Uber and taxis. Like we said mah, win-win 😉