Uh Oh…this looks like it could get ugly. TuneTalk CEO, Jason Lo, was recently spotted by Ramesh Rajendran, an Associate at DiGi, giving a thumbs down to a DiGi banner. The DiGi banner in question is the CyberSafe programme, which helps shield kids from the evils of the Internet. You can find out more here.
http://www.digi.com.my/digicybersafe/
So why is Jason Lo showing a thumbs-down to it? It isn't the first time he's had a bad run with social media. Well, some might say
1. He doesn't like censorship
2. He doesn't like DiGi
3. He doesn't like competition
or
4. He's just having a bit of fun and didn't expect it to end up on social media.
5. He's having a bit of fun and doesn't care if it ends up on social media
Either way, while we do agree that it's a rather distasteful picture, we also think that perhaps it wasn't meant for mass-consumption. Put it this way, if you were a CEO, wouldn't you hate it if you could no longer have fun without thinking of the bigger picture? It's not like the guy was sending porn to kids.
Or was he?
FYI we hypocritically voted on Option 3.
UPDATE: Jason Lo has replied on twitter 🙂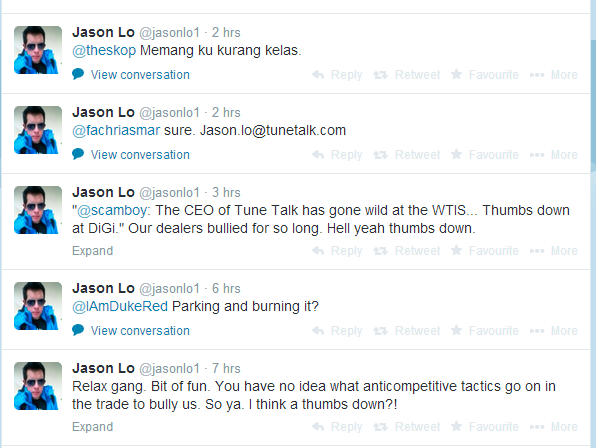 Disclosure: This site is owned by the same guys that own NagaDDB which services DiGi and the writer's sister works for Marketing at Maxis. Neither was consulted before this story was published.