Malaysians migrating to a different country? That's something we hear every so often. More than two million Malaysians are estimated to have left the country since the country gained independence in 1957, and in recent years, more and more Malaysians are withdrawing from their EPF, indicating a rise in emigration.

We are closer to Wawasan 2020, than we are to year 2000. But how close are we in achieving what Malaysia's great leaders have once envisioned? With millennials growing more informed about the country's situation, they're a rising force of change makers. As a millennial herself, this writer embarked on a journey to find out their thoughts on staying or leaving Malaysia.
So.. who are the millennials anyway? There's a grey area about our age range. A Newsweek magazine reported the millennials as those born between 1977 – 1994. New York Times placed the earliest millennials at 1976 – 1998. Time magazine put millennials between 1980 – 2000. 
Either way, this writer focused her mini survey on respondents aged 15 – 26. There were 57 respondents in total. To be transparent, it's pretty simple and small-scaled compared to other CILISOS surveys with respondents in the thousands and super lengthy questions with demographic breakdowns.
So, are millennials #TeamStay or #TeamLeave Malaysia? Here are their responses.
1. 28.2% voted to leave because they wanted a brighter future
No shocker here. Plenty from #TeamLeave saw greener pastures overseas. The response was overwhelmingly similar to a broken cassette that kept repeating itself:
"For the job that I am going to do, I don't have a bright future in Malaysia"

"In other countries, with the pay I can afford a better lifestyle"
While these views sounded like they were about to jump ships, they hold realistic expectations about prospects in other countries. We shouldn't shame people who chose to pursue their ambitions overseas. Studying abroad does increase chances of a more fulfilling, better-paid job. There are always cool opportunities to learn something new; especially the culture, new environment, and breaking out of your comfort zone.
"Going overseas may bring great opportunities for jobs and education wise"

"It's relatively important to build up your life outside the country, gain the necessary experience, and learn about the different parts of the world."
Then there's the question about how much our Ringgit is worth. With RM3.13 to SGD1, millennials have no qualms about working with our next-door-neighbor Singapore; all to support their families, future children and to afford a better lifestyle.
Other countries welcome talent regardless of nationality. Countries like Germany, Norway, Sweden, and Argentina offer cheaper or even free tertiary education for international students. Millennials of #TeamLeave would strongly migrate to another country if offered a stable, well-paying job or education.
There is no shame in wanting better. At the most basic level, we can all relate to this millennial:
Then there were respondents who were totally ready to GTFO. For them, enough injustice had been tolerated. They wasted no time in calling out scores and spilling real tea:
"Culturally, Malaysia is not known to be socially liberal which personally hinders my ability of public expression."

"A "modern" culture that does not support change, acceptance, or differences."
To even gloom and doom:
"I personally believe that there's going to be a stage in this country where it's not going to be safe anymore."

"Malaysia's current state is getting worse and I see no hope of it becoming better. Better gtfo before I get f*cked over."
This is self explanatory. They are angry and can we really blame them? It's a sobering thought that they had these views for a reason because Malaysia had more than her fair share of unnecessary conflicts in recent years. From despicable acts of rapists marrying their victims, to racially- biased rights, these millennials were dissatisfied staying in a country that didn't seem to walk the talk.
Some even brought up Malaysia's spiraling economy…
"Because the economy in Malaysia has been crushing down in the latest years and it definitely affects the future generations."

"If the same party or attitude is kept, the country cannot advance itself and will only destroy itself."
However, there always two sides to a story. The Malay Mail Online once covered the journey and viewpoints of Malaysians who left the country and returned. While minorities who have left the country regularly cited 'discriminatory practices and policies' as their reasons for leaving, a Malaysian who left and returned cited that it happens everywhere.
And when it comes to living a better lifestyle and enjoying better pay, some of their interviewees even said that not everyone gets a white-collar job. Lee, a rare success story who worked as a materials testing specialist in the aerospace, oil and gas, marine, power generation and automotive industries in the UK, told the Malay Mail Online that Asians usually end up working in restaurants anyway because the competition is tough in their original industries.
"In the UK, you're not just competing against local people, but people from all over the world, Europe, and Asia. Before a UK company can employ you, they need to justify to the Home Office why they want to employ you," Lee to the Malay Mail Online.
2. 51.3% voted a bit of both, but let's take a closer look…
According to PWC, millennials contribute between 40% – 50% to Malaysia's workforce. Evidently, the digital generation is stepping up their game for Malaysia's future. It doesn't look like it is slowing down anytime soon.
Like most Malaysians, there was a tough time deciding.  It was no surprise that when given the option to vote "a bit of both", respondents voted up to a staggering 51.3%. After analyzing the answers, this writer discovered another stark 2 categories in those that couldn't make up their minds.
Most respondents that voted a bit of both said that given the opportunity to work abroad, they'd go in a heartbeat. But because their family and friends were here, they would return to visit every now and then.  There was a sense of nostalgia and belonging; nothing feels warmer than coming back to familiar faces.
"Malaysia is still my home and everything that I grew up knowing, I owe it to this country."

"A bit of both but I will choose to stay at the end because my family is here."
There was also "Conditional Staying". Many brought up reasonable conditions if they were to stay. That included race based policies, wanting a better government, controversial conversions in marriages, and valuing cultural diversity:
"I would stay in Malaysia if Non-Muslims get their share of respect, equality and gratitude."

"So I wouldn't have to convert to marry."

"Coming from a Chinese independent school, I'd stay if Malaysian universities accepted UEC (Unified Examination Certificate)."
3. Only 20.5% were committed to staying in Malaysia
For 20.5% millennials, this is our tanah air after all. The culture, amazing food, your favourite mamak guy; it's a pretty good bargain. Why would we give up Malaysian slangs or our nasi lemak birthright? Millennials of #TeamStay were more relaxed and optimistic. They're happy with Malaysia's diverse background that helps them speak multiple languages. And there's always joy in educating foreigners about Malaysian culture.
And our food? Unbeatable.
"Would stay because Malaysia is still a less stress and slow moving pace country."

"No reason to leave a place called home."

"If you can't have a legitimate reason to come back, I can name one simple reason. Our food, enough said."
"I feel more comfortable here as I am already used to the cultures and norms."
Interestingly, foreign students seek better job opportunities in Malaysia. A Kenyan friend of this writer felt there was "better pay in Malaysia" and a "safer lifestyle compared to Kenya". The ongoing electoral violence in Kenya has caused high death tolls of officials and supporters. For his safety, he migrated to Malaysia to pursue a safer education in engineering. Malaysia has become his safe haven, where he doesn't have to worry about schools being shut down or gun violence.
This writer's Thai roommate saw a fresh start in Malaysia. Since moving here, it has been 18 years of immersing in Malaysian culture. She's so Malaysian now that going back to Thailand means starting anew. In the future, she will definitely seek a permanent residency in Malaysia.
When this writer brought up the disadvantages of being a foreigner here, she simply replied:
"There's opportunity for work, if you really have what it takes".
That's a strong woman, you can respect that.
They believe that they'll be the bringers of change… and this is what they want for Malaysia
Finally, #TeamStay firmly believed in their destiny as harapan Malaysia. They see Malaysia's room for improvement, and want to be the generation that brings change. When asked what problems Malaysia has, racism and political corruption kept repeating themselves.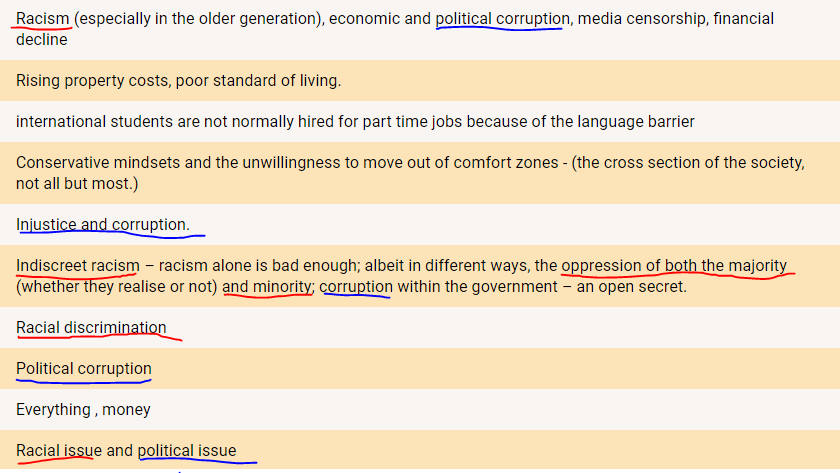 So I asked #TeamStay how they planned on solving these issues. Here's what they said:
1. Racial equality for all: This resonated constantly throughout all millennials, both leaving and staying.
"Appreciate people with potential talents regardless of their race."
"Make it a meritocracy for scholarships, jobs etc instead of race quotas"
"To be treated equally in the eyes of the law, socially and politically."
2. A more capable government:
"A government with integrity and transparency."
"The choosing of a future prime minister without being gender, race and religion-specific. As long as he/she can lead"
3. True unity: 

"Rather than beating each other up with words, why not be friends and appreciate what we have"
"Abolish vernacular schools. Instead have one united "kebangsaan "school, with the exception of religious schools"
"Make it compulsory for young children to learn all 4 languages: English, Malay, Mandarin and Tamil."
Millennials in this survey also voiced out for free education, improving public transport, increased salary, and freedom of religion. Sure, they all may sound idealistic – and not everyone would agree – but at the end of the day, we can all agree with this wise millennial:
"More honesty and truth which is quite doable. It has to start with the citizens."