As far as school punishments go, we can vividly remember some of them, be it amusing or painful to us. But as we grow into adults, realization hits us like how the cane used to hit our backsides. It was a simple positive punishment to discard unwanted behaviour in school.
But some punishments can go too far, leaving people scarred with memories of abuse. And those memories may live on forever.
Student abuse cases can be heart-wrenching, especially with the on-going incident now. 11-year-old religious school pupil Mohamad Thaqif Amin Mohd Gaddafi was beaten on his legs with a water hose by the school's assistant warden. His legs turned black from the beating, causing blood clots around the area, and underwent double amputation for both of his legs to prevent further infection.
His condition worsened and his left arm was infected. Blood-thinning medication couldn't help and another amputation for his arm was scheduled, but was later cancelled due to his deteriorating condition. In the end, the 11-year-old succumbed to his injuries and passed away on 26th April.
In light of this incident, we compiled some cases of physically abused students that happened recently.
*Disclaimer* Some of these cases may be tough to stomach due to the graphic of the images, your discretion is advised.
1. The one who got his buttocks burned off to cover rotan marks
Victim: 7-year-old boy
Where & when: A tuition teacher's house in Johor Bahru. (27th March 2017)
A tuition teacher punished her pupil with a rotan. He was hit so severely it left marks on his buttocks. Afraid someone would discover the damage done, she came up with an 'ingenious' way of getting rid of the marks.
She heated up a wok with hot water, and placed it on the boy's already scarred buttocks to cover the marks. HOMAIGAWD! What was her thought process like? What's next? Freeze the burnt area, get frostbite, then the buttock fall off? No butt, no problem is it?
It's much worse than pouring salt onto wounds, coz the teacher's actions caused second-degree burns on his buttocks. Well, she's right about one thing, the caning marks ARE gone burned off.
Moments after this took place, the boy escaped the teacher's home and ran to a neighbouring house, where the police were called. It's reported that he had been abused for 2 weeks since going there for tuition. The teacher has been remanded for investigation under the Child Act 2001.
2. The one who kena a projectile chair by mistake
Victim: 8-year-old boy
Where & when: Primary school in Kota Kinabalu, Sabah. (21st April 2017)
One day, a boy caused a ruckus in class, giving the teacher trouble. The teacher requested the boy to settle down and keep quiet, but his efforts were ignored and the boy ran away from the teacher. In an attempt to stop the child, the teacher lost his temper and threw a chair at the boy.
Only problem is, he missed, hitting another kid in the chase.
That gaping scar right there needed 8 stitches. This may seem like an accident, but we also think the teacher shouldn't seek the help of flying furniture to discipline his students. The flying chair causes an area of effect damage you know, just saying it's a big object which could hit more than 1 target.
The boy's parents were contacted, and a police report was lodged after talking with the teacher. The boy's parents hope strict disciplinary action will be taken against the teacher. The teacher was instructed to stop teaching and given a desk job in school at the moment.
3. The one who got kicked, punched, and stomped on for RM2
Victim: Khairul Najwan Jamsari, 12-years-old
Where & when: Primary school in Kepala Batas, Penang. (5th March 2016)
Being late to class isn't a foreign situation for Malaysians. We often say we're on the way, when really we're not. This boy was late for class one day, and rode a modified bicycle to school that broke regulations. The bicycle was only modified because the old handle broke off.
The teacher was unhappy about the matter, and took the punishment into his own hands. He apparently choked and punched the boy into the ground, and then proceeded to stomp on the boy's legs.
The story didn't end there. After the teacher punished the student in a one-way underground fight. He instilled Fight Club's, no.1 rule:
The first rule of Fight Club is: You do not talk about Fight Club.
And to make sure his student obeyed, he gave the boy RM2 to silence him, which of course led to the boy to telling his mother immediately.
Khairul suffered bruises on his neck alongside a swelled up face and right leg. His father called the school for clarification and confronted the teacher. But the teacher stood by his actions and stated that it was right to physically punish the boy like that.
Eh hello, if you think it's right to punish him why give him money in the first place? All this because of a bicycle and a few minutes late to school. *sigh* Back then, we were only punished by running around the field. Reports had been made, but the boy refuses to go back to school coz he was afraid.
4. The ones that were forced to swim with the… snakes
Victim: Approximately 6 female primary school students
Where & when: Kuala Kangsar, Perak. Video uploaded 16th October 2016.
A "motivation camp" held by Perak's Civil Defense Force (APM) put snakes in one of their obstacles, forcing female students to cross the mud pit. The case went viral, infuriating netizens across the nation. But if you don't wanna read about the incident, here's a video about it.
The 2:50 minute clip showed these children screaming at the top of their lungs and crying. While the instructors were all standing around giggling, at the same time constantly shouting at the children: "dive, dive" and "be strong and brave" at the girls. The snake even tried to crawl out of the pit, but was thrown back in just inches away from one of the girls.
This really isn't even a punishment, nor did cause serious physical harm to the girls, but they could be psychologically traumatized by it. This activity may be reinforcing Ophidiophobia (fear of snakes) onto the children, the most commonly reported phobia in the world! But thankfully, the snake is a blood python, hence it's non-venomous.
"We are very upset with this incident as the standard operating procedure (SOP) prohibits the use of snakes unless for the purpose of demonstrating how to catch snakes," – Perak APM director Colonel (CD) Mohd Noor Hassan Ashari Sulaiman as quoted by News Straight Times 
The police launched an investigation over the matter, and the camp suspended 4 trainers and 6 assistant for violating the SOP. 
5. The ones who got fractured bones from a plastic chair
Victim: Three 13-year-old religious school students. (Siti Farhana Mohd Ayub, Irdina Safiyya Amran and Farrah Izzati Mohamad Rohaizat)
Where & when: Government religious boarding school in Baling, Alor Setar. (4th April 2016)
Three girls where about to take their seats for al-Quran and Fardhu Ain classes, when suddenly their teacher got angry at them and abruptly hit their back with a plastic chair several times! In an attempt to defend herself from the blows, Farrah lifted her arm, resulting in broken bones on her hand.
The children were only sent to the hospital the very next day because her hand swelled up, she claimed she had to sleep with the pain for a night. The two other girls (Siti Farhana) reported pain near her waist and (Irdina Safiyya) sustained a cut on her head.
Both parents and teacher agreed to let the school settle the matter. The teacher had apologized to the students and the parents, and was terminated from the school immediately. A police report was launched, he was detained but released on bail.
6. The one who got strangled, fell into a coma, and passed away
Victim: Saiful Syazani Saiful Sopfidee, was 7-years-old.
Where & when: Sekolah Rendah Agama Al-Furqan hostel in Arau, Perlis. (31st March 2011)
This one happened awhile back. The young boy was accused of stealing money from a classmate. Then the religious school teacher Hanif Mohamad Ali caught him and brought him into the warden's office to be disciplined. In the office, Hanif proceeded to beat and choke the boy. Prosecutors even suspected that he was tied up while being beaten!
The boy later fell into a coma for 2 days after the assault, and passed away soon after. The cause of death was cerebral hypoxia (deprivation of oxygen) caused by strangling, which cut off his brain's oxygen supply.
The teacher was initially charged with manslaughter, which got him sentenced to 18 years in jail, and was gonna appeal for sentence reduction. But in a recent turn of events, he will be charged with murder, a difference between jail and death sentence.
Right now, he will be sent to the gallows. The prosecution succeeded reinstating the initial murder charge because the accused could not provide credible evidence (failing to cast reasonable doubt) on why he injured the child. 
These 'punishments' aren't acceptable, and not every child gets the justice they deserve
It's really no excuse for the teachers to treat students like this. Punishments are sometimes necessary in school, but not ones that'll get them injured. Broken bones, cuts, and bruises, are too far.
In Mohamad Thaqif's case, the assistant warden is remanded. But still, many parents aren't going to transfer their children out of the school. The boy's father even claims that he has forgiven the abuser, and will not be pressing charges, instead leaving the abuser's fate to the police. Despite that, netizens clearly haven't gotten over it as fast as the father did.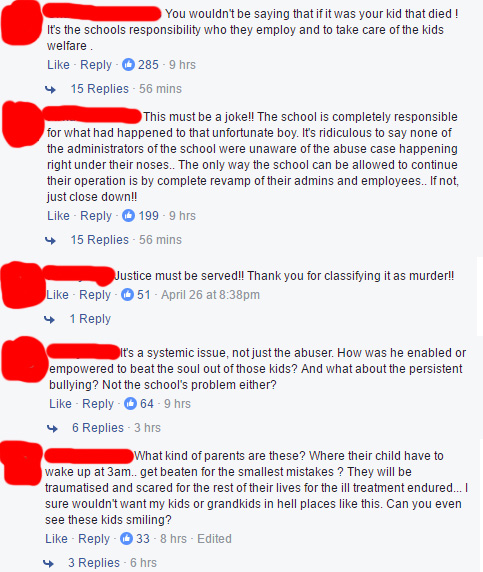 Stats from UNICEF show that in 2011, a total of 3,428 cases of child abuse were reported by the the Royal Malaysian Police. And these are just stats that ARE reported! We can't even fathom how many more children's abuse go unreported due to some parent's lack of interest for justice.
Some of these perpetrators can walk free from the law, because some schools handle the cases themselves. At most they get fired or suspended, it gives them the ability to abuse another day.
Children are still young and may not totally grasped why these things happen to them. And when they don't understand it, a cycle of abuse may form (they get punished as a child, they grow up punishing their future kids). Perhaps parents could also inform their children what an abuse is. This way, children can quickly identify them and report to another adult, if unfortunate scenarios like these ever happen.