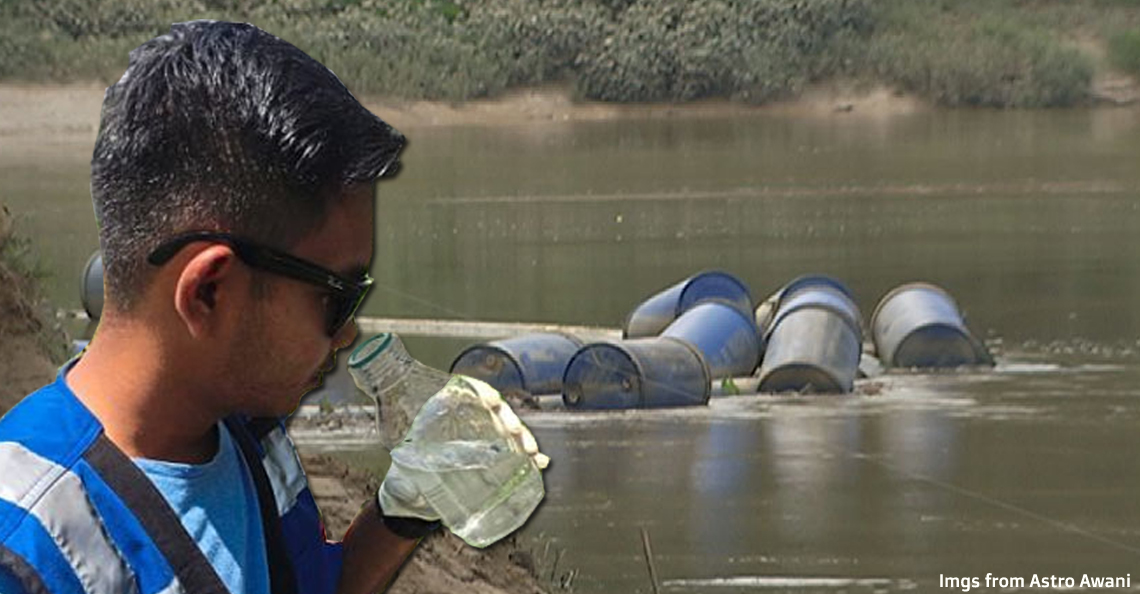 Yet another bout of sticky armpits for some unlucky people of Selangor, as a series of water outages caught several Selangorians with their pants down. For some, quite literally:
"I was in the restroom last night and when I wanted to wash my hands, I found that there was no water. That's how I knew my house was affected by the water cuts," – Sharell Eizwan, resident of Padang Jawa, Shah Alam, to the Star.
What happened was on the 17th of July (Wednesday), a scheduled water cut was announced from the 23rd (Tuesday) to the 26th (Friday) for upgrading works at the Phase 1 Sungai Selangor Water Treatment Plant (SSP1 WTP). That water cut is expected to affect more than 700,000 people. However, before the anticipated water cut, on the 19th (Friday) several water treatment plants (SSP1, 2, 3 and Rantau Panjang) had to be closed down due to odor pollution of the raw water from Sungai Selangor, believed to be because of an oil-type waste. This affected more than 1 million people.
Just as things are returning to normal two days later (21st, Sun), the water treatment plants had to be closed again due to diesel being found in the water source. According to Abdul Raof Ahmad, Air Selangot's PR Department's head, the source of pollution was believed to be from sand dredging works upstream.
"SSP1, SSP2 and SSP3 Water Treatment Plants as well as the Rantau Panjang Water Treatment Plant were shut down on Sunday after we detected diesel from the raw water of Sungai Selangor. Rantau Panjang plant was shut down at 6pm while the three phases of SSP were shut down between 8pm and 8.15pm," – Abdul Raof Ahmad, to the Star.
And it would seem that the scheduled water cut for the 23rd was postponed to a later date as well. While water shortages are nothing new to the people of Selangor, this time…
Selangorians had to go without water because of… sabotage?!
In a previous article, we've already explored why Selangor keeps having water problems, and among other things the reasons had been related to bureaucracy and the old infrastructure not keeping up with the rapidly expanding population. With the system stretched thin as it is, finding diesel or other waste in the water source is bound to cause water supply disruptions. However, this time, it appears to be a case of sabotage, at least as claimed by some people.
While the first incident was believed to be due to some carelessly disposed oil waste from a car workshop, according to Selangor Environment, Green Technology and Consumer Affairs committee chairman Hee Loy Sian…
"We believe that the oil-based waste was dumped from a nearby industrial area and came from a car workshop… We believe that this was done one off so it's going to be hard to identify who did it but further investigations are being done." – Hee Loy Sian, as reported by NST.
…the second incident seems to be more than just a diesel spill. The diesel in question comes from an oil drum on a sand-dredging pontoon about 6kms away from the SSP2 water treatment plant, and the pontoon belongs to a company called Two-B Machineries Sdn Bhd, a contractor for Kumpulan Semesta Sdn Bhd (KSSB), Selangor's sand mining concessionaire. The hose clip on the oil drum has come off, releasing about 100 liters of diesel into the river.
However, according to Selangor police chief Datuk Noor Azam Jamaludin, Two-B Machineries had lodged a police report with them on Sunday regarding their workers' alleged encounter with three anglers a few days before the incident, who were fishing near the pontoon area. These anglers seem to have a sort of conflict with the pontoon workers, and it is believed that they were the ones who released the diesel.
"Workers who were guarding the pontoon had told the anglers to leave the area. However, the anglers refused. They had probably wanted to stay there due to the abundance of fish under the pontoon. The complainant then discovered the diesel oil spill and found that the hose clip had come off… So, there is a huge possibility that they had been sabotaged," – Datuk Noor Azam Jamaludin, to NST.
However, as of the time of writing, this remains just a possibility. It's worth noting that the Amirudin Shari, Selangor's MB, had mentioned that the pontoon had been there since 2013, but had not been operational for the past two months. Also, based on Astro Awani's interview with a resident who claimed to see what has been going on at the pontoon, it would seem that diesel spills there were allegedly caused by the pontoon's workers.
"Once I asked a person here, 'Why is there (spilled) oil? How do you dredge sand like this?' He answered, "We have a license, we can do this,"… He asked me, how much 'duit kopi' do you want? I said 'I don't want a bribe. I just don't want to see this happening. So I want to make a report,' " – Peter, resident, translated from Astro Awani.
And the anglers are yet to be found at the time of writing. Hmmm… Regardless of whether or not a sabotage happened, it can't be denied that a lot of people suffered from the surprise water cut, so you might be surprised to know that…
We've had possible water sabotage cases before, and they're almost impossible to stop
Practically speaking, it's impossible to stop the water supply from being contaminated, whether the contamination is deliberate or not. The Selangor river, which feeds several water treatment plants, runs more than 60 kms from Kuala Kubu Bharu in the east to Kuala Selangor in the west, passing through no less than 8 towns. If someone were to just dump rubbish or waste at some point along the river, chances are, they'd get away with it.
It would be impossible to watch over the whole length of the river at all times, which is perhaps why odor pollution of the river's water is not uncommon. The laws does provide for punishment of river polluters, but as Water, Land and Natural Resources Minister Dr A. Xavier Jayakumar had said, the problem is in nabbing the perpetrators.
"Under SPAN the laws are very tight. I can send someone to prison for life even if you're going to poison the river where there is a water treatment plant," – Dr A. Xavier Jayakumar, as reported by Malay Mail.
Besides pollutants being dumped into the river, sabotaging the water supply can take other forms. There was a news report back in 2016 of Air Selangor suspending an employee on the suspicion that he was part of a sabotage that disrupted water supply to more than 300,000 consumers in September. Sabah had earlier this year had a series of burst water pipes leading to water cuts, believed to be because of sabotage. The incidents happened after Sabah Water Department, the state's utility company, terminated the contracts of six contractors who managed 58 water treatment plants in the state.
And of course, there's the finger-pointing game between the Selangor state government and the Federal Government for several years, with the then-Opposition Selangor accusing the BN federal government of sabotaging its water supplies, but let's not get into the political drama. But the point is, it would seem that for Selangor, a state with virtually no water kept in reserve, any tiny disruption can result in dry taps, so…
How can we prevent water outages like this in the future?
To prevent future incidents like this, most people might think that some changes are needed to the law. But as Xavier had mentioned earlier in this article, we already have laws in place for such occasions. For one, there are Sections 121 and 122 of the Water Services Industry Act 2006, which states that depending on the intention and consequence of polluting the water supply, a perpetrator can get either death, whipping, imprisonment, or a fine.
Section 430 of the Penal Code allows those who cause a diminution of water supply (causing it to get reduced) to be imprisoned for between 5 and 30 years, and also to be fined. And Section 27 of the Environmental Quality Act 1974 states that those who discharge oil-based waste into Malaysian waters without a license can be fined for up to RM500,000 or face imprisonment for up to five years. We can probably find more laws that are supposed to prevent these, but the problem may be in enforcing them. Like Xavier said earlier, it's hard to find out who's exactly responsible.
Even if a company is pinned down, they may get away with it by blaming their workers, so Charles Santiago (SPAN chairman) suggests holding the top management accountable, and imposing even harsher penalties for polluting the water. He also suggested for the different levels of the government to consider stopping all economic activities near rivers, particularly upstream, to avoid future pollution incidents.
"The existing penalties for environment-related offences are a mere slap on the wrist. Company owners, board of directors and top management should be charged in court if their factories or businesses are involved in illegally discharging effluent. Some companies get away by blaming it on their workers. Only when the top management are held accountable would they take managing hazardous waste more seriously," – Charles Santiago, to the Star.
With Malaysia expected to face longer droughts in the future due to climate change, we're close to a crisis when it comes to water supply. With that in mind, water cuts should be seen as more than just an inconvenience: it signals a fragile water supply system, and how prepared we really are in times of a water crisis. Earlier this year, the Water, Land and Natural Resources Ministry seemed to take action by drafting a 'uniform and comprehensive' Water Supply Bill that will synchronize the handling of water pollution amongst the states.
"This proposed law requires the support and acceptance of all state governments to ensure that issues such as river pollution can be handled uniformly and effectively. The Ministry is currently holding consultations with state governments on the implementation of this bill," – Xavier Jayakumar, to NST.
They're also reported to take other initiatives to bolster the water supply system as well, like building more infrastructure to treat the quality of river water and containing pollution, as well as launching the Integrated River Basin Management (IRBM) strategy. But will all these stop people from polluting our rivers? Well, maybe not, but it should slow them down a bit. It's a start.