Two months ago, we told Malaysians to get off their butts and submit their ideas for a bar in Malaysia, and Guinness Bright would actually sponsor them to build and run it. Needless to say, there was a LOT of tagging happening on our social media pages.
And based on the shares, it seems ALOT of people had ideas for their own pubs and bars. The contest was in conjunction with Guinness' launch of the new Guinness Bright, a beer crafted JUST for Malaysia, with hints of lemongrass, ginger and coffee! The beer was made to appeal to a younger age-set who are more ambitious, and have – a bright view of their futures ahead. And on that note, Guinness Bright's BrightBar initiative definitely hit the right note. After four weeks, Guinness narrowed down the winners list to 3 brave souls.
Guinness really picked three people that have gone through it all.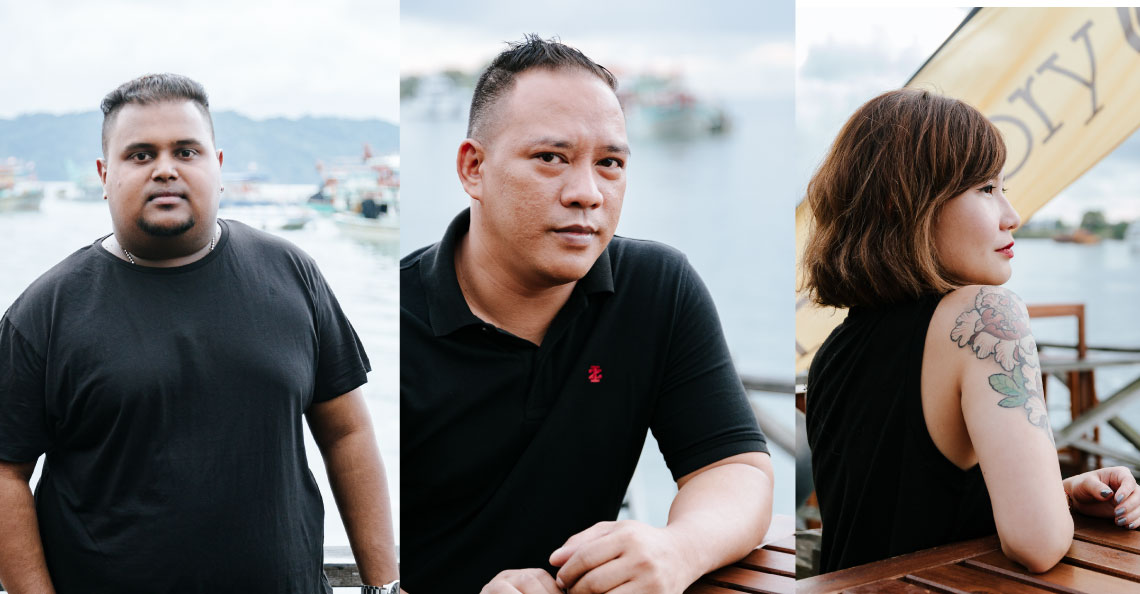 Thashadharan Shan  from Penang, whose first tomyam stall business failed when he was… 18
Miranda Yeoh, a social media strategist from KL (her name's actually tagged above), who learnt tough lessons from two failed magazines – first print, and again online 🙁
And the awesomely named Eduardo Delos Reyes Mayo Jr. a Filipino chef residing in Johor, who first came to Malaysia 10 years ago as a kitchen helper earning RM250 a month, but is now a chef in Johor
You can click on their names to view their video profiles 🙂
And they would need their experiences with hardship, because despite all of them having full time jobs, they would have to conceptualise, and eventually run their own pop-up bar themselves for 4 weeks. The budgets were practical at RM1000 a week, and they each had two promoters, and two helpers to lend a hand.
And it wasn't for kicks either – Guinness challenged them to demonstrate real world success, with a shot at winning an all-expense paid RM10,000 dream trip to Dublin, Ireland OR for Guinness to help the winner achieve their dreams (e.g. opening their own pub)
most bottles sold
most bottlecap votes in the ThumbsUp jar (see picture)
most social media engagement (posts with their homestate hashtag #BrightBarKL, #BrightBarJB or BrightBarPG)
mystery shopper
Who won? We'll let you know that later. For now, let's see what these 3 brave souls learnt about running an actual bar in their 4-week challenge.
Lesson 1: Running a bar can be quite fun lo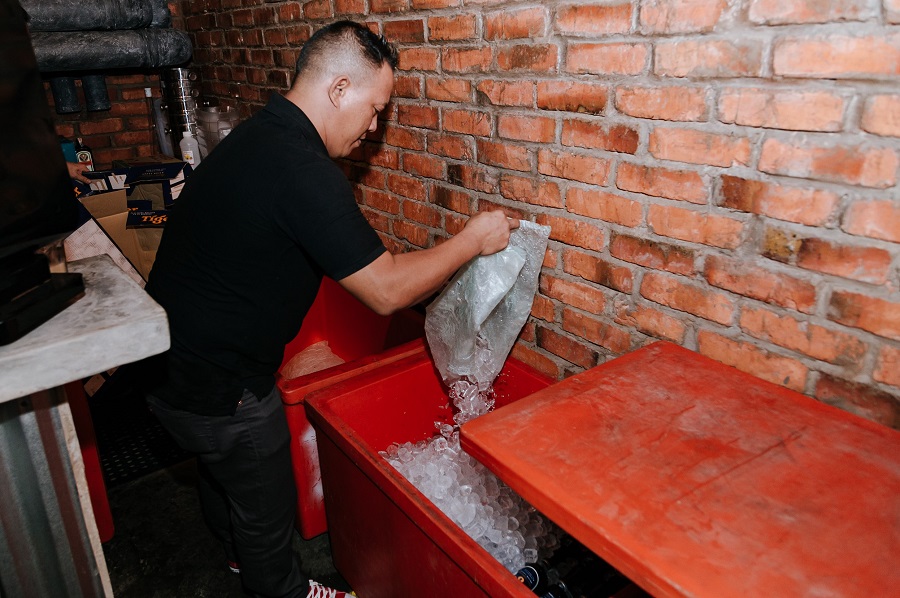 One of the early surprises in the contest was the extent of how much Guinness wanted these three to get involved with the process. To prep them, Guinness flew the winners to Kota Kinabalu for a quick 101 in how to run a bar. The intense mentorship programme involved Kent Chua, who was launching a pub called The Beer Factory. After a brief classroom session on the finer points of running a bar and handling customers, the 3 winners were actually allowed to run Kent's bar on its bustling first OPENING NIGHT. That included pouring and serving drinks, prepping ice, and handling customers.
"It was so interesting we didn't wanna stop. They were like "Times up!" and we were like "But we still wanna have fun!"" – Miranda
However, from this point, it was going to be hard work – cos overnight, they had to sketch their bar concepts, send them in, and Guinness would start building them back in KL – as popup bars in trendy areas in the winners' three home states.
Over the course of the 4-week challenge, CILISOS kept in close touch with all 3 of them, via chat and personal interviews. And even before the 4 weeks started, some of the contestants were already concerned about their various states differences. "The other states have strong Chinese crowd who are willing to pay for more drinks, so I'm actually really worried," Miranda told us.
All the skills they had learnt, even down to keeping beers cold, and dealing with unruly customers were going to come into play in the coming weeks. And they were gonna learn the hardest part of the process…
Lesson 2: It was never going to go exactly the way you planned.
One of the key lessons for the 3 winners is that plans change. Guinness allowed the winners to customise their bars' appearances, to suit their themes, but during their training, the winners were also advised as to what might work, and what might not.
Thasha started off with a military theme for his BunkerCamp57 bar, which he admitted, had some limitations.
"My ideas had alot of guns and bombs in them. I was advised not to use them as I would in a way "promote" terrorism. So instead, I've spiced it up with flags, army helmets and timed artificial fog to give the bar that general feel of the military concept. Plus the initial choice of music was to be mostly from the 50s-80s. Judging the customers age range, I decided to switch to mainstream music, latest hits, EDM… that kinda thing." – Thash
On top of that, Thasha ambitiously even wanted to hold a paintball tournament around the bar, but of course, that wouldn't really fly with most venues who don't want their beautiful walls (and customers) splattered with paint.  Eduardo on the other hand initially pitched stand-up comedy nights for his cutely named HAHAHABAR. But once the constraints had been revealed, he focused on what might even be more important than his concept.
"I don't have stand-up comedy in my bar, so I used good ol' honest conversation, treated them good and happy, and just enjoyed with my service to them. Even you don't have comedy show or some materials, guests can still be happy with how you treat and serve them" – Eduardo
Miranda had grand ideas for her MONO bar, but as in real life, was advised by actual bar owner Ken, to adapt to succeed.
"I remember Kent telling me, "Don't think about how you can fit this bar, but how you can turn this container bar into something cool". He told me when he started his bar, he wanted jazz, but EDM was more popular, so he switched to attract more customers. So I could've used the budget to be extra fancy or get extra things but I wanted to see if the bar could be successful without the fancy trimmings" – Miranda
So she scaled her ideas back, and bootstrapped… sourcing for her own "lightsaber-like" lights to cultivate the chic and minimalist feel she was going for. When she got back to KL, she started looking for wholesalers to create the lights she wanted, and eventually found someone who could supply the 10 lightsabers she needed for RM100 each.
However, more surprises were to come. On the night before launch when she was supposed to setup her bar at Jaya One, the venue had a power blackout, leaving her with precious few hours to get her bar setup during the day.
This sorta realignment of their concepts soon made another thing apparent.
Lesson 2: There's more than one way to make a successful bar
If there's one thing that CILISOS knows, it's that social media isn't easy. Despite being a social media strategist, Miranda herself had issues with engagement. Her stronghold was Instagram, whereas the hashtags were being tracked on Facebook.
"It was kinda overkill for me to deal with social since it's my day to day job! If anything people are surprised I have the least hashtag mentions among us three. Most of the people who shared their photos have private accounts!  But I didn't want to aim for all three wins, just one mostly. Ahahaha I focused on getting bottle caps" – Miranda
Not to worry tho, Miranda, because the other two, who didn't have the benefit of experience, also faced issues getting the word out on social media.
"That's one thing I underestimated. I thought it'll get attention without putting in extra effort. (Random posts by customers) But it really needs effort. I use my friends to help promote the event. My friends post photos in their insta stories. Plus the team in my bar work on getting customers to post on Instagram as well. Some are really mean. They post it in front of us then they delete it later like I dunno why. Wanna keep their insta on point konon" – Thash
Not friends tho. "No la. If friend I'll defo tembak them". Thash eventually concluded that social media wouldn't be as effective for him as walk-in traffic. "My venue is not that convenient in terms of parking / public transportation. Rich area ma. So I just depended on people from that area – tenants from the condo and restaurant customers."
Eduardo similarly encountered people who didn't want their pictures taken at the bar, so he eventually asked if he could take their pictures, and hashtag them on his accounts. To get more customers, Eduardo even had a helpful Singaporean friend who would stand by the roadside with a sign that said "Free Beer!" to attract more people 🙂
Lesson 3: Different things appeal to different customers.
All three winners had a wide group of friends, so in the first weekend, their bars were filled with people who came to support them. However, as the weeks went by, they needed to change their approach.
"For younger groups, I usually tell my girls to go wild in their approach. Like to shout (not too loud) "Free beer!". A little bit of flirting also la, when it comes to guys. For older groups, we control that. We take our time to explain what's going on. More professional." – Thash
Thash also used a live DJ and free pizza as a lure to get people to buy more bottles, which he bought using some of the allowance he was given. On the last weekend, Thash even offered free T-shirts to up the ante. Eduardo had some interesting observations too, from his time spent in F&B over the years…
"Younger people don't actually drink as much. They just like the ambience, the environment, the music and playing on their phone with their friends. Older people like to play billiard and chatting with their office mates and relax from a stressful day." – Eduardo
So to up the relaxing factor, he offered free shisha with every bucket they ordered 🙂
Lesson 4: You can learn ALOT in 4 weeks.
After the opening night, Miranda had very, very unfeeling fingers, from having to reach deep into an ice bucket 200 times a night. That's when she figured out what the other ring at the end of her bottle-opener was for.

"I was super impressed with the bottle opener I got! I had no idea the other hole was to help pick up bottles from the ice box… So your hands don't freeze" – Miranda
Thash on the other hand learnt one of the key traits that every F&B owner will be able to share.
"PATIENCE. You get alot of customers. Alot of personality. Alot of demands and what not. And that this industry requires someone who's patient, firm and at the same time be friendly to run. When we give out free bottles, some ask extra bottles, some want glasses to drink, some didn't want the bottle to be opened." – Thash
He also faced customers who either didn't want to submit their IC numbers (required by law to register and get your first free bottle of Guinness Bright), or tag photos cos they had already done them the 'favour' of giving their IC numbers.
Eduardo had a more positive lesson, that the love you show your staff, will be reflected on your customers 🙂
"One big surprise is how to be a good boss, especially to love your staff and they will love their jobs and then your guests. When all is good, then good things will come to your business." – Eduardo
Thash also echoed Eduardo's sentiments.
"It's not all fun and games. It's the serious business of entertainment. It takes a degree of discipline and perseverance to make that winning business formula work and make you money. What really surprised me was the challenge of keeping both my staff and customers happy. For the staff, it's just another job. For the customers, it's just another bar/place where they chose to spend their money. But for me, it is my bar and business. So making everyone happy at the same time was the challenge." – Thash
Overall, an exhausting, but once-in-a-lifetime experience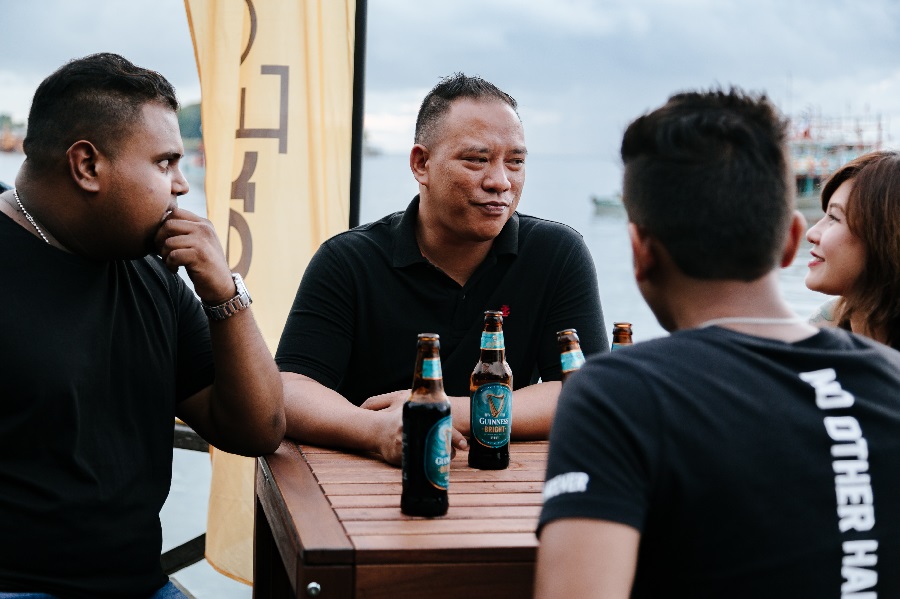 Miranda had previously been worked at large-scale events, and even does crossfit and pole-dancing to keep fit. So physically, she could handle it. However…
"I assumed that I would be physically exhausted, but it was mental for me. I'm embarrassed to say this but I accidentally bawled on Friday night. I had a really mentally tough week at work, and I didn't have the emotional capacity on Friday to deal with this difficult customer who got mad at us for trying to close up the bar at 1am. As soon as I said "we're just doing our job" tears started rolling and I ended up ugly crying my eyes out at home.Super cathartic tho! Any other day i would've dealt with him very firmly like I did with past difficult customers but I just couldn't that night. Totally get why people cry in reality shows now" – Miranda
Miranda ended the last night at her bar having a drink with her staff, as did the other two, who had great final weekends to top off an amazing experience.
"So many guests I finished early! Yes I still had guests asking even though I already finished! Now I really want to become a bar owner, to have business, at my age, I think need to step on in a new challenge for my family future, and this experience has made me really eager to venture on my own" – Eduardo
It paid off for Miranda though, who eventually ended up as the overall winner of the RM10,000 first prize.
"When they announced it during the dinner via the video I was like "huh? I won? Even now I still can't believe it. I think when the final video is released I'm probably going to watch it over and over again till it sinks in" – Miranda
The other two aren't out in the cold either, with RM2,500 consolation prizes each. And now that things have wound down, Mira is jumping straight into another busy social weekend, with weddings and CrossFit, Eduardo is spending some much needed time with his wife and friends, and Thash is still enjoying all he's learnt, but slightly listless.
"I'm happy that we were all given the opportunity to be exposed in this industry. Definitely learnt a thing or two that will help me run my own bar in the future. The last day was super packed. So a little exhausted from that. But… I kinda miss it" – Thash