When Proton surrendered itself to China's Geely, Tun Dr Mahathir thought that Proton is no longer worthy of national pride and decided that it would be a good idea to create a new national car company to "drive Malaysia's engineering capabilities". To add to that, the National Automotive Policy will be reviewed to make sure that local car companies will stay competitive and protected. But his idea isn't really welcomed by the Internet community…
"I am told no one wants to see a second national car. It is enough that Proton is said to be a failure." – Tun Dr M said in response to the objections from experts (more on this below) and social media users.
Waiwaiwait….. Second!? Aiyo… then what about Perodua?! It's a bit strange that Tun M said that because…
Perodua was actually TUN M's IDEA?!
In their corporate video launched in 2013 on Perodua's YouTube channel, the first thing you'd see is Tun Dr M saying:
"I saw in Japan, cars of 600cc. And I think this would be the cars that most people can buy. Because of Perodua, many Malaysians who formerly could not afford to have a car now have a… have a car… And it's convenient enough because it's a small car." – he said in the video.
You see, just a few years ago, an article by wemotor.com which documented Tun's return visit to Perodua HQ actually referred to him as "the visionary behind the formation of Perodua". Could it be that it was Tun himself who brought back the idea of these small Japanese cars called "kei cars" and started Perodua with it?
When we asked this question at a Perodua business press conference recently, the super-down-to-earth Perodua President and CEO Datuk (Dr) Aminar Rashid Salleh's answer was surprising…
"That is true. That's why we have yet to, in a way, get to that dream. We are still in the compact, small car business. And that's the strength of our partner. And we will continue to be in that area and we will continue to improve, providing better products." – Datuk (Dr) Aminar Rashid Salleh, CEO and President of Perodua
When asked about whether there are engagements regarding Perodua's involvement in the new national car project and the impact by the proposed protectionist regulations, Salleh repeatedly said that it is TOO EARLY for Perodua to make a comment about it and that they need to understand the details (particularly the proposed SST, sales and services tax).
In his replies, SO MUCH EMPHASIS was placed on continuing on what they do in the compact car business (making affordable and value for money cars) and not straying away from their focus as well as enhancing their business processes and ecosystem. Their focus is to continue to improve and compete even when they're protected by govt trade policies. Oh and they really didn't mention Proton a single time… heheh…. wait…
Actually, how has Perodua performed as a Malaysian car manufacturer?
Wah, even though we don't have MBA, it's hard not to say that Perodua has been doing better than Proton – which according to Malaysiakini is because of foreign partnership, legacy issues, scale and market position. Perodua's strong alliance with Daihatsu (from 20% initial equity to 25% current equity) and its philosophy of continuous improvement made Perodua the best-selling model in Malaysia in the mid-2000s.
The same article also said that Proton, on the other hand, started its partnership with Mitsubishi (30% initial equity) in 1983, peaking in the 90s (73% market share) but then slowly reducing Mitsubishi's equity (and sold all 7.9% in 2005) while taking away the opportunity to learn from Mitsubishi. Perodua has no legacy issues to be burdened with while Proton is stuck with Lotus as its huge financial liability and its failed Electric Vehicle (EV) project.
Perodua's production was working at 70% of its full capacity while Proton's was at 30%. In terms of market positioning, Perodua retains its trophy because it focuses mainly on entry level cars (with lower cc), have consistent marketing strategies, an attractive pricing structure for the relevant target segment and energy-efficient vehicles; Proton seems to be on the losing end since its goal is unclear. It released 4 models at the same time (resulting in intrafirm product competition) and produced inefficient fuel-consuming vehicles.
So, Perodua seems to have the potential to be the national car company, but…
Why doesn't Tun Dr M consider Perodua as a national car?
When asked to comment on the new national car project, he replied that it's too early to determine whether Perodua can get involved or not since they dunno what is in the PM's mind regarding Perodua now.
"We are only 25 years old. Masih muda dan dara. There is still A LOT that we are learning from our partner Daihatsu. Daihatsu is already 100+ years old". – says Datuk Aminar Rashid Salleh.
But could it be due to the perception that Perodua's majority shares aren't actually Malaysian? According to its corporate site, Perodua shareholders are-
Mitsui & Co. Ltd 4.2%
Mitsui & Co. (Asia Pacific) Pte Ltd 2.8%".
Daihatsu Motor Co. Ltd 20%,
UMW Corporation Sdn Bhd 38%,
Daihatsu (Malaysia) Sdn Bhd 5%,
PNB Equity Resource Corporation Sdn Berhad 10%,
MBM Resources Berhad 20%,
On first glance, it would seem so, except that UMW Toyota is actually almost 100% Malaysian owned, which gives international shares held less than Mitsubishi's initial 30% stake in Proton. Unlike Proton though, Perodua continues to learn from Daihatsu.
According to a book Dude, That's My Car! by Ahmad Tamimi Bin Omar of Perodua, Daihatsu Motor Co (DMC) took over the manufacturing of Perodua's vehicles in 2001 after a few years of just being its shareholder. DMC has the right knowledge, capabilities, discipline, attitude and extensive experience in making cars that Perodua needs to keep going. As a result, they managed to make the necessary changes to help save the company and bring the prices down (since "non-national car prices have been going down over the last 10 years", according to the book).
In fact, several Proton models were based on the designs of foreign car models. Similar to Perodua's partnership with Daihatsu, Mitsubishi had a huge influence on Proton's business since the 1980s, with every Proton car launched between 1985 and 2000 based on Mitsubishi cars (except the Proton Tiara which was based on the French Citroën AX). The later Proton models such as Persona, the second generation Perdana and Ertiga were based on Honda and Suzuki models.
Also, most car companies are like shareholding Frankensteins too –  The shares of Japanese car companies such as Toyota, Honda, Mazda, Mitsubishi and Nissan are mostly held by Japanese entities including banks, insurance companies and other automotive companies. But the angmoh car companies like BMW, Volkswagen, and Daimler (the one that owns Mercedes Benz)  have a shareholder structure that is so rojak! Their shareholders come from different parts of the world. Even Chrysler (USA), which was one of the Big Three automotive companies from Detroit, has gabung tenaga with Fiat (Italy).
So, wait… do we really need a national car?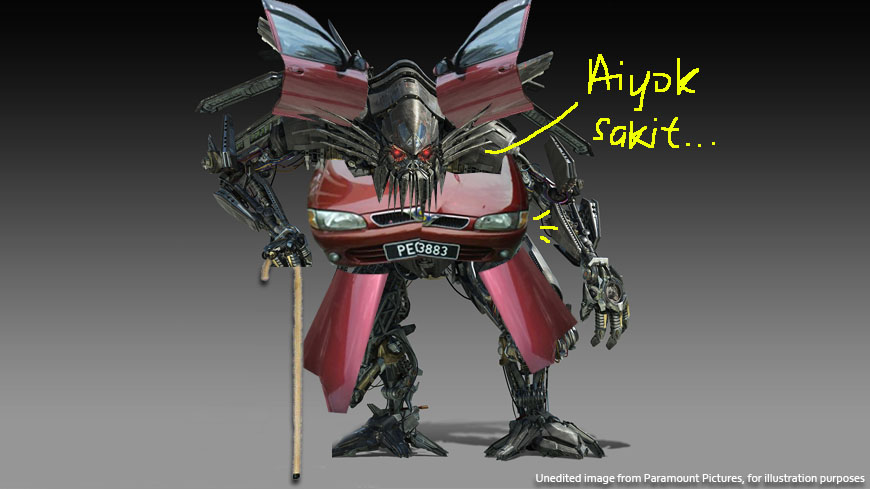 Malaysia already has some of the most expensive cars in the world. MCA deputy president Datuk Seri Dr Wee Ka Siong said that protectionist restrictions (such as approved permit (AP) requirements and import duty) to ensure the success of a third national car would result in higher car prices. And there may be MORE restrictions coming in… No wonder so many people are unhappy.
There are benefits to a homegrown car company tho. Germany's automotive industry, which is home to some of our favourite brands like BMW, Mercedes Benz and Volkswagen, contributes the most to Germany's economy, with the automotive revenue equating to 20% of the total economic revenue. Italy's automotive industry accounts for 4.4% of Italy's Gross Domestic Product (GDP) and hires around 1.2 million workers (in over 3000 companies)! Of course, this is from a LOCAL CAR INDUSTRY, not a NATIONAL CAR per se.
Other countries do have National Cars, but results have been mixed. One interesting example is a comparison between Kenyan privately funded Mobius Motors , which is selling pretty well, with a locally manufactured car made for the region's unique conditions, versus Ugandan government-backed Kiira Motors Corporation, which has the advantage of government protectionist policies, but has already mysteriously lost millions. 
Back in Malaysia, Proton has invested over RM18 billion in R&D since its start in 1983, and still needed a RM1.7 billion loan just before its sale to Geely last year. Add to this the current protectionist policies which have made Malaysian car loans the leading cause of bankruptcy. On top of that, our gomen is already taking desperate measures to cut its RM1 trillion debt level! Even if we do decide to embark on another National Car Project, maybe now isn't the time?