[This article was updated on 20 September 2021.]
For over a year, through multiple phases of MCO, EMCO, RMCO, MCO and everything in between, one thing has stayed the same: our family members asking every week whether the SOPs had suddenly changed or not. Which isn't unreasonable of them, seeing as SOP U-turns have taken a bit of a meme status.
So, we were wondering just how many U-turns there has been since March 2020? and descended into the rabbit hole of MCO news pieces and articles to find out just how many times the Malaysian has backpedaled on MCO SOPs. Do keep in mind that the U-turns we've listed here are the ones that have made major news headlines, and don't include the innumerable SOP revisions that are more obscure, like the ones that apply to various industries behind the scenes. Also, we'll be updating this list whenever a new U-turn pops up!
Take a seat, put on your seatbelt, and get ready for the many, many U-turns (more like a roundabout at this point) ahead.
September 2021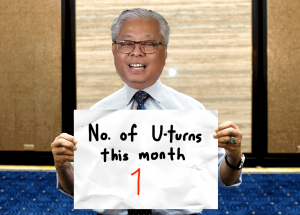 Total U-turn count so far: 1
After months of closure, gym owners and fitness enthusiasts probably started getting geared up when the Youth and Sports Deputy Minister, Ti Lian Ker, said that gyms in Phase 2 and Phase 3 states were allowed to open starting 17 September… but everyone had to put their dumbbells away cos' the Youth and Sports Minister clarified on 17 September that gyms weren't allowed to reopen YET. Wait, never mind, they're allowed to reopen again now.
August 2021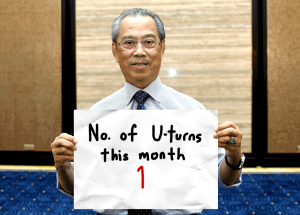 Total U-turn count so far: 2
Muhyiddin, now the caretaker PM of our country, said today (19 August) that states under Phase 1 of the National Recovery Plan were finally allowed dine in at eateries, do sports and go to night markets starting 20 August. The state government of Melaka was like "uh uh, no way" and announced on 20 August that the activities mentioned earlier were still forbidden to Malaccans. Just one day later, the Malaccan goverment went "alright, fine", and allowed said activities to fully vaccinated people.
July 2021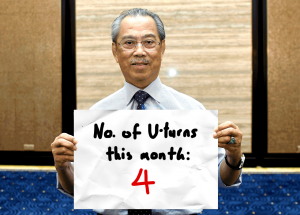 Total U-turn count so far: 6
June 2021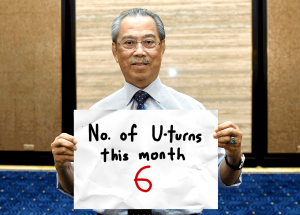 Total U-turn count so far: 12
The month kicks off with the government coming under fire after giving factories producing alcohol permission to operate during the first phase of MCO 3.0. Ismail Sabri explained on 1 June that since alcohol isn't an essential product (we beg to differ), the government agreed that all alcoholic beverage factories should cease operations immediately during the total lockdown.
We got to see a rare double U-turn in the MITI letter saga, with Ismail Sabri announcing that MITI letters being valid only until 31 May and permission letters would have to come from respective ministries. Hardly a day later, the PDRM said that officers will accept existing MITI letters until 3 June, with an update soon after that MITI letters or letters from respective ministries are A-OK to be used.
It wasn't made clear from the start, but the government clarified later that small traders with hawker permits were allowed to operate without going through the COVID-19 Intelligent Management System to ease their burdens.
The National Security council updated on 2 June that supermarkets, hypermarkets, pharmacies, self-care stores, mini marts, convenience stores and departmental stores are "limited to food, beverages and essential needs sections only", but made a massive U-turn on 7 June after a series of fines to businesses that sold "non-essential" goods like stationery and hair dye.
The government announced a 2-hour shopping limit on 28 May, ostensibly to prevent people from lingering too long in shopping malls or grocery stores, but they didn't want people rushing to get their essentials all at once after hearing about the time limit, so it was lifted on 6 June… for Ipoh only.
May 2021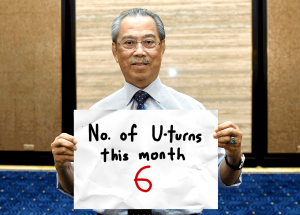 Total U-turn count so far: 18
February 2021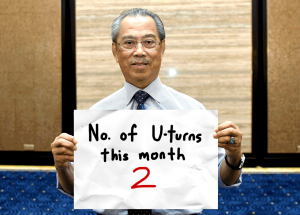 Total U-turn count so far: 20
The first: following an uproar by the rakyat, eateries were allowed to open until 10pm to let us tapao (was 8pm before).
The second U-turn had the Chinese community twisted. For a lot of folks, the original CNY SOPs made reunion dinner into just regular ol' dinner – reunion dinners were restricted to only members of the same household. That meant if you lived in a different residence away from your family, tough luck. Mere days before the festivities, the government amended the SOPs on 7 February to allow up to 15 people to attend the reunion dinner.
Jan 2021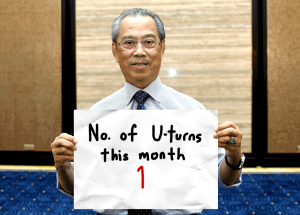 Total U-turn count so far: 21
Malaysian optometrists and opticians collectively breathed a sigh of relief on 14 January when they were allowed to operate starting the second day of MCO 2.0. Reps from the Malaysian Association of Practising Opticians and Association of Malaysian Optometrists plead with the government the day before, saying that 30% of Malaysians wear spectacles, including COVID-19 frontliners.
December 2020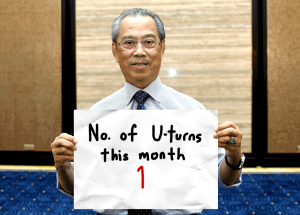 Total U-turn count so far: 22
In early March 2020, the government urged all undocumented migrants who attended a tabligh gathering at Sri Petaling Mosque to come forward and get tested for COVID-19. No arrests, pinky promise! A month later, Ismail Sabri stated that all undocumented migrants found in areas under EMCO would be handed over to the Immigration Department and sent to 11 special prisons if existing detention centers couldn't accommodate them. Very cool.
October 2020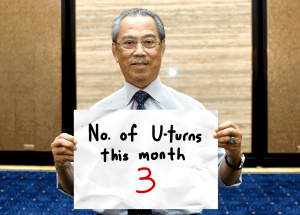 Total U-turn count so far: 25
If you thought that was a lot of U-turns, this month's gonna be a doozy. Ismail Sabri made multiple appearances this month, and they won't be his last.
On 14 October, Ismail Sabri declared that Selangor, Kuala Lumpur and Putrajaya would be placed under CMCO, but allowed gyms, football fields, futsal courts and badminton courts to reopen a few days later.
The National Security Council's decision of of limiting only two diners per table on 14 October was amended; Ismail Sabri said that four people could now sit at one big table.
After initially requiring swab tests for all employees working and living in red zones on 20 October , he "clarified" the next day with a chuckle that only foreign workers had to do that. On the same day, we were told that everyone has to work from home, and the order was rescinded in less than 24 hours.
September 2020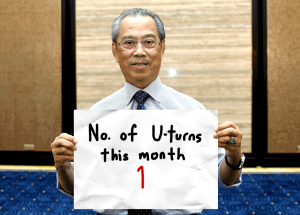 Total U-turn count so far: 26
In September 2020, the widely beloved Senior Minister Datuk Seri Ismail Sabri Yaakob announced that the government was instating a travel ban on countries with more than 150,000 active COVID-19 cases (at the time) beginning 7 September. The travel ban was loosened after a week, and travelers from these counties were able to enter Malaysia after obtaining approval from the Immigration Department. Notably, the US Fortune 500 company Boston Scientific were looking to fly in engineers from Malaysia around the same time and they made some noise, so that's neat.
August 2020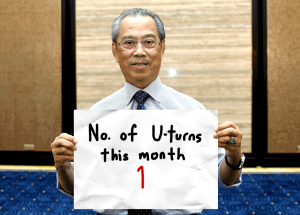 Total U-turn count so far: 27
Human Resources Minister Saravanan Murugan relaxed new rules that prohibited most industries from hiring migrant workers in response to criticism from business groups. There were caveats in place, though. The migrant workers must still have valid work permits (fair enough) and must stick to jobs in the same sector they left (what?).
May 2020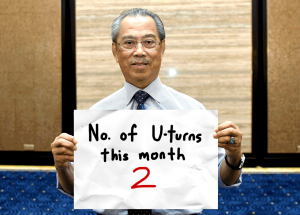 Total U-turn count so far: 29
Bank Negara ordered an automatic 6-month moratorium (that means people who took out loans don't have to repay them in those 6 months) on all bank loans – except credit card balances – on 24 March. A month and change later, BNM earned the ire of the nation with revised terms for hire purchases and fixed-rate Islamic financing, charging borrowers with interest accumulated over the moratorium.
The SOPs for Raya released by the National Security Council on 4 May initially limited first day house visits in MCO areas to no more than 15 people at one time, but the PM ramped the numbers up to 20 people max per house on 10 May.
April 2020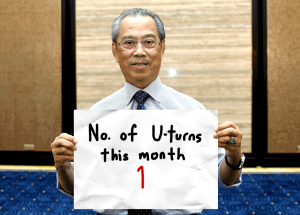 Total U-turn count so far: 30
On 5 April 2020, Heineken and Carlsberg Malaysia announced that they received approval to start up operations again after putting them on hold for a couple of weeks. One day later, the approval was revoked because they were deemed "unessential", and alcohol lovers around the country collectively let out a disappointed groan.
Did we miss any U-turns? Let us know in the comments and we'll add them to the list!