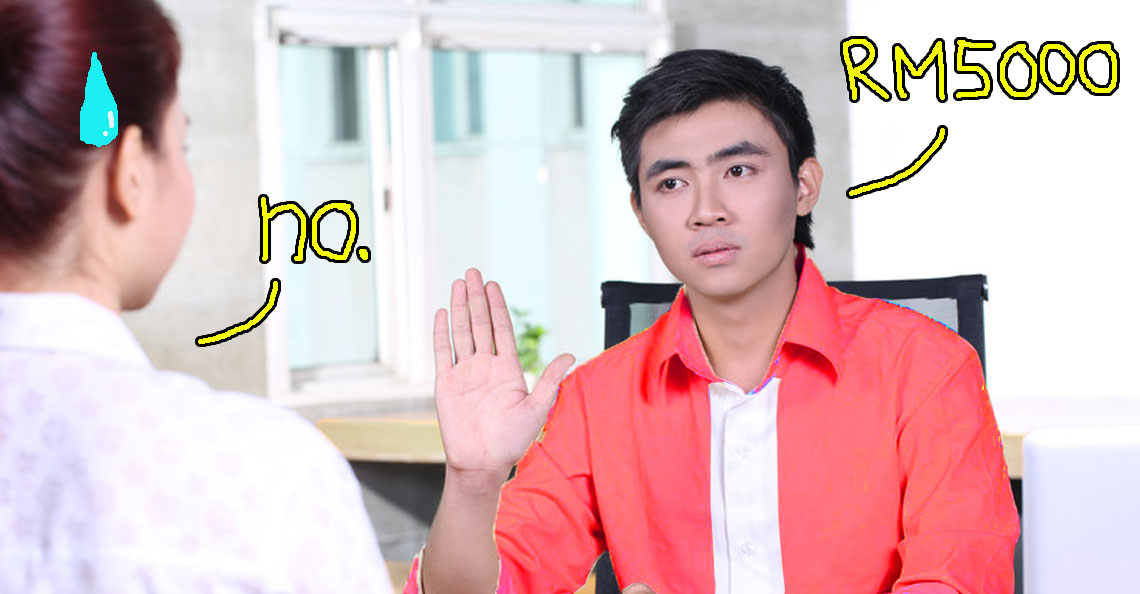 Recently, we at Cilisos found a
report by JobStreet
on the
salary ranges
of various professions across the country. It was some 180 pages long, and is filled with numbers that don't make much sense at first glance. On second glance, it shows you the
average minimum and maximum salaries
you can expect to get for certain
industries
at certain
regions
for different
job levels
. For example, if you want to find out how much a novice tour guide can expect to earn per month in Putrajaya, you can search for it in there.
However, there's no guarantee that such a job exists, though. This is merely the data Jobstreet collected over the previous year based on the jobs POSTED on the site, not successfully hired. Naturally, being the curious cats that we are, we analyzed the data, particularly the junior executive level and came up with some pretty interesting stuff.
It's a pretty comprehensive guide, where it is divided into five sections according to level, which are Entry Levels, Junior Executives, Senior Executives, Managers and Senior Managers. Each section is further divided into 13 main industries, which is further divided into five geographical regions, which is even further divided into 55 sub-industries, like exhibitions, printing, publishing, sports and whatnot. And for each sub-industry, average minimum and maximum salary values are given.
Sounds a bit too complicated? Totally… that's why CILISOS has done the work for you. Here are a few things we discovered after analyzing the 176-page guide.
1. Guess where the lowest salaried region is?
The East Coast, despite what one may think, actually pays more than the average salary within both the entry level and junior executive jobs, being the second highest region in terms of pay. With the Northern Region's average pay sitting comfortably on the median, the Southern Region somewhat surprisingly pays below the median value.
Of course you can get a higher salary if you work somewhere in Selangor or KL. That's why we have traffic jams every day: because people from all over the country moved here to bring in the big money.
Unfortunately, this is 17.5% higher than Sabah&Sarawak, which has the lowest average salaries in the region for junior executives. In more street terms, that's around a RM400 difference, which when you consider the difference in cost of living between KL and Sabah, doesn't make the prospect of working in East Malaysia seem like a bad deal, money-wise.
This is for the entry level. Junior execs is about the same.
However, there are exceptions in each region. Working as an accountant for a steamroller factory in Kuching may get you up to RM4300 a month, while making keyboards in a factory in Shah Alam will get you at most RM1800 per month. And the best paying in each region?
Healthcare in the southern region (average pay RM3600),
IT in the central region (average pay RM3500)
Engineer in either the north, central region or on the east coast (average pay around RM3100).
2. Hospital IT guys should job-search more
While the difference between minimum and maximum salary are tame for most industries, like RM400 or so, some can reach up to an RM 3000 difference.
The biggest difference for the junior executive level is for IT people in healthcare in the southern region. If two of these computer executives were to work in the healthcare field, let's say one for a private hospital while the other one in a dialysis center, one may bring home RM3200 per month. The other one may earn as much as RM6500 per month.
Big jumps like that are quite rare in the junior executive level (11 out of 1289 categories). Among other jobs with wide salary ranges include engineers in agricultural companies on the east coast, science and technology salesmen in the south, airplane engineers in the north and occupational safety guys for construction companies in the central region.
3. And despite times being bad… some jobs will always be needed
Lately alot of Malaysians are getting laid off. Whether it is due to the state of the economy now, foreign investors pulling out or the depreciating value of the ringgit, it is deeply worrying for people who are looking for a job.
What we have determined from the Jobstreet data sheets, however, is that there are some fields of work that are always in demand, and are widely available.
Yep. SALES. It kind of makes sense, in a way. Studies have shown that sales jobs are recession proof, cos if anything, companies actually need to sell HARDER when times are bad. Accounting and administration came in next, probably for the same reason. A majority of businesses need people to do their accounts for them and manage their documents and workers, so if this is what you specialized in, hooray for you!
It has to be said again that this data is primarily based on the jobs posted on Jobstreet, so if you're looking to be a fireman or a hitman or a cat groomer, you probably have to look elsewhere. Not saying that there are no openings for such jobs, it's just that they don't advertise it on Jobstreet.
4. And parents telling their kids to be engineers were totally right
Here are the averages for the entry level and junior executive jobs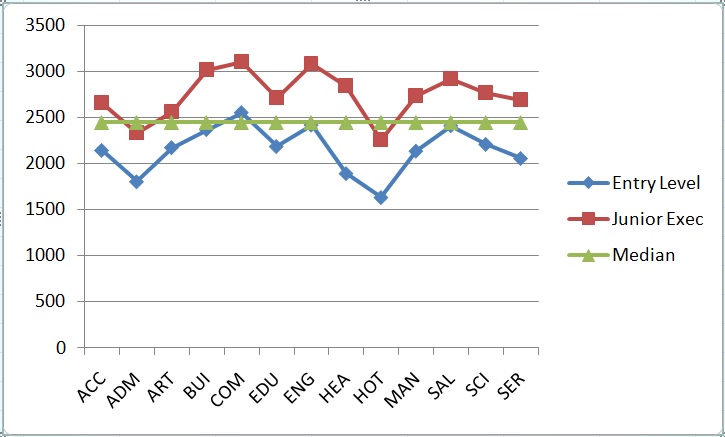 From the graph, it's clear that your parents were right: engineers do make more money than other fields. But due to the recent rise in the need for apps, websites and software, guys specializing in computer technology and programming are closing in to being the master race here. As can be read in this handy pdf file from Hays, with the advent of Fintech (financial technology), the demand for programmers specializing in cybersecurity is higher than ever before in Malaysia.
The ever abundant career of looking at people's accounts and selling stuff isn't doing too bad, but although admin jobs are just as abundant, it is the second lowest-paying field, just a little more than working in a hotel or a restaurant.
5. If you want to work for the gomen, KL's the place to be
Somewhere deep in between the sales and admin jobs there is a curious category: Government/Defence that only seems to be available in the central region. It seems intimidating at first, like a whole category for mercenaries or something, but a little bit of digging reveals that careers in this category include working for SIRIM, regional development authorities and PR1MA. The positions available range from receptionists to auditors to even trade commissioners, and they're all quite lucrative.
The lowest average salary in the report for junior executives in this particular category is RM2929, and can go all the way up to RM4094. But that's just the junior executive level. A recent job we found on Jobstreet for a trade commissioner for the High Commission of Canada pays a maximum of RM121k, and that's at the senior executive level. With very little exceptions, most of the jobs listed under this category is in the central region, with a stray job or two in the other regions.
But sometimes, money isn't everything
Well, as had been said throughout this article, the figures we analyzed are the ones provided from Jobstreet, who in turn provides this data from only jobs posted on its website, which does not represent the whole population. However, some industries like admin and accounting do heavily advertise openings through Jobstreet, so for some industries the data here are pretty accurate.
Also, in a career, the salary isn't everything you should be looking for. While some companies only strictly offer monetary compensation to their employees, some gives other forms of benefits like insurance, medical, SOCSO and other intangible benefits, like job progression and an opportunity for personal growth. So even if a company only pays you RM1800 per month but you get a place to stay and free meals, hey, that's not so bad right?