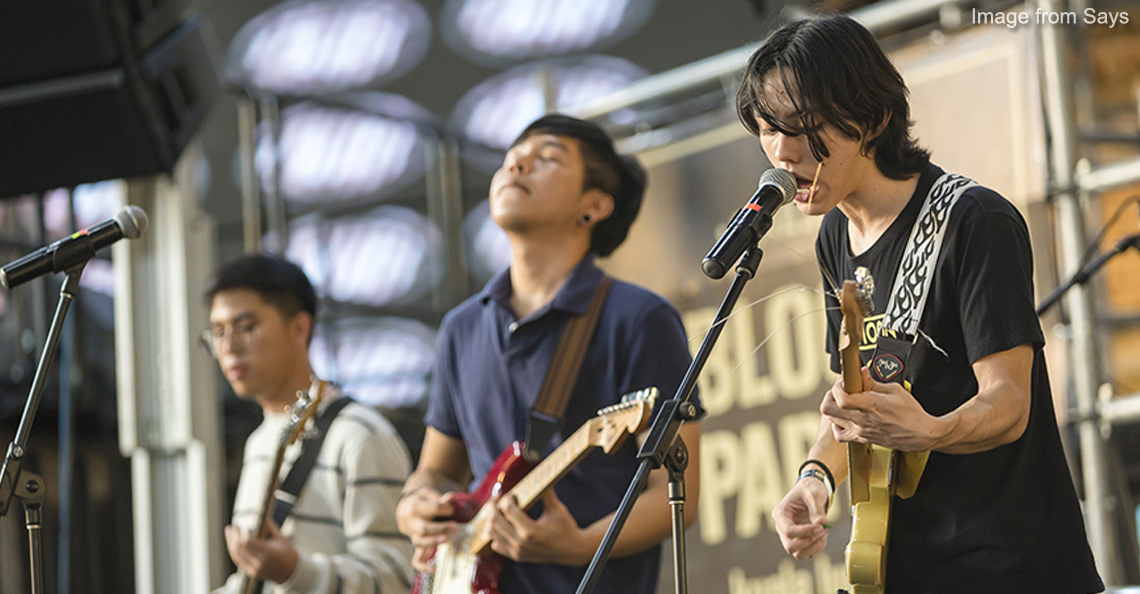 We're no stranger to music, especially as Asians considering how some (or most) of us have attended music lessons at least once in our entire lifetime. 
For most of us, our musical journey may only be limited to shower sessions (yknow… singing in showers), but we're pretty sure you know one or two people who actually pursue their passions in music and eventually made it into the music scene. In fact, some CILI peeps have done it too.
Just recently, we came across a pretty cool music project by Levi's called the Levi's Music Project. It's a three-year project that allows four local musicians to learn everything they need to know about making music in Malaysia under the guidance of mentors, Jin Hackman and Jennifer Thompson.
Disclaimer: This article is NOT sponsored by Levi's tho we would wish Levi's could sponsor us in the future. XD
We're lucky to talk to three musicians under this project – Jin, Mayabayu and James from Alien Lipstick Fire – about our local music industry. And here's what they have to say.
1. It can cost you RM10k… or MORE to debut 😱💸💸💸
Truth be told, it is actually super expensive to debut as an artist in Malaysia. And when we say debut, we actually mean releasing a proper album and marketing them to the mass. 
When Mayabayu first debuted sometime back in 2017, it had cost her around RM10,000 to release her first album called Echoes. But what made it so expensive?
"It's expensive, guys! When you're an indie artist, you have to pay for a lot of things like printing – since physical CDs at that time was still in – besides setting aside a budget for marketing, on top of production cost. I did my own cover art to cut the budget here and there." – Maya to CILISOS.
Back when Maya was still new in the industry, she didn't really have anyone (read: recording label) to financially help her produce her own music. She pretty much wrote, recorded and arranged her own music with the help of a producer (who's also her housemate btw) at her own expenses. And the only people who had financially helped her were her parents.
James, the vocalist of Alien Lipstick Fire (ALF) agrees with Maya on how expensive it is to be a singer in Malaysia. But, unlike Maya, his band is pretty fortunate because they're under a recording label, Breaking Music Sdn Bhd, who bears most of the cost of producing their music.
Nevertheless, there are other expenses that still bug their wallet such as transportation and rehearsals.
"We fork out a lot on just rehearsals and transportation. The latter is probably the killer for me because I don't drive here and, especially with the pandemic, I'm a bit paranoid to take the LRT, so taking the taxi everywhere can take a toll on your wallet." – James to us.
James mentioned that although Breaking Music pretty much saved their as$es, he also admitted that this comes at a price – some of their revenues would have to be given to the company. But ALF doesn't seem to mind that at all.
Being under a recording label seems beneficial so far. However, you gotta remember that…
2. Looks and the number of followers you have DO matter
As it turns out, it really helps if you have the looks in the music industry. And when we say looks, we actually mean a strong image and brand that could help you build a fanbase for yourself besides setting yourself apart from other musicians.
"Everyone is so visual nowadays, right? So, you have to have a look, a story to tell through your music and on your social media to stand out from other people." – Maya.
And if you're dreaming of being a musician under huge recording labels, being talented helps… a bit. But, according to Jin Hackman, founder of Raising the Bar and manager of This Way Up Records, the first thing that most major labels look at is the number of your Instagram followers. 
"As far as major labels go – for Malaysia or even overseas – they're very focused on numbers. That seems to be the measuring stick for an artist's success. They would first look at Instagram profile numbers (followers)." – Jin to CILISOS.
Don't get Jin wrong tho. He mentioned that indie recording labels still do it the old fashion way, which is by finding talented musicians, taking their time to develop and eventually break them as artists. 
However, the problem with this way is that it would take quite some time to build the artist's fanbase. This may be why most major labels choose the easier route by choosing someone with an existing fanbase (read: followers online) and groom them to be musicians instead.
Waitamin, doesn't this mean that the quality of music would degrade? Well, Jin said this really depends on the music producer itself and there are cases where songs produced for influencers are pretty decent.
"Take Luqman Podolski, for instance, who was an influencer first before becoming a singer. His last two releases were actually really good." – Jin.
But if you're not as famous as Luqman Podolski then…
3. There's always music competitions and projects that you can join
Malaysia has plentyyyyy of music shows, competitions and project. you name it – Akademia Fantasia, Malaysian Idol, One in A Million, Big Stage and many others. 
And these competitions gave birth to several well-known local musicians like Vince Chong and Jaclyn Victor. 
So, if you think you're good at making and performing your music, then there's always this option that you can try. But Jin pointed out that most of these competitions and projects oftentimes follow a certain battle of the band format.
"I see a lot of (music) projects but they're usually like battle of the bands format, so after the winner announcement, there's no follow-up." – Jin.
While the competitions and projects could give you enough exposure to mass audience, Jin said that you're pretty much left to discover your music path by yourself. He also added that this is the most important stage in a musician's career because this is when he or she needs guidance the most.
This may be why Maya and James are thankful to be picked to join the Levi's Music Project. They mentioned that they learnt a LOT about the music industry – from making music to marketing them and even merchandising – under the guidance of their mentors Jin and Jennifer. #notsponsored
View this post on Instagram
"Being indie musicians, there is still a lot for us to learn. This project helps us a lot in that sense. I feel like I've grown a lot ever since I've gotten into the project." – Maya.
The good thing about projects like this is that it does not only reward local indie singers monetarily but also helps them to be recognised locally and internationally. But if you've tried this before and it didn't work out for you, then…
4. It helps if you have 'cables' in the industry
Just as with any jobs in Malaysia, it probably helps if you have connections. That's because it's only typical for people to hire or work with those they trust first before any other stranger. And the same can be said about the music industry.
"Even if you're good, of course, different people are different, but based on our own experience, even if you're good – you think you play a good show – people will always choose their friends first before you." – James.
James shared that one way to do this is by forcing your way into the industry. Back when his band first moved to KL from Sabah, they didn't really know anyone here. So, they performed at various gigs and grabbed any opportunities to appear on stages.
It was only when ALF's guitarist started doing guitar repairs at a shop in KL that he met various people from the industry. And these were the people who had later introduced them to their recording label. 
But Jin noted that performing on various, international gigs like Laneway besides having connections beyond KL could help you go further in your music career, especially if you're making music in English. This is because, unlike Malay music, English music has a very niche audience. 
This explains why many local English singers would always aim to create their names overseas.
"Making mass Malay music is the easier route. You hit more bodies and ears. As artists that make music in english, the key is to always break out of Malaysia." – Jin.
Jin added that Yuna, for instance, has gotten more attention after appearing on Hollywood shows like Jimmy Kimmel although she has homegrown support. But in order to get homegrown support, you may need people to discover your stuff first. And one way to do it is by…
5. Posting your music on Spotify. But don't rely on it for revenue :\
With this day and age, anyone can start making music. And most people like singer, Faith Ling, do it from their bedrooms. Even so, Faith's song managed to get over 120,000 streams on Spotify.
But the real question is – how much can Spotify help you in your music career? 
The musicians we interviewed agreed that you can use Spotify to help people discover your music because most Malaysian listeners are passive listeners. This means that they don't go outta their way to look for new artists like Maya or ALF. 
So, Spotify does help you amplify your reach through its features like Discover Weekly. James added that it really helps if you go outta your way to get in touch with people whose Spotify playlist have thousands of followers too.
"I think another good thing that people kind of overlooked is emailing to as many music platforms as you can. Recently, we've gotten our song on a playlist of a guy from Sweden and he has like 80,000 subscribers. And that directed some traffic towards us too." – James.
But these musicians also agreed that you shouldn't be relying on Spotify or any digital streaming platform to earn money. And that's because these kinda platforms only contribute 10% or less to your revenue. 
"I think your revenue easily comes from 70% liveshows, 20% merchandise and 10% streaming." – Jin.
Jin admitted that some local artists do make money from Spotify la. But considering how the platform only pays artists between USD0.003 and USD0.005 (RM0.01 and RM0.02) per stream, you'd need millions of streams before you can actually get a real income and, in Malaysia, it takes singers quite some time to actually reach this.
In addition, considering how most of of their revenues come from liveshows, it's fair to say that most musicians in Malaysia are pretty much losing their incomes in times like this.
"Most people assume that the pandemic doesn't affects us as much because a lot of people don't consider our jobs as real but they don't realise that this is our work and we lose our main source of income in times like this. It's basically like we're fired from our jobs." – James.
This may be why…
6. You might wanna consider a side job to fund your musical passion
As it turns out, it's pretty common for musicians to have a side job to fund their musical passion. Maya, for instance, performs Top 40 songs at weddings and teaches music on the side to fund her music career. 
"I know a lot of musicians do teach on the side to get more budget for their own original stuff. I sing at weddings and these gigs are normally the ones that pay the most for shows." – Maya. 
Maya is pretty lucky tho because she's a recipient of the CENDANA Development fund. She said that CENDANA is an initiative that gives out funding for the creative sectors in Malaysia and this somewhat helps musicians like Maya to survive in the industry.
But other musicians like Kyoto Protocol, for instance, have to go to the extent of having a day job to support their music career. Some musicians also sought endorsement deals to get some money to support their career.
Jin also pointed out that there's a trend where some musicians use their music career as a launchpad for other things they wanna do like selling burgers or peanut butters. 
Unfortunately, this is the bitter truth of the industry. 
"In Malaysia, it's sad to say that you definitely need different sources of income to sustain what you wanna do." – James.
But this reality didn't stop Maya, James and Jin from chasing their dreams because…
It's worth seeing your art being appreciated by the mass
So, yes, the music industry is not all…
And while there are some people who eventually left the industry, there are many musicians in Malaysia like Maya, James and Jin who persevered and actually made it. This is all made possible because they believe that it's worth the struggle they faced.
"You will face a lot of negativity and rejection but it's worth it. Seeing your art being shared and to have people tell you that your art helps them in some way is an indescribable feeling." – James.
The result? Well, these three achieved quite a lot of things in their music careers. ALF, for instance, opened for Norwegian band Boy Pablo in 2018 while Jin successfully hosted several series of hip-hop festivals under Raising the Bar. 
Those are pretty amazing achievements if you were to compare to their humble beginnings. Having said that, the key to be a successful singer in Malaysia is to make progress and never give up. #cliche #butitworks
"As long as you keep putting in the work, stay focused, don't lose sight of your goals and always remember why you started this in the first place, which is hugely because you love doing it, then I think you should be okay." – Jin.