Once, when our editor was studying in Australia, he went to a food court and thought he found the bargain of the century – Roti Canai for only AUD2! Sure it cost only 70sen in Malaysia at the time (yes our editor is that old), but in Melbourne, that was a steal. He went to the counter to pay and was told that he had to pay an additional AUD5 for a bowl of dhal.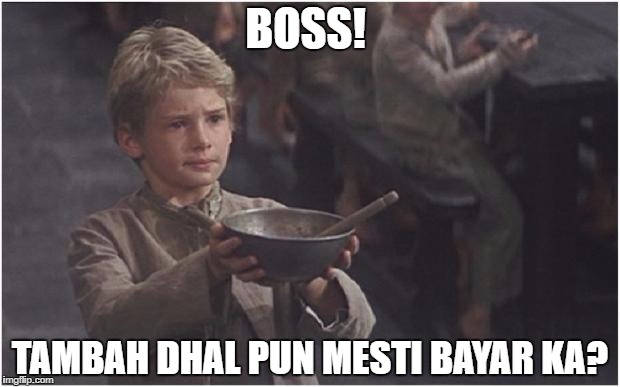 We've been fortunate in Malaysia that a lot of the condiments we take for granted are actually UNLIMITED! So we worked with U Mobile to take a look at what the limits of these condiments and other refillables are.
Because U Mobile doesn't have limits anymore (!)

Yep that's right. At only RM78, U Mobile users now have access to UNLIMITED high-speed data and UNLIMITED calls to all networks from your phone! It also comes with free 10GB mobile hotspot and if you're overseas, you get Roam-Onz™ that's free 5GB data roaming in 12 destinations.
No more complicated weekday/weekend quotas, no more rationing till the month end when your quota refreshes, and no more complicated calculations into how much data YouTube streams and no more finding WiFi hotspots just to watch those favourite movies of yours. Just go for it 😉
So, with that kinda marker set by our sponsors, we asked about 20 restaurants around KL about exactly how unlimited they are, and the most thick-skin customers they've had. For each entry, we've given them a Paiseh Point, which indicates how much you can take before you're deemed Paiseh (embarassed).
1. Nasi
Let's start with a hallmark of Malaysian condiments – RICE! For most mixed rice (nasi kandar, chap fan) stalls, their limit is whatever can fit on one plate, although a few chapfan owners we spoke to limited it strictly to one bowl of rice.
For banana leaf places, most offer unlimited refills quite easily. Appu Uncle (whose owner, Arvin graciously offered to model for our featured image) even offers two types of rice – white and parboiled. The maximum they've ever refilled is twice (meaning 3 full banana leaf servings in total!!), so even Malaysians have their limit 🙂 And that limit is about 15kg of uncooked rice a day (!) for about 200 customers.
One strange case is MyElephant Thai restaurant, which used to offer unlimited refills of their fragrant Thai rice, for RM3.50. They've been doing it for ten years, but recently stopped.
"Maybe times are bad. People started complaining only in the last 6 months – because RM3.50 too high if they eat one bowl. So we charge RM1.80 per bowl, but stopped doing free refills." Patrick, MyElephant Thai restaurant
Paiseh Point: As much as you can eat.
2. Tisu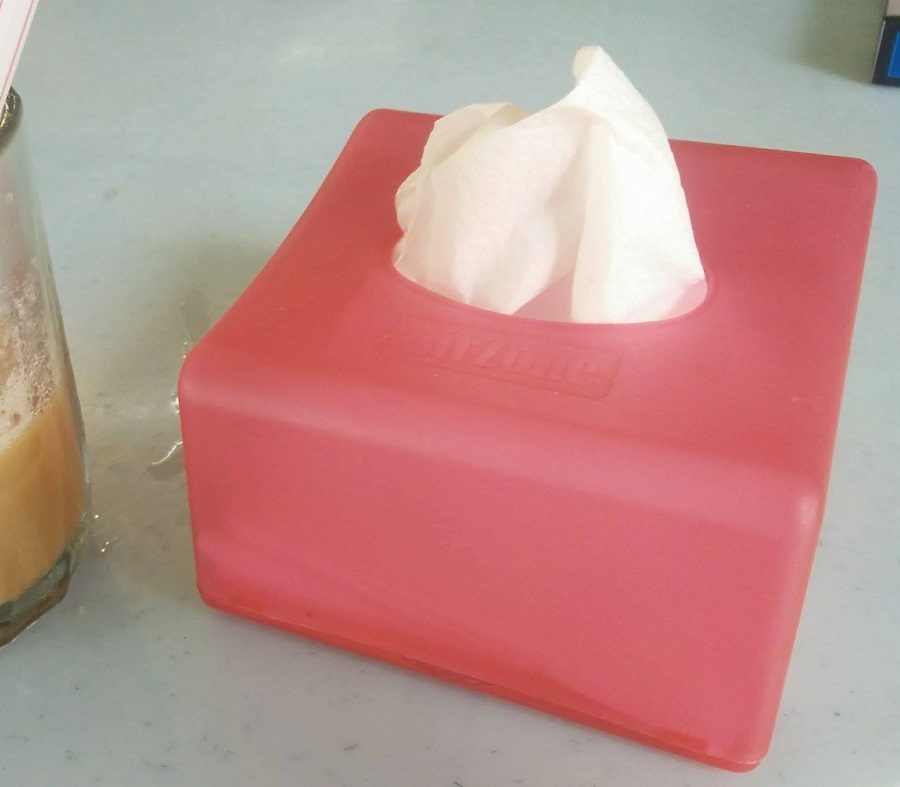 This category is something that Malaysians don't really think about, and unfortunately, that has resulted in Malaysian customers taking A LOT of tissue and napkins. Ever wondered why so many restaurants use these annoyingly-thin square tissues? Well… because Malaysian customers take so much and there's quite a lot of wastage, these tiny little dispensers let them take more, but the amount of pulp they use is a lot less.
"We still use the thicker rectangular ones with our name printed on it. When we bring the cutlery to the table we will give the thicker ones with our logo on them. The thinner maple tissues are extra which are given to customers when they request for more. In the past, when customers ask for extra tissue we would give them the thick ones but we would not know how many to give. Sometimes they would keep asking for more. So now if they ask for extra, we just give them the whole box of thinner tissue so they can help themselves." – Joe, Little Penang Kafe
Appu Uncle Banana Leaf uses the same tissues for similar reasons. Others, like Epicuro in Uptown use 2-ply napkins, and told us they cost up to 4.5 sen each, with each client using an average of 3 napkins. With weekend crowds of up to 200, costs were substantial. Previously, they used thicker luncheon napkins which cost much more, but realised that with the amount of wastage, it wasn't worth it.
Taps Beer Bar near Changkat Bukit Bintang uses 2-ply napkins as well, and can go through 18 boxes a week, each box costing RM4.50. So you can kinda see how napkin costs can add up quickly. MyElephant Thai restaurant  actually solves this in quite a unique way. Because lunch has lower margins, they use 2-ply during lunch and 3-ply during dinner.
Paiseh Point: Take what you can use la bro. Don't waste or Captain Planet will unfriend you.
3. Adding Soup
This one really pity the owners la. They slave away making so many bowls of soup, and offer free refills to anyone who asks. But some have had to pull-back a bit recently.
SeaParkBakuteh co-owner Christopher Lee, uses a recipe that came from his mom in Johol (not a typo), a small township in Seremban. Everyday, they make 2-3 giant tongs of soup for their average of about 100 customers, with each tong using up about 1.5kg of herbs and 7kg of pork. Most customers refill about 3 times max, but they do get some more sneaky customers.
"If they come once in a while, ok lo layan them.. But recently seldom see them adi. For us, if 2 people order claypot for 1 pax and don't order any side dish, if ask for extra soup we will charge them RM3 for one bowl" – Christopher Lee, Sea Park Bakuteh
SumHouBakuTeh in Hartamas prepares double that amount, cos they deal with about 200 customers a day. And they don't have such a policy, but they expect their customers to "sek chow" (Cantonese for "know-what-to-do").
"We don't have a kah-tong (add soup) policy, but customers must be reasonable in doing it la. We will just stop entertaining and let customers know – "please think of others". To add 2-3 times is reasonable and depends on how big the portion is. If it's single portion I would say 2 times. My partner and I have discussed about charging but both are against it as it don't make sense. Customers do understand" – Gary Lee, SumHouBakuTeh
To alleviate costs, they also divide their pots. Some have meat in there for the main soup, and some don't, for refills.
For Chap Fan (Chinese Mixed Rice) owners, it's even worse, cos they regularly get customers who take less dishes, and scrape the bottom of the soup Tong.
"They take the meat and vege from the bottom. Everyday sure 10% will do this. One day we make one pot. The pot is not leftovers – we make it fresh… the chicken we use the spare parts." – Mr. Lim, 282 Mixed Rice Uptown
When you consider that they serve 200 customers a day, that's quite a big chunk of lost revenue. But on the other hand, the free soup also brings in customers, and it doesn't usually finish by the end of the day, so Mr. Lim doesn't mind too much.
Other chapfan owners like MeiSeika in Puchong have other methods – while their Chinese Tea and water are in giant tongs, soup is actually apportioned 100 bowls for lunch and another 100 for dinner, and if it finishes, it finishes (unlike U Mobile U78 unlimited data plan!). Also, one patron noted that the toilet in the back wasn't so clean, so people usually don't wanna load up too much on liquids. Which brings us to….
Paiseh Point: BKT: 2 bowls per person / Chapfan: 1 bowl per 2 dishes.
4. Bottomless Drinks (including water)
This one at least not much issue. Most places can easily refill things like tea and water, usually with filtered tap water. Some places, like MyElephant, offer lime-tinged water at 50sen a cup with unlimited refills. However, many owners have also confided that serving free water lowers their overall profits.
"We provide free water because if we charge for water, there will be a big hoo-ha about it. Restaurants don't offer free water because it reduces beverage sales. Lower end restaurant do charge" – Ramesh, Frontera Jaya One

"We used to serve free water, but stopped also, because everyone just order water. Revenue actually went up after that, cos we offer many drinks but everyone just wants plain water. So we do cheaper drinks now, but no more free water. We got a lot of nasty feedback at first – but only at the Subang outlet. Our Damansara outlet no one complains. So you can write Subang people are more kiamsiap… hahaha" – Anonymous
On the higher end of things at upmarket restaurants, many of them do offer unlimited free water, but don't la mix tap water with expensive fine dining.
"Yes we do offer free filtered tap water, although we don't really encourage it. Because tap water does disrupt the taste of finer wines and whiskey" – Isadora Chai, Bistro á Table
The other concern is also the water-rationing that's been going on in the Klang Valley recently. "If there is water rationing, then I cannot waste my precious water for free. Because I need the water for cooking!" says Isadora.
Paiseh Point: If at least 50% of your group order drinks, then whack as much free water/tea as you want. If you paid for it, then whack oni.
5. Bottomless dishes – vege / corn chips /bread
At Frontera, they advertise bottomless Corn chips. "Yes, we offer free flow corn tortillas (RM16.95). & yes, we do notice people waste this. Salsa is prepared in-house, and yes unlimited."According to him, most customers average 3 to 4 refills, but there are people that go 8 to 10 refills. And does he do it gladly?
"No choice la, it's my friend. My staff call him the Chip Monster" –  Ramesh, Frontera
What about other condiments besides Salsa? "Guacamole, you dream on lah unlimited. Avocado is f******g expensive wei".
For other types of food, we tried refilling a meat side dish 10 times at a Korean BBQ in Hartamas, and they did it with a smile. As for Banana Leaf veggies, Appu Uncle also stands by their unlimited refills, although a certain other nearby banana leaf restaurant (like certain other telcos) asked us to pay again after three refills.
At Bistro á Table, Isadora does offer free bread, but there is a line.
"Well if it is obvious that a damn ciplak customer just comes in for my french bread and butter, I will charge them. But my customers sek chow la. The bread here is so nice so they want to buy a whole loaf to bring back home"
Above a certain limit, she charges RM18 a loaf, and RM10 per baguette. While she says this does result in a bit of social media flak, she's proud of her bread, and plays nice with customers who play nice with her 🙂
Paiseh Point: As long as you can finish without wasting or tarpauing
6. Sauces and condiments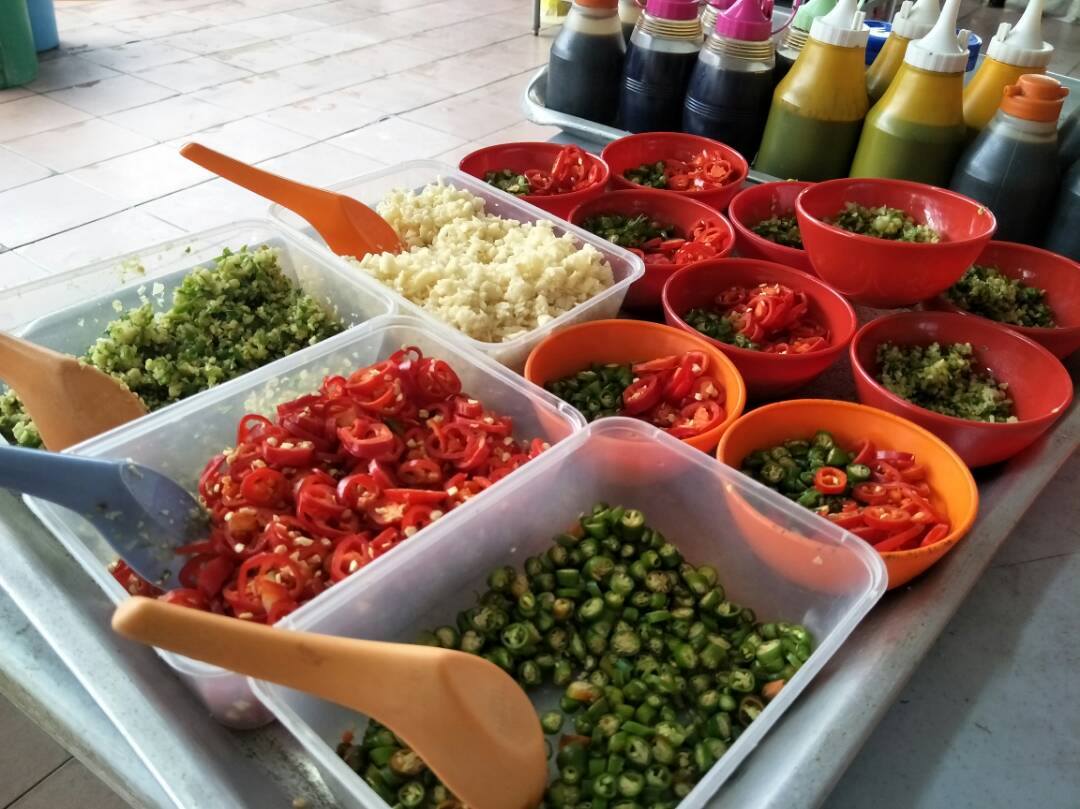 Lately, whenever we eat Chinese food, we've been told by various people to go easy on the garlic, cos it's going up in price, and we don't want to burden the storeowners. And it seems that rumour is true. At the moment, garlic is more expensive than chilli (which changes seasonally in price). That's why places like 282 Mixed Rice provide chilli, but not garlic. Other places keep the garlic behind the counter now, and only offer sauce plates of it upon request (60% customers of SeaPark Bakuteh will request it).
Cos keep in mind… if they do offer it, they have to be prepared to offer A LOT. Gary Lee from SumTou Bakuteh told us that they prepare between 1-2 kilo of chilli EVERYDAY to cater to their average 200 customers.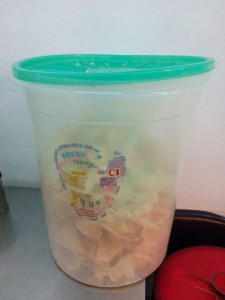 And what about the fabled Papadam? Well some Banana Leaf places (and a few nasi kandar stores) have resorted to the little plastic bags at RM1 each, but the bigger banana leaf places thankfully offer it free still.
Appu Uncle estimates they go through about 1200-1500 papadams a day. While the cost isn't that high for the papadams itself (RM2.60 a pack of 100), they do take a lot of effort to cook and store, which is why you should probably appreciate 'em when you get em nice and crispy k?
Paiseh Point: Garlic: 2 sauce plates. Chilli: 4 sauce plates. Papadam: 3 for everytime you smile at the anneh.
No such thing as a free lunch then?
So, expectedly, with most things in Malaysia, unlimited does come with some limits. Those limits include appreciation for the amount of work required to cut those garlics, make that salsa and fry those papadams. And as fellow-loving Malaysians, don't be too shameless when getting refills k? Spare a thought for our hardworking stall owners when asking for refills.
Speaking of shameless, fortunately, there's one thing that doesn't need to be refilled, or thought about anymore… and Malaysians are hungrier for it than ever.


PaisehPoints: None. Use as much as you want.