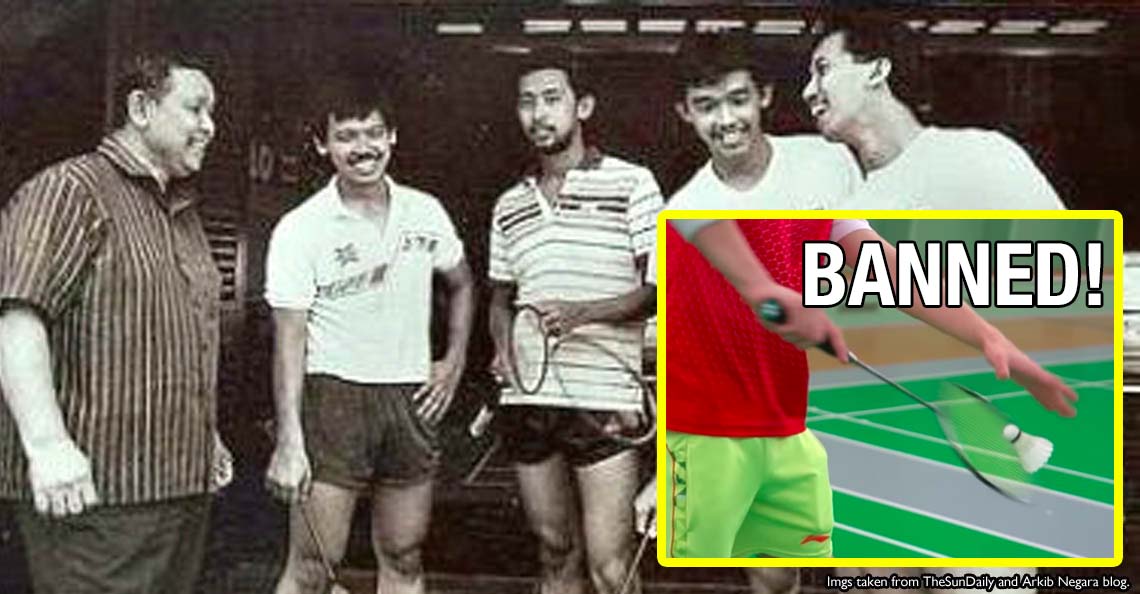 [This article was originally written by the blokes who run SosCili. To read this article in BM, click here, mateys!]
If we ask you to name one good badminton player, chances are, Datuk Lee Chong Wei will come to mind. But Malaysia had a long history of being good in the sport, even before Chong Wei. In fact, if you were to ask Prof Khoo Kay Kim, a historian and sports analyst, he would say that the glory days of the sport was during the Malayan Emergency.
"An Australian once asked me how the country was during times of the Emergency. He asked whether the conditions were like in Vietnam during the Vietnam war. I said to him; if you studied the history of modern sports in the country, it peaked during the Emergency," – Prof Emeritus Tan Sri Dr Khoo Kay Kim, translated from SOSCILI.
This was proven when we won the first ever Thomas Cup in 1949, and then three more years in a row from 1952 to 1955. This era saw the rise of badminton superstars like Wong Peng Soon, aka "The Great Wong", aka the guy who won the Malaya Open tournament eight times, Singapore Open tournament seven times, and the All England Open five times, while also being the first Asian to have won that last tournament.
Teoh Kheng Soon, who have recently left us in March, was the last living member of the Malaysian team that competed in the aforementioned 1949 Thomas Cup, and he and his team practically put Malaysia on the world's badminton map. Besides these two, that era saw the rise of several other successful badminton players, like Ong Poh Lim, Ismail Marjan, Eddy Choong, David Choong, Tan Yee Khan, Ng Boon Bee, Punch Gunalan and many more.
After these legends left the scene, Malaysia's badminton scene hit a stagnation point, failing to win a single Thomas Cup for 25 years until 1992. But that changed when perhaps Malaysia's most famous family of athletes hit the scene…
The Sidek family was so famous, they had a cartoon series based on their lives
If you had grown up in the 90s, chances are you recognize this cartoon:
In case you don't, it's called the 'Anak-Anak Sidek' (literally the Sons of Sidek), and it was based on a comic book series of the same name. which in turn was based on a very real Malaysian family. It basically tells the story of how Haji Sidek Abdullah Kamar trained his five boys (Misbun, Jalani, Razif, Rahman and Rasyid) to each become great badminton players in their own right, plus scenes from their childhood in their family home in Banting, Selangor.
Haji Sidek himself was a professional badminton player, once becoming the Kuala Langat district level champion and the Novice Cup champion in 1964. His sons made their first appearance in the early 1980s, and has since competed in various tournaments, including the Thomas Cup, the Olympics, the Asian Games, the Commonwealth Games, the All England Open and even the World Championships.
"Misbun not only followed in the footsteps of his father, but he had surpassed him, conquering the national levels from 1981 to 1986, becoming the runner-up at three world championships i.e. the 1982 World Cup, 1986 All England and 1988 Grand Prix.

Razif and Jalani, on the other hand, formed the strongest doubles team, becoming the champion of the 1982 All England, obtaining the Brisbane's Commonwealth gold medal and becoming the first Malaysian athletes to get a bronze at the 1992 Olympics in Barcelona." – translated excerpt from Utusan Malaysia.
Rasyid went on to win the 1992 Thomas Cup, a gold in the 1990 and 1994 Commonwealth Games in Auckland and Victoria, and obtained a bronze at the 1996 Olympics in Atlanta. Rahman, on the other hand, reigned at the 1998 Swiss Open Tournament, as well as winning both the Canada and German Open Championships in 1990, all of these in the male doubles category.
In 2005, after almost two months of being riddled by disease, Haji Sidek passed away, leaving behind a number of legacies. One of them got banned, and it was called…
The Sidek Serve (S Serve), banned by the International Badminton Federation (IBF)
One of the techniques devised and introduced by Haji Sidek was a technique called the S Serve (the S stands for Sidek), used by the Sidek Brothers. However, this serve soon caused discontent among other players as it was seen to give an unfair advantage to one side.
"To perform this serve, one hand holds the shuttlecock with the feathers pointing down, and the head pointing upwards. The other hand holds the racket in a backhand position, that is, hitting the shuttlecock by a flick of the wrist instead of moving the whole arm."
When performed correctly, the shuttlecock will move erratically as it flies towards the opponent, and for a serve that anyone could learn how to do, it's really hard to counter. Soon, players from other countries copied this serve, and some had won because of it. For example, in the 5th All China Games, it was said that an unknown player won against Luo Xia (winner of the 1978 Asian Games 4th All China Games) 0/15, 5/15 by using the Sidek Serve right from the beginning of the game.
"Luo saw the tumbling (shuttlecock) and did not know how to reply. She was unable to control the shuttle; a net shot falls into the net, and a lift goes out of bound." – Excerpt from Badminton Central.
Soon its use became controversial, and many complaints were raised by international bodies regarding its use. In May 1981, both England and Denmark proposed an amendment that bans the S Serve, but it was protested by Malaysia and Indonesia. The issue was raised again in an International Badminton Federation (IBF) meeting a year later, and with a majority of countries calling for its ban, the S Serve is no longer used in official tournaments everywhere.
Here's how it's done, and as you can see, the success rate of returning an S-serve is pretty low!
The Sidek brothers are training the next generation, but things aren't looking good
One concern of Malaysia's badminton industry is the lack of next generation players that are good enough to replace Lee Chong Wei as the world's badminton champion. The concern was deepened when Misbun Sidek left Malaysia's Badminton Association (BAM) in 2011, starting a crisis due to the loss of a really credible coach.
This crisis in question was caused by a disagreement between Misbun and the BAM, said to start when BAM introduced a new structure in the coaching and training system for the national team. The new system saw both Misbun and Rashid being given six elite players to train, among them Lee Chong Wei.
"However, Misbun was said to not be pleased by the list of players given by BAM as his request to train the country's main youth player, Iskandar Zulkarnain Zainuddin and his son, Musbun Ramdan Misbun went unfulfilled." – Translated excerpt from Utusan Malaysia.
Last year, Misbun once again criticized BAM by claiming that the association was having financial problems, which he said was the main reason they fail to produce talented next generation players. Misbun had also criticized the training system, which he said was out of date.
"Eight years ago, I had brought up the problem of the country's out-of-date training system, but it wasn't well-received… I was once offered a visit to China's training center by China's Head Coach, Li Yongbo, and I was impressed by its size and how advanced their facilities are." – Misbun Sidek, translated from Free Malaysia Today.
While Misbun's sass wasn't tolerated by the BAM back then, Denmark's victory in the Thomas Cup last year may have something to do with him. The matter entered the public eye when a picture of Misbun with two Denmark players went on social media. It was said that these players came all the way from Denmark just be be coached by Misbun.
"They met Misbun to know how Chong Wei stayed competitive until now… Misbun also got to know them when he was with Chong Wei and he has knowledge on Denmark players," – Datuk Jalani Sidek, translated from BH Online.
This just shows how crucial Misbun's knowledge and experience is to the country's badminton arena.
Can Malaysia's badminton return to its glory days?
While today Lee Chong Wei can be said to dominate Malaysia's badminton scene, what will happen when he finally retires? A news report had expressed perhaps the doubts of many people on the next generation of players, and recently two of our badminton players had basically got their careers ended after they were banned and fined for corruption and match-fixing.
However, Chong Wei had managed to persuade Misbun to return to BAM, and Misbun had since warned young players to prepare themselves for his radical training methods.
"They are paid to play and train, so when they're paid of course the association had set down guidelines for them to follow, and they can't blame the association if their names are dropped. Every player have to be prepared and need to know that I don't need them. This is my warning." – Misbun Sidek, translated from Sinar Harian.
But will just Misbun be enough to turn things around? According to BAM's president, Tan Sri Elyas Omar, while Misbun's return is a very good thing, he fears that it may be too late. However, he believes that Misbun can rejuvenate the country's badminton arena as Misbun is known for being a good and dedicated coach. With that, Malaysia hopes that BAM will be able to produce the next generation of badminton champions and bring back Malaysia to its glory days.