For the next few days, you're gonna wanna goncang till you explode.
Our friends at one of Malaysia's leading e-wallets, Boost, is gonna host their biggest cashless lifestyle event ever with a series of… err… peculiar and exciting activities. In lead-up to the main event, called Boostopia (which we'll tell you more about in a bit), they're starting off with a pretty odd challenge…
… how many times can YOU goncang in 31 seconds??
So there's the Boostopia Shake Challenge... and it wouldn't really be a shake challenge if it didn't get people to… shake like an earthquake, right?
From now till 7th August 2019, you can go to their microsite and take up the challenge. Just try your best to shake your phone 88 times in 31 seconds! We tried it ourselves and here's what it looked like:
If you pass, you will get an entry to the Boostopia event via email, and stand a chance to win RM188 in the Boost app! But do note that you'll only be able to redeem your prizes at the event itself. To take up the challenge and for more info, click here.
After you goncang, just come to the main event!
So we've been mentioning the word 'Boostopia' for a few times edy… but what is it?
From 8th to 10th August 2019, you can walk into a utopia of cool stuff in Boost's very own Boostopia. It's gonna be the biggest ever cashless lifestyle event in the form of a real-life party at TREC, KL! This will also be when you'll be able to redeem your prizes from the goncang challenge above. Other cool things you'll get to do at Boostopia:
Play in a ball pit of thousands of balls…
… or makan-makan with the many yummy offerings from Drinkies, Juicy Baby, Little Fat Duck and more…
… party along with Paperplane Pursuit, Ryot Jones and Talitha Tan…
… and take lotsa lotsa lotsa Insta-worthy pictures everywhere you turn.
You can also compete in missions and be rewarded with goodie bags. And of course, there are on-ground goncang-goncang challenges that can even score you an Apple Watch (omg?!!!) and Mayflower travel credit, among others.
If you're a fan of online shopping? You'll get to finally see popular digital brands (Photobook, SEAGM, Go Shop, BuyMall, Presto Mall, Signature Market, DeliverEat, HelloGold, OffGamers, JOCOM, Fave) in the flesh! So if you've ever wanted to buy from them but were always hesitant cos mebbe unsure of quality or anything, this is the perfect chance to test them out yourselves.
Best part is, if you pay using the Boost app during these three days, you'll totally increase your chances in winning the a freekin' SUV. Like we mentioned at the beginning, they've been running their Super Shake campaign for a while now. And one of the main prizes is the super cool-looking X70, Proton's first SUV.
To win, users must use their tokens as a form of entry. Typically, you'll only get 1 token for every RM10 spent on the Boost app… but during these three days, just pay with Boost and you'll get 18 TIMES MORE tokens than you normally would. 
(Simple math: RM10 = 18 tokens on during Boostopia)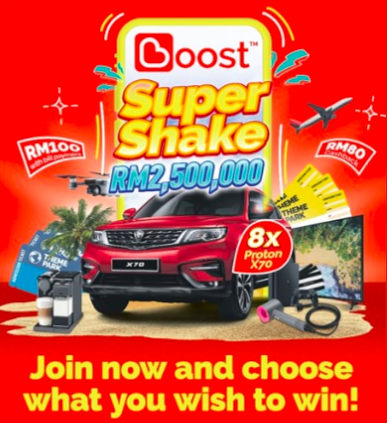 With these tokens, you'll get the chance to win these exciting prizes:
Proton X70 – 20 Tokens
iPhone XS – 17 Tokens
Dyson V8 Vacuum – 10 Tokens
Signed Football Merchandise – 15 Tokens
H&M Gift Card – 8 Tokens
RM1,000 in Boost Wallet – 8 Tokens
Apart from the on-ground event, there's something happening online too
Not in KL during that time? Or maybe, like this writer, you seem to spend most of your life in the digital world? S'ok… Boost hasn't forgotten us, hehe. Here comes the 8.8 Online Day by Boost – for the whole of 8th August 2019, you'll get extra rewards when you shop online!
Just shop at their online partners, pay with Boost, and you'll ALSO get to enjoy the benefits that Boostopia offers: 18X more Super Shake tokens with every cumulative RM10 spent online for your purchases or payments! (Just remember to always check for Boost payment options when you shop online k?)
There are also Boosted Deals from as low as RM1, and 30% cash back from 10 key online partners (Taobao, Zalora, allyoung, Qoo10, Presto Mall, SEAGM, MPHOnline, OffGamers, Caring, DeliverEat). They'll also sponsor some prizes as well, such as the iPhone 7, Guess watches, cash vouchers, gift cards, rebates… but got some caps la:
cap at RM10 per transaction
cap at first 8,000 transaction across 10 key partner's site
cap to 2 transactions per users
For more info, click here.
So if you were already gonna go shopping, why not pay through Boost? You won't get charged extra, and if anything, there'll only be rewards to gain. 🙂