This article was originally written in Dec 2018. In light of recent developments, this article has been updated and rewritten to reflect these changes.
The term 'asset declaration' has become a hot topic again, probably also because you had people like Najib Razak calling it unfair while others such as PAS' Tuan Ibrahim allegedly even called it unIslamic.
Now in case you're wondering why are so many MPs are declaring their assets, it's (probably) not because they wanna show off to the rakyat how much money they have. Instead, it's actually part of Pakatan Harapan's GE14 manifesto promises, which said that they would have all their MPs, senators and senior govt officials over a certain rank to declare all their assets, in line with their anti-corruption and transparency drive.
Harapan MPs have mostly already declared their earnings and assets. But, they're not done there, as just last week a Special Motion was passed by the Dewan Rakyat calling for all members of parliament, senators and immediate family members to declare their assets, regardless of party affiliation. They will now have three months to declare their stuff, or a least fill up the declaration form by Oct 1 and submit it to both the Dewan Rakyat and MACC. Failing to do so violates parliamentary laws, while lying about your assets is even worse – violates Section 199 of the Penal Code and if convicted can go jail somemore. And while it's not technically the law yet, the govt is likely to make it part of an existing rule.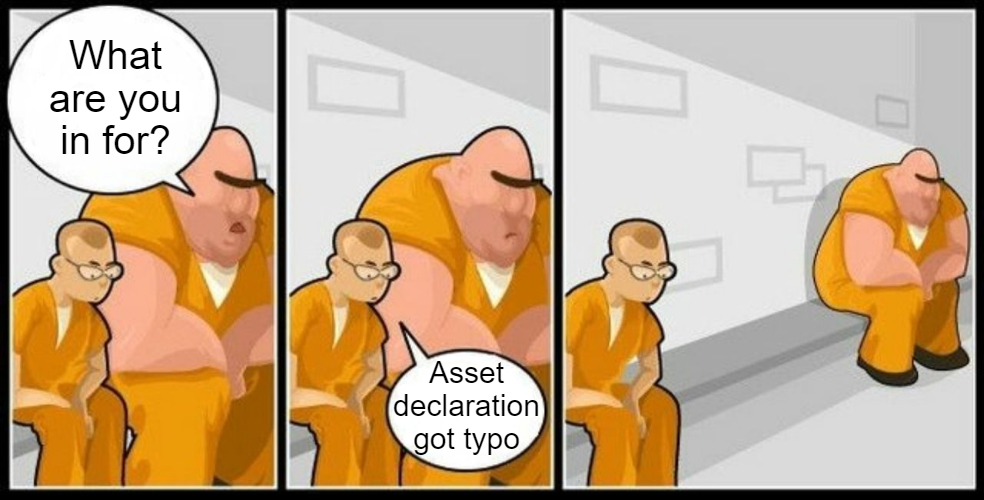 In the meantime tho, the MACC has collected the asset declarations of Harapan MPs for now and put them all in a site for the public's eyes, which you can access here. We should also probably mention that as MPs submit their asset declarations, there are two things to consider – income per month, and their total amount of assets. We here at Cilisos a bit nosy laa, so we also started looking at the asset declarations – and here's what we found.
1. Guan Eng earns more than Mahathir… but he's far from the highest earner
Now when the first version of the asset declaration list was published by the MACC a while back, reporters had a field day pointing out that, despite Dr Mahathir being the head of govt, the highest earner among the list was actually the Finance Minister Lim Guan Eng.
According to the MACC list, Guan Eng declared his income to be RM86,464.92, putting it higher than the Prime Minister's RM75,861.57. Even Mahathir was surprised, saying:
"My salary is higher than the salary of the Finance Minister. From where he gets that high income I don't know," – Mahathir, translated from Astro Awani
Now there could be a possible explanation laa. If you take a look at the MACC declaration website, you'd notice that some MPs have declared their income and assets for both themselves and their spouses. With both Mahathir and Guan Eng did declare their assets for themselves and their wives, it could come down to what their other halves earn monthly. And if we take a look at their wives, then Guan Eng's wife Betty Chew does seem to make a lil more moolah per month laa.
Betty herself was once a DUN in Malacca as well as her usual day job working in a law firm. Some websites even list Betty Chew's total networth as up to USD 10 million, altho we don't know how reliable that website is, so take that figure with a grain of MSG laa yeah.
That being said, the list has been updated since, and Guan Eng no longer leads the way. While Mahathir might not be top spot for monthly income, he might not need to worry about money, seeing as the top earner according to the MACC list is his son and current Kedah Menteri Besar Mukhriz Mahathir. The PPBM deputy president listed down his income per month at a staggering RM105,641.76, making him number one for income.
At number two, you'll find Teluk Intan MP and Deputy Speaker for Parliament Nga Kor Ming, with an impressive RM101,160.00 a month. Rounding off third place is another Perak-ian, the Tambun MP and Perak Menteri Besar Dato' Seri Ahmad Faizal bin Azumu, whose monthly earnings are reported to be RM91,150.00 a month.
But on the other end of the income list….
2. The MP with the least income knocked out Liow Tiong Lai in GE14
In GE14, there was a minor shock of sorts in Bentong, Pahang, as DAP man Wong Tack managed to defeat Liow Tiong Lai, the then-MCA president and Transport Minister. That same man also has the curious title of 'poorest MP', well, according to The Star anyway. That's because from the MACC list, Wong Tack declared his monthly income to be RM22,412.64 .
Wong Tack first made a name for himself as an environmentalist and activist in 2011, forming the NGO Himpunan Hijau which led the protests against the Lynas rare earth processing plant in Pahang, and also found time to stand against Liow back in GE13. Wong actually put up a good fight against him in 2013 too, losing to Liow by just 379 votes. His protests against Lynas almost cost him his chance to battle Liow this year tho, as he stood trial for his protests. However, he eventually went on to win in Bentong, with a decent majority of over 2,000 votes too.
So now that we've talked about income, let's move on to…
3. The latest MP with the most assets has RM100 million more than Mahathir
So when we originally wrote this last year, this section listed down the current Perak State Assembly Speaker Datuk Ngeh Koo Ham as the one with the most assets at RM77 million.
However, at the time, Ngeh claimed that he's not the richest Harapan MP out there, despite his assets more than doubling Dr M's RM32,357,900.00, who now has the third most assets. This is because at the time, there were still other MPs who have yet to declare their assets.
"God has been kind to me, and I appreciate life being a series of blessings, so I want to be transparent about my assets, I was working to contribute to the community. However, it turns out that my investments drew huge returns, thus increasing in prices and profits," – Ngeh Koo Ham, as quoted by The Star
But since this is an UPDATED article, of cos we reveal who Ngeh was talking about as being the richest MP la. And turns out it's Dato' Sri Dr Santhara Kumar A/L Ramanaidu, the current Segamat MP in Johor. According to the MACC's asset declaration website, Dr Santhara's assets are valued at a whopping RM132 MILLION! That's 100 million ringgits more than Dr M's total assets!
We did a lil digging into his background, and turns out he has quite the business pedigree. He served several private education groups in various executive roles, as well as founding his own one called Masterskill Education Group. Dr Santhara did however leave his CEO post in 2013.
4. Some have yet to submit their asset declarations
Despite the Harapan GE14 manifesto calling for all Harapan MPs to declare their assets, there are still a few Pakatan MPs who have yet to submit their asset or income declarations at time of writing.
So far, 12 Harapan MPs such as the aforementioned Wong Tack, Mas Gading MP Mordi Bimol, Jelutong MP RSN Rayer and Tourism Minister Datuk Mohamaddin bin Ketapi have all yet to have a value listed upon their assets, only their income. Others, such as UPKO President and Tuaran MP Datuk Seri Wilfred Madius Tangau don't even feature on MACC's asset declaration list at time of writing.
Nevertheless, with the Special Motion approved by Parliament, it should only be a matter of time before we see these guys declare their income and assets fully. But for now tho, their lack of data could just be that maybe the MACC forgot to upload the data, maybe the MPs themselves lupa, or maybe it's Maybelline.
More transparency within the govt should be welcomed
Incidentally, despite asset declaration becoming something of a trendy buzzword for Harapan politicians today, it was first done by the Socialist Party of Malaysia (PSM) who aren't in Harapan. Indeed, they've been doing this since 2008 too, the year they first had an MP. As for within Harapan itself, probably the first major person to declare his assets was Rafizi Ramli, who first did so in 2015. It wasn't a small figure either – according to his 2015 asset declaration, his net worth was RM1.6 million.
In any case, one could argue that it's perhaps not actually that important that people know what they earn and have in assets now, but rather, what happens to their wealth a year from now. The MACC deputy chief commissioner Datuk Shamsun Baharin points out that this asset declaration exercise is just one part of the process, and that a year later the MACC would check again for any 'unjustified spikes' in their wealth.
"The most important thing is that the politicians are transparent with the salaries and properties they declared. What they own now is not an issue. We will see what they have now and compare it with what they have a year later. We will look into it if something seems wrong," – Datuk Shamsun Baharin, MACC deputy chief commissioner, as quoted by New Straits Times
We too should keep tabs on the govt to ensure that they don't abuse or misuse their power for their own benefits. You wouldn't want for us to hit the international spotlight again *cough1MDBcough* for all the wrong reasons right?